Envision TEC D4K Pro
Being a desktop 3D printer, you would actually be able to print some excellent designs of jewelry at your home. Envision TEC has gifted you a genie that will listen to all your needs related to jewelry and print them on one go.
PROS
Intricate detailing of parts possible.
User friendly.
Industrial-grade 3D printing possible.
Product
Specification
Videos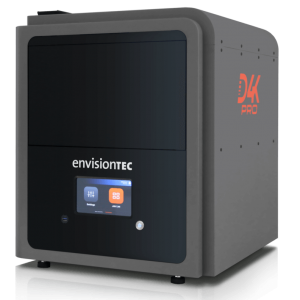 Manufactured by one of the most renowned companies, the D4K Pro Dental offers dental professionals and clinics the best solution for producing ...
| | |
| --- | --- |
| Model | D4K Pro |
| Manufacturer | EnvisionTEC |
| Price Range | $ 15000 |
| Availability | Available |
| Classification | Industrial |
| Technology | Resin (SLA- DLP…) |
| Material | Liquid resin |
| XY accuracy | 0.05 mm 0.002 in |
| Max. build size | 148 x 83 x 110 mm 5.8 x 3.3 x 4.3 in |
| Max. build volume | 1.35 L |
| Min. layer thickness | 0.015 mm 0.0006 in |
| Dimensions | 500 x 570 x 590 mm 19.7 x 22.4 x 23.2 in |
| Power input | 100-240V AC, 1.5A, 50Hz/60Hz |
| Heated print bed | No |
| Heated build chamber | No |
| Automatic calibration | No |
| Closed frame | Yes |
| Dual extruder | No |
| Independent Dual Extruder | No |
| Full color | No |
| LCD screen | Yes |
| Touchscreen | Yes |
| On-board camera | Yes |
| Mobile app | No |
| 3D scanners | No |
| CNC mill | No |
| Electronics 3D printing | No |
| Laser engraving | No |
| Conveyor belt | No |
| Air filter | No |
| Pellet extruder | No |
| USB | Yes |
| Wifi | No |
| Bluetooth | No |
| SD card | No |
| Ethernet | Yes |

Table of Contents
If you are looking for a 3D printer that will primarily help you make jewelry items, here is one. Envision TEC D4K Pro is a high-resolution desktop 3D printer that uses standard DLP techniques for making intricate 3D printed parts and functional prototypes.
The accuracy level of parts manufactured using this printer is extreme. Plus, it enables you to do some of the finest details.
Envision TEC D4K Pro works well with all Envision TEC DLP resins like WIC100G, QView, and other castable resins. So, you would never have a limitation in the variability of 3D printing materials!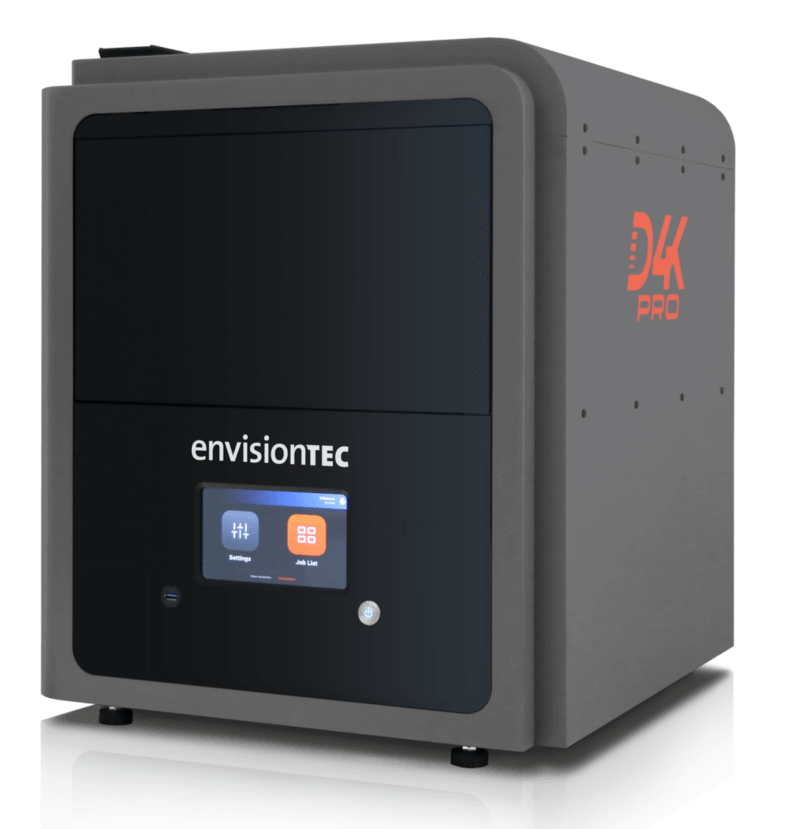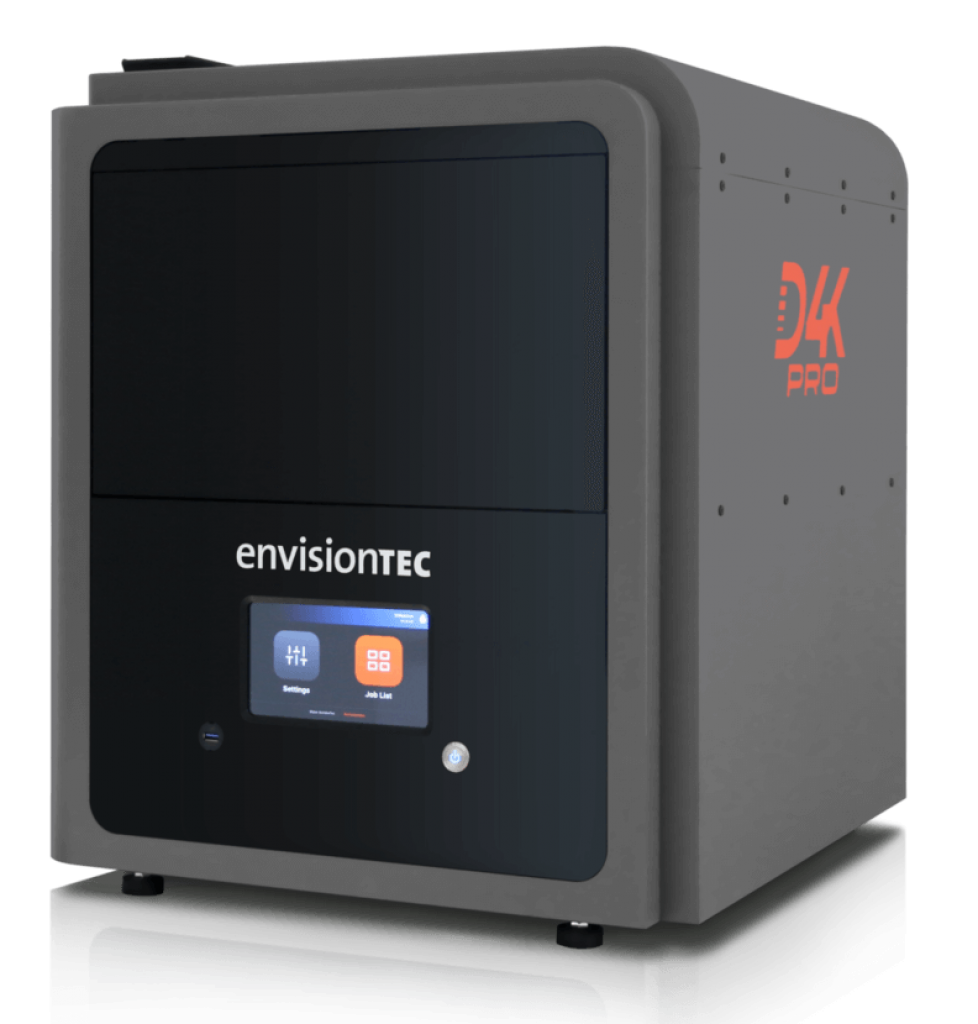 The company claims that its machine is able to deliver zero porosity castings. Specifically for jewelry, the printer can be relied on like no other.
All thanks to the state-of-the-art Envision TEC's patented PSA which lets you execute low separation forces. That, combined with the company's DLP 3D printing technology makes D4K Pro a leader in jewelry 3D printing.
Making amazing jewelry parts, the printer exhibits advanced components which makes such fine 3D printing possible. So, hold on till we list down and explain to you some aspects that make the printer such an excellent alternative in the industry.
Features
Features of a 3D printer are its heart. Doesn't matter whether you are purchasing this 3D printer as a hobbyist or a professional, features of D4K Pro will actually let you function in a specific manner!
And Envision TEC ensures that the printer's heart is beating to the right tune. Hence, the machine suits every user that is willing to buy it.
These are also the pointers that differentiate D4K Pro from the list of other 3D printers in the same price range. So, let's get started.
Open Material Access License
D4K Pro is compatible with Envision TEC's patented resins, but those are not the only ones with which it works well. The printer manufacturer also allows you to have an access to open material license after which you will be able to print with resins that are sold out in the market as well.
Very often you would come across a 3D printer that's manufactured by a company that also fabricates resins used in that printer. Generally, such printer manufacturers do not allow for open material access.
But Envision TEC is not a company with such limited thought and vision. It permits you to play with different materials, by making the printer not bound only by the company manufactured resins. So, even after choosing this printer, you will have multiple options to print with.
Intelligent Closed-Loop Minimal Peeling Forces
Peeling is a general issue while 3D printing, especially in 3D printers that use resins for making parts and functional prototypes. But, that's not the case with D4K Pro.
Keeping in mind the problem of peeling, Envision TEC has got in place an intelligent closed-loop minimal peeling force. This will ensure that the parts are 3D printed with the least amount of peeling.
This accounts for the part or functional prototype's high quality. If peeling is minimal, it will mean that the part is exactly according to the one that you've dreamt of.
Remote Monitoring and Job Starting Capabilities
With Envision TEC D4K Pro you will be facilitated to make the most last-minute modifications and corrections in the printing process, thanks to its remote monitoring facilities.
Even if you wouldn't be near the workplace, you will be able to see the printing process on your device as D4K Pro's camera's footage can be accessed via wireless technology.
You will also be able to start your job on this printer without being physically near the printer. This is a very rare feature to have given the price at which the machine is available.
Industrial-Grade UV LED Projector for Reliability and Consistency
DLP 3D printing technology pretty much relies on the quality of UV light that's been used in the 3D printer.
And Envision TEC claims to use an industrial-grade UV LED projector which will mean that though D4K Pro is a desktop 3D printer, it is capable of producing high-quality prints that find their application in many industries.
This applies to projects in which you have to mass customize.
D4K Pro is not only reliable but also consistent and does not vary its quality after producing one part, in the other.
Designed to Run 24*7 in a Production Environment
Like any other industrial 3D printer, D4K Pro can run from 24*7 to produce one or different types of objects for various use.
It is not some random desktop 3D printer that will perform for some hours or start giving hiccups after creating some fixed number of parts.
The printer has an excellent production rate and that too by producing quality prints with excellent surface finishes.
User-Friendly
Envision TEC D4K Pro is compatible with Envision One RP software that is very nontechnical software. Not in the way it functions, but in the way its user interface is designed.
Even if you are from a completely non-technical background, the software would not disappoint you, and this is rare.
It will let you easily and speedily prepare models with automatic support generation wherever necessary. You realize that for making jewelry-type intricate designs, you will require supports.
Don't worry much about them, because Envision One RP is software that will automatically generate supports where you need them.
There is also a fully integrated Mesh Healing tool inside the software that will allow you to print complex geometries with ease.
Specifications
Envision TEC D4K Pro offers a build volume of 148 mm * 83 mm * 110 mm. The printer offers an XY native resolution of 50 micrometers and a patented enhanced XY resolution of 25 micrometers.
Stating about the Z-axis resolution of the machine, it is 1 micrometer which is rare to find. The printer's UV LED light has a wavelength of 385 nanometers.
With the above-mentioned wavelength of light, the printer is able to manufacture parts and functional prototypes of dynamic layer thickness ranging anywhere from 15 to 150 micrometers.
To interact with the printer, you can make use of the touch screen that's embedded in its body. For connecting with D4K Pro you can make use of the Ethernet or USB. D4K Pro offers a footprint of 50 cm * 57 cm * 59 cm.
It consumes 100 to 240 Volts, 1.5 Ampere, and 50/60 Hz. You can print with two materials for starters with the printer, they are:
Q-View: Well-known for super-fast 3D printing of quick design verification models.
WIC100 Series: Popular value casting material that contains 20 percent powder wax content permitting standard wax burnout cycle with most of the investments.
Price
To know the price of Envision TEC D4K Pro, you will have to ask for a quote from the manufacturer.
First Impression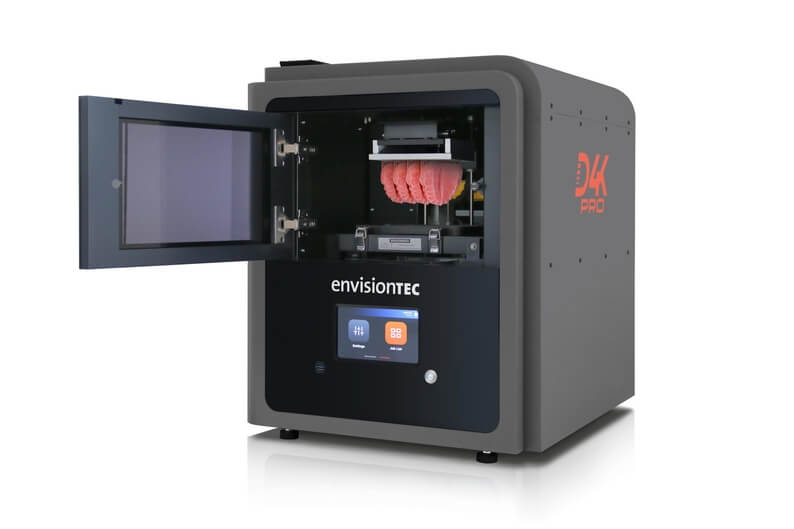 Credit: envisiontec.com
Your first look at the printer will make you mistake it for a small refrigerator that is typically seen in or other modes of locomotion where space is less.
D4K Pro has a sleek design and amazing color combo to strike at your eyes making a charming impression.
You get to see a compartment division from the front view of the printer. Beneath it, there is the touch screen interface with two buttons on the right and left. The right one letting you turn on/off the printer.
Using the touch screen interface, you can control most parts of the printers. You can also regulate its settings. D4K Pro is not edgy like other printers.
So, you can keep it on your desk, and sometimes when you are using your hand to do some other work near the printer in haste, you do not need to worry even your hand hits hardly at the printer's surface; it would not hurt you as it is curvy.
Setup
D4K Pro comes completely assembled. It's a plug-and-play 3D printer. So, all you got to do is, once you receive the printer, unbox it and remove all the packing material. Turn on the printer by giving it enough power supply.
Run the setup, attach the USB cord and start transferring the 3D file via one of the two file transferring options. Once the file is transferred, you can start 3D printing with the printer.
There is a user manual that comes with D4K Pro, just like it does with every other 3D printer. You are advised to read it to get used to the components present inside the printer.
All of which would not take much of your time and you should be able to start your first print in 15 to 20 minutes at max after receiving the printer.
Print Type/Cost
DLP 3D printing makes use of UV light for curing the laid-down resin. Often this technique is misconstrued for SLA 3D printing, which is wrong. DLP stands for digital light processing.
Although it belongs to the same class of 3D printing which SLA, stereolithography belongs to, they are different. An SLA 3D printer uses a build platform, an elevator that moves the platform upwards, and a tank that's filled with resin.
D4K Pro is a DLP 3D printer; it makes use of a projector, a light beam, a resin vat platform, and the resin which is present just beneath the build plate.
The problem with SLA is that's where the laser has to individually cure parts and functional prototypes of one point to the other.
Whereas, here in DLP the projector screen can at one cure-all the points. Thereby, decreasing the overall time taken for 3D printing!
The overall cost of 3D printing a part is a little bit costly with DLP than in SLA. But the cost generally depends on the geometry of the part, type of resin used and its cost, etc.
Print Quality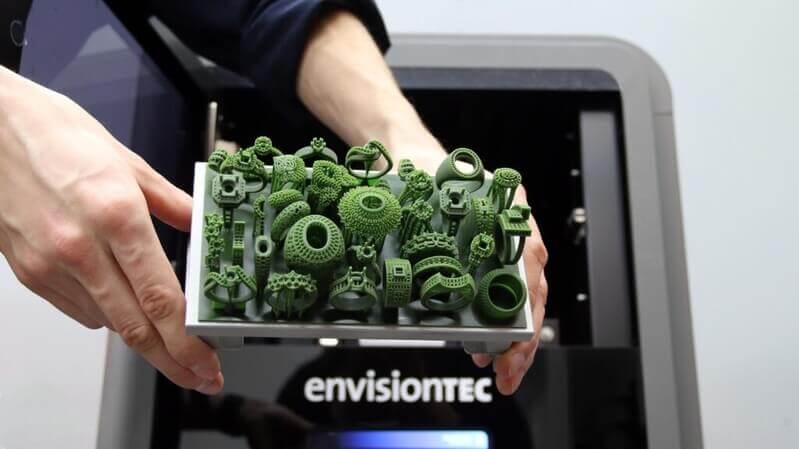 Credit: envisiontec.com
As mentioned since the start of this article, D4K Pro is used in the production of jewelry items. Jewelry is an industry wherein a machine is only used if it can provide an immense amount of precision.
And so does D4K Pro 3D printer. Envision TEC has ensured that its printer is able to satisfy the needs of jewelry manufacturers.
Software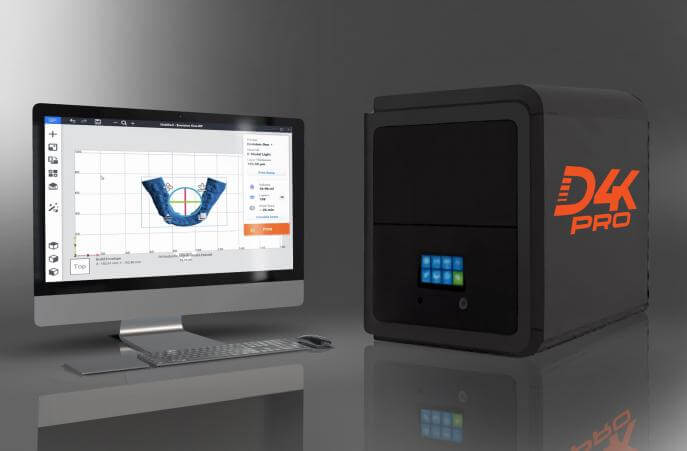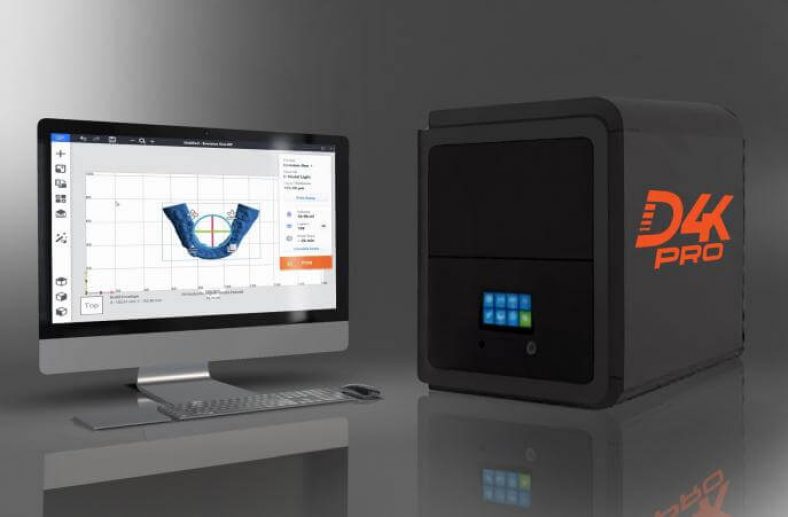 Credit: lino3d.com
The printer works with Envision One RP software. The application helps even the beginner to connect well the printer and print some amazing geometries with ease. Not just that, the professional could play with some advanced settings, thereby promising intricate features with finesse.
Customer Support
Envision TEC's support centers let you fill in a form and generate a ticket for your problem. You can also call the given helpline for any sort of technical support with its printers. Apart from this, the warranty information is directly mentioned on their website.
Parameters Influencing Buying Decision
Some of the basic criteria that are needed to be given a glance at, before buying this 3D printer are mentioned below.
3D Printer Cost: Approximately the price of the printer is rumored to be around $15,000.
3D Printer Quality: DLP 3D printers are known for generating parts with the finest detailing.
3D Print Speed: Lower than FDM 3D printers, but given the quality the wait is worth it.
3D Printer Capability: D4K Pro is capable of generating jewelry parts using two different resins made by the printer manufacturer.
3D Printer User Expectations: This printer is more than just a tool for experiments. It will stand up to every expectation of a jewelry manufacturer.
The Verdict
Being a desktop 3D printer, you would actually be able to print some excellent designs of jewelry at your home. How cool is that? Envision TEC has gifted you a 3d printer that will listen to all your needs related to jewelry and print them on one go. Of course, the small build volume is a limitation, but you'll soon forget about it after seeing the quality of parts.