Felix Pro L 3D Printer
Felix Pro L is worth buying because of the company's reliability that it has earned by producing high-quality 3D printers. In case you are a professional in this field looking for a printer in the same budget range, you can safely put your bet on this one.
PROS
Huge build volume.
Intuitive touch screen interface.
Wifi-connectivity.
CONS
Enclosed chamber printing.
Product
Specification
Videos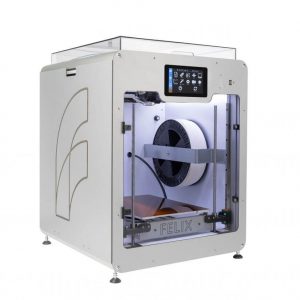 Featuring dual extruders, Felix Pro L is integrated with a unique mechanism ensuring the operation of print heads symbiotically. The printer has an ...
| | |
| --- | --- |
| Model | Felix Pro L |
| Manufacturer | FELIXprinters |
| Price Range | $ 8160 |
| Availability | Available |
| Classification | Desktop |
| Technology | Extrusion (FFF- FDM…) |
| Material | ABS, Nylon, Other plastics, PETG, PLA |
| Filament diameter | 1.75 mm 0.07 in |
| OS compatibility | Mac OS, Microsoft Windows |
| Generic material | Yes |
| Max. build size | 300 × 400 × 400 mm 11.81 × 15.75 × 15.75 in |
| Max. build volume | 48.00 L |
| Max. print speed | 100 mm 3.94 in /s |
| Nozzle diameter(s) | 0.35 mm 0.01 in, 0.5 mm 0.02 in, 0.7 mm 0.03 in, 0.9 mm 0.036 in |
| Min. layer thickness | 0.05 mm 0.001 in |
| XY accuracy | 0.01 mm 0 in |
| Dimensions | 600 x 666 x 776 mm 24 x 26 x 31 in |
| Weight | 63 kg 138.89 Ib |
| Power input | 110-240 volts AC I 50/60 Hz Max 1600 Watt |
| Heated print bed | Yes |
| Heated build chamber | No |
| Automatic calibration | Yes |
| Closed frame | Yes |
| Dual extruder | Yes |
| Independent Dual Extruder | No |
| Full color | No |
| LCD screen | Yes |
| Touchscreen | Yes |
| On-board camera | Yes |
| Mobile app | No |
| 3D scanners | No |
| CNC mill | No |
| Electronics 3D printing | No |
| Laser engraving | No |
| Conveyor belt | No |
| Air filter | No |
| Pellet extruder | No |
| USB | Yes |
| Wifi | Yes |
| Bluetooth | No |
| SD card | No |
| Ethernet | Yes |

Table of Contents
Launched in April 2019 with Pro XL by a Netherlands-based manufacturer Felix Printers, Pro L is geared towards the professional market.
The printer boasts of its huge build volume, dual extruders as well as no-power detection for avoiding print failures.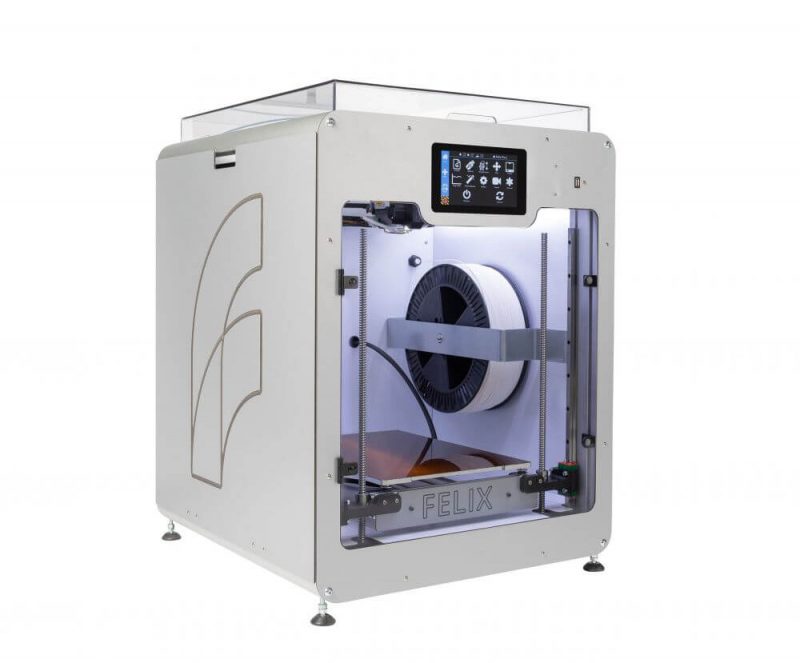 Undoubtedly the specifications of this printer are impressive, but what stands out completely from the 3D printers that are found in a similar price range is the eight-year-long experience that Felix Printers have manifested in this piece of art.
Giving you a little history about this company, it started with the completion of Feliksdal's (the founders) son completing his master's thesis by making a humanoid robot that could walk without support and the beginning of the RepRap movement.
And the addiction with 3D printing started, and the father-son duo ended up registering the company and releasing their first 3D printer in the market title RepRap Felix1.0.
After starting by producing a range of desktop 3D printers, Felix has now established their mark in industrial 3D printers as well.
In this article, we will look in-depth at Felix Pro L 3D printer going through various aspects such as its Features, Specifications, Print Quality, Software, and even Pros and Cons.
The aim is to let you completely differentiate and compare two or more printers that fall in the same price as Felix Pro L.
Features
The printer has been designed for performing at the scale which the company's other 3D printers do not allow.
Manufacturers who wish to satisfy their customers by providing them with large build parts or functional prototypes in various industries is the main target area of the Netherlands based 3D printer manufacturer.
The construction of this printer and ProXL has been done in a way to generate a reliable outcome for much larger parts and functional prototypes.
Manufacturing tools have been placed by Felix printers in various corners of this 3D printer which will generate an optimal price is to performance ratio.
This 3D printer can attract anyone by its look and impress anyone by its operation.
All the aspects such as side panels, a larger touchscreen, glass door, enclosure are taken care of.
Overall this 3D printer has the correct blending of looks and mechanism. Some features that stand out are mentioned below with their explanations.
Flexplate
The hotbed of Felix Pro L has a flexplate that one can pop on and off for easily removing the prints.
Considering the huge build volume that the printer allows users to print parts and functional prototypes with, the manufacturers have also made proper arrangements for ensuring the parts or functional prototypes do not get damaged.
Because of the flexplate, the post-processing on the printer becomes much easier compared to other printers in the same price range that do not feature such a facility.
Automatic Bed leveling
The most important aspect in 3D printing any part or functional prototype is the first layer.
Once the first layer is printed as per the design, building the layers above them becomes easy.
On the contrary, if the first layer is not built precisely, one cannot assure the printed part or functional prototype to remain safe when put into application.
For ensuring that Felix Pro L will get you an accurate first layer printing, its mechanism automatically levels the bed.
Bed leveling deals with the distance between the nozzle system and the print bed.
It is concerned with the movement of, either the nozzle system or the bed itself that leads to displacement of the perfect bed level.
When you are printing parts in batch production, automatic bed leveling is extremely helpful.
Because manual bed leveling can be full of errors as one has to print a part and then again adjust the bed to nozzle height.
Keeping in mind that Pro L is primarily meant to serve the manufacturers and other professionals in the field of 3D printing, Felix Printers has made this feature available in this printer.
Inbuilt camera for print monitoring
Felix Pro L is equipped with an inbuilt camera of high resolution that can provide you complete footage of your print in real-time.
Because the printer can be connected with either USB or Wi-fi, one can view the printing process from his or her smartphone sitting anywhere in the world.
So, if you happen to start a print process and then leave the surroundings of the printer for traveling some other place, you would not have to guess how did it go?
Instead, you would get to see it on your hands in the smartphone how is it going?
And if there is something not happening as per the plan, you can always take suitable action and tell someone physically present in the surroundings of this printer to either pause or stop the print.
This could lead to saving the failure in prints.
No-power detection and touch screen interface
Felix Printers has, to ensure you avoid printing failure equipped Pro L with no-power detection features that intelligently save your work before the power failure.
This saving avoids print failure and lets you resume the work from a similar point where you reached and stopped.
The seven-inch touch screen interface present in the front of Pro L lets the user manage and monitor the printer from it.
This touch screen interface is multi-functional and can be used for many things.
One-touch can lead to pausing of the print, whereas the other can lead to playing.
Not only can the touch screen interface be used to manage the printer tasks apart from pausing, playing, and stopping, but also be used to monitor the printer.
The touch screen interface enables users to fastly operate the printer rather than human interventions.
It also ensures there is lesser human intervention increasing the overall efficiency of the printing process.
The touch screen interface is integrated with the print server.
An eccentric feature here is the small and powerful octa-core computer that enables Pro L users to not only remotely monitor prints via webcam but also manage print files, render G-codes.
Additionally one can also create a time-lapse of the print.
This large-format 3D printer can be accessed by USB or Wi-fi and can be connected using a LAN network or also as a standalone machine.
Dual Extrusion printing
Felix Pro L is integrated with dual extrusion printing and comes with a special mechanism ensuring that the print heads operate symbiotically.
So, when the dual nozzles are printing a part or functional prototype, they remain at two different print levels.
What this essentially does it, it reduces the risk of colliding with each other and in turn, reduces the chances of failure.
The chances of failure, even with a dual extruder comes out to be the same in the case of a single extruder.
Additionally, in scenarios wherein the only single nozzle is in use, the other nozzle is programmed to automatically rotate away from the print so there is no interference between the two at all.
Specifications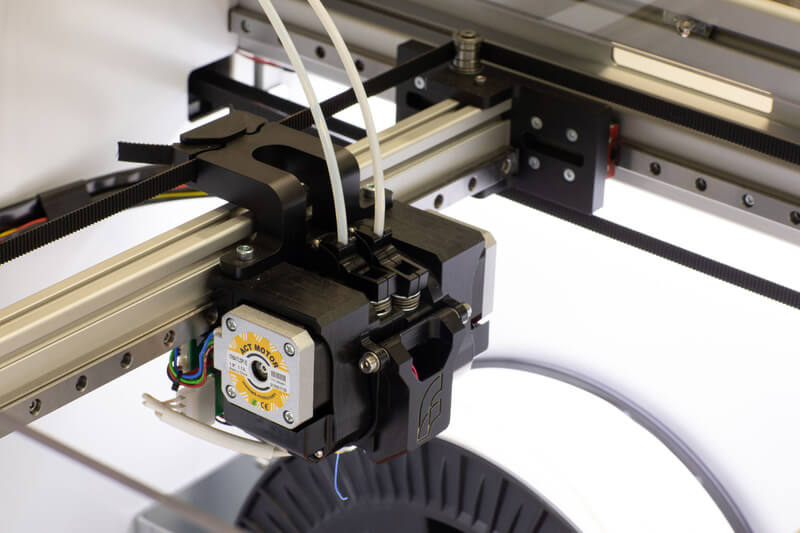 Credit: desktopmachinery.com
The build Size of Felix Pro L is 300 mm * 400 mm * 400 mm, whereas its build volume is 48 liters.
The complete dimensions of this printer are 600 mm * 666 mm * 776 mm and its weight is 63 kilograms.
Both Pro L and Pro XL are designed in a unique way which allows even for the upgrade in these printers.
They are easily portable and can be transported through normal office doors.
Price
As mentioned on Felix Printers' website, the Pro L 3D printer will cost you $9216.
First Impressions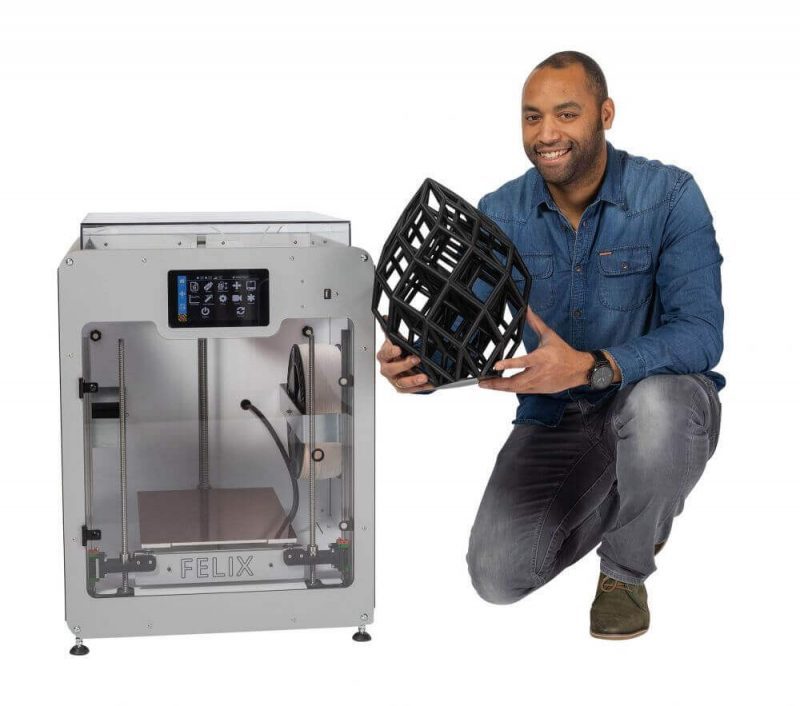 Credit: felixprinters.com
If one does not have the information about 3D printers, he or she is likely to mistake Felix Pro L for a washing machine, unless seen from the front.
The front view of the printer takes one on a journey, by letting him or her witness even the inner parts of the printer.
The build plate at the base, the filament spool holder on the right, the nozzle system on the top.
Whereas the interactive touch screen interface on the head.
A glass door that opens and lets you take the part or functional prototype from the build plate is attractive.
Whereas the complete body is silver in color, has a sleek design. The printer stands comfortably on the four stands.
Setup
Being an industrial-grade 3D printer that is mainly targeted towards professionals and manufacturers in the field, Felix Pro L comes completely assembled. But you need to learn the functions and parts that control that functions in the printer.
The information about the functionality of parts present in the Felix Pro L is mentioned in the manual as well as the website of the printer manufacturer.
One can also find in-depth information about any aspect of the printer by contacting the manufacturer via various sources i.e. phone, email, or Skype.
There is a complete community of Felix Printers that have uploaded videos that are very instructing and information imparting.
All in all, there are many sources for gaining information for operating the printer, so it's better to try each source of information out on the test print before starting to print the final part or functional prototype.
Print Type/Cost
Based on Fused Deposition Modeling 3D printing technology, parts, and functional prototypes are manufactured on Felix Pro L by layer after layer deposition of the 3D printer filament.
One can print using PLA, ABS, PETG, PVA, FLEX, Carbon fiber, Nylon, Glass, and Wood ll.
The overall print cost of printing a part or functional prototype using this 3D printer is lower compared to other 3D printing techniques.
Print Quality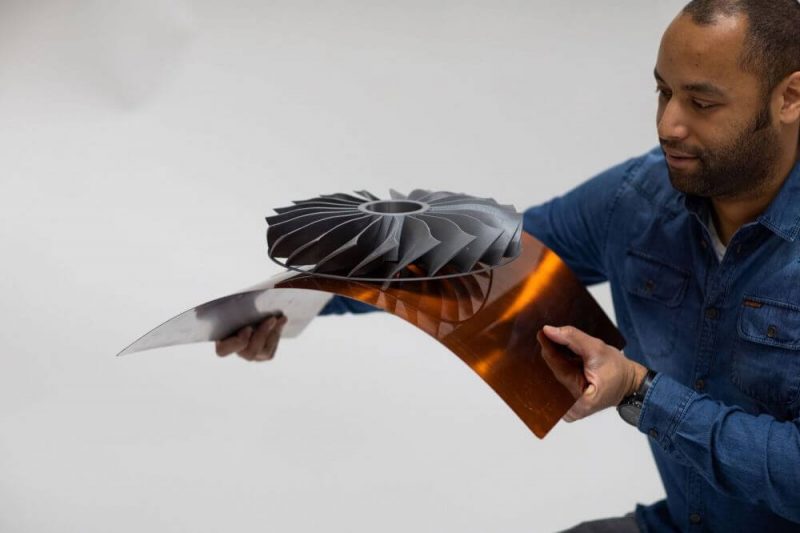 Credit: felixprinters.com
Industrial quality 3D prints for prototyping as well as designing is assured with this 3D printer. So, you can expect high layer resolution in all the parts or functional prototypes manufactured using Pro L. Even intricate parts with complex geometries can be manufactured with dimensional level accuracy using this 3D printer.
Software
Repetier Host is the name of the software that is generally recommended to be used with Felix Printers.
This open-sourced software can be downloaded from the website of Felix Printers and is operable with, Windows 7 and higher versions, Max OS X or higher versions, and Linux.
The file formats that are compatible with this software are STL, AMF, OBJ, and 3DS.
Customer Support
Apart from the warranty of parts that you get right after buying a Felix Printer, the support is always extended to you for a lifetime.
You can contact the printer manufacturer anytime for any technical doubt related to the printer or its parts.
If not on call, you can also mail the printer manufacturer and Skype call.
There is also the global community of Felix Printers which one can refer to, for helping you with the printer.
Parameters influencing the buying decision
For comparing this 3D printer with other 3D printers without consuming much time refer to the parameters mentioned below.
3D Printer Cost: Expensive for small business owners as well as beginners in the field of 3D printing.
3D Print Quality: industrial quality parts and functional prototypes.
3D Print Speed: Extraordinary.
3D Printer Capability: Dual Extruder printing is one of the rare things the printer is capable of doing.
3D Printer Practicality: Professionals in the field, as well as manufacturers, are the two main groups targeted by Felix Printers.
3D Printer User Expectations: One can expect industrial level 3D printing using Felix Pro L.
The Verdict
Although expensive than other industrial 3D printers, Felix Pro L is worth buying because of the company's reliability that it has earned by producing sincere, high-quality 3D printers for more than eight years now.
In case you are a professional in this field looking for a printer in the same budget range, you can safely put your bet on this one.