Felix Pro XL 3D printer
Felix Pro XL has a huge build volume, with flexible build plate, and dual extruder printing makes one part of industrial 3D printing. So, the printer has many features to attract professionals in the field of 3D printing worldwide.
PROS
Huge Build volume.
Removable and bendable flexplate.
Dual extrusion system.
High-quality surface finish.
Dimensional accuracy even in intricate parts and functional prototypes.
CONS
Enclosed print chamber.
Post processing of part is difficult because cooling takes more time than in any open-body 3D printer.
Product
Specification
Videos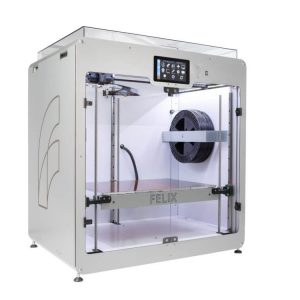 Print industrial-grade parts using Felix Pro XL with ease. Offering a build volume of 600 x 400 x 600 mm, the printer allows users to create larger ...
| | |
| --- | --- |
| Model | Felix Pro XL |
| Manufacturer | FELIXprinters |
| Price Range | $ 9874 |
| Availability | Available |
| Classification | Desktop |
| Technology | Extrusion (FFF- FDM…) |
| Material | ABS, Nylon, Other plastics, PETG, PLA |
| Filament diameter | 1.75 mm 0.07 in |
| OS compatibility | Mac OS, Microsoft Windows |
| Generic material | Yes |
| Max. build size | 600 x 400 x 600 mm 23.62 x 15.75 x 23.62 in |
| Max. build volume | 144.00 L |
| Max. print speed | 100 mm 3.94 in /s |
| Nozzle diameter(s) | 0.35 mm 0.01 in, 0.5 mm 0.02 in, 0.7 mm 0.03 in, 0.9 mm 0.036 in |
| Min. layer thickness | 0.05 mm 0.001 in |
| XY accuracy | 0.01 mm 0 in |
| Dimensions | 906 x 666 x 966 mm 37 x 26 x 38 in |
| Weight | 80 kg 176.37 lb |
| Power input | 110-240 volts AC I 50/60 Hz Max 1600 Watt |
| Heated print bed | Yes |
| Heated build chamber | No |
| Automatic calibration | Yes |
| Closed frame | Yes |
| Dual extruder | Yes |
| Independent Dual Extruder | No |
| Full color | No |
| LCD screen | Yes |
| Touchscreen | Yes |
| On-board camera | Yes |
| Mobile app | No |
| 3D scanners | No |
| CNC mill | No |
| Electronics 3D printing | No |
| Laser engraving | No |
| Conveyor belt | No |
| Air filter | No |
| Pellet extruder | No |
| USB | Yes |
| Wifi | Yes |
| Bluetooth | No |
| SD card | No |
| Ethernet | Yes |

Table of Contents
Launched with Felix Pro L, this 3D printer to marks Felix printer's first steps into the journey of going big.
Both, Pro L and Pro XL are known to offer huge build volumes for printing parts and functional prototypes to their customers.
This article will focus on various characteristics of the Felix Pro XL 3D printer.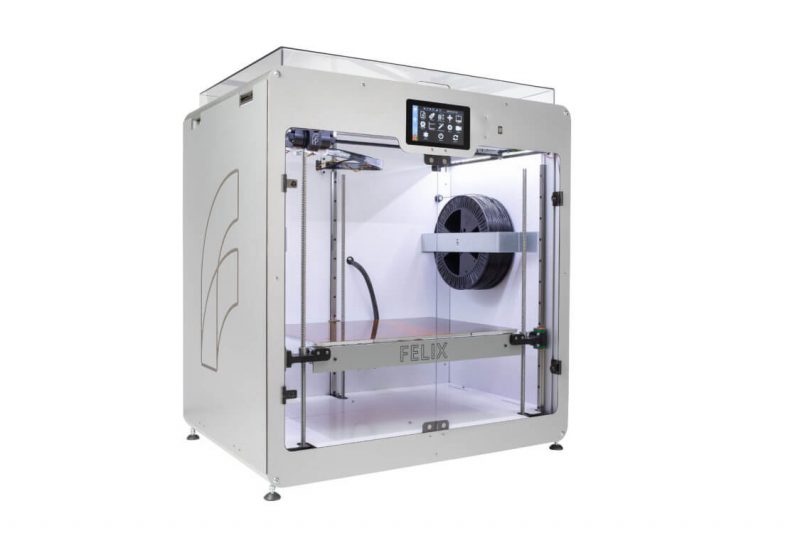 The attempt will be to expedite one's buying decision of a 3D printer in the same price range, by allowing the reader to completely compare in-depth the characteristics of Pro XL. Leaving the reader with an opportunity to use language as a tool for comparing features and specifications and other aspects of this printer with others.
So, the reader of this article can benefit, even by not using the printer, but gaining insights into Felix Pro XL.
The Pro L, as well as the Pro XL, are sleek light silver in color, they come with a touchscreen interface, a glass door that grants one access to the print chamber of the printer, and a glass top.
A lot of such nuances brought in these printers and the difference between Pro L and Pro XL is what one can get to read in this article.
We will start our journey by viewing the Features of the printer.
Features
Felix Printers has, after working in the additive manufacturing industry for more than eight years, gained an excellent reputation.
It is known for providing a range of 3D printers in almost all markets. Its desktop 3D printers have been very helpful to education institutions as well as hobbyists.
Whereas its range of intermediate 3D printers has been handy to a lot of intermediate 3D printing technology users.
And by entering in the industrial-grade 3D printers, using Pro L and Pro XL, the company has completed what was incomplete.
Pro XL is the company's largest offering when it comes to comparing the build volume of its 3D printers. Once this printer was manufactured, it was tested in Belgium, independently.
And the results of these tests approved Felix printers as an accomplished player in the field of manufacturing industrial-grade 3D printers.
There were many features of this 3D printer that were appreciated by the independent tester in Belgium. Those features, alongside other features, are something that we are mentioning and explaining below.
Strong construction
The body of this printer is constructed by a very strong material which ensures the printer does not vibrate during the printing process.
That strong material is none other than Aluminum.
The material provides strength to the overall body of the printer.
Aluminum has a long-standing reputation for getting used in making 3D printer bodies.
And the fact that Felix Printers has chosen it in their largest build volume offering 3D printer shows how the company's research team is well aware of the industry-standards.
Thin print bed
Generally, when you will come across a printer that offers build volume anywhere near 600 mm * 400 mm * 600 mm, the print bed would be thick.
But contradicting that fact, Felix Printers have kept the print bed of Felix Pro XL thin, which is worth observing.
Also, the company must be appreciated for offering this amazing perspective in the field of industrial 3D printers.
If the material has the amount of strength it needs for carrying a part or functional prototype on itself, the printer does not need to have thicker materials in use.
And this perspective was not seen in the world of industrial 3D printers before this company brought a light of focus to it.
Removable and bendable flexplate
Felix Printers should also be appreciated for taking into account the post-processing part of the 3D printing process as important as the pre-processing part.
For how else could they've managed to put in a removable bendable flexplate that not only assure a maker that the printed part with a stick to it, but also could be removed with any damage.
The removable bendable flexplate will be very helpful to all the users after having printed a part or functional prototype that is difficult to remove without bending and removing the flexplate.
A large touch screen interface
There are two ways to interact with the printer, either with the web or the touch screen.
One can choose according to convenience. Both of these options are very well knitted.
They provide the user with the ease that they need, be it in navigating or choosing the functionality options.
Felix Printers has gone with the recent trend that has made every 3D printer manufacturer put a touch screen interface for increasing user-friendliness in their 3D printers and decreasing human interventions.
Large Build Volume
Parts and functional prototypes of various industries cannot be made using desktop 3D printers.
By offering industrial-level build volume with their printer, Felix Printers have made an important footstep in fulfilling the demands of manufacturers in the field of 3D printing.
Apart from manufacturers, large build volume also makes a printer favorable and gains the liking of professionals.
Felix Pro XL will attract manufacturers of parts and functional prototypes in various industries that require industrial level 3D printing.
Dual Nozzle Direct Drive Extruders
Even when the printer is used for making two similar parts from different materials at the same time, the quality of surface finish is high, so is the detailing.
Overhangs and bridges are almost perfect compared to other 3D printers in the same price range and even above.
This is possible because the printer features dual nozzle direct-drive extruders.
Felix Pro XL is known to produce extremely impressive results when used continuously for hours to 3D print with two different sets of materials.
And in the post-processing, the supporting material is always easy to remove because of its water-soluble nature.
Specifications
Credit: felixprinters.com
Felix Pro XL has a build size of 600 mm * 400 mm * 600 mm and a build volume of 144 liters.
The filament source of Felix Pro XL is open and one can print using PLA, ABS, PETG, PVA, FLEX, Carbon Fiber, Nylon, Glass, and Wood II.
Brass nozzle diameters with which one can print on Felix Pro XL are 0.35, 0.5, 0.7, and 0.9 mm.
The same set of nozzle diameters can be used while printing with hardened steel material.
One can print parts or functional prototypes with a print speed up to 100 millimeters per second, but the company recommended 60 millimeters per second.
The positioning accuracy of Felix Pro XL in the XY and Z-axis is 0.01 mm.
The layer thickness range that can be observed in parts and functional prototypes printed using this printer is 0.05 mm to 0.35 mm.
The nozzle of this printer can reach up to 275 degrees Celsius of temperature.
The heated bed of the printer is constructed using solid casted and high precision aluminum.
There is a seven-inch long touch screen interface that allows users of the printer to interact and monitor it.
The touch screen interface is compatible with English, German, Dutch, Spanish and other languages.
Felix Pro XL is compatible with Windows as well as Mac operating systems and can be connected using Wi-fi, USB, or LAN.
The printer weighs approximately 80 kilograms.
Price
Felix Pro XL is available for $12845.
First Impressions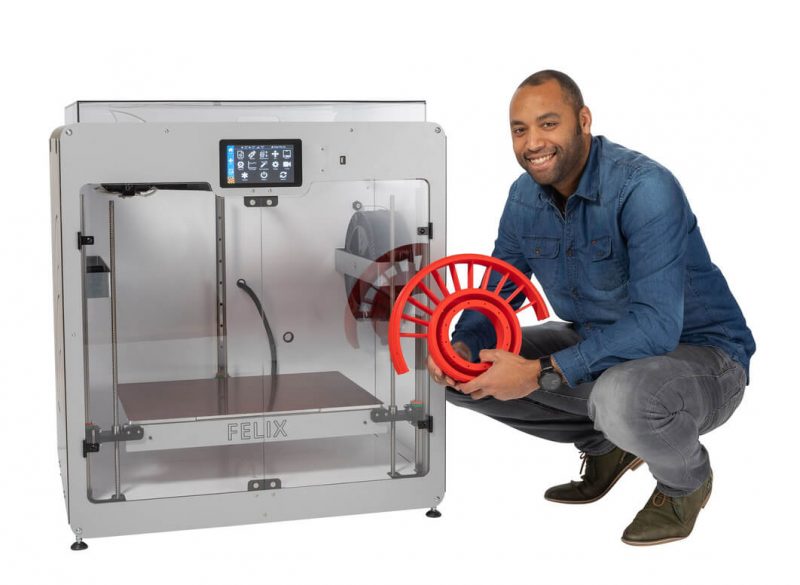 Credit: felixprinters.com
The printer makes up for a pretty impressive look that lets it stand out when seen with a bunch of other dark-colored 3D printers.
As it has a silver color, glass over the top, in the front.
There is a door that has access to the print chamber of the printer and the right wall of the printer has the filament spool holder.
Whereas the touch screen interface is at the head of the front of the printer.
The rails are not witnessed easily when one looks at the printer from the front, which makes Felix Pro XL look like a neat and clean 3D printer.
Setup
The box of the printer that is delivered at your place has tweezers, USB cable, LAN cable, filament spool holders, spool of PLA filament, and a quick start manual to help you get familiar with various parts of the printer before starting to print with the printer.
Print Type/Cost
Fused Deposition Melting or Fused Filament Fabrication is the 3D printing technology employed by Felix Pro XL for 3D printing parts and functional prototypes.
And this 3D printing type is very famous in the world of additive manufacturing. So much so that majority of 3D printers are based on this technology.
For the same reason, the cost of 3D printing a part or functional prototype using this technology is lesser than it is with other 3D printing technologies.
Although it should be noted that the cost of 3D printing depends on many factors and can change according to the geometry of the part, the amount of infill needed in it, and the layer resolution as well as the print speed.
Print Quality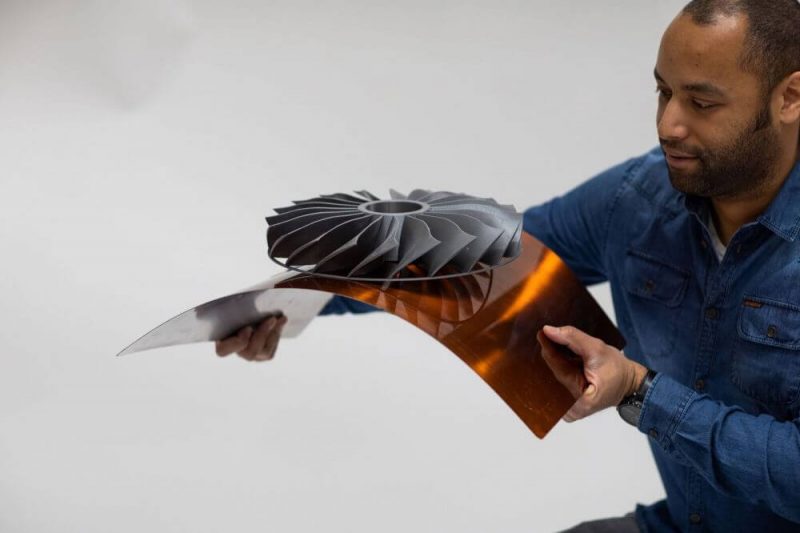 Credit: felixprinters.com
Excellent surface finish and intricate detailing is seen on parts or functional prototypes that are manufactured even when the printer works in dual nozzle direct extruder mode.
The layer resolution of the parts or functional prototypes manufactured by the printer is much higher than other printers in the same price range for which Felix printers must be given an immense amount of credit.
Software
Simplify 3D is the recommended software by Felix printers. The download link for all the pre-settings of this software is available from the website of Felix Printers. It is open-source software.
Customer Support
Felix Printers is a company that is known for many things, amongst which customer support is the main reason.
The company provides a warranty in many of its 3D printers and extends lifelong support in case of any technical problem in any of its 3D printers.
One can reach out to the company via call, email, or Skype.
In case of learning in-depth about the company's printers, one can also take the help of the global community hosted by the printer.
Parameters influencing the buying decision
Those parameters that one must look at before buying a 3D printer, to compare it with another are mentioned below.
3D Printer Cost: Expensive enough to say that only professionals in the world of 3D printing will be able to afford it.
3D Print Quality: Extraordinary surface quality of parts and functional prototypes even while printing with dual extruders is achievable using Felix Pro XL.
3D Print Speed: By assuring good quality prints, the manufacturer does not sway away from offering decent print speed in this printer.
3D Printer Capability: One can not only print with the most popular materials, but also with rare materials such as Carbon Fiber on this printer.
3D Printer Practicality: Small business owners and hobbyists would have to think a lot before making such a huge investment in buying this 3D printer.
3D Printer User Expectations: A professional would be happy to acknowledge the presence of such reliable manufacture in his domain.
The Verdict
Felix Pro XL's price defines a lot about the target audience of the company. At least as much as its build volume does.
Huge build volume, with flexible build plate, and dual extruder printing makes one part of industrial 3D printing.
Whereas the other half is served by the stability instilling aluminum rails, nozzle system, print heads, glass top, intuitive and many languages compatible touch screen interface.
All in all the printer has many features to attract professionals in the field of 3D printing worldwide.
And so, if you are one, do consider this printer before making a buying decision.