FlashForge Finder 2.0
FlashForge Finder 2.0 is an amazing choice for novices, students as well as amateurs. It works in an eccentric way as other 3D printers in the same price range by providing an intuitive user interface, and great print quality.
PROS
Available at an extremely affordable price.
Very straightforward in use.
Intuitive user interface.
Excellent software and good quality 3D printing.
CONS
Small build volume.
Absence of heated print bed.
Print speed is a little bit on the lower end.
Table of Contents
The successor of Finder, 2.0 is claimed to be much easier to use and available at an affordable price. The printer's capability to print right out of the box is an extremely lucrative feature for all those who do not wish to buy a DIY kit for themselves.
Also, the machine is much more safeguarded than its predecessor. So, the printer manufacturer has paid enough attention to secure the operator's proximity with it. All the heated components present on the printer's body are protected from touch. Moreover, the printing filament is completely non-toxic in nature.
Overall, Finder 2.0 makes up for an ideal desktop 3D printer for beginners looking to experiment with 3D printing as well as users buying for education purposes.
But, where does the printer stand when compared to other machines available in the same price range? Is it worth the hype that's created by the marketing of the printer manufacturer? We can only tell by having an in-depth look over the printer. So, let's get started.
Features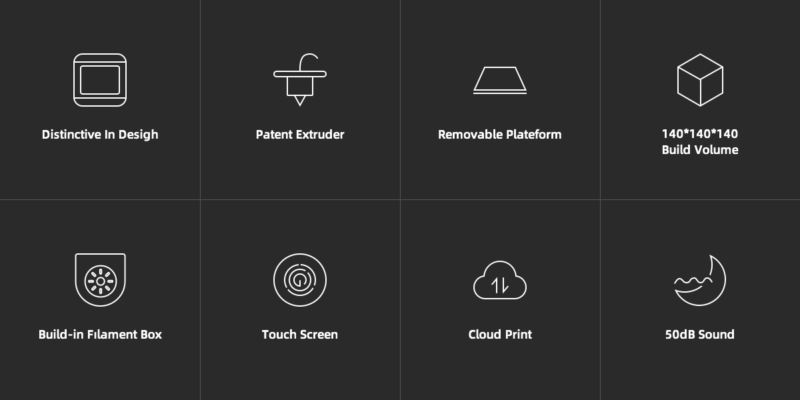 One peculiarity of Finder 2.0 is its noise-free operation. This separates it from typical FFF 3D printers available in the same price range. In fact, the machine is even for kids to operate. Its nozzle extruder is capable of withstanding 240 degrees Celsius.
The set of cables that connect everything with each other is not kept out open which makes the entire printer look neat and tidy. Apart from non-toxic filaments, the machine also prints with Wood as well as TPU 95. More exciting features of Finder 2.0 are mentioned and explained below.
Removable Platform
Most of the 3D printers of similar specifications as Finder 2.0's do not feature a removable build platform. Because of this, users find it difficult to remove the already 3D printing object and often end up damaging the job. Flashforge has taken this aspect into consideration and ensured that users of Finder 2.0 do not have to go through any such difficulties.
Finder 2.0 hosts a removable build platform. So, after printing any part or functional prototype you can easily remove the platform and take off the printed object with ease. There is no risk at all of damaging the printed part.
Straightforward Software
Finder 2.0 comes with FlashPrint which is as simple as functional. It has an intuitive user interface that lists a preset for any part's build quality. The application enables you to dive into an amazing world of 3D printing easier than ever.
The software features a smart support function that adds support to part geometry wherever needed. So, users do not have to put in extra effort doing the same. Moreover, FlashPrint automatically converts a two-dimensional design into three dimensional one in no time.
Easy File Transfer
The printer hosts a cloud platform that can store user models. It binds devices, enables online cloud slicing, displays remote printing status viewing as well as allows easy control of the printer. Users can exchange files using four different modes:
USB Cable connection
USB stick
Ethernet
Wi-fi.
Low Noise While Operation
When in operation, Flashforge claims that Finder 2.0's noise level is less than 50 decibels. This makes the printer eligible to be used in offices or home environments. The machine can function without disturbing the people working in its surroundings.
Moreover, users do not have to make any special arrangements for the printer like dedicating a prominent space for the same. Also, it's easier for operators or even kids to work with the machine.
Designed Keeping in Mind the Safety Considerations
What makes Finder 2.0 an ideal printer for kids and novices is its design considerations. To ensure that its users have enough freedom to design their imaginations and bring them to reality, the printer manufacturer has concealed all the cables within the plastic alloy body.
Also, Finder 2.0 has a sleek frame, without any sharp edge which makes it perfect to be kept on the working desk. Moreover, the hot end of the nozzle is protected from touch as well as the build plate is a piece of glass with no heat on it. So, almost all the components of the machine are constructed and arranged to take safety considerations into account.
Touch Screen Interface
Finder 2.0's body is embedded with a long touch screen interface that is extremely clear and easy to use. The components start out by giving users three options when the printer is turned on. After selecting one among the three the users are given other choices to select and control various functions that take place on the machine.
Apart from the basic start, stop, and pausing of the 3D printing process, operators can also change the basic print settings using the touch screen interface. The specialty of this feature is its intuitiveness. It tries to pre-calculate the choice that the user is looking for depending on its previous choice.
Assistive Bed Leveling
Beginner-level users do not need to spend time learning how to level the print bed! Finder 2.0's makers have put in place an assisted bed leveling system that helps you to follow some quick steps to level the print bed and get to 3D printing easily.
Also, note that this system guarantees accurate 3D printing of the first layer of the part geometry which is the most fundamental to any object creation.
The nozzle height is adjusted with respect to the print bed keeping in mind the geometry of the part or functional prototype that the printer is about to manufacture. Typical efforts that are to be given while manually leveling a print bed are not needed while dealing with Finder 2.0.
Specifications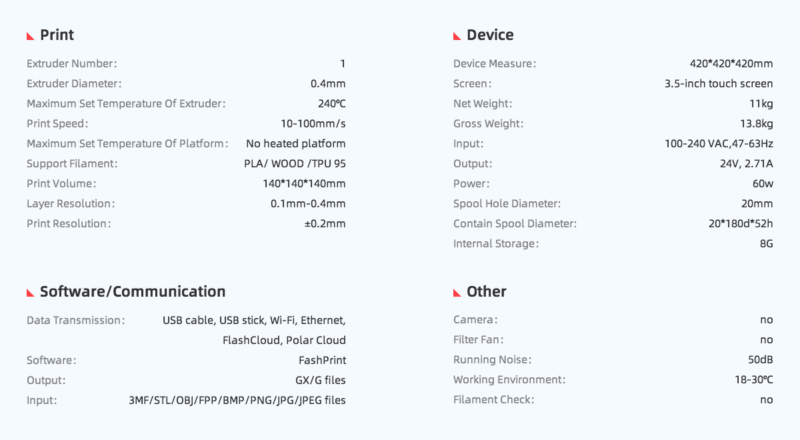 Finder 2.0 prints objects using FFF 3D printing technology. Users have the freedom to design parts and functional prototypes of a maximum build volume of 140 mm * 140 mm * 140 mm at a print speed ranging anywhere in between 10 to 100 millimeters per second depending on the print quality needed.
The machine is able to offer a layer resolution ranging between 0.1 to 0.4 mm and a print resolution of approximately 0.2 mm.
Operators can juggle with 3D printing filaments such as PLA, Wood, and TPU 95. For dealing with the mentioned materials, the printer's extruder is set to withstand a temperature of 240 degrees Celsius. Finder 2.0 has an extruder diameter of 0.4 mm.
The printer features a 3.5-inch touchscreen interface that makes the work of interacting with it much easier. It can be connected using multiple modes such as the USB cable, USB stick, Wi-fi, Ethernet, FlashCloud, and Polar Cloud. The machine has a standard cartesian XY head arrangement with a closed frame.
Finder 2.0's dimensions are 420 mm * 420 mm * 420 mm and it weighs 11 kilograms. It's absolutely transportable from one place to another with little or almost no hassle.
Price
FlashForge Finder 2.0 is available for $337.
First Impression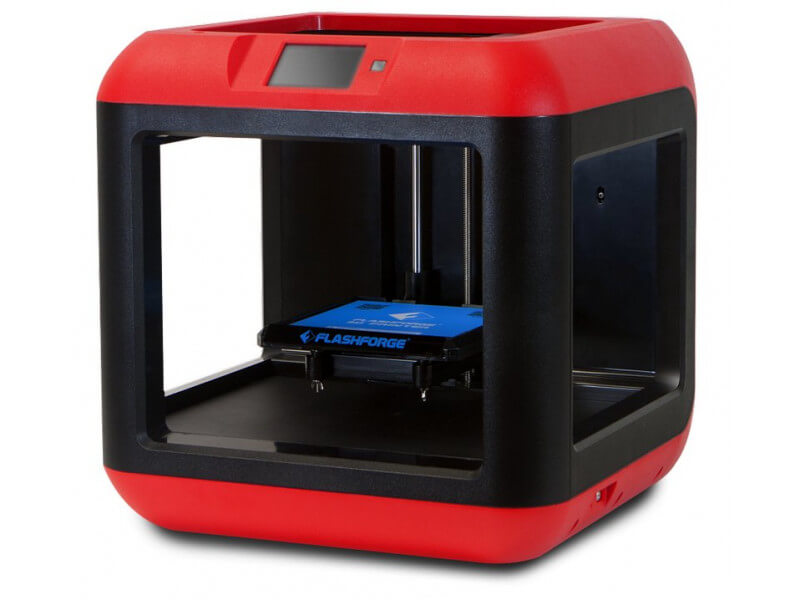 Finder 2.0 comes in a cardboard box with parts protected using foam plastic. Apart from the printer you have:
A 250 grams spool of PLA filament for you to start with.
A PTFE tube to carry the melted filament of high temperature.
A filament guide tube that provides you assistance with the material you are 3D printing.
A screwdriver to tighten or loosen the bolts present on the body of the printer.
An unclogging pin to help you with the nozzle.
A wrench.
Two Allen wrenches.
A pack of grease for maintenance.
A solid glue stick is to be used with the print bed.
A USB cable to help in the exchange of design files.
A power cable to start the printer.
A quick start guide which you can refer to, for knowing various components on the printer.
After-sales service card
Setup
Finder 2.0 comes completely assembled. The user needs to go through the quick start guide that comes along with the printer to know the various parts of the machine. It also covers the basic preparation steps that the operators need to follow to get to the printing phase.
Obviously, the first thing that needs to be done after receiving the device is unpacking the box and removing the blue tape. After which you'll have to cut the zip files from the guides which hold the print head in its place.
Then, raise the build plate manually by putting your hand underneath it and lift it slowly to remove the plastic present under the bed. The next steps are:
To load the filament spool.
Turn on the machine.
Level the bed.
Load the filament.
Heat the nozzle.
That's it.
Print Type/Cost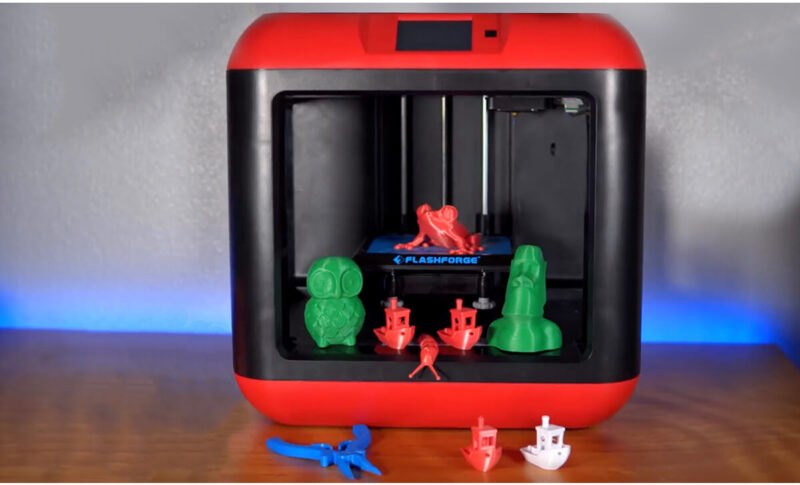 FFF 3D printing technology makes use of a solid filament spool for building a part or functional prototype. The process starts with mounting the filament on the spool holder and raising its temperature beyond its glass transition range.
After which, the melted filament is allowed to flow through the nozzle over the print bed thereby laying the first layer according to part geometry. Then, the head moves a layer upwards to lay another layer. This process is repeated until the complete part is deposited.
Normally, the cost of 3D printing a part or functional prototypes using FFF 3D printing is pretty inexpensive. It depends on various factors starting from the part geometry, type of filament used, the amount of infill needed, and the support structures.
Print Quality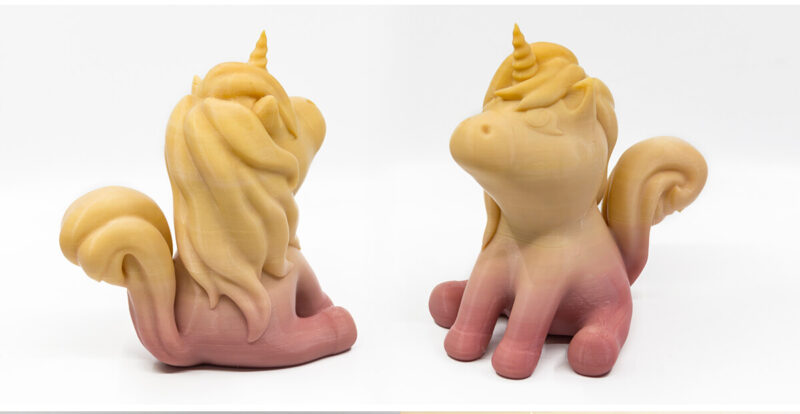 Although being a desktop FFF 3D printer, Finder 2.0 surprises by providing dimensionally accurate small parts with intricate geometries. Showpieces and toys with layer resolution ranging from 0.1 to 0.4 mm are easily delivered via the machine.
Software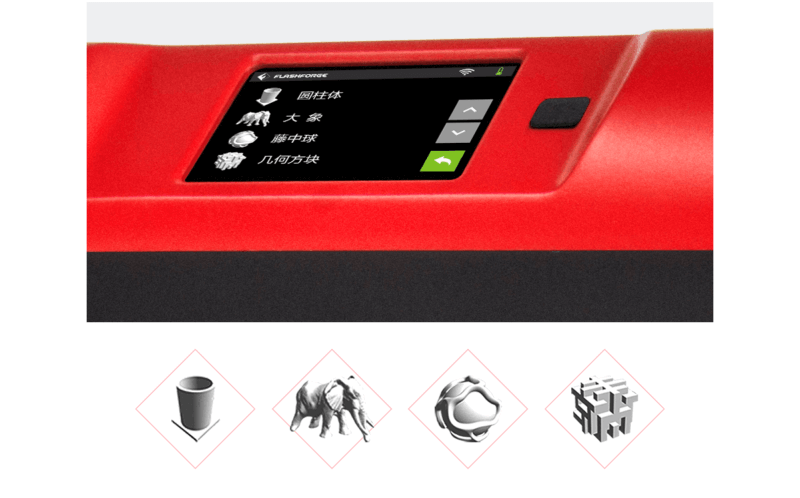 FlashPrint takes care of the design aspect of any object manufactured on the printer. It allows for file formats such as OBJ or STL. The application supports Windows, Mac as well as Linux operating systems and is available not only in English but also in French, German, Dutch, Polish as well as Korean languages.
Customer Support
FlashForge has an extremely customer-centric Support Center that has almost every material that its customers might need to avail assistance regarding minor troubleshooting.
A video center, download center has tutorials as well as documentation regarding FlashForge Finder 2.0. Apart from this, users can also reach out to the technical team of the printer manufacturer via call or email.
Parameters Influencing Buying Decision
The key factors that are good to know before buying Finder 2.0 are mentioned below in brief.
3D Printer Cost: Extremely affordable.
3D Print Speed: Average.
3D Print Quality: Being a desktop FDM 3D printer, Finder 2.0 manages to outshine its competitors in the same price range by providing excellent quality parts and functional prototypes.
3D Printer Capability: Beginner-level users would find it exciting to work with an intuitive user interface, straightforward software, assisted leveling, and easy setup.
3D Printer Practicality: When in operation, the machine is almost noiseless, therefore suited to home, office, and school environments.
3D Printer User Expectations: The printer manages to be an ideal one for beginners in the field of 3D printing, even kids and educationists.
The Verdict
FlashForge Finder 2.0 is an amazing choice for novices, students as well as amateurs. It works in an eccentric way as other 3D printers in the same price range by providing an intuitive user interface, and great print quality.
Although the print speed and build volume are not as great as its competitors, there are enough other factors like multiple modes of connectivity, cloud integration, smooth workflow providing software which balances out.
Overall, Finder 2.0 is an impressive choice for anyone who is looking for an affordable 3D printer that is based on the simplest 3D printing technology and efficient enough to provide detailed prints.