Lotmaxx SC-10
Buying Lotmaxx SC-10 is bringing home a commendable 3D printer based on the most common 3D printing technology, not hard to master. Added to this are the amazing set of features offered by the printer at such an amazing price!
PROS
Supports filament break detection, resume printing after power loss and a stopped print and also supports online or TF card offline printing.
3.5-inch Touch LCD Screen.
Support 7 languages - Chinese, English, German, Russian, Spanish, French, Italian.
Integrated metal body design.
Mute printing.
CONS
Open body of the 3D printer makes it hard for you to achieve the glass transition temperature of the filament material.
Part quality is average.
Product
Specification
Videos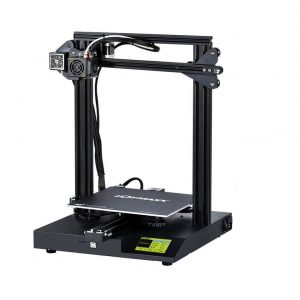 Providing a stable and durable full-metal body, Lotmaxx SC-10 is a desktop FDM 3D printer that comes 95 percent preassembled. The printer can be ...
| | |
| --- | --- |
| Model | SC-10 |
| Manufacturer | Lotmaxx |
| Price Range | $ 219 |
| Country | China |
| Availability | Available |
| Classification | Desktop |
| Technology | Extrusion (FFF- FDM…) |
| Material | ABS, Copper-Bearing, Gradient, PLA, TPU, Wood |
| Filament diameter | 1.75 mm 0.07 in |
| Generic material | Yes |
| XY accuracy | 0.0127 mm 0.001 in |
| Max. build size | 235 x 235 x 280 mm 9.25 x 9.25 x 11.02 in |
| Max. build volume | 15.463 L |
| Min. layer thickness | 0.1 mm 0.004 in |
| Nozzle diameter(s) | 0.4 mm 0.02 in |
| Max. print speed | 180 mm 7.09 in /s |
| Power input | Input: AC 100-120V-6A/200-240V-3.4A, output: 24V, 14.6A |
| Dimensions | 432 x 467 x 490 mm 17.01 x 18.39 x 19.29 in |
| Heated print bed | Yes |
| Heated build chamber | No |
| Automatic calibration | No |
| Closed frame | No |
| Dual extruder | Yes |
| Independent Dual Extruder | No |
| Full color | No |
| LCD screen | Yes |
| Touchscreen | Yes |
| On-board camera | No |
| Mobile app | No |
| 3D scanners | No |
| CNC mill | No |
| Electronics 3D printing | No |
| Laser engraving | No |
| Conveyor belt | No |
| Air filter | No |
| Pellet extruder | No |
| USB | Yes |
| Wifi | Yes |
| Bluetooth | No |
| SD card | Yes |
| Ethernet | No |

Table of Contents
Lotmaxx is a 3D printer brand owned by Senma 3D. The latter is inspired by 3D printing technology inventor, FDM 3D printing technology inventor, and DLP 3D Print technology inventors, Chuck Hull, Scott Crump, and Larry Hornbeck respectively. The ideology behind "Lotmaxx" is "Lots of Ideas, Maximum Creation."
Lotmaxx made its debut on Kickstarter on June 9th by releasing its first-ever crowdfunded desktop 3D printer, the one that we are going to review in-depth in this article.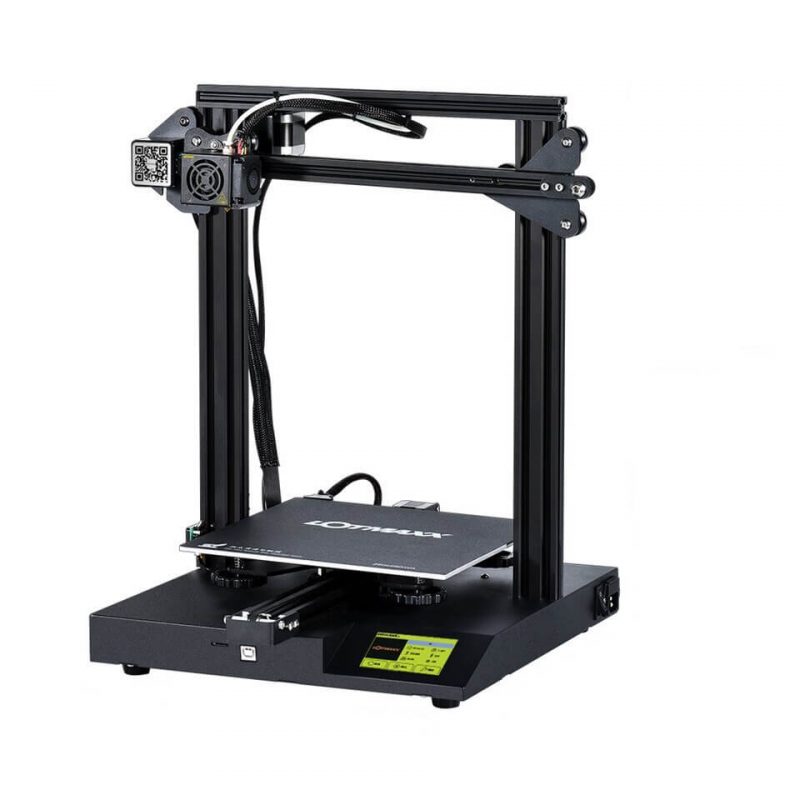 The product breaks further ground by boosting its maximum print speed offering, thanks to Lotmaxx's innovative heat dissipation technology.
Other features of the printer also assist you to smoothly carry out various steps of 3D printing and we will discuss each one of them one by one. So, let's get started.
Features
Equipped with a flexible and durable steel build plate, with The Lotmaxx SC-10 Shark you need not use a gluestick to improve adhesion.
In case you are having a hard time removing the models, the printer's build plate will make your life easier. Also, the printer comes packed with an ultra-silent stepper motor named TMC2208. This motor will help reduce noise effectively.
Not Getting Heated Even While 3D Printing
Because of the unique design of its modular nozzles, the Lotmaxx SC-10 Shark maintains its cool even while 3D printing.
The unique Aeolus Heat Dissipation system (AHDS) efficiently dissipates heat with its own uniquely developed four-fan design.
This is extremely useful for effectively cooling the nozzle from all angles. It increases the efficiency of heat dissipation by 42%. Also, it ensures that the printing quality and speed as measured in the Lotmaxx lab.
Moreover, the S Move System (SMS) assists the motors in traveling at a high speed, which enables faster printing speed and more precise movement.
It is not necessary that the printing speed be high, it can be set either to normal, middle, and high speed using the touch screen interface.
Adding this feature with high-speed stepper motors makes the printer a powerhouse guaranteeing unparalleled speed as well as stability.
Automatic Bed Leveling
Although this is a feature that you will see nowadays offered by every 3D printer, SC-10 has its own unique way of doing it.
The Lotmaxx SC-10 Shark is equipped with an optional automatic bed-leveling feature that is built on an ultra-precise technology allowing for 0.1 mm accuracy.
It is to be noted how an unleveled bed might cause nozzle clogging, scratch marks, and poor adhesion, so having a correctly leveled bed is a key feature to improve the quality of your prints.
For auto-leveling the SC-10 Shark's print bed, you will simply need to tap the touch screen for activating the auto-leveling interface; this will lead to an inductive sensor probing the heated bed.
Precise measurement of the print surface's tilt is possible using it. Moreover, it frees you from a time-consuming and tricky manual process.
That being said, regardless of whether you are a newcomer or a skilled maker, by the automatic bed leveling you can enjoy hassle-free 3D printing.
Laser Engraving and Dual Color Printing
The Lotmaxx SC-10 Shark supports an optional 1.6 W laser engraver. Because of this part, you are allowed to engrave a wide variety of materials like wood, plastic, leather, PVC, paper, and resin.
Even, the tool heads can be changed easily by simply attaching the laser engraver module that's present next to the print head. After doing so, be ready to witness your creativity turning into reality.
Mostly, it's the color that makes artworks unique and special so is the case with 3D printed parts as well.
Although the SC-10 3D printer comes with just one nozzle, the printer manufacturer offers an optional dual-color print head tier.
Also, besides the basic option, you may choose a different package that comes with two extruders and one nozzle that allows you dual-color printing.
Power Cut Recovery and Filament Detection
The last thing you want with your 3D printer is a failed print due to a power cut, wasting your precious time and material.
Keeping this in mind, the printer manufacturer has equipped SC-10 with a resume printing feature, a must-have for 3D printing nowadays.
The Lotmaxx SC-10 Shark will pick up immediately from the point you stopped your work before power loss and continue with the print with just a tap on the touch screen.
Moreover, the printer prints in a much smoother and smarter way. It doesn't let broken filament stop you from 3D printing a part or functional prototype.
The printer's built-in filament sensor detects filament outage quickly thereby stopping the device to avoid wasting materials and models.
After you are done feeding the machine new filament, the Lotmaxx SC-10 Shark will resume the print exactly from the point where you left it off.
3.5 inch Touch Screen Interface With Multiple Languages
The 3.5-inch, highly sensitive touch screen fixed on the body of SC-10 can be detached for added convenience. It's custom-molded with the printer and fits in your hand, all thanks to an ergonomic design.
The touch screen permits you to control the printer directly, give instant feedback on current printing job details, and indicate its progress and elapsed time.
Multiple language systems are needed for an increasingly connected world, the printer manufacturer has kept the same feature in mind and ensured that Shark supports eight languages for its user interface: English, German, French, Italian, Spanish, Portuguese, Japanese, and Chinese.
Identified Power
If there is one thing that Lotmaxx is known for in the 3D printing market, it's for never compromising on safety. The Shark printer is designed keeping in mind safety and security features.
One illustration about the same is the branded power supply, with an overload protection guarantee. It safeguards your machine from potentially harmful power fluctuations.
Specifications
SC-10's frame is made from an Aluminum profile which gives the printer overall stability during 3D printing processes.
The machine's platform board is made from a mixture of Aluminum Alloy, fiberglass board, and platform sticker.
You can print with a single nozzle of diameter 0.4 mm. The nozzle is capable of withstanding temperatures ranging from 0 to 260 degrees Celsius.
Lotmaxx SC-10 offers a build volume of 235 mm * 235 mm * 280 mm. All the parts or functional prototypes manufactured by the printer have a layer thickness ranging from 0.1 to 0.4 mm.
For transferring files on the SC-10 you have a TF card. There is an LCD screen present on the body of the printer to ease your complete interaction with the printer in Chinese, English, German, Russian, Spanish, French, and Italian language.
The maximum print speed offered by the machine is 180 millimeters per second. Its platform can withstand a maximum temperature of 100 degrees Celsius.
You can print with filaments such as PLA, ABS, TPU, Wood, Copper-bearing, Gradient, etc, provided they are in a filament with a diameter of 1.75 mm.
The XY positioning accuracy of SC-10 is 0.012 mm whereas the Z-axis positioning accuracy is 0.004 mm. Apart from the TF card, you can connect with the printer using the US SD card, and Wi-fi.
Price
At the time of writing this review, Lotmaxx is priced at $219 and is easily available from their website.
First Impressions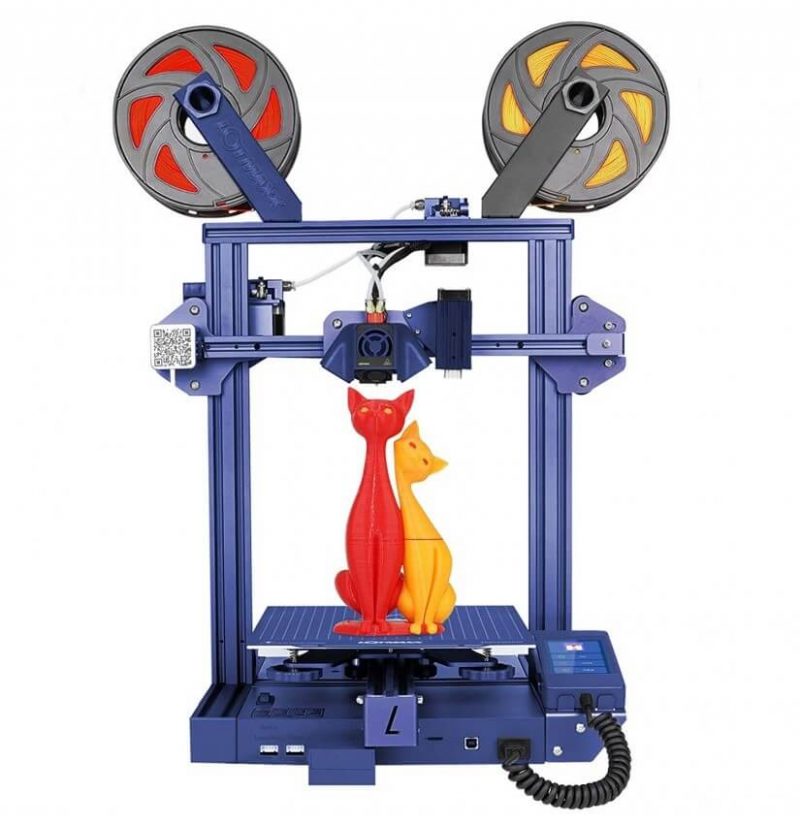 Credit: 3dprintersonlinestore
The printer looks like normal Cartesian 3D printers with an open design. It has a filament spool holder above the head of its print head.
The print head of SC-10 stands on two pillars that have rails attached to them for up and down movement of the nozzle system.
There is a touch screen user interface that is attached to the right bottom of the body of this printer. The print bed of the printer stands on the base of the body conveniently letting you remove the final prints on it.
Setup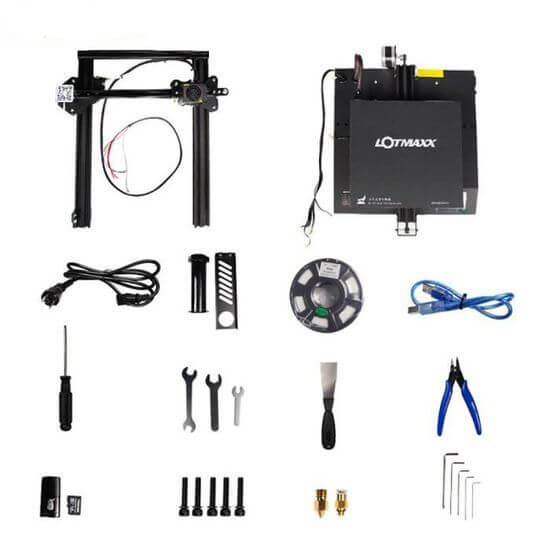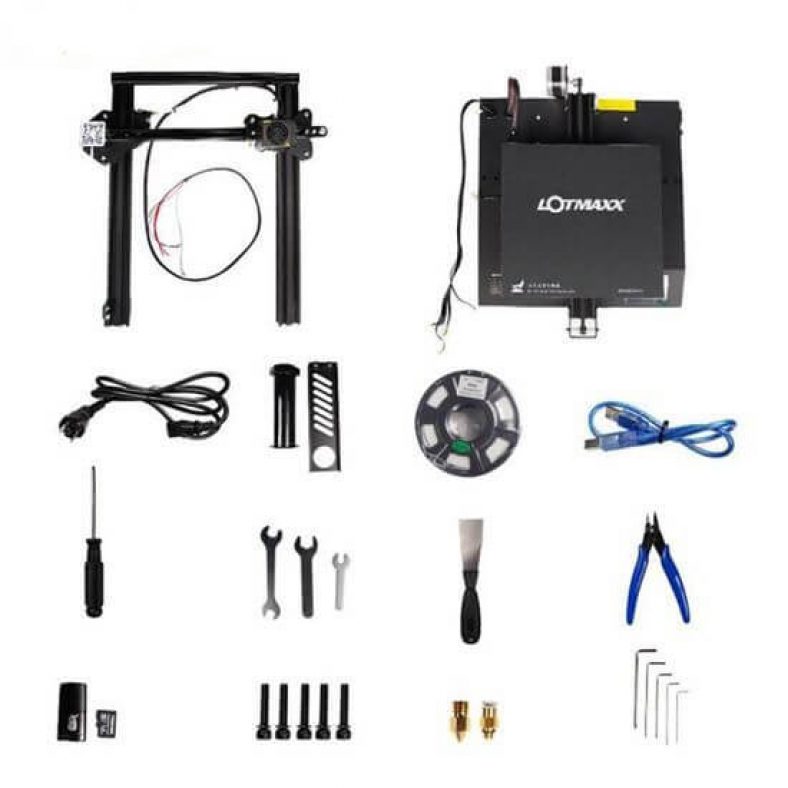 The company claims how assembling the printer takes not more than five to ten minutes. The Lotmaxx SC-10 comes 95 percent pre-assembled all you need to do is complete the remaining five percent set up in two steps.
You need to make use of six screws to complete the entire assembly i.e. joining the setup of two pillars and the print bed on the base on the printer, which will not take more than 10 minutes. So, the printer is almost a plug-and-play type 3D printer.
Printing Type/Cost
Lotmaxx SC-10 is based on FDM 3D printing technology, allowing you to print with PLA, ABS, TPU, Wood, Copper-bearing, and Gradient filaments.
Normally in FDM 3D printing, the filament needs to be held by the spool holder that's present above the print head.
It then needs to be heated till the glass transition temperature of the filament material is achieved. After which the liquid filament is allowed to pass through the nozzle to the print bed.
And then finally, layer after layer, the melted nozzle gets laid on the print bed according to the geometry of the part that's to be printed.
The last step is cooling which in the case of the printer would be done naturally and not via artificial cooling fans.
Normally, the cost of 3D printing a part using FDM 3D printing technology is the lowest compared to other technologies.
Because other technologies use different types of laser sources or UV light sources to heat, whereas that is not the case in FDM 3D printers.
Print Quality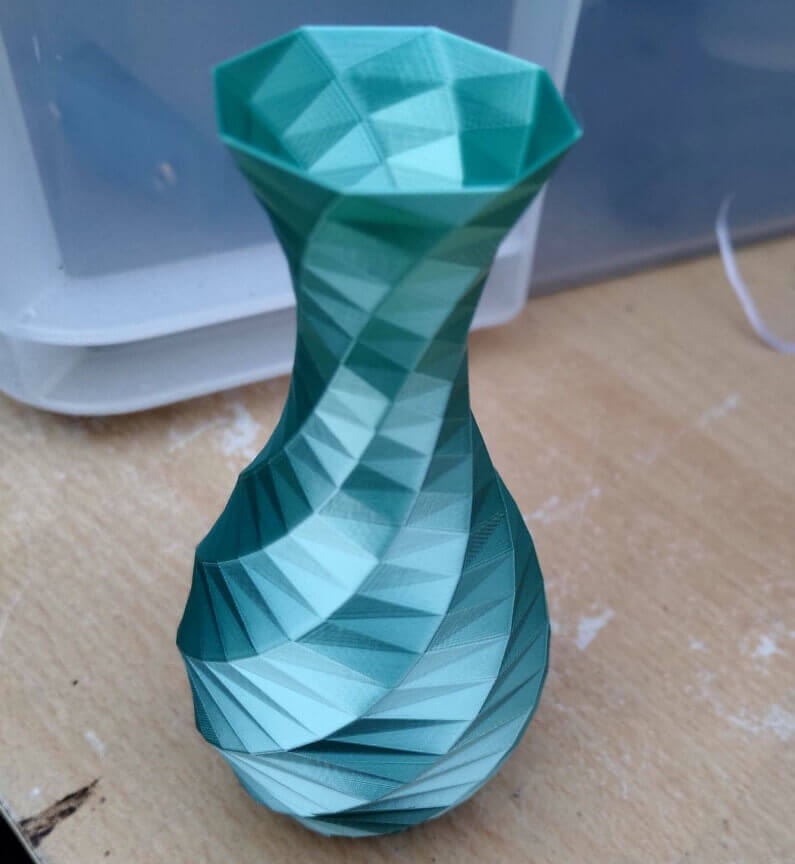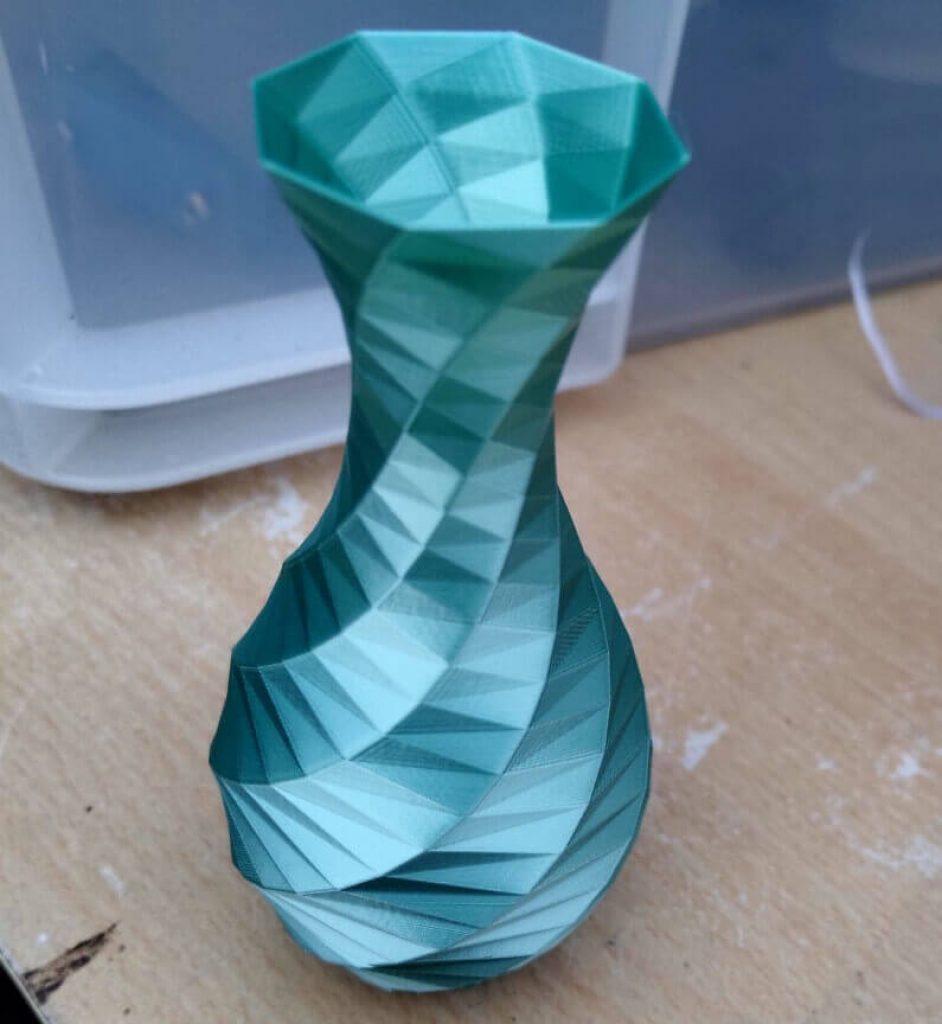 Credit: inov3d
On average, SC-10 offers layer height ranging from 0.1 to 0.4 mm in parts and functional prototypes. Its XY axis positioning accuracy is 0.012 mm and Z-axis positioning accuracy is 0.004 mm.
So, you can expect good results with printing domestic parts that you need for repairing equipment at your place.
Seeing the picture posted on the printer manufacturer's website one can clearly see how SC-10 is even good at printing toys.
Speaking about print quality, one thing that cannot be ignored is how the printer offers dual-color 3D printing. This allows printing completely finished parts at one go.
And that might seem like a simple feature, but when compared to other printers which require post-processing and coloring of parts, these features help you save a lot of time and effort.
Software
Lotmaxx SC-10 is compatible with Repetier-Host, Cura, and Simplyfy3D. All three of them are replaceable for being in the first place when it comes to winning the title of being the most user-friendly slicing software.
Customer Support
To assist you in all possible manners, Lotmaxx has made the firmware, software, and other essentials that you need with the printer on their website.
You can even go through the YouTube tutorial of various aspects like setting up the printer. And if there is something more you can always reach out to the company via email or phone.
Parameters Influencing Buying Decision
Below mentioned are some of the main factors that you need to look at while deciding whether you buy this printer or not.
3D Printer Cost: $199 is almost the cheapest it gets speaking of the huge build volume SC-10 has to offer to you.
3D Printer Quality: Although not up to the mark or excelling, dual-color 3D printing is what makes the printer's print quality intriguing.
3D Print Speed: This is again one of the main plusses of the printer. It allows you to print at extraordinary speed.
3D Printer Capability: As mentioned above, the machine allows you to print with more than one filament material.
3D Printer User Expectations: In such an affordable price range, the printer manages to stand by beginners' expectations, letting them learn and experiment with 3D printing technology by not spending too much.
The Verdict
Buying Lotmaxx SC-10 is bringing home a commendable 3D printer based on the most common 3D printing technology, not hard to master. Added to this are the amazing set of features offered by the printer at such an amazing price! If the quality of parts is not a huge concern, the printer is definitely worth checking out.