Murobo Atlas
Murobo Atlas's features are more eccentric than general desktop 3D scanners that aren't made from 3D printing. It's really like creating extremely functional out of nothing at all.
PROS
Supports camera in still as well as video mode.
Configurable image processing settings.
Compatible and portable.
Easy to set up and operate.
Supports dual laser lines.
Integrated with Raspberry Pi.
Comes with open-source software.
5 megapixel camera sensor.
Auto calibration.
Complete standalone scanning.
CONS
Like all other laser scanners, Atlas too has trouble with shiny, black, and furry surfaces.
There is a risk while scanning components with low volume.
Table of Contents
Atlas is the first budget-friendly 3D printable scanner. It is purposely kept affordable and accessible for the mass. The machine delivers high-quality scans that can be used for building finished products.
The kit is available in two manners: 1) as BYOP i.e., Bring Your Own Pi-Kit: it includes all components except the Raspberry Pi parts, 2) the full kit that comprises all the electronics.
The scanner is equipped with a five-megapixel camera, the ability to drive lasers and motors as well as sufficient memory and CPU power for doing 3D scanning.
But, what makes this scanner compete for a similar scanner in the same price range? Does it offer value for the money it charges? Well, let's get to know by looking at it in-depth.
Features
Murobo Atlas can be printed using ABS as well PLA. It comes with an optional acrylic enclosure that can be used while scanning parts in sunlight. It is able to deliver up to 3200 samples per table revolution.
Equipped with a 5-megapixel camera sensor, the scanner supports capturing not only instill but also during video mode. Due to the auto-calibration feature, users do not need to undergo any sort of trouble before starting the scanning process on the machine.
Having stated so, let's have a look at more such exciting features mentioned and explained below.
Compatible with Various Operating Systems
Atlas 3D's software runs comfortably on the Raspberry Pi so the communication with the machine occurs through a normal web browser. Due to this, the scanner allows virtual control via any modern operating system including Windows, Linux, Mac, or most smartphones.
This feature gives the user a sort of flexibility as well as freedom. It does not limit them by any means either for operating or controlling the scanner.
Auto-calibration
Users of this scanner need not go through the tiring process of calibrating it before every scan. After installing the software, one can easily click on the software to start the calibration system of Murobo Atlas. This saves a lot of time and decreases the overall scanning time.
Supports dual laser lines
Like other desktop 3D scanners in the same price range, Atlas supports dual laser lines. So, you do have the option of installing a right and left laser line according to your need for scan accuracy. Remember, the more laser lines, the more measurement points, the more accurate a scan can be.
Persistent Storage of Previous Scans
Atlas stores all the previous scans that you've done using it. So, in case you wish to use any of your former works, you can do that easily. By having access to that, it becomes easy to manipulate your current objects with that geometry.
Manual Control of Lasers and Turntable
Operators can easily control the way lasers behave on Atlas. So, in case you wish more measurement points on a particular object, it is possible. Also, the turntable makes the overall work of capturing all the perspectives a lot easier as well as less time-consuming.
Because of the turntable, the part can rotate while the laser can project measurement points over it, whereas the camera can capture its images.
Simple Construction
Atlas 3D needs no technical knowledge at all. Neither in its setup nor during its operation. It is a minimalistic scanner that requires no soldering or electrical knowledge for its build-up. All of its components can simply be screwed together.
Specifications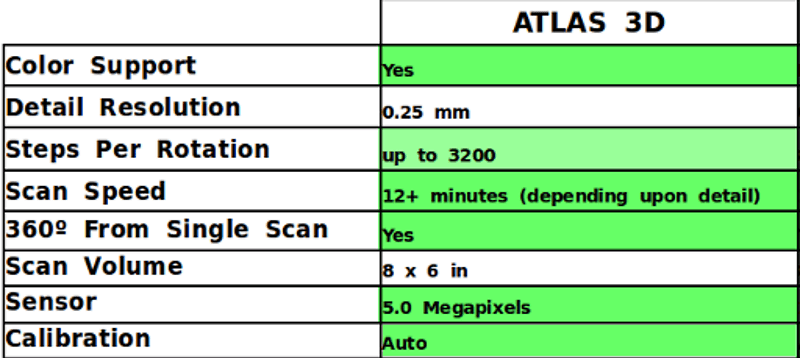 Credit: murobo
Atlas supports color scans. It is able to deliver 0.25 mm detailed resolution in parts and functional prototypes scanned using the scanner.
The machine has up to 3200 steps per rotation and can scan objects in up to 12 minutes or more depending on the detailing. A single scan of an object typically consists of capturing 360 degrees of it.
The scan area limit on Atlas is 8 inches * 6 inches. It is equipped with a 5-megapixel sensor and has auto-calibration features.
The scanner supports STL as well as PLY file formats. Users can get point cloud as well as triangle mesh exports using the machine.
Price
The BYOP kit of Murobo Atlas costs $149, whereas the complete kit costs $209.
First Impression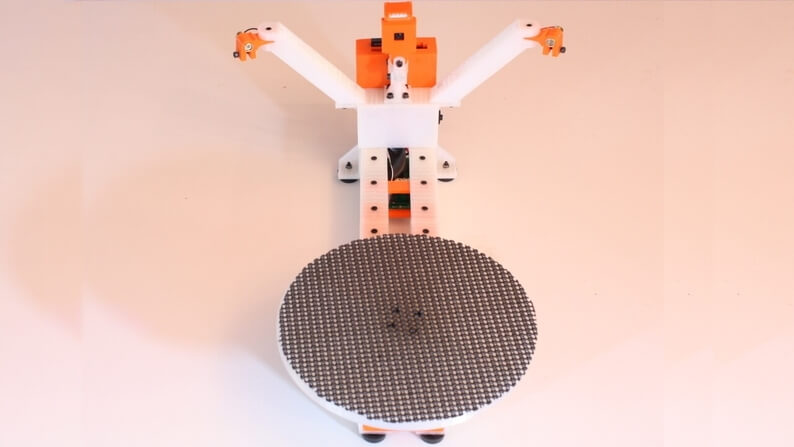 The scanner comes in a kit with:
A Raspberry Pi 3 B with built-in WiFi and Bluetooth
5MP CMOS Camera
2 Laser Modules
8GB MicroSD Card preloaded and ready to scan
Electronics Board
Power supply
Stepper Motor
High Friction Turntable Liner
Rubber Feet
The kit contains everything that typical full kits have, except for Raspberry Pi, camera, and Wifi adapter. It is to be noted that users require no soldering or electrical knowledge for building it.
Also, all of the components simply screw together and the user must print plastic parts with it.
Setup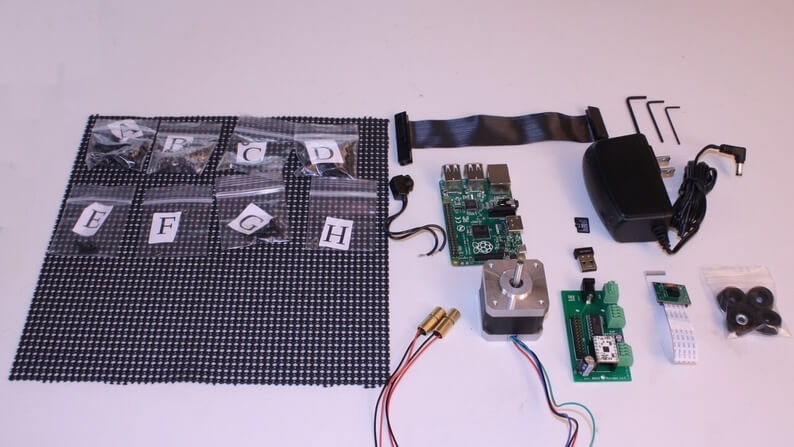 Credit: murobo
The first iteration of the Atlas 3D scanner kit consists of all the electrical components that are needed for building the rotating 3D scanner.
Accompanied with it are all the STL files for 3D printing its parts, and an instructional video on how to assemble the scanner. Although not as full-proof as other scanners, Atlas is close to reality and replicating others.
Scan Type
Atlas 3D works by lightening up an object with laser light and then utilizing the 3D triangulation for the generation of a point cloud for each location where the laser hits the model.
The adjacent points are then joined with each other as triangles for the formation of a 3D model which can be used as it is for many purposes. Also, it can be processed in a software package like Meshlab for making water-tight and print-ready scans.
Scan Quality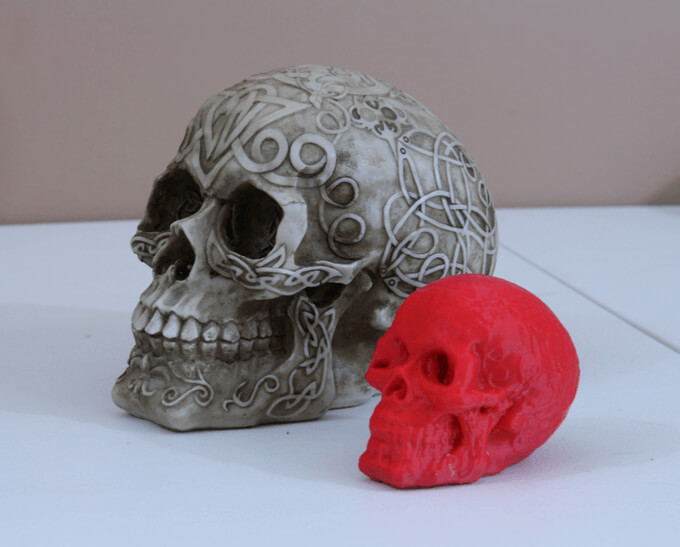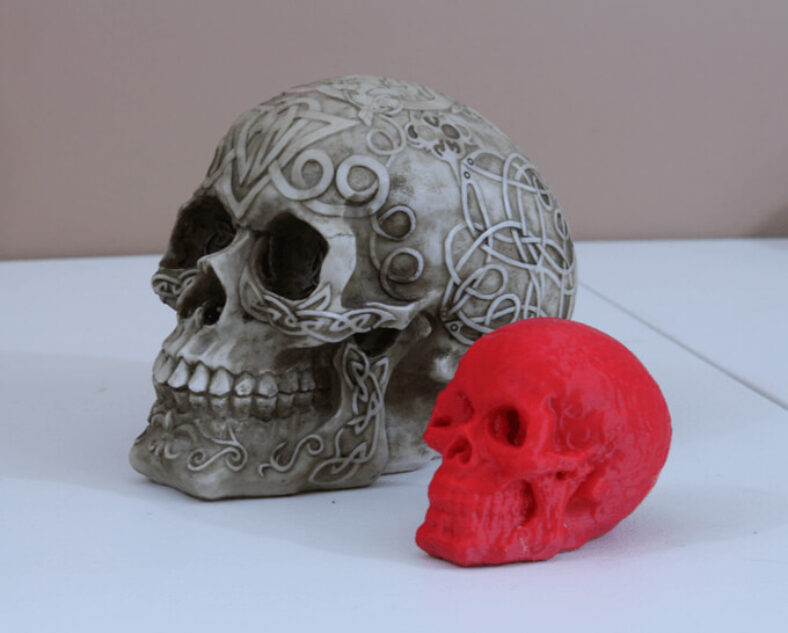 Credit: murobo
The pictures of Orc Scan, Close up of the Orc triangle mesh, Skull scan, its 3D print, Santa scan, as well as screw scans depict parts to a great extent.
Software
The scanner can be integrated with FreeLSS Commercial. It is an open-source software based on Raspberry Pi, written in C++ and licensed under GPL.
It is self-contained in Raspberry Pi without any need of connecting the computer via USB. The application's user interface is entirely web-based, exposed via Libmicrohttpd on the Pi.
Laser sensing in this software is performed using the official 5 MP Raspberry Pi camera which can be operated either in the video or still mode.
Customer Support
There is enough material available online to which can guide you not only through the process of setup, but also answer your queries faced during Atlas' operation.
Parameters Influencing Buying Decision
Below mentioned are some of the chief factors that are good to know before buying Atlas.
3D Scanner Cost: The scanner is extremely cost-effective. With the complete kit costing just above $200, Atlas is available at a price of entry-level desktop 3D scanners which is great considering the amazing list of features it has to offer.
3D Scanner Speed: Although not extraordinary, the scanner doesn't disappoint its users by not offering the average speed that is provided by other scanners in a similar price range.
3D Scan Quality: This is very Atlas exceeds its competitors. All of its scans whether in point cloud form or triangular mesh form are of high quality. In fact, costing around $200, it's amazing how Atlas can manage to create such amazing quality scans that are very accurate.
3D Scanner Capability: The scanner is able to support the camera in still as well as video mode. Also, it supports dual laser lines which can increase the overall quality, Moreover, the 5-megapixel camera sensor works great while capturing images of the object for preparing scan.
3D Scanner Practicality: Atlas can be used for capturing scans at homes, offices, as well as for professional designing purposes up to an extent. It's a delicate piece of art that manages to easily create scans of varied objects and geometries.
3D Scanner User Expectations: The scanner mainly targets beginner-level users for whom buying a 3D scanner is a very difficult task given its cost. By making Atlas extremely affordable and accessible to all, Murobo has hit the mark.
The Verdict
Overall, Murobo Atlas is something completely out of the box. Who would have imagined preparing a 3D scanner from 3D printing?
It's like creating a part from a technique in which it can be beneficial for the future. Users will get help in experimenting with their ideas of 3D scanning parts with ease.
The scanner's features are more eccentric than general desktop 3D scanners that aren't made from 3D printing. It's really like creating extremely functional out of nothing at all. All credits to 3D printing and the innovator of Atlas for such an innovation.