Phrozen Shuffle XL
The Phrozen Shuffle XL is an attractive option because of the additional print volume it offers without compromising on the quality of the prints.
PROS
Phrozen Shuffle XL has a huge build area and faster print times.
The print quality of this printer is superb and it can also be connected via the Internet.
Its utility is as consistent as its looks are and the fact that it offers high-quality print is just above both of those qualities.
Despite these amazing features, the printer is affordable compared to similar systems.
CONS
For operating the printer in the long term you need some extra accessories.
The printer has two Loud and Frustrating fans.
The user interface of this printer is bloated.
Product
Specification
Videos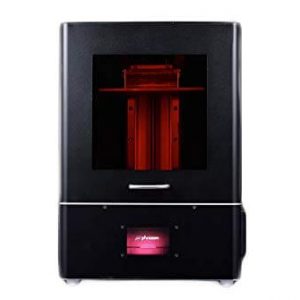 For operating and interacting with the awesome looking printer you have a touchscreen interface. The printer is consistent even when you are printing ...
| | |
| --- | --- |
| Model | Shuffle XL |
| Manufacturer | Phrozen |
| Price Range | $ 1299 |
| Release date | 2019 |
| Country | Taiwan |
| Availability | Available |
| Classification | Desktop |
| Technology | Resin (SLA- DLP…) |
| Material | Liquid resin |
| OS compatibility | Mac OS, Microsoft Windows |
| Generic material | Yes |
| XY accuracy | 0.075 mm 0.003 in |
| Max. build size | 190 × 120 × 200 mm 7.48 × 4.72 × 7.87 in |
| Max. build volume | 4.56 L |
| Min. layer thickness | 0.01 |
| Dimensions | 390 × 290 × 470 mm 15.35 × 11.42 × 18.5 in |
| Weight | 22 kg 48.5 lb |
| Heated print bed | No |
| Heated build chamber | No |
| Automatic calibration | No |
| Closed frame | Yes |
| Dual extruder | No |
| Independent Dual Extruder | No |
| Full color | No |
| LCD screen | No |
| Touchscreen | Yes |
| On-board camera | No |
| Mobile app | No |
| 3D scanners | No |
| CNC mill | No |
| Electronics 3D printing | No |
| Laser engraving | No |
| Conveyor belt | No |
| Air filter | No |
| Pellet extruder | No |
| USB | Yes |
| Wifi | Yes |
| Bluetooth | No |
| SD card | No |
| Ethernet | No |

Table of Contents
After the normalizing of Fused Deposition Melting, almost every hobbyist was using a printer that uses this technology. It is in the past three years that, Stereo Lithography has been made available cheaper than what it was.
Since this transformation of SLA as a technology that was only available in industrial-grade printers, to SLA available in the form of desktop 3D printers, it is more preferred than FDM 3D printers.
There is a difference between FDM and SLA which has to deal with the quality of prints that you get to see in the parts and functional prototypes that you print with the printer.
However, there is also a difference in quality between printers that uses SLA and the ones that use masked SLA technology. In masked SLA technology, LCD is used to mask between the ultraviolet light and the resin.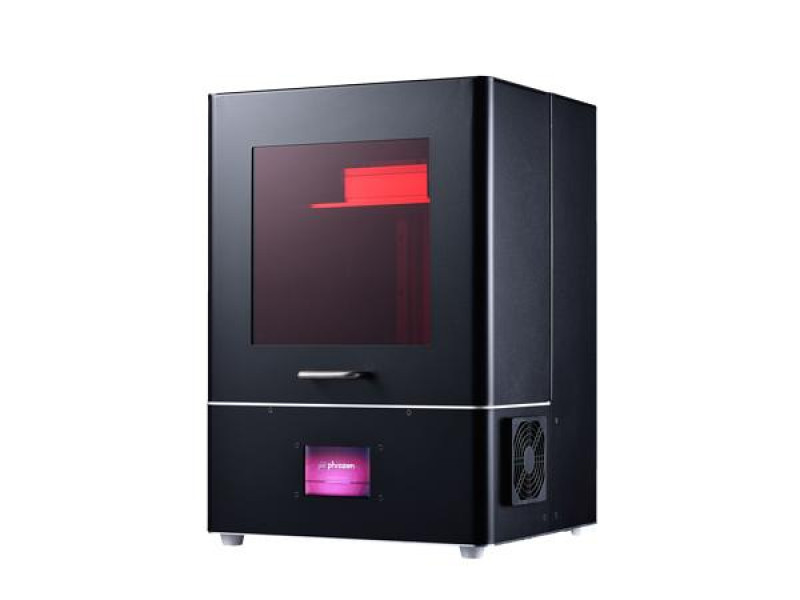 The manufacturer Phrozen's last' project was The Phrozen Make which is also a desktop LCD 3D printer that promised fast prints with wireless printing and third part material compatibility.
As exciting as this sounds, so exciting it is. Let's explore the features of Phrozen XL to pin a reason for our excitement.
Features
Phrozen Shuffle XL is one more step forward to the step that was taken after which this technology was been made available to the masses. This latter step let the masses build prints of volume that was never seen before.
Before the creation of Phrozen Shuffle XL, printers used to have a very low volume. So, on one side you did get print qualities that were never seen before.
But you had to compromise on the build volume. But after the creation of this printer, you could get the build volume that you wished to have with the print quality.
Phrozen Shuffle XL had almost the double print area of the highest offered print volume at that time.
This print space was used to print a lot of fantastic stuff, like, full-sized mechanical parts that are used in the aerospace industry, precise equipment that is manufactured for use in the medical industry, and automotive and jewelry.
And what enables Phrozen Shuffle XL to do so is the features that the 3D printer possesses. So let's take a look at them one by one.
Para LED Optical Engine
The Phrozen Shuffle XL uses something called a "ParaLED Optical Engine." The specialty of this part is that it helps to keep the resolution of printed parts and prototypes very high.
To an extent that you can tell when you take the print in your hand how it exceeds your expectations. Essentially this is an LED matrix that matches the 2K 5.5-inch size screen.
The ParaLED is optimized for emitting its light as close to parallel as possible. So that's why it's named Para LED because it emits light in a parallel. The more parallel these lights are emitted, the neater the print is available in a faster.
The Inner Mechanism Of Phrozen Shuffle XL Is Peculiar
Mechanically, this printer offers precisely what you need in a machine that has only one moving axis i.e. rigidity. Amongst the odds, Phrozen has laid its trust on accuracy offered by the ball screw instead of the threaded rod or lead screw which is more common for desktop printers.
The shaft of this machine partners with dual linear guides, giving it the exact amount of rigidity that's needed for having accuracy in the Z-axis motion.
The interfacing of print is taken care of by the FEP bottomed resin vat. Even if you print with Phrozen XL continuously for hours, you'd hardly see a crease or dent in the FEP.
NanoDLP gives this printer the strength to operate with complete freedom by slicing the STLs onboard courtesy, which is apparently by its own Raspberry Pi.
Being one of the most intelligent brains in the market, it feeds understanding to Phrozen's mainboard and therefore you'd notice a permanent connection been given between the two.
Specifications
Phrozen Shuffle XL uses LCD based Masked Stereo Lithography technology. The printer's LCD's dimensions are 8 inches and 2K. Resins used by this printer are in the order of nanometer and the engine used by Phrozen Shuffle XL is Para LED Optical Engine.
The printer has a build volume of 190 mm * 120 mm * 200 mm, X, and Y-axis resolution of 85 microns and a Z-axis resolution of 10 microns.
You can connect to this printer using USB and LAN connections. The printer weighs 21 kilograms and has a dimension of 315 mm * 285 mm *450 mm. Phrozen Shuffle XL has a print speed of 35 mm per hour.
Price
$1399 is the price of Phrozen Shuffle XL on printers by. Those who have been printing with FDM desktop printers all these years would find the price a lot high than what they are used to pay.
But there have been transformations amongst the views of such people who were first adamant, then after trying were fine with the price. So, overall, the price currently is on its way to being justified.
First Impression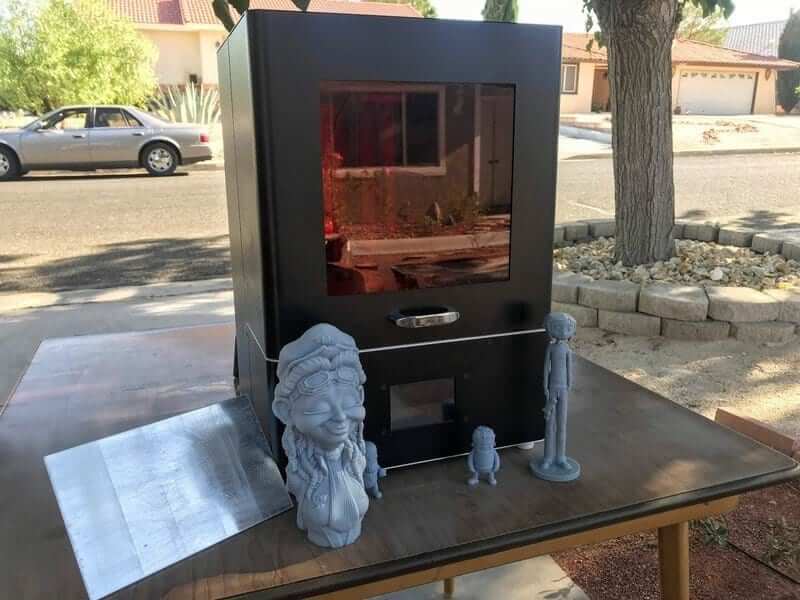 Credit: 3dprintingtoday.com
The first thing that you'd notice in this printer, is that the completer printer is powder-coated in black. Yes! Be it if you are a color freak or not, you are going to notice this.
The second thing you are going to think in your mind is about the size of the printer. Since you might not have seen any SLA printer with such a build volume in this price range, you would go in awe of it.
The Phrozen Shuffle XL's everything that's exposed is in brushed aluminum threads that go on around the edges.
Nearly three times bigger than Elegoo Mars, Phrozen Shuffle XL's front view will introduce you to every part that the printer has. Be it the durable metal frame, the ultra-stable Z axis on which the printer's complete movement is fixed.
Be it the para led optical engine which is responsible for emitting of led light or the resin vat in which the resin is filled or the touch panel which has the interface for its operation and lastly the cooling fan.
The printer has large cooling fans that are known to cool prints faster, decreasing the overall print time of parts and functional prototypes.
Setup
Once right out of the box, Phrozen Shuffle XL is all ready to print, if you plug it and give the electricity. It comes extremely well-packed in a way that even while transporting none of its parts get damaged.
The only thing that you need to do before printing this is to calibrate the print bed before starting. Apart from the printer, the things that are included in the pack are:
Power Cord.
USB Cable
Ethernet Cable
Plastic Funnel
Soft Scrapper
Hex Screw
Metal Scrapper
Pair of disposable gloves
USB drive.
Printing Type/Cost
Users can use LCD photocuring resins and third party resins to print on Phrozen Shuffle XL. There are two huge fans, but the printer just moves along the Z-axis, there aren't many sources consuming a lot of electricity. Overall, the printing cost of the printer is average.
Print Quality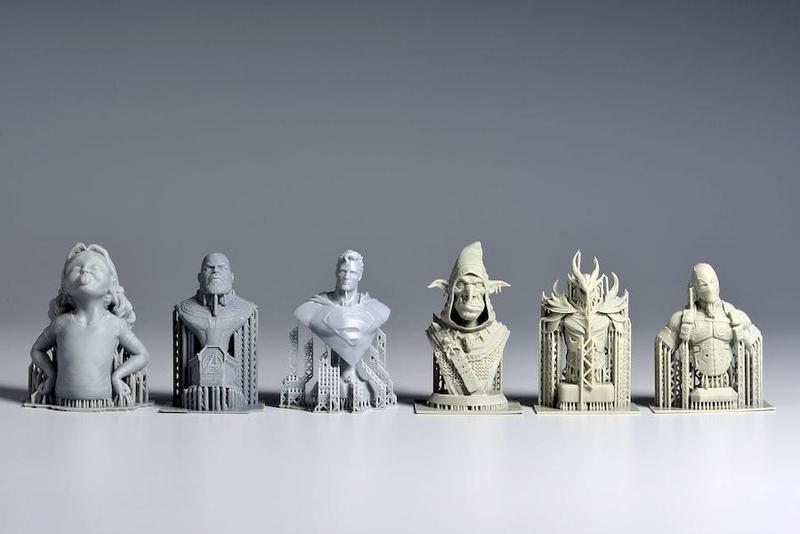 Credit: top3dshop.com
When you have a glance over the Cheerful pilot printed by Phrozen Shuffle XL, it's hard for you to figure out whether that model is 3D printed or it has been manufactured by injection molding.
There are photos that you will find of the mini Avengers that have some layer lined in it but that might have been due to some minor flaw of the designer because other designers do not complain about seeing any layer lines in model printed by them.
Overall, in almost all the models that you 3D print, the layer lines are invisible. So, you can say that the print quality of Phrozen Shuffle XL is higher than the quality of its predecessor i.e. Phrozen Shuffle.
And if it's higher than the quality of its predecessor, it is obvious that the quality is higher than most of the FDM printers and SLA desktop printers running in the market.
It's impressive when you are being able to print a full-sized showpiece without the want to think which part of it to print first you cannot print the complete sized showpiece in a single attempt, as in the other desktop printers.
Although arguably with FDM printers, you can print parts of the same size but none of the quality that Phrozen Shuffle XL offers!
Software
The company's slicer PZSlice is used for slicing. Apart from that Meshmixer can be used or ChiTuBox. All of these make up for a user-friendly slicing that even a non-technical person can do with ease. You can slice multiple files simultaneously because the print bed can be hit by the Para LED matrix.
Customer Service
The printer is covered under the manufacturer's warranty for a year. For troubleshooting of any of the printer's problem, there are videos available on the manufacturer's website that show how to change the LCD masking screen that you need to do time after time.
Then there is the replacement of FPE film and calibration of the Z-axis. You can also find useful information on social media sites and online forums easily regarding a wide range of topics that Phrozen Shuffle XL is associated with.
The printer doesn't come with any manual, and frankly, it doesn't even need one. There is a flash drive as mentioned in the setup section that comes along with the helpful printer.
The information can be downloaded from the manufacturer's website just like you can download the slicer, PZ Slice, and the software support for MeshMixer.
Apart from this, some tabs are available on Facebook that takes you directly to the technical support page of a company where you can directly message and ask questions.
Parameters Influencing Buying Decision
Here are some of the quick sentences which present the gist of the article and let you decide whether the printer is worth buying or not within a short period.
3D Printer Cost: Chances are high that users can find the printer's cost higher, only if they haven't seen the print quality.
3D Print Quality: Par excellence. You'd be able to print intricate geometries with dimensional accuracy.
3D Print Speed: Industry standard.
3D Printer Capability: The printer is capable of printing huge build volumes.
3D Printer Practicality: Overall, the printer will upgrade the complete small businesses who were using FDM desktop 3D printers and drive them to use this by spending a little more.
3D User Expectations: Designers are the one who is going to benefit the most from this printer because they would get to see the quality they always wished to.
The Verdict
The Phrozen Shuffle XL is an attractive option because of the additional print volume it offers without compromising on the quality of the prints.
However, it ultimately comes down to your budget versus your intentions with the printer. If you are a designer who has got clients focusing on quality, this can be your go-to, seeing the price range that it falls into.
However, if you are a hobbyist you might want to reconsider the budget a little bit.