Sindoh 3DWOX DP200
Small scale business owners and professional 3D designers' expectations are what this 3D printer can primarily fulfill. Even hobbyists can experiment with the printer to learn more about this world and make up their minds about whether or not to build a career out of it.
PROS
This 3D printer has a heated bed that ensures, anything that prints, sticks to the build platform. This is true for all the 3D printing filaments that you will want to print using the printer. The heat bed is also known to preheat itself so, decreasing the overall print time of the printer. Because you would not have to wait for it to be heated up and reach the glass transition temperature after that.
Wherever you are, you can operate the printer from that place. Not only operate but also monitor the printer using its inbuilt camera. There are areas in the printer which the smart manufacturer has ensured to light up with LED whenever needed.
Uniform heating which is a common issue in 3D printing, would not be an issue while you are printing using this printer because of its closed print chamber. It also adds the touch of stylish design, as opposed to open frame 3D printers. Also if you have kids at your place, there would be no risk in placing this 3D printer with them because they would not be able to interrupt the 3D printing process.
The printer comes completely assembled so, you start to plug and play with the printer. The software, as well as the interface used in this printer, is very easy to operate even for a non-technical person. The menus are simple, the guide explains one in a normal language, so it will take you minutes to start 3D printing with this 3D printer.
CONS
You will only have to utilize proprietary filaments for 3D printing a part or functional prototype using this 3D printer.
The printer is limited in terms of its configuration and you cannot tinker with it much. There are a very limited amount of advanced options that this printer is equipped with.
Product
Specification
Videos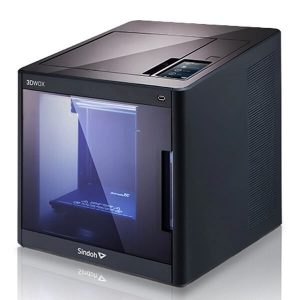 The plug and play design of Sindoh 3DWOX DP200 along with the assisted bed levelling feature makes the task easier when setting the printer for the ...
| | |
| --- | --- |
| Model | 3DWOX DP200 |
| Manufacturer | Sindoh |
| Price Range | $ 839 |
| Release date | 2016 |
| Country | South Korea |
| Availability | Available |
| Classification | Desktop |
| Technology | Extrusion (FFF- FDM…) |
| Material | ABS, PLA |
| Filament diameter | 1.75 mm 0.07 in |
| OS compatibility | Mac OS, Microsoft Windows |
| Max. build size | 210 × 200 × 195 mm 8.27 × 7.87 × 7.68 in |
| Max. build volume | 8.19 L |
| Min. layer thickness | 0.05 mm 0.002 in |
| Dimensions | 421 mm 16.57 in |
| Nozzle diameter(s) | 0.4 mm 0.02 in |
| Power input | 110-220V 50-60Hz AC |
| Heated print bed | Yes |
| Heated build chamber | No |
| Automatic calibration | Yes |
| Closed frame | Yes |
| Dual extruder | No |
| Independent Dual Extruder | No |
| Full color | No |
| LCD screen | No |
| Touchscreen | Yes |
| On-board camera | No |
| Mobile app | No |
| 3D scanners | No |
| CNC mill | No |
| Electronics 3D printing | No |
| Laser engraving | No |
| Conveyor belt | No |
| Air filter | No |
| Pellet extruder | No |
| USB | Yes |
| Wifi | Yes |
| Bluetooth | No |
| SD card | No |
| Ethernet | Yes |

Table of Contents
Before becoming a popular manufacturer of printers, Sindoh used to make regular old 2D printers.
Over the years, it is working hard and earning a name in the field of 3D printing technology with its desktop 3D printers.
It is noteworthy how Sindoh has left the race of developing industrial 3D printers and is instead busy catering to the office environment.
The printer that we are going to discuss in detail in this article is a high-end desktop 3D printer with a closed frame and a heated print bed for obtaining optimal 3D prints in parts and functional prototypes.
Features
Apart from having a fairly large build volume Sindoh 3DWOX DP200 is very stylish, has a clean frame that houses everything neatly and tidily.
It is to be noted how its competitors are known to provided 3D printers which have a lot of wires and cables. In such a context Sindoh has done an excellent job of clearing all that out from its way.
Another interesting aspect of this printer is the big and best user interface which lets users interact and monitor the 3D printer easily.
Print Volume: Printing big items is always a top choice for all the 3D printing enthusiasts and this 3D printer by Sindoh does fulfill their top choice. By featuring a 210 mm * 200 mm * 195 mm build area Sindoh satisfies every expectation of small business owners as well as big manufacturers of parts and functional prototypes in various fields such as Aerospace, Medical, Jewelry, etc. Having said so, we do not intend to state that the printer has the largest build size on the market, but it is definitely big enough. Also, it is easy to print complicated prints too on this 3D printer. Cleanliness is where Sindoh truly steals the show.
Closed Body: Arguably, this feature has its own limitation, but then which feature does not? The design of the printer is to offer its user an enclosed structure for maintaining a consistent temperature throughout the 3D printing process. And by having a clean environment of 3D printing, in a closed frame, Sindoh 3DWOX DP200 becomes more eccentric than its competitors in the same price range. The exposure to all the moving parts of the printer is not as much as it is in other 3D printers which are open bodied, which expands the life-cycle of this printer.
Automatic loading of filament: Understanding the importance of lessening human intervention during manufacturing procedure, Sindoh has accommodated this important feature of taking in the filament on its own, rather than asking hands to do the duty. This reduces human effort by not letting one go through the painstaking duty of cutting, retrieving, as well as placing the new filament into small holes. Whenever you would place a new filament cartridge into this printer, the remaining duties would be done automatically. So, you may thank the printer if you wish to!
Assisted Bed Leveling: For calibrating the print bed Sindoh has guided you with an assisted bed leveling feature in their 3D printer. The benefits of leveling a printer's bed before starting any printing process are huge. It allows one to print with an immense amount of precision especially while printing the first layer of any print. The software of this printer also works in coordination with the user in providing extremely useful information for turning how many screws, when, for calibrating the print bed of this printer. Whereas the user interface gives you a visual representation of what to do and also let you actively monitor the printing progress.
LCD Screen: The screen placed on this printer is extremely useful in various stages of the 3D printing process. Before printing it is helpful in checking various parameters of the printing procedure. During the time of 3D printing, it is useful for monitoring the 3D printing process. Whereas, the 3D printing process is helpful for assisting the one doing the post-processing procedure. The menus of the screen are clear, the navigation is simple, and the lucid language used on the interface provides ease in mentality. A preview of the file can be viewed using this touch screen, as well as one can live to monitor the 3D printing process.
Multiple modes of connectivity: For all those who wish to operate a 3D printer from many home devices that might be remotely present, not physically around the printer, congratulations, Sindoh is capable of doing so. You can connect to this 3D printer via a Wi-fi connection and then everyone who is present on the network will be able to access and use the 3D printer. Apart from the Wi-fi, you can also connect with the printer using a USB cable as well as printing from the USB stick. Overall, you are able to connect the 3D printer with any device you wish to.
Specifications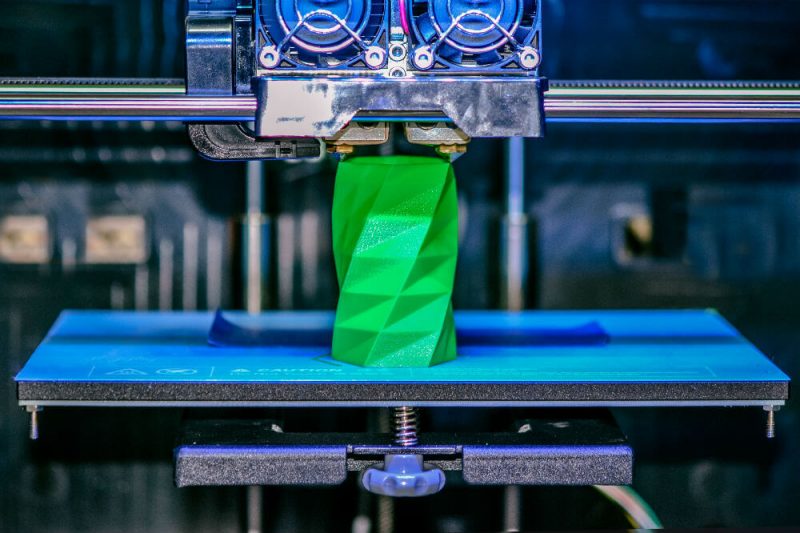 Credit:digi3dverse.com
The printer is based on FDM 3D printing technology and has a build area of 210 mm * 200 mm * 195 mm.
The layer resolution of this 3D printer is 50 microns whereas the filament diameter that can be used with Sindoh 3DWOX DP200 is 1.75mm. You can print using ABS and PLA 3D printing filaments.
The printer's nozzle diameter is 0.4mm whereas its dimensions are 421 mm * 433 mm * 439 mm.
As mentioned above, you can connect with this printer using USB Flash Drive, Ethernet, Wi-fi, or a USB cable.
Price
Sindoh 3DWOX DP200 is available for $1299.
First Impressions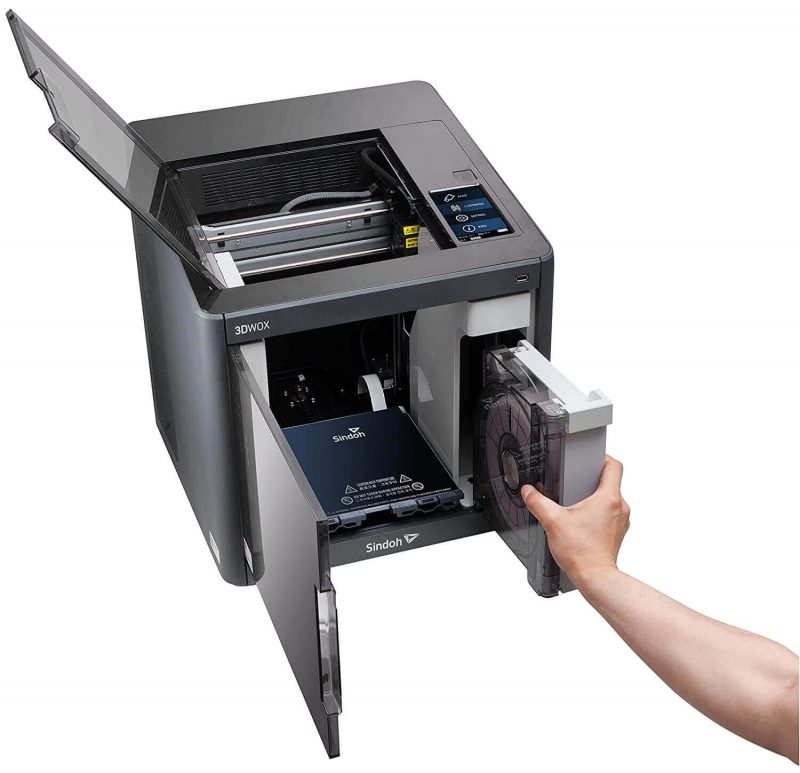 The printer arrives at your place in a wooden crate which is different than any other 3D printer in the market.
There is hardly any safer material than a wooden crate for transporting a machine such as a 3D printer from one place to the other safely, so the manufacturer should be appreciated for this.
The complete box contains the 3D printer, and there is no junk material present inside it.
Setup
As mentioned above the printer has an assisted bed leveling feature that can be accessed anytime, and a part of this would require you to set up the printer before your first print.
However, this would not take much time. But it does require user input for adjustment of three thumbscrews.
The overall calibration is not much of a headache and turns out to be easy, Sindoh hasn't got it fully automated for making the machine simpler.
There is a five-inch touch screen interface that is responsive and intuition acknowledging.
Also, there are greater calibration options such as Z-Axis offset whenever needed in any specific 3D printing project. After the bed leveling is done, one can easily print using this printer.
In case you wish to know how the 3D printer works with Wi-fi there is a complete page dedicated to this topic on the menu page on the printer.
For setting up the 3D printer you will have to connect a phone or laptop to this network and then find the SSID and enter your password.
Print Type/Cost
FDM 3D printing technology which is the most preferred technology is used to print parts and functional prototypes with Sindoh 3DWOX DP200.
This technology is believed to print at lower costs than other 3D printing technologies.
As printing happens layer by layer using 3D printer filament which is melted on the print bed of this printer.
Print Quality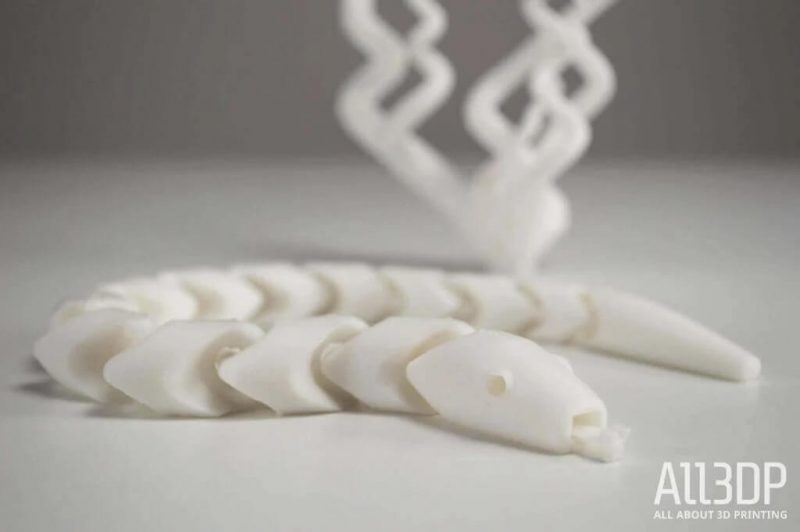 Credit: all3dp.com
The parts and functional prototypes printed using this printer have a resolution of 50 millimeters which is the industry-standard offering when it comes to desktop 3D printers based on FDM 3D printing technology. Here is our list of the best FDM 3D Printers.
Although the print speed adjustments are largely known to affect print quality and surface finish of the parts or functional prototypes.
Software
3DWOX software is recommended to be used with this 3D printer. Its chopping, slicing models, and generating g-codes have to speed matching no others'.
Some thoughtful features like the ability to print manually are really nuanced to even experts who have tried their hands on other software.
This software is integrated with Solidworks which makes it stand out from software recommended by other companies.
Customer Support
There are many ways to reach out to the company. One way is to call them, the other way is to reach them via email, you can also Skype call them to clear your technical doubts.
There is tons of information available on the internet about this 3D printer, you can also refer to that to see if it helps.
Parameters influencing the buying decision
The parameters mentioned below will let you compare Sindoh 3DWOX DP200 with others in the same price range which is often the area where you are stuck while buying a 3D printer.
3D Printer Cost: Very affordable.
3D Print Quality: Extraordinary in this price range.
3D Print Speed: Industry-standard.
3D Printer Capability: In terms of printing with different 3D printing filaments, this 3D printer lacks the capability to do so.
3D Printer Practicality: Sindoh has provided this very affordable 3D printer which is practically used for printing huge build volumes of parts and functional prototypes that find application in many industries.
3D Printer User Expectations: Small scale business owners and professional 3D designers' expectations is what this 3D printer can primarily fulfill. Even hobbyists who do not mind spending this much can experiment with the printer to learn more about this world and make up their mind about whether or not to build a career out of it.
The Verdict
Doing good polish to the 3D printed parts and functional prototypes manufactured on Sindoh 3DWOX DP200 3D printer one can find their application in many different fields.
The other reasons to buy this 3D printer include easy filament handling, as well as providing an adjacent user experience.
Most of the 3D design files can be controlled without undergoing any dispute in the quality even at a very very affordable price.
However, the only limitation is not much support in brands of the 3D printer filaments. So if you can deal with that, this 3D printer will satisfy your needs like no other in the 3D printing market.