Tronxy X5SA-500 Pro
Tronxy X5SA-500 Pro is a large-size desktop 3D printer that falls in a very affordable price range. It has some of the most excellently advanced features that are surprisingly made available by Tronxy.
PROS
Massive Build volume.
Titan extruder.
OSG External Dual Axis Guide.
CoreXY Printer Structure.
Filament Detection runs out.
Double Z-axis screw.
Resume print function.
Automatic bed leveler.
CONS
Open frame 3D printing makes it prone to uneven cooling and heating which leads to bad 3D printing quality if not taken care of.
Table of Contents
Made of Aluminum, Tronxy X5SA-500 Pro is a large-format, affordable 3D printer. The machine is light in weight, has a sturdy structure, and provides accurate 3D printing results in a rapid fast print speed. It is packed with user-friendly features such as auto-leveling, power-off print resume, and filament run-out detection which makes operating the printer very easy.
Primarily targeted towards hobbyists and students, Tronxy X5SA-500 Pro allows printing a wide range of models, like sculptures, ornaments, functional tools as well as gadgets.
The printer is upgraded with a guide rail version, and Titan extruder that permits smoother movement of the print bed and expedites the healing process. Moreover, the massive build volume of 500 mm * 500 mm * 600 mm enables users to print large parts in one go.
So, let's take a tour of Tronxy X5SA-500 Pro to see where does it exactly stand when compared to the printers in the same price range.
Features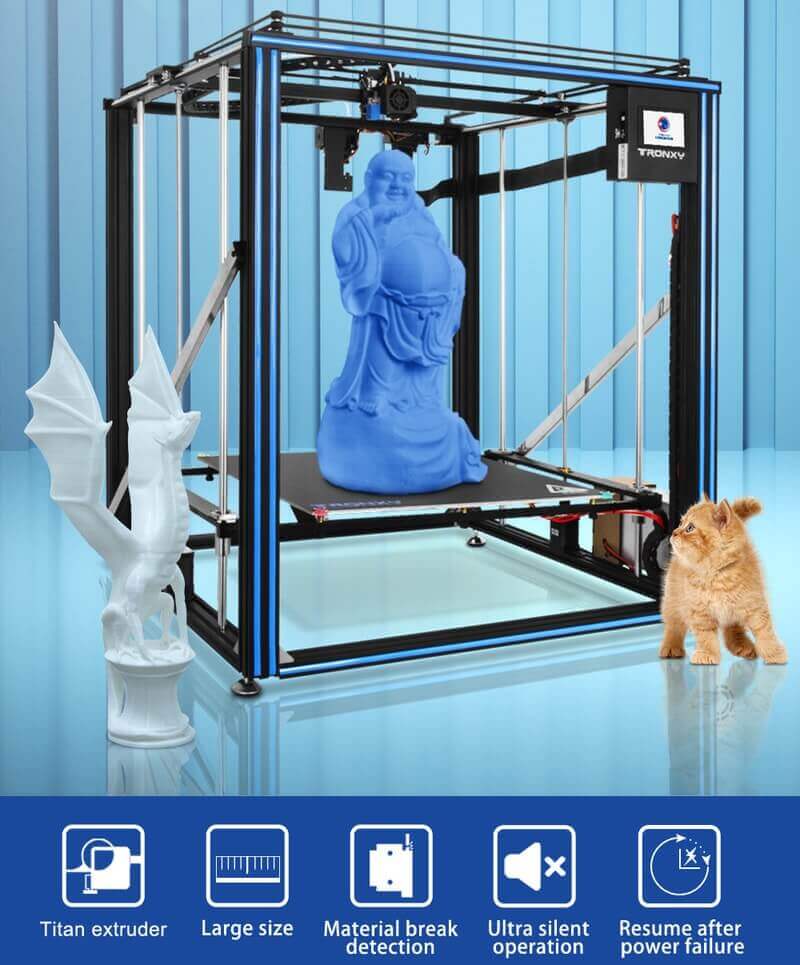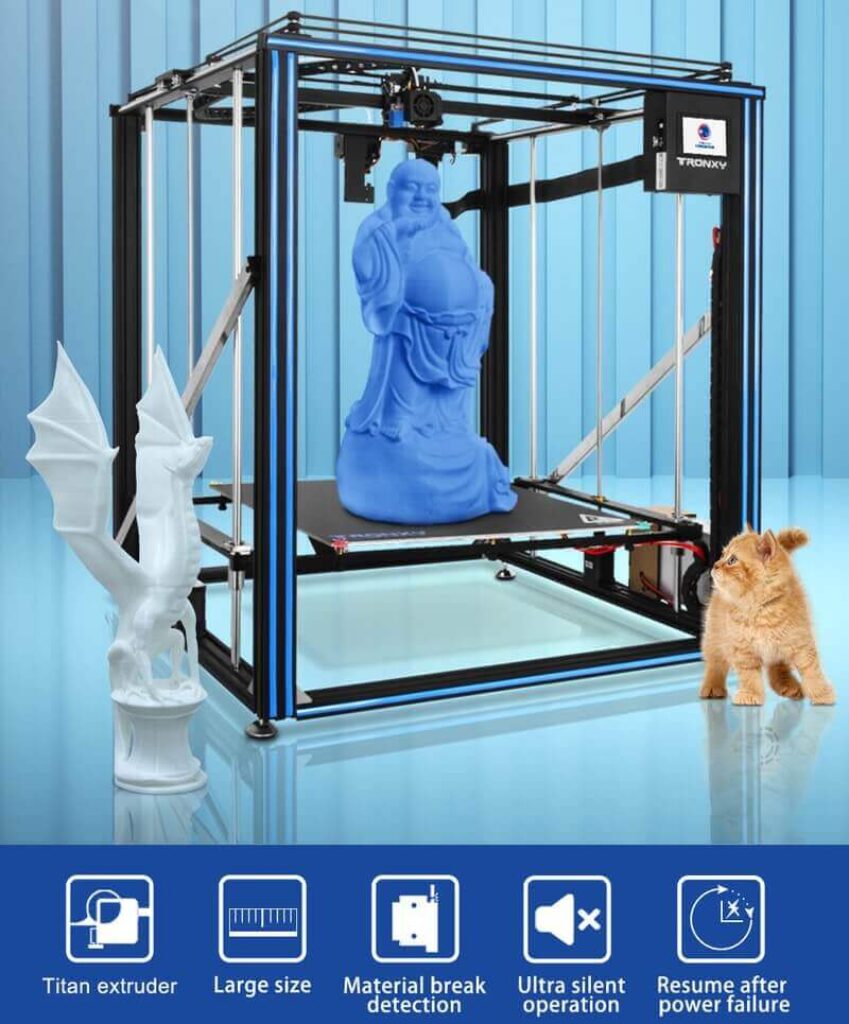 Tronxy X5SA-500 Pro stars an easy-to-level, heated print bed that makes the printer suited for printing with materials like ABS, Nylon as well as PETG.
The machine's X/Y Axis adjustable Tension Belts provide excellent precision making it possible to achieve the best print results. A Bowden extruder coming with dual turbo cooling fans cools the model down by reducing warping as well as the risk of nozzle jamming and stringing.
Below mentioned and explained are some of the features of Tronxy X5SA-500 Pro that make it stand out among other printers in the same price range.
Titan extruder
X5SA-500 Pro features a Titan extruder that is compatible with various filaments like PLA, ABS, HIPS, Wood, PC, PVC, and other consumables. It has a high feeding torque which gives the printer a sort of stability even while printing with high speed. Moreover, it improves the overall print quality of any object.
OSG external dual-axis guide
The printer is equipped with an OSG external dual-axis guide that lets it achieve industrial-level precision, smoother movement, and long service life. The work is in perfect combination with Conveyor Pulley, and print head slicer to produce smoother movement, thereby contributing to increased print speeds.
CoreXY printer structure
X5SA-500 Pro hosts a CoreXY printer structure that is stable and reliable. It is tested and proven to provide excellent print results. Using this construction users can achieve high precision in manufacturing parts and functional prototypes.
Filament run-out detection
The machine houses a highly sensitive detector that notifies its user about the material breakdown. So, let say you are printing with an ABS spool and it breaks down suddenly in the middle of the 3D printing process, X5SA-500 Pro will immediately notify you of the same by stopping the print and emitting a warning sound. This helps users take appropriate action and resume the printing in minimal time.
Double Z-axis screw
X5SA-500 Pro uses an industrial-grade high-quality screw ensuring that each positioning required while printing a part or functional prototype is accurate. Rarely do you find a desktop 3D printer in the same price range utilizing industrial-grade components?
Resume print function
In case of a power failure, Tronxy X5SA-500 Pro automatically remembers all your progress that you've managed to achieve. So, you'd not have to start all the way from the beginning. As soon as the power would resume, it would resume printing from the point where it stopped.
Automatic leveler
The printer supports dynamic leveling compensation by using a matrix sixteen-point detection leveling. By automatically adjusting the height between the nozzle and the print bed, the printer makes work easier for the beginner-level user. The pre-printing phase is completely hassle-free, all that one has to do for ensuring the print bed is completely leveled is tap the touch screen interface of the machine.
Quiet printing
The machine is equipped with a silent motherboard that makes it suitable for printing at home and offices where the environment needs to be quieter than elsewhere. Also, the printer can be a perfect tool for teaching kids at school. Tronxy has fitted in an imported driver chip which lets its users enjoy peaceful 3D printing.
Added Silicone sleeve
The hot end of Tronxy X5SA-500 Pro has a silicone sleeve that allows for precise temperature management and stable printing performance. Also, users can start quickly by heating up lesser for reaching the set glass transition temperature. Moreover, the silicone sleeve ensures that the hot end stays clean, can be quickly changed, and is easily maintained.
3.5-inch Colorful touch screen
A touch screen user interface is embedded on Tronxy X5SA-500 Pro's body that not only displays the status of the print but also allows control over various functions of the printer such as speed, temperature, flow, leveling, etc at one touch of the fingertips.
Aluminum profile
Aluminum is the benchmark of stability, especially in desktop 3D printers. And to ensure X5SA-500 Pro's users experience no vibration while the 3D printing process is on, Tronxy has put in place an Aluminum profile.
Apart from making the complete process of 3D printing vibration-free, it also allows users to go up to higher 3D printing temperatures when dealing with materials that have higher glass transition temperatures.
Moreover, it has excellent wear resistance and is highly durable, which makes the overall 3D printing process smoother compared to other 3D printers.
Efficient extrusion head nozzle
X5SA-500 Pro features a brass nozzle that can reach temperatures like 260 degrees Celsius. It is compatible with various common consumables that are present in the market. Using this nozzle, users can heat their materials evenly, and improve their overall 3D printing efficiency.
Specifications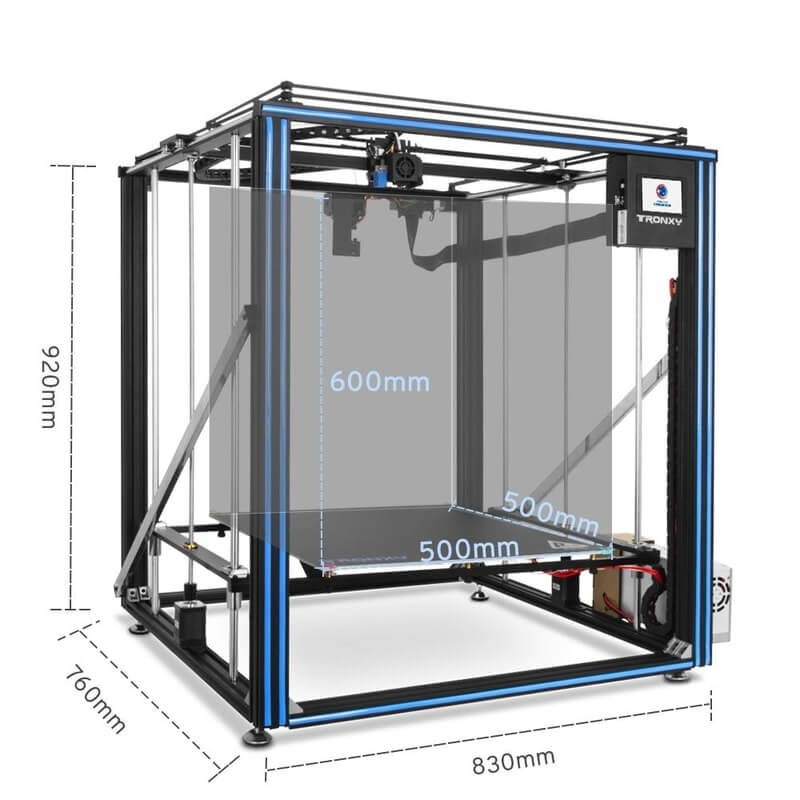 Tronxy X5SA-500 Pro offers a maximum build volume of 500 mm * 500 mm * 600 mm which enables you to print even large parts in one go.
The machine provides positioning accuracy of 0.0125 mm along its X/Y axis and 0.02 mm along its Z-axis. Its printing speed ranges anywhere between 20 to 100 millimeters per second, and the recommended one by the manufacturer is 60 millimeters per second.
The nozzle diameter of X5SA-500 Pro is 0.4 mm which supports various materials such as PLA, ABS, HIPS, Wood, PC, and PVC. Its body hosts a touch screen user interface 3.5 inches long that allows control over various functions on the printer.
Each and every part that's manufactured on the printer has a print thickness ranging anywhere between 0.1 to 0.4 mm. To assist you in leveling your print bed, the manufacturer has equipped the printer with an automatic bed leveler. For connecting with the machine, users are facilitated with a USB interface and TF card.
The hotbed of Tronxy X5SA-500 Pro can withstand temperatures ranging from 90 to 100 degrees Celsius. Whereas, the nozzle of the printer can resist up to 260 degrees Celsius temperature!
Price
The market price of Tronxy X5SA-500 Pro is $818.98.
First Impression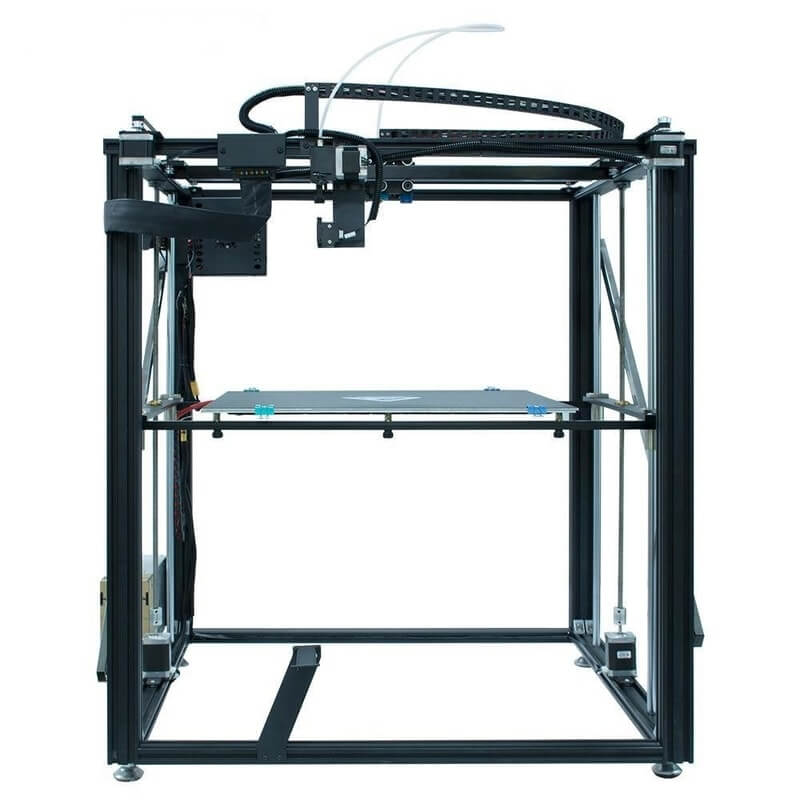 X5SA-500 Pro is supported on four legs made from stainless steel. A cage-like structure stands on four pillar-like structures with guide rails, titan extruder, auto-leveling sensor, filament runout detection, and resume print sensor. The printer has a cubical shape. It has a machine size of 760 mm * 830 mm * 920 mm and weighs about 29 kilograms.
Setup
The printer comes in a DIY kit and hence needs to be assembled. So, read the instruction manual carefully to put together all the parts that come in the box. It is a great learning experience for a beginner in the field of 3D printing.
Even after the printer is assembled, do not rush for printing it as you need to make some necessary settings before starting your first print. The six-step procedure starts from:
Selecting the tools option.
Clicking on leveling and choosing Auto.
In case the absolute value of the difference is greater than 0.8, adjust the screw and try once more.
Enter Z-offset.
As per the actual situation, use 10mm, 1mm, and 0.1mm for adjusting the distance between the nozzle and the platform. Lastly, adjust it according to the thickness of A4 paper.
Finally, click to set Z as zero, and then you are good to go with your first print.
Print Type/Cost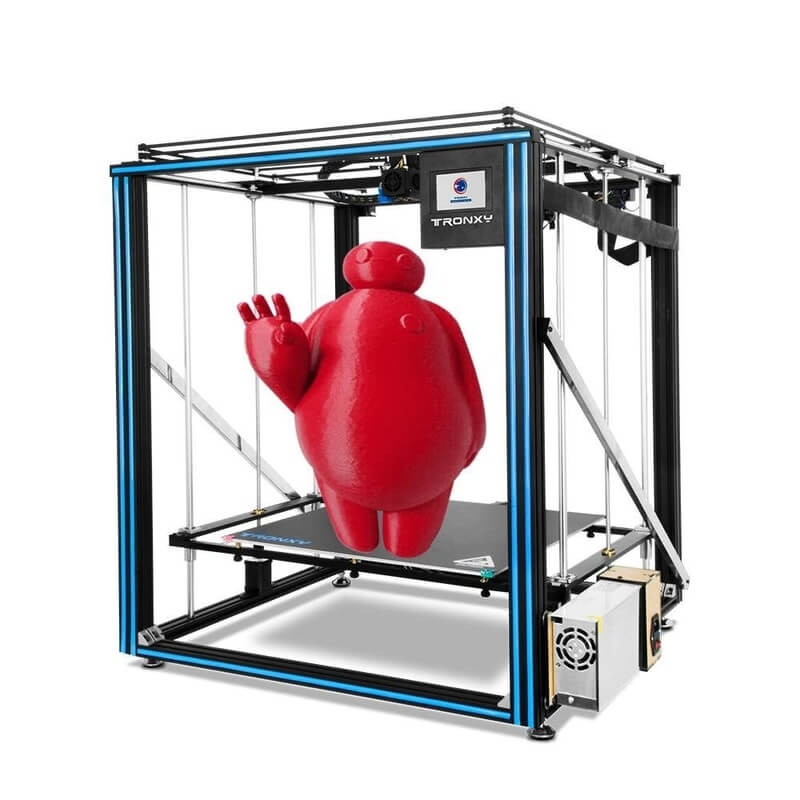 FDM 3D printing technology is the most used technique for manufacturing parts and functional prototypes. Herein, a spool of plastic filament is squeezed through a hot end, brought to a temperature that is just above its glass transition, thereby allowing it to melt. And then the melted filament is allowed to flow from the nozzle system to the printer's print bed. The next step involves depositing layers on the print bed, which are then fused together.
Generally, the cost of 3D printing a part or functional prototypes via FDM 3D printing is cheaper compared to other 3D printing technologies. However, it depends on various factors such as the part geometry, plastic filament used in 3D printing, support structures, level of infill, etc.
Print Quality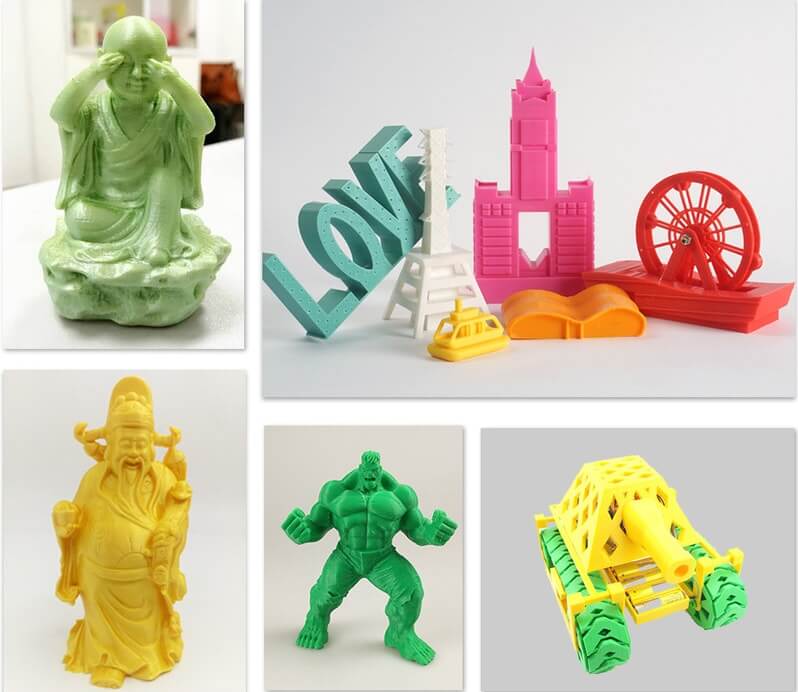 Because of printing commendable objects of minute layer thickness, they find application in areas such as Garage fit model making, medical prop making, DIY furniture design, production of film and television props, and building model making. X5SA-500 Pro makes amazing quality toys, and showpieces with excellent surface finish producing good quality curves.
Software
The printer is compatible with Tronxy slicing software which is straightforward in use. It provides support for file formats like STL, OBJ, and G-Code.
For operating software, the printer manufacturer recommends the open-source Cura software which is famous in the 3D printing market for its user-friendliness. It can be operated comfortably on Windows XP, Windows 7, and Mac Os.
Customer Support
Tronxy has a detailed Support Center that contains printer-related videos, product manuals; firmware, FAQs, Technical Support Progress, and STL file downloads. Apart from this, a technical team is ready to assist users on call as well as by email.
Parameters Influencing the Buying Decision
The key factors of Tronxy X5SA-500 Pro that are good to know before making your buying decision are mentioned below.
3D Printer Cost: Considering the build volume and print quality that the printer offers, it's extremely affordable.
3D Printer Speed: X5SA-500 Pro provides a comfortable 3D printing speed range to operate in which a recommended print speed of 60 millimeters per second.
3D Print Quality: Offering a layer thickness ranging between 0.1 to 0.4 mm, the machine also supplies a positioning accuracy of 0.0125 mm, 0.02 mm along its X/Y and Z-axis. All of these makeup for decent-quality parts and functional prototypes.
3D Printer Capability: Specifically, hobbyists and first-time users would love operating the printer as there are so many features that help assist them to do 3D printing in a better manner. X5SA-500 Pro is capable of printing with various materials.
3D Printer Practicality: When in operation, the printer does not make much noise, produces smoother operation, and allows control of various functions via one touch.
3D Printer User Expectations: Although it poses a difficulty while setting up, the printer is a fun machine to print extremely functional and useful parts. So, home, office-users, as well as educationists, would love to experiment with it.
The Verdict
Overall, Tronxy X5SA-500 Pro is a large-size desktop 3D printer that falls in a very affordable price range. It has some of the most excellently advanced features that are surprisingly made available by Tronxy.
Along with advanced features, the machine is also host to flexible features that make the operation of beginner-level users easy. So, if you are willing to start your journey in 3D printing, the printer is definitely worth a shot.