Two Trees Bluer
Two Trees Bluer 3D printer is packed with amazing parts such as double turbofans, metal extruder, leveling spring, touch screen interface, filament run-out sensor, and a lot more.
PROS
Intelligent leveling.
High precision printing of parts and functional prototypes.
No gap feeding.
Large size built up.
Temperature control.
A special platform enabling you easily remove printed objects.
HD touch screen interface.
CONS
Being an open-bodied 3D printer, it is difficult to generate temperature for some of the filaments. Because of this reason, you are not able to print with PLA.
Table of Contents
Here's a classic example of "a lot in little." Two Trees Bluer provides you a lot of features and costs you only a little.
Available at a basic price of $200, the desktop 3D printer by Two Trees lets you print parts with considerable build volume in one. How is that? Let's find out.
Features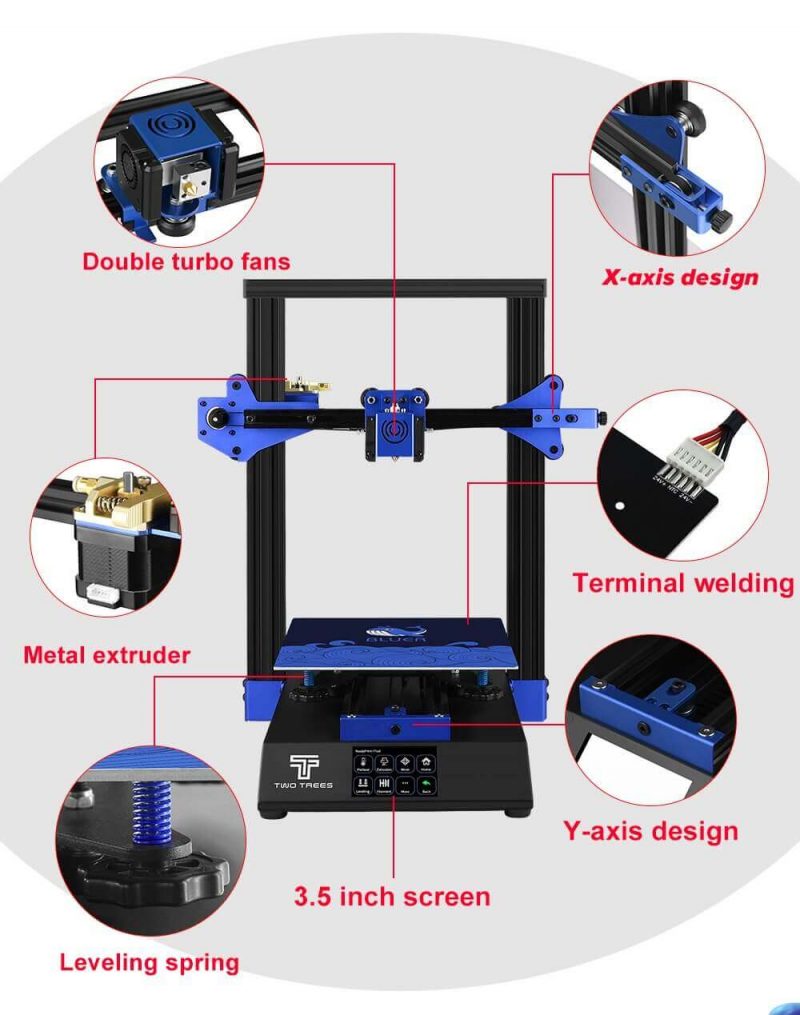 Credit: xpita
Although we haven't been able to list down each feature that Bluer offers, we can guarantee we haven't missed out on any important ones.
Metal Extruder and Decent Print Volume
The Bluer is marketed as a printer coming with a metal extruder which is preferred for stable 3D printing.
It enables you to print with various filaments. So, you essentially get more options for materials to printing parts.
The price at which this printer is offered, the Bluer offers a decent print volume of 230 x 230 x 280 mm.
This makes it larger than the other standard 3D printers in the same price range such as Creality Ender 3 and the Anycubic Mega Zero. It just gives you lots of room to print just about anything.
Filament Sensor
Filament sensors have shown their importance because of which they are plainly as well as simply used in every new 3D printer launched in the market today.
The Bluer too has one. Using this feature you'd be able to make out if you're using up the dregs of a spool and don't want your print to fail by miscalculating how much filament is left.
Moreover, if you're using an older spool and are worried the filament could snap mid-print, this feature will help you like no other.
Automatic Bed Leveling
The Bluer is had automatic bed leveling, so one is thing is guaranteed that there'd be precision in printing the first layer of your prints. And if the first layer is managed, the rest prints pretty smoothly.
So, the overall quality of part printed using this printer will be always higher in Two Trees Bluer than the one printed in others which do not have a bed lever.
Generally and logically you either need a bed leveler or an experienced hand for ensuring your first layer's safety and precision. An automatic bed leveler decreases the effort that you need to give on 3D printers.
And this results in increasing the overall efficiency of the 3D printing process. Because the lesser the human intervention, the greater the print efficiency.
3.5-inch Color Touch Screen
Two Trees Bluer 3D printer comes with a 3.5-inch color touch screen that helps you interact in the most trending fashion with the printer.
Almost all the functions that the printer can perform, can be controlled using this interface.
It is a great feature to have on a printer especially considering the price range in which Two Trees Bluer is available.
You can control your preheating of the print bed, extrusion, movement leveling, filament loading and unloading as well as many other functions using the touch screen interface.
Resume Printing function
In case you were in the middle of the 3D printing process, if you have to experience an electricity shortage, don't worry about the progress that you have made in your prints.
All your progress is stored in the printer's memory because the printer manufacturer has equipped the printer with a resume printing function.
So, even if the electrical power is lost, you will be able to resume 3D printing from the last layer itself that you were 3D printing.
Meaning that printing with Two Trees Bluer, you would have to worry a lot less than printing with another printer that does not have such a feature.
Metal extruder and leveling spring
Extrusion is one of the first phenomenons of the 3D printing process. A good extrusion almost ensures a good level of 3D printing.
For those who do not know, extrusion is the process of taking the filament material to its glass transition temperature and only then allowing the melted filament material to flow continuously and systematically for the extruder of the printer to the print bed.
To make sure this happens nicely, the printer manufacturer has equipped Two Trees Bluer with a metal extruder. This allows you to print with more than one material because it is able to withstand more temperatures.
A leveling spring installed on the corner of the printer makes the complete arrangement more convenient to operate.
The print bed of the printer is based on this spring so, it even assists you while removal of final print from the print bed without any damage.
Double Turbo Fans
Installed in the complete nozzle system of the printer, these fans ensure that the extruder is not overheated.
It helps reduce the overall temperature of the extruder after reaching the glass transition temperature of the concerned filament material. So, not only you get quick heating with the printer, but also quick cooling.
Specifications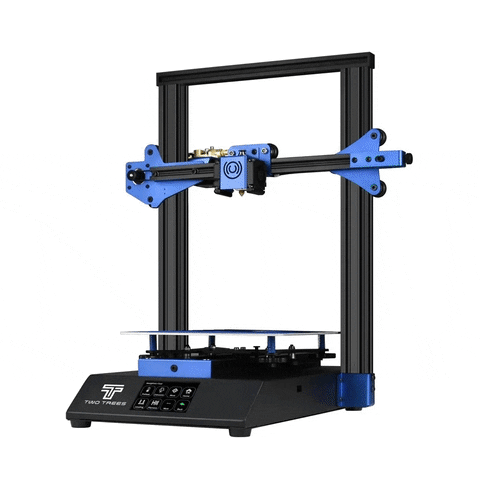 Two Trees Bluer prints parts and functional prototypes based on FDM 3D printing technology. Its feeder system has a Bowden-style extruder and the print head features a single nozzle with a diameter of 0.4 mm.
The maximum hot end temperature that the printer can withstand is 260 degrees Celsius whereas the maximum heated bed temperature that the machine can take is 100 degrees Celsius.
The frame of the printer is made up of metal, because of which it does not vibrate even while 3D printing a part that's equivalent to the maximum build volume offered by it.
The bed leveling of the Two Trees bluer can be done automatically by pressing buttons on the touch screen interface. For connecting with the printer, you have two options: an SD card and an online one.
The machine's equipped with a print recovery and filament sensing system. Stating about filament diameter that is compatible with it, it's 1.75 mm!
You are allowed to print with third-party filaments and even the most popular ones such as PLA, ABS, and PETG. The build volume offered by the printer is 230 mm * 230 mm * 280 mm.
The mechanical arrangement in Two Trees Bluer is Cartesian XZ type and it comes in a DIY kit.
A 3.5-inch touch screen interface facilitates your interaction with the printer. The layer thickness range offered in parts printed using the printer is between 0.1 mm to 0.4 mm.
The machine's printing speed ranges anywhere between 10 to 300 millimeters per second whereas its printing speed ranges between 20 to 200 millimeters per second.
The printer's XY positioning accuracy is around 0.1 mm, whereas its Z-axis positioning accuracy is around 0.004 mm.
Price
Bluer-The desktop 3D printer by Two Trees is available for $200 in the market.
First Impressions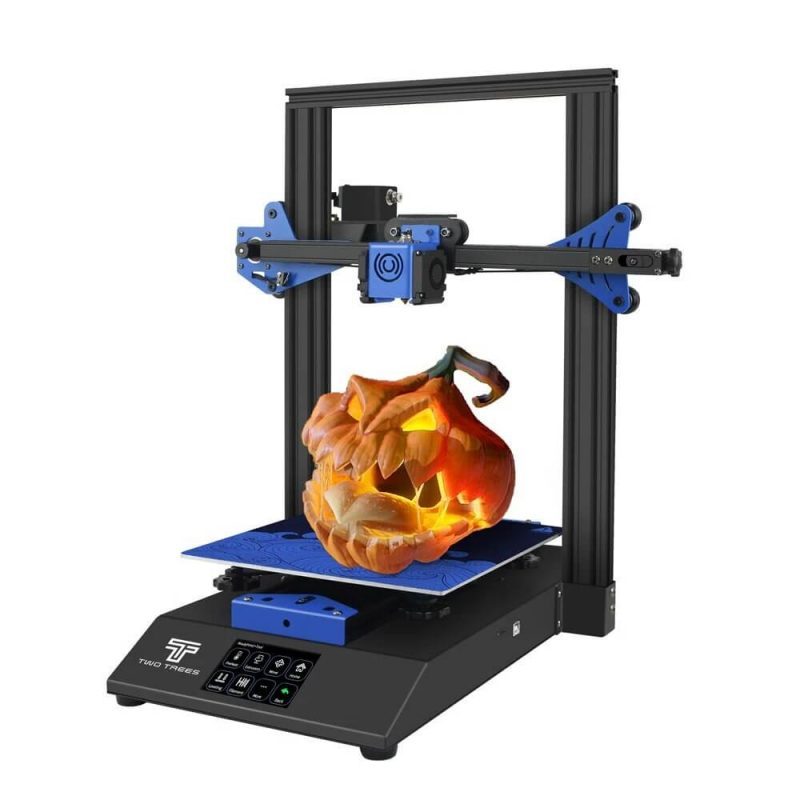 Credit: staticbg
Bluer has a Cartesian type design. It is an open-bodied desktop 3D printer that allows you to print an object of build volume 235 mm * 235 mm * 280 mm.
The base of the machine stands on a stand of a certain height usually called the gantry. On the center-right front of this gantry is a touch screen interface that lets you control various functions over it.
The gantry is well connected on its right and left faces with the print head via two supports that also have rails attached to them allowing the print head to move up and down.
The print head with the printer's nozzle system is fixed on the connecter that connects these two supports. Black and blue combinations of colors make the printer stand out from a collection of many other 3D printers and strike your eyes.
The print bed of Two Trees Bluer is also well supported on leveled springs that make the final print removal an easy task for you.
Setup
The printer comes in seven parts when it is shipped to your place. Starting with, 3.5 inches touch screen display, followed by leveling spring, metal extruder, double turbofans, X-axis design, and Y-axis design.
It is a complete DIY kit that you will have to take time in assembling! To assist you in assembling, there is a user manual provided with the printer. Unless you are a pro in assembling Cartesian-type 3D printers, it is recommended to go stepwise in assembling the 3D printer.
In case you have any trouble, you can also reach out to the manufacturer with your doubts. Also, before starting to print your first part, you are advised to do some test prints. The complete assembling should take around 30 to 45 minutes.
Printing Type/Cost
Bluer is based on FDM 3D printing technology. And normally, the cost of 3D printing a part using this 3D printing technology is the lowest compared to other technologies.
Because unlike other 3D printing technologies this one doesn't use various types of laser sources or UV light sources to heat, instead of its simple extruder.
Two Trees Bluer allows you to print with PLA, ABS, PETG, and even wooden consumables. Generally in FDM 3D printers, the filament needs to be held by the spool holder, the one that's present near the print head in Bluer.
This filament spool will be heated till the glass transition temperature of the filament material is achieved. After achieving the same, the liquid filament will be allowed to pass through the nozzle to the print bed.
And then finally, layer after layer, the melted nozzle gets laid on the print bed according to the geometry of the part that's to be printed.
The last step is cooling which in the case of the printer would be done naturally and not via artificial cooling fans.
However, for cooling of the extruder, there are some fans used by the printer manufacturer which will expedite the complete process of cooling down and make it ready for the next print.
Print Quality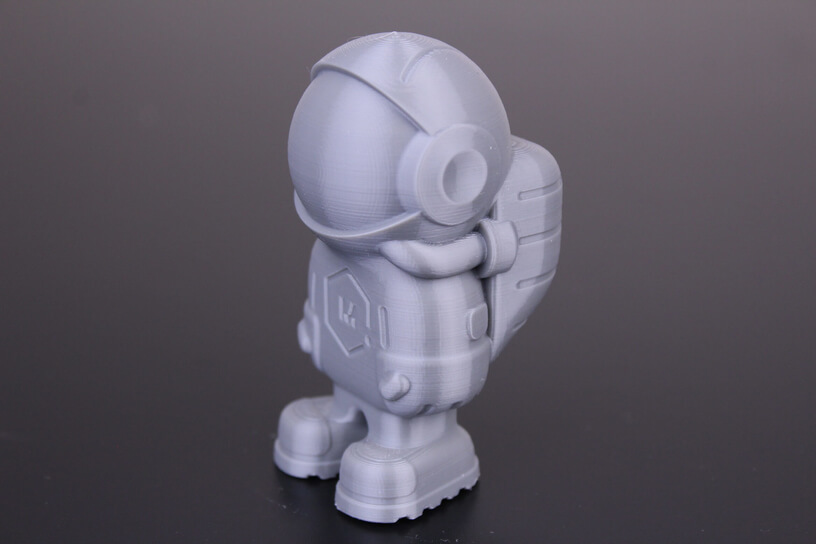 Credit: 3dprintbeginner
The overall quality of test prints such as 3D Benchy, grey owl, phil-A-ment, desert's kiss, Daenerys, Elf Archer Bust, Psychic Elemental, all looks great.
They can be successfully printed with a great amount of bed adhesion and excellent surface finish. Even complicated parts small in size with intricate geometries can be printed with a great amount of finesse. So, in that matter, you have nothing to complain about at all.
Software
The printer manufacturer recommends Repetier Host Cura for slicing parts and functional prototypes to make it completely feedable to the printer.
Repetier Host Cura is one of the most user-friendly software. Less technical, more understandable!
It's exactly the one that you need to help you in the beginning when you have a lesser understanding of the complete process.
Also, if you are equipped with a definite set of skills, Repetier Host Cura will let you play with settings like no other.
Customer Support
The printer manufacturer's website lets you download the firmware, model and offers technical support. You can download the Readme.txt file and even after that if you have some doubts, you can easily reach out to Two Trees via their email address or phone.
Parameters Influencing Buying Decision
The main factors that'll eventually let you decide whether the printer is worth buying or not; are as follows!
3D Printer Cost: Two Trees Bluer is available at a very affordable cost of $200 which is very nominal considering the amazing features it is able to offer.
3D Printer Quality: Even smaller parts and intricate geometries can be 3D printed with dimensional accuracy using a 3D printer. Acknowledging the fact that Bluer is an FDM 3D printer, the print quality offered by it is extraordinary.
3D Print Speed: The printer is able to offer you the same print speed range as offered by other 3D printers in a similar price range.
3D Printer Capability: Although not able to 3D print with PLA, Bluer is able to print with ABS, PETG, and other wood consumables. So, there are enough materials you'll be able to play with.
3D Printer User Expectations: For beginners in the field of 3D printing as well as intermediates, Bluer is nothing shorter than a gift. Available at such a low price, offering excellent features and build volume, the printer easily stands upon your expectations.
The Verdict
Two Trees' Bluer 3D printer is packed with amazing parts such as double turbofans, metal extruder, leveling spring, touch screen interface, filament run-out sensor, and a lot more. Considering the price, it is offered, there is too much that the printer serves you with.