Vida HD Crown & Bridge
Vida HD Crown is a compact yet large 3D printer, it has impressed many users who are already using this technology for their offices. The amazing print quality and high-speed performance offered by this printer make it great for professionals.
PROS
This printer provides 10 times faster speed than other DLM machines.
Despite printing faster, the printer provides high-resolution printing.
It is based on plug-and-play technology that helps users in easy operation.
The printer has a user-friendly interface provided with the screen touch system for ease of setting the printing parameters.
The structure of this printer is compact and can be accommodated in small spaces as well.
The printer has a reduced need for the support structure.
CONS
The printer is expensive and hence not accessible for those with a low budget.
Post-processing of parts and functional prototypes are required.
Product
Specification
Videos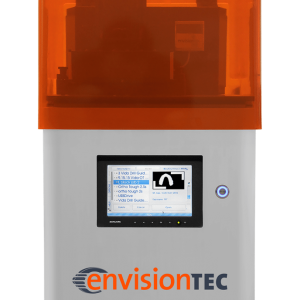 The manufacturer has considered every minute aspect when designing the Vida HD Crown and Bridge 3D printer, specifically for a dental niche. Offering ...
| | |
| --- | --- |
| Model | Vida HD Crown & Bridge |
| Manufacturer | EnvisionTEC |
| Country | Germany |
| Availability | Available |
| Classification | Professional |
| Technology | Resin (SLA- DLP…) |
| Material | Liquid resin |
| XY accuracy | 0.035 mm0.001 in |
| Max. build size | 90 x 50 x 100 mm 3.54 x 1.97 x 3.95 in |
| Max. build volume | 0.45 L |
| Min. layer thickness | 0.025 |
| Dimensions | 395 × 350 × 825 mm15.55 × 13.78 × 32.48 in |
| Weight | 34 kg74.96 lb |
| Heated print bed | No |
| Heated build chamber | No |
| Automatic calibration | Yes |
| Closed frame | Yes |
| Dual extruder | No |
| Independent Dual Extruder | No |
| Full color | No |
| LCD screen | No |
| Touchscreen | Yes |
| On-board camera | No |
| Mobile app | No |
| 3D scanners | No |
| CNC mill | No |
| Electronics 3D printing | No |
| Laser engraving | No |
| Conveyor belt | No |
| Air filter | No |
| Pellet extruder | No |
| USB | Yes |
| Wifi | Yes |
| Bluetooth | No |
| SD card | No |
| Ethernet | Yes |

Table of Contents
The Vida HD Crown & Bridge (C&B) is a 3D printer that, at low cost, promises to give a high resolution. It is also easy to maintain a 3D printer that's a user-friendly 3D printer, especially for the digital dental laboratory.
The printer boasts a high-resolution projector that is running at 1920 x 1080 pixel resolution with custom UV optics. This projector is specially optimized for crown and bridge materials.
Once the print job is preprocessed on the Vida HD Crown and Bridge, with the help of a computer that houses the per factory software suite, it is transferred to this machine via Ethernet or USB.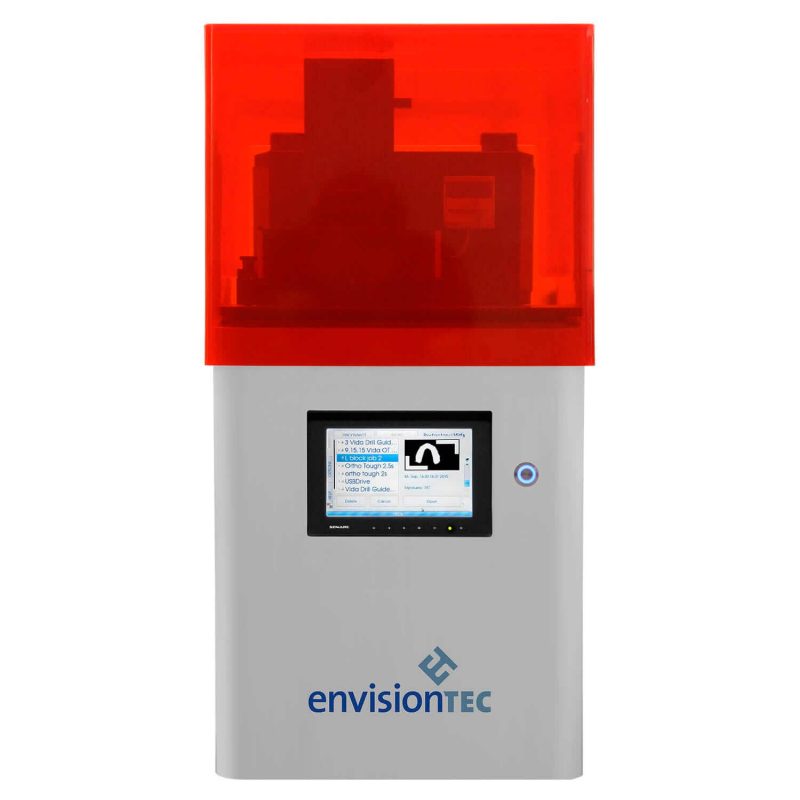 It can also be run independently without the need for a continuous connection to the preprocessing computer.
The surface quality of the models printed using this printer allows for production without any signs of stair-stepping. This is in contrast with the visibility when using other competing technologies.
The 35-micrometer resolution of the Vida HD C&B allows dental labs and practices to produce high-quality crown and bridge restoration work.
The list of work includes inlays, crowns, bridges, and veneers for the fabrication of indirect restorations using a casting or pressing method.
Features
Being one of the most talked about 3D printers in the market currently, the Vida HD crown has a lot to offer. The fact that the printer is utilized for various applications is proof that the printer can take creativity to the next level.
Such printers can turn beginners into experts through the streamlined process and easy to follow instructions. A few of the rare to find features that HD Crown offers its users are as follows.
Stunning Surface Quality
Since the time the 3D printing technology came into existence and the 3D printers were created, users are looking for a smoother surface finish in parts and functional prototypes that they produce.
There are very few choices of 3D printers out there, that are close to providing the perfect resolution. Some of the printers are so uneven that the layers are highly visible in the produced parts and functional prototypes. Not only this give the entire model a staircase like a feel, but also not serve the purpose they meant to do.
However, with Vida HD, this problem is solved almost completely. With this printer, a perfect example of a smoother surface can be witnessed by looking at the parts and functional prototypes the printer produces.
High Speed
Often the problem with printers offering great surface quality is that they cannot print speedily. Vida HD Crown surprisingly has a combination of both.
Being one of the fastest machines in the market, Vida HD Crown can print continuously for a very long time. The tasks that can be completed with other printers in days, can be completed with Vida HD Crown in hours.
And the fact that Vida HD Crown can do all this without losing the quality, isn't that captivating?
Software Compatibility
Unlike printers that recommend you to use one customized software that's manufactured by the manufacturer which has manufactured the printer, Vida HD Crown lets you use any software capable of outputting the STL file.
If you feel comfortable working with a slicing software, why not use it with Vida HD Crown to produce the best outcome? Why risk the quality of outcome by changing the software just for the sake of using a printer? Check out our guide to the Best Slicer 3D Printing Software for Beginners.
Able to print with different materials and Easy Material Change
This feature is one of the most central features of all the printers that are mentioned now. Often printers in this price range aren't capable of being able to print with a different set of materials.
One, two, or maximum three, but that's it. The manufacturer offers you print with a various set of materials.
With Vida HD Crown, you will be able to change materials easily and where does this help? This feature helps in avoiding wastage of material and getting the job done faster. The overall printing time decreases because you can change the materials easily and start working on the prints instantly.
Plug and Play Feature
First-time users of the 3D printer need not think a lot about the mechanism, getting it right, and be technical. Vida HD Crown has a facility of simply plugging in and starting the print.
The plug and play feature offered by the manufacturer makes it easy for first-time users to start printing right away after installing the 3D printer with just a few minor steps.
Specifications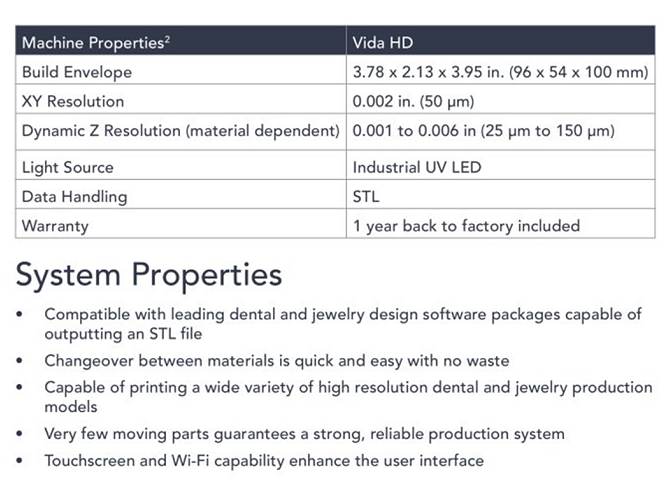 The build volume of the parts and prototypes produced by this printer is 90 mm * 50 mm * 100 mm. XY resolution is 35 micrometers, the Z-axis resolution can be adjusted depending upon the part from 25 micrometers to 150 micrometers. Vida HD Crown uses industrial UV LED as a light source to cure or solidify objects.
Price
The market price of this printer is $19,000.
First impressions
The device looks beautiful, there is this white body with an orange hood making the 3D printer look like a machine with an intelligent head. Vida HD Crown comes safely secured in the package box. You must take it out carefully and ensure that the 3D printer is kept on a flat surface.
This is all before setting the printer up. This easy looking device is certainly a plug-and-play fun so, instead of working around with small pieces or bolts, you get the provision of setting up with few simple steps.
All the parts are pre-assembled, so, you won't require much time to start printing after taking the machine out of the box.
There is a touch screen interface that comes just above the logo of the company. It is impressive that everything that you need for the operation of the printer can be done from the user interface.
There is a circular shaped button just beside this touch screen interface. The orange part has the printed part and functional prototype, while the UV light that cures or solidifies the resin is present at the bottom.
Setup
The setup of this printer is easy. As mentioned in the above section all you have to do is a few steps to complete before printing your test model. Almost everything is readily available to you.
And by putting a little effort i.e. in placing the material and build plate inside, you are up for 3D printing. The entire process would not take more than a few minutes as you already have all the resources available to start your first print.
The manuals of this printer come online, helping you get everything that's required to set up your Vida HD Crown when using it for the first time. This setup procedure is easy for beginners as well.
As they do not have to worry about any technicalities and are able to do everything. Because most of the technical things are taken care of by the company itself.
Printing Type/Cost
The 3D printer uses industrial UV light for curing of parts and functional prototypes that are to be printed using this printer. The 3D printer allows for continuous motion of the build plate because of which it helps in delivering exceptional build speeds.
And, because of the extraordinary print speeds offered by this printer, the printing cost is also above average. One can imagine this printer to be 10 times faster than the usual DLP or DLM printers.
Print Quality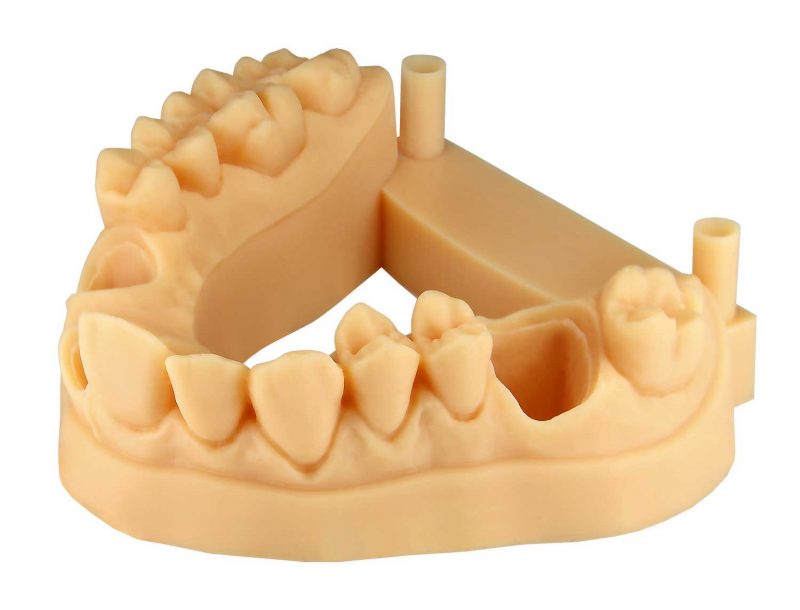 Definitely, the 3D printer provides high-resolution printing, which, when compared to FDM and SLA is much intricate and detailed. With its fine resolution setting that is designed for designated purposes, the 3D printer is expected to offer great accuracy for complex parts as well.
Vida HD Crown and Bridges by EnvisionTEch is specially used for building dentures and functional prototypes, so with the level of accuracy that's needed in producing these parts, you can definitely know the level of accuracy that the printer is offering.
You can print unique parts with customized varying designs and very well shape the curves and sharp edges with ease.
Software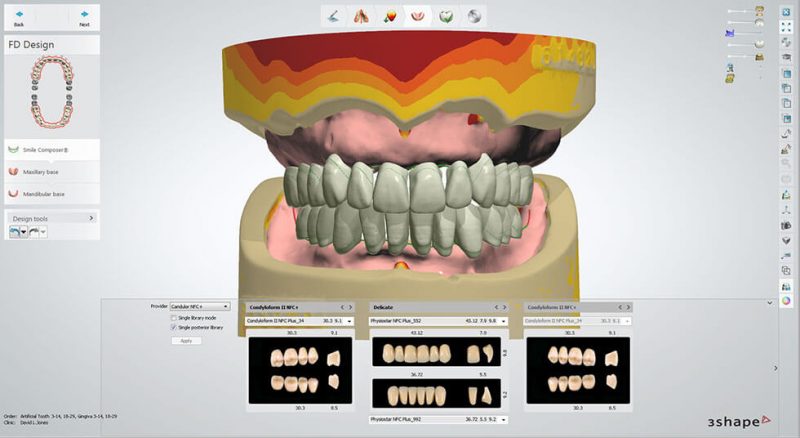 Vida HD Crown is compatible with 3Shape, Orchestrate 3D, Dental Wings, and Exocad design software. Any STL file of a model designed from an impression or an Intra Oral Scanner can be printed using this printer.
Customer Service
The company is among those choices that are leading to their customer service front. You can expect huge help that will be given to you by setting up the machine and other problems if encountered.
For getting in touch with them, you can create a support ticket online or, can call or email the support for any problem you face with the machine. With the purchase of a machine, you do get a year's warranty followed by a renewal choice by choosing various contracts available.
Parameters Influencing Buying Decision
Before purchasing any printer, you should have a complete look at the following factors in brief and compare them with other printers so that you can get a good idea of what you are getting at your home.
3D Printer Cost: People will find this printer very expensive. Especially those who are fond of getting a desktop printer for as low as the price $500.
But understanding that this is not the printer that's based on FDM or even SLA technology and hence offers a print quality way higher than both of those, the cost can be understandable.
3D Print Quality: As mentioned in the title itself, the company markets the printer as a Dental and Jewellery part making printer. The amount of intricacies involved while developing parts of both these industries is immense.
That means this printer is capable of giving out the print quality which can maintain its dimensional accuracy even while printing the complex and small geometries.
3D Print Speed: Imagine you are able to part with the accuracy mentioned above in hours! Isn't that amazing? Vida HD Crown enables its users to do just that. An overall result of this combination is flawless quality in limitless speed. 10-12 orthodontic models in 100 microns in 90 minutes.
This is not a joke! It's for real. As real as the dream that you always dreamt of. So, if you are a professional in this field this printer will be your go-to.
3D Printer Capability: Working with various materials and able to produce parts that can be used in various fields such as medical, dentistry, jewelry, etc. This itself tells you about the capability this printer has.
3D Printer Practicality: More than a home printer, this is a business printer that's meant to serve different industries.
3D User Expectations: The printer is a bit pricey for those who aren't much looking into speed and accuracy that the printer, not just claims, but also delivers.
The Verdict
While FDM and similar technologies are a lot cheaper than this technology, they cannot deliver the accuracy as the technology on which the printer is based.
That is the reason why these 3D printers are mostly used within industries that require parts at speed in urgencies. The printer is designed to serve a specific purpose.
Vida HD Crown is a compact yet large 3D printer, it has impressed many users who are already using this technology for their offices. The amazing print quality and high-speed performance offered by this printer make it great for professionals.