EOS Formiga P110
Formiga P 110 is capable of printing with a considerable amount of plastic polymers that have different physical properties such as temperature resistance, tensile strength, stokes number, and color, or transparency.
PROS
Helps to achieve amazing print quality with high strength.
Offers a huge range of materials.
Supports third party slicing software.
CONS
Post-processing of every part and the functional prototype is required.
Product
Specification
Videos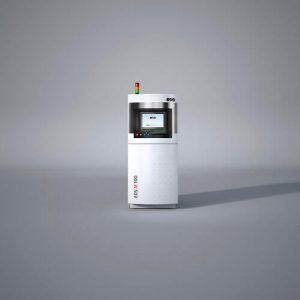 The printer is going to look to you at the very first instance like a refrigerator. However, it is a lot more utilitarian than a refrigerator. ...
| | |
| --- | --- |
| Model | FORMIGA P 110 |
| Manufacturer | EOS |
| Price Range | $ 100000 – $ 250000 |
| Availability | Available |
| Classification | Industrial |
| Technology | Powder (SLS- SLM…) |
| Material | Other plastics |
| OS compatibility | Microsoft Windows |
| Max. build size | 200 × 250 × 330 mm 7.87 × 9.84 × 12.99 in |
| Max. build volume | 16.50 L |
| Min. layer thickness | 0.06 mm 0.002 in |
| Dimensions | 1320 × 1067 × 2204 mm 51.97 × 42.01 × 86.77 in |
| Weight | 600 kg 1322.77 lb |
| Power input | 16A @ 2 kW |
| Heated print bed | No |
| Heated build chamber | No |
| Automatic calibration | No |
| Closed frame | Yes |
| Dual extruder | No |
| Independent Dual Extruder | No |
| Full color | No |
| LCD screen | No |
| Touchscreen | Yes |
| On-board camera | No |
| Mobile app | No |
| 3D scanners | Yes |
| CNC mill | No |
| Electronics 3D printing | No |
| Laser engraving | No |
| Conveyor belt | No |
| Air filter | No |
| Pellet extruder | No |
| USB | No |
| Wifi | No |
| Bluetooth | No |
| SD card | No |
| Ethernet | Yes |

Table of Contents
Unlike Fused Deposition Melting, Selective Laser Sintering uses a laser to fuse layers of powdered material and make a part or functional prototype.
Formiga P110 is one of the many printers in the SLS category that made its debut in the same year when SLS printers had started to get mainstream.
Companies have already started making this technology available to people who cannot afford as much as the ones who buy an industrial-grade printer. Manufactured and made available to the world in 2018, Formiga P110 was the leader in SLS 3D Printers.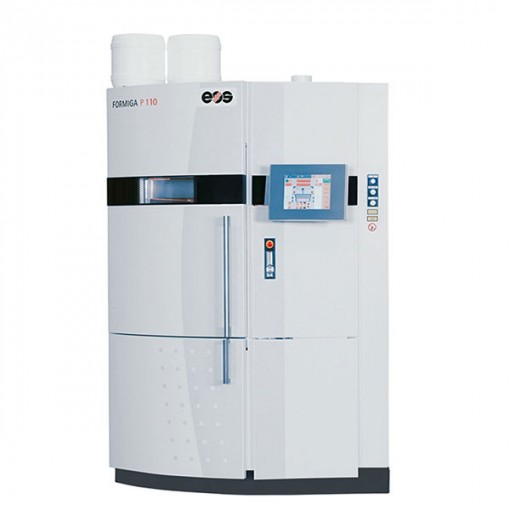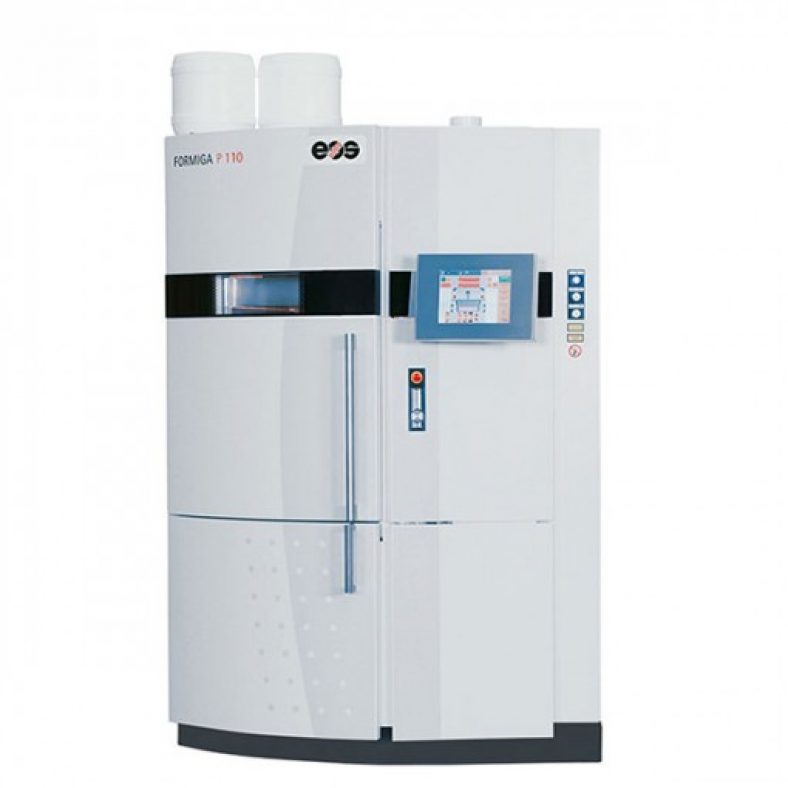 Owners of this machine have praised it for its print quality, reliability, and running costs. Though there have been comments about how Formiga P 110 is difficult to use and can cost expensive repairs, it makes up for an acceptable printer in many classes.
Formiga P 110 is capable of printing with a considerable amount of plastic polymers that have different physical properties such as temperature resistance, tensile strength, stokes number, and color, or transparency.
Rated highly in all those classes, it has applications for all sorts of individuals in aerospace, automotive and industrial fields. Let's see the features that make EOS Formiga P 110 what it is.
Features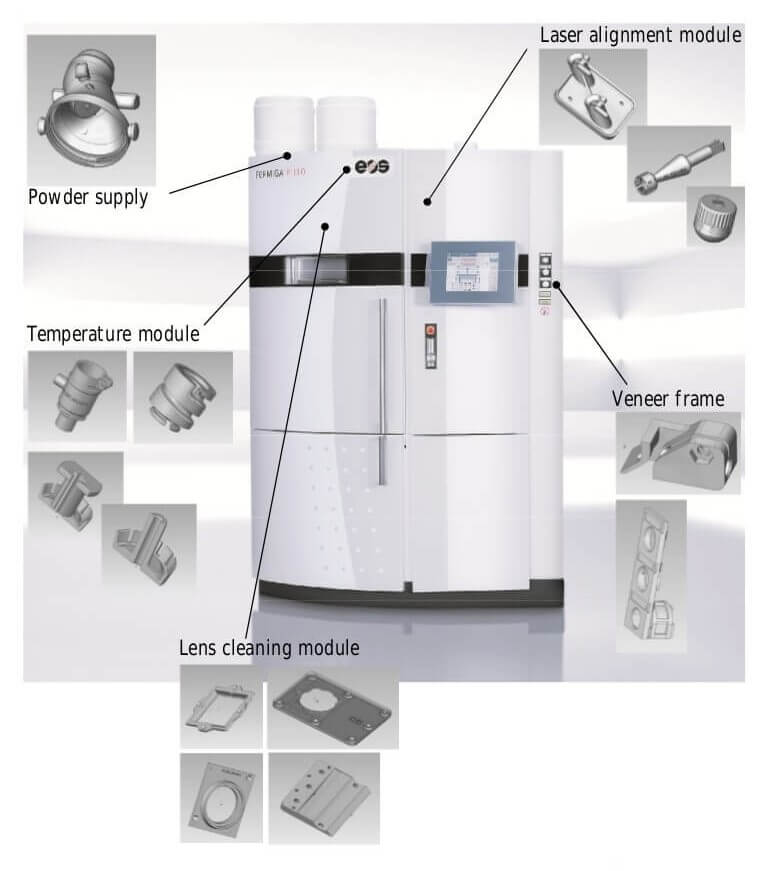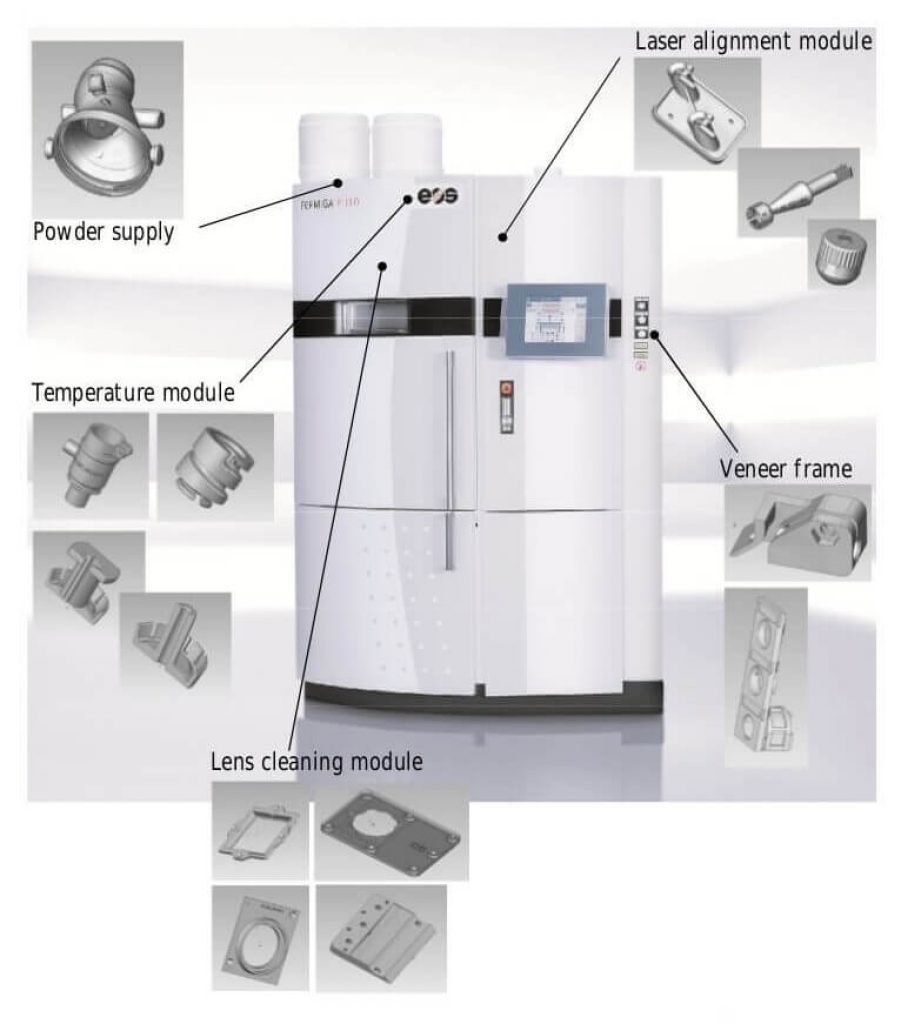 Credit: slidesharecdn.com
Not only is Formiga P 110 agile, efficient in cost, but also it does have a very productive system for additive manufacturing technology, especially polymer parts.
There is this compact system which is ideal for small series production, making parts and functional prototypes that are not much industry standard but have to be customized. Parts that have complex geometries and rapid prototyping applications can be made with ease using this printer.
The improvements to the FORMIGA P 110 have helped to further optimize the 3D printing process in general. By lowering its non-productive time and introducing superior part mechanics the company also features an improved, accelerated heating system and re-coating process.
The software is used to control the preheating of the polymer materials with a 30-watt laser beam at a higher rate of speed. Speaking of materials, users of the FORMIGA P 110 can choose from nine commercial polymers, and 10 combinations of materials and layer thicknesses.
Imagine the scope! Additionally, an intuitive user interface makes this industrial 3D printer extremely user-friendly. Apart from this, below are the list of those features which make the EOS Formiga P110 stand out in a very competitive market.
Build Rate of the Printer is High
The build rate of the printer is also often displayed on websites as the print speed of a printer. Build rate is the measurement of any printer which lets you decide the time that would be taken on the bases of volume or area of the part that you are willing to print.
It's measured per hour according to the printer's ability to print a certain amount of material.
The build rate of EOS Formiga P 110 is 1.2 inches per hour. You can calculate the area or inches of your part and functional prototype accordingly to know the exact time by which the complete material would be printed.
Efficient in Series Production of Small – Medium-sized Components & Extremely User-Friendly
A lot of printers you'd find in the printing market won't be able to produce continuously offering the same quality. Especially with small and medium-sized components when there is a lot of detailing that's to be taken care of while printing, rarely printers succeed in doing so.
EOS Formiga P110 is one amongst those rare printers which can be used for mass production of small and medium-sized parts and functional prototypes.
Often, such printers are bound to be a lot techy but that is not the case with EOS Formiga P 110. It's extremely user-friendly to the point that the most non-technical person can also use it with ease.
The user interface and guidelines provided by the company make it hardly a task to operate this printer.
Sustainable And Efficient
The material portfolio that's available for the FORMIGA P 110 particularly encompasses materials that have a high level of recyclability. What this does is reduces the costs and protect the environment.
During the system development of this printer particular attention has been paid to low operating costs thanks to minimized energy consumption offered by EOS.
An external nitrogen connection with the printer enables a connection to the central nitrogen supply. This reduces the amount of compressed air required by the machine.
The machine has shortened cycle times, thanks to the optimization of the laser sintering process that has happened with the growth of technology.
EOS offers the minimum downtimes. Credit to this goes to the streaming concept. The system can start building the job as soon as the job file is loaded on it, making the optimum usability of the construction space. This is because of the improved thermal management system.
Specifications
Formiga P 110 has a closed material system and has a layer thickness of 60-120 microns. The optical system of this printer uses the F-theta lens and has a high-speed scanner. The laser used by the printer is CO2 with a power of 30 Watts.
The build rate of the printer is 1.2 inches per hour, whilst its build volume is 200 mm * 200 mm * 150 mm. The lower resolution offered by Formiga P 110 is 120 microns, the higher layer resolution is 60 microns. Materials with which you can print using this printer are Nylon, Polyamide, and Alumide.
The metric dimensions of this printer are 1320 mm * 1067 mm * 2204 mm, and the printer weighs 600 kilograms.
Price
Marketed for professional 3D printing, this printer is available for $250,000.
First Impression
There are no two opinions about the belief that machines of the FORMIGA family are among the company's most successful and reliable industrial 3D printers for polymer materials on the market.
There are already 550 plus systems from this family of machines that have been installed worldwide. This new additive manufacturing system in the printer comes with new technical improvements and offers increased productivity of up to 20 percent.
Similar to its predecessor in FORMIGA systems, the new P110 is suited for companies that are looking for industrial 3D printing solutions. The new system in this printer offers reliable and greatest reproducible part quality in the market of layer manufacturing technologies.
The FORMIGA P 110 does not require tools and makes direct use of digital CAD data to produce delicate polymer parts with the highest surface quality to a maximum construction height of 330 mm. Users can profit from a broad range of 10 polymer materials.
Overall the printer is a giant machine, one like that of the refrigerator that we have at our place. There are four compartments that the printer has and a huge user interface on the top right compartment.
While seeing the printer's front view there are two circular structures visible over its head. Which looks like the resin containers.
Setup
The printer is shipped to you completely assembled, all you got to do is read the read manual before starting the printing process. Since it's an industrial printer, its build for a different class of individuals who like to operate on various methods based 3D printers.
Users of FDM are going to find this printer different. There is not much you need to do for setting this printer up apart from plugging it to the connection to offer electricity and boom! Start printing.
Printing Type/Cost
The EOS FORMIGA P 110 Velocis is based on the LS 3D printing technology developed by EOS. LS or how it more commonly called, SLA printing technique uses a fiber laser to melt and fuse fine plastic powder. Layer after layer the 3D object is built.
After buying this printer, the only running costs of this printer are the material and electricity you use. This results in low operating costs which are easy to calculate unlike the complex costs of some printers.
Auxiliary materials such as binding agents are not required while printing with EOS Formiga P110.
Print Quality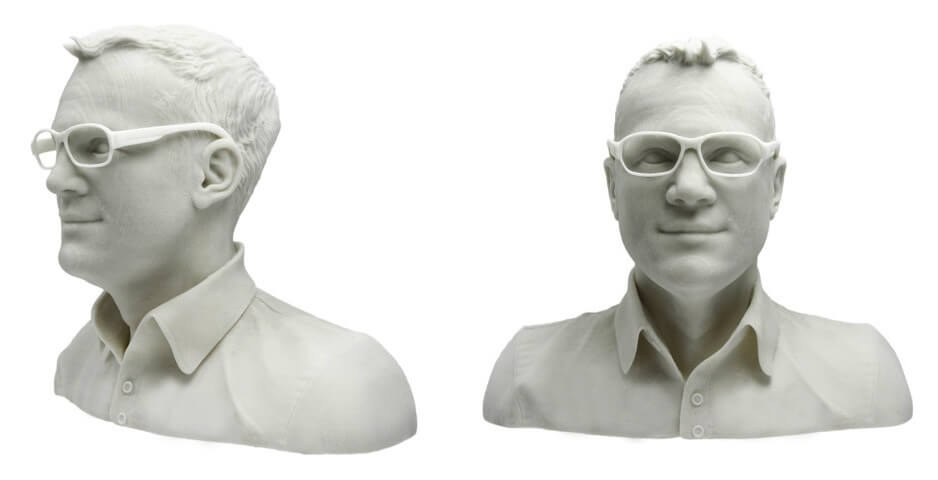 Credit: treatstock.com
EOS Formiga P 110 is an established industrial 3D printer that has set new standards on the market because of its high reliability and reproducible part properties.
FORMIGA-quality has already become a quality label for the additive manufacturing of plastics according to the experts of 3D printing. This printer was a development of the P 100 product line and was made to help us to further extend our lead in the compact class of 3D printers.
According to the company, the Formiga P 110 has been developed to build small print runs, and parts or products with complex internal geometry, such as medical devices.
Among the new features of the new system are four-channel heating and the use of a single-point pyrometer which has never seen before. EOS also says the FORMIGA P 110 has improved stability and reproducibility which helps itself to surprise its user with the quality that it offers.
Software
EOS ParameterEditor, EOS RP Tools, and PSW 3.6 are the three software on which files that are to be produced, can be sliced.
Customer Service
Many testimonials are posted on the company's website. These are testimonies by the professor, owner of a company that manufactures based on 3D printers and then there is the product manager of a company that also manufactures using 3D printers.
All of these reviews are thanking EOS for letting them expand their scope of a business, bringing in a flexible system that they had never seen before.
There is a contact page on the company's website and there is another page called Customer Center. When you click on the former you have a form in which you need to fill some personal data and send it to the company.
If you have bought EOS, you'd probably have your account and can log in and fill the request or get in touch the other way round too. EOS boasts about its "customer first" motto on their website.
Their goal is to offer you comprehensive support for establishing and expanding your 3D printing production systems. You can find all the information and solutions you require for tailoring your wishes and needs.
You'll find everything here from our digital customer center myEOS to our broad selection of services and to our Additive Minds team, who are happy to advise you.
Parameters Influencing Buying Decision
How about a little brief about the parameters that matter the most before concluding the article?
3D Printer Cost: Bearing the fact that the printer is priced with those printers that are meant for industrial production of 3D parts and prototypes, the competition of printers is with printers that are priced even higher than it is. And when compared, the price is fine.
3D Print Quality: Marketed as a printer for mass production of small and medium-sized components, P110 can bring to you the quality that you've been looking around in products that are made from cheaper printers than it.
3D Print Speed: As per industry standard and compared to the price range it falls in the speed is just how it should be. Maybe a little more, but not less.
3D Printer Capability: As mentioned above the printer is a capable print with more than 10 types of resins.
3D Printer Practicality: It's sturdy. It's user-friendly. And able to produce continuously without decreasing the quality.
3D User Expectations: It will stand by all your relative expectations.
The Verdict
Whether it has been improved temperature management or software control, The German manufacturer has continued to enhance its SLS product offering making Formiga P 110 the most reliable product in the SLS market.
Not only the machine has precise laser spots with a small focus diameter, but this also enables it to have a wall thickness of less than half a millimeter.
The key features of this printer are flexibility in being compatible with nine polymer materials and 10 combinations of materials, producing amazing layer thickness.