Wanhao Duplicator 4S 3D printer
Wanhao Duplicator 4S is a simple FDM 3D Printer that is primarily targeted towards beginners in the field of 3D printing. Considering its features and print quality, it is the best you can manage from a budget of around $600.
PROS
Full covered heating chamber ensures that the parts and functional prototypes printed using ABS filament undergo no curving.
There is a side transparent window that allows for a better view of the print chamber, even from the sides.
Complete steel structure makes this 3D printer as tough as a rock.
The printer has aesthetically pleasing looks.
The build platform of Wanhao Duplicator 4S is made from Tough steel which does not shake during the 3D printing process. Meaning that you will get better quality parts and functional prototypes.
Every screw that is used in the construction of this 3D printer is refined.
The printer's body has a full window cover to ensure a more consistent temperature when printing with ABS 3D printer filament.
There is a high-strength silicon glass that is as flat as a mirror and will make your print extraordinarily flat than ever.
CONS
The company isn't as old as many earlier players in the field. That is why it does not enjoy a very large community. While this may not be a problem for those already expert with 3D Printing, those needing a little help may find it difficult to approach a larger audience.
You may find the machine a little noisier than other alternatives.
Product
Specification
Videos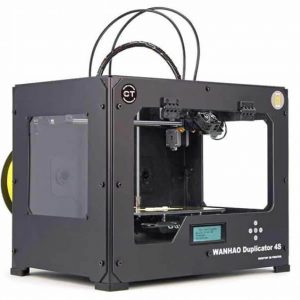 Made from high strength sheet metal frame, Wanhao Duplicator 4S comes with impressive safety features. A hinged safety door, two side safety panels, ...
| | |
| --- | --- |
| Model | Duplicator D4S |
| Manufacturer | Wanhao |
| Price Range | $ 939 |
| Availability | Available |
| Classification | Desktop |
| Technology | Extrusion (FFF- FDM…) |
| Material | ABS, PLA |
| Filament diameter | 1.75 mm 0.07 in |
| OS compatibility | Linux, Mac OS, Microsoft Windows |
| Generic material | Yes |
| XY accuracy | 0.02 mm 0.001 in |
| Max. build size | 225 × 145 × 150 mm 8.86 × 5.71 × 5.91 in |
| Max. build volume | 4.89 L |
| Min. layer thickness | 0.1 mm 0.004 in |
| Dimensions | 320 × 466 × 382 mm 12.6 × 18.35 × 15.04 in |
| Weight | 12 kg 26.46 lb |
| Power input | 220V / 110V |
| Heated print bed | Yes |
| Heated build chamber | No |
| Automatic calibration | No |
| Closed frame | Yes |
| Dual extruder | No |
| Independent Dual Extruder | No |
| Full color | No |
| LCD screen | No |
| Touchscreen | No |
| On-board camera | No |
| Mobile app | No |
| 3D scanners | No |
| CNC mill | No |
| Electronics 3D printing | No |
| Laser engraving | No |
| Conveyor belt | No |
| Air filter | No |
| Pellet extruder | No |
| USB | Yes |
| Wifi | No |
| Bluetooth | No |
| SD card | Yes |
| Ethernet | No |

Table of Contents
In the words used by the printer manufacturer, Duplicator 4S is their first dedicated 1.75 mm filament extruder 3D printer.
It was designed from scratch and contains a number of custom manufactured parts that you would not find in any other 3D printer.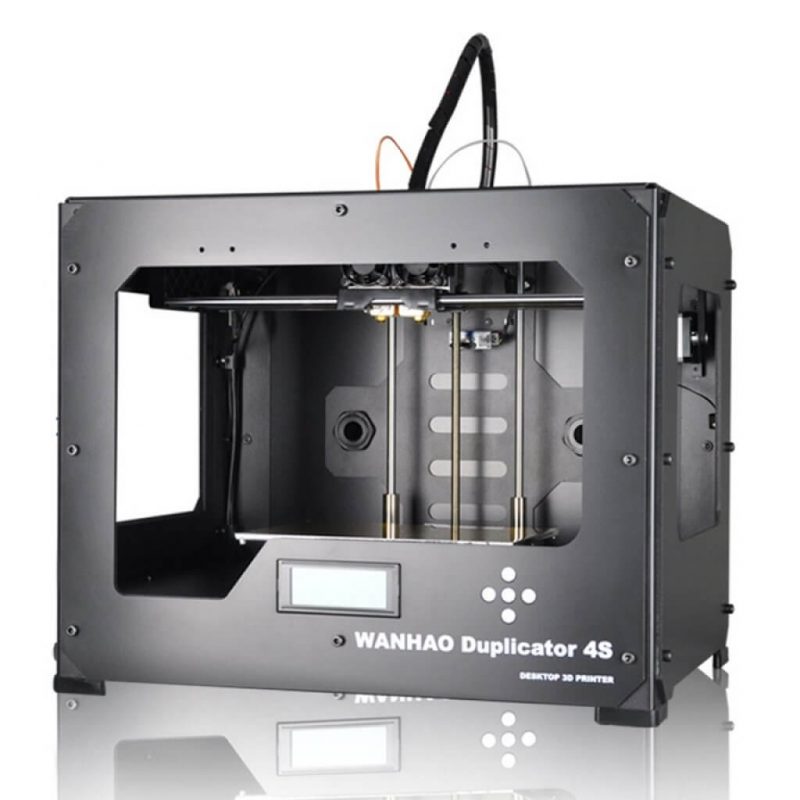 Its extruder design is made from the learnings that the company has got from its past experience. So, you find it smaller, lighter, and a lot faster than its comparisons.
Features
The layer alignment of Wanhao Duplicator 4S is something that is able to provide better results in nicer prints and higher resolution i.e. around 100 microns.
Auto-calibration
This feature does two things:
By decreasing human intervention, increases the overall efficiency of the complete printing process.
It gives you the freedom from giving efforts in the area wherein you otherwise have to give a lot of effort in adjusting the screws to match the nozzle height from the print bed according to the geometry of the part or function that you are looking to print.
So, all you have to do for calibrating your 3D print bed, before and after any 3D print is just press a button.
Dual Extruder Duplicator
Wanhao Duplicator 4S comes with a facility to print two parts or functional prototypes at the same time.
Because of the dual extrusion system and the provision to use two different filaments at the same time on this 3D printer, you can ask the printer to duplicate a single part or functional prototype.
The main benefit of this feature comes into account while you are doing mass production. Now you know why the printer is named Duplicator!
This decreases the overall printing time needed to complete a project that involves mass production of a certain kind of parts.
Where other 3D printers will almost take double the time taken by Duplicator 4S for making a part or functional prototype.
Multiple options to connect with this 3D printer
You can connect to this 3D printer using a USB cord and then hit 3D print. This will start the 3D printing process of building a part or functional prototype.
Thanks to the all-new chip that the printer manufacturer has added as a process of upgrading their 3D printer. The other option available is to print using an SD card.
This is if you have experienced failure in printing a part or functional prototype with USB cords because of the computer's sleeping or shutting down automatically during the time of electricity failure.
The 2G card that comes with this 3D printer is capable of uploading huge file sizes of parts or functional prototypes.
A little bit of automation does a lot. You see how Wanhao Duplicator 4S starts to home itself, heat up, and begin 3D printing and how you do not have to ever touch on either of the three-axis because of the full end stop support.
Simple and fast is the printer manufacturer's aim and they definitely succeed in doing so.
Multicolor Filaments
Unlike other 3D printers in the same price range that are unable to 3D print with different colored 3D printer filaments, Wanhao Duplicator 4S allows for it.
This would make more aesthetically pleasing prints because the world around us is colored and so should the 3D printed parts or functional prototypes look!
High-strength metal frame
Wanhao Duplicator 4S does not vibrate at all when the 3D printing process is on. It stays completely stable even when you are manufacturing a part or functional prototype that has a build volume equivalent to the maximum build volume this 3D printer has to offer.
This is all thanks to the extra care taken by its manufacturer while constructing the frame of this 3D printer.
Specifications
The overall dimensions of Wanhao Duplicator 4S are 320 mm * 466 mm * 382 mm. Its shipping weight is 25 kilograms.
This 3D printer is equipped with linear ball bearings and precision ground shafts of 8mm diameter. It has snap-on, snap-off carriages.
The electronics of this 3D printer contain a Duplicator 4S single-piece motherboard, a five-axis 1/16 stepping motor control.
There is a 4*20 LCD character display, and a multi-direction control pad. Also, the printer has in place a piezoelectric buzzer.
All of which is operated with a double power supply of 110 and 250 Volts, 50/60 Hertz, 4 Ampere that takes in standard IEC cables.
The maximum build envelope offered by Wanhao Duplicator 4S is 225 mm * 145 mm * 150 mm i.e. approximately five liters.
The layer thickness range in parts and functional prototypes manufactured on this 3D printer is 0.1 mm to 0.5 mm, and you can choose it from the software.
Wanhao Duplicator 4S has a stock nozzle diameter of 0.4 mm and a print speed of 40 mm per second.
The approximate flow rate of this 3D printer is 24 cubic cm per hour. It features an extruder that can withstand a temperature of 230 degrees Celsius.
A heated build platform that can withstand a maximum of 120 degrees Celsius will let you print with various 3D printer filaments such as ABS, PLA, and other materials.
The positioning precision on Z-axis is 2.5 microns, while on the XY axis it is 11 microns. The diameter of any 3D printer filament you decide to print with needs to be 1.75 mm.
Price
Wanhao Duplicator 4S is available at $587 if the quantity is one. And then the discount depends on the quantity of 3D printers you are willing to purchase from the 3D printer.
First Impressions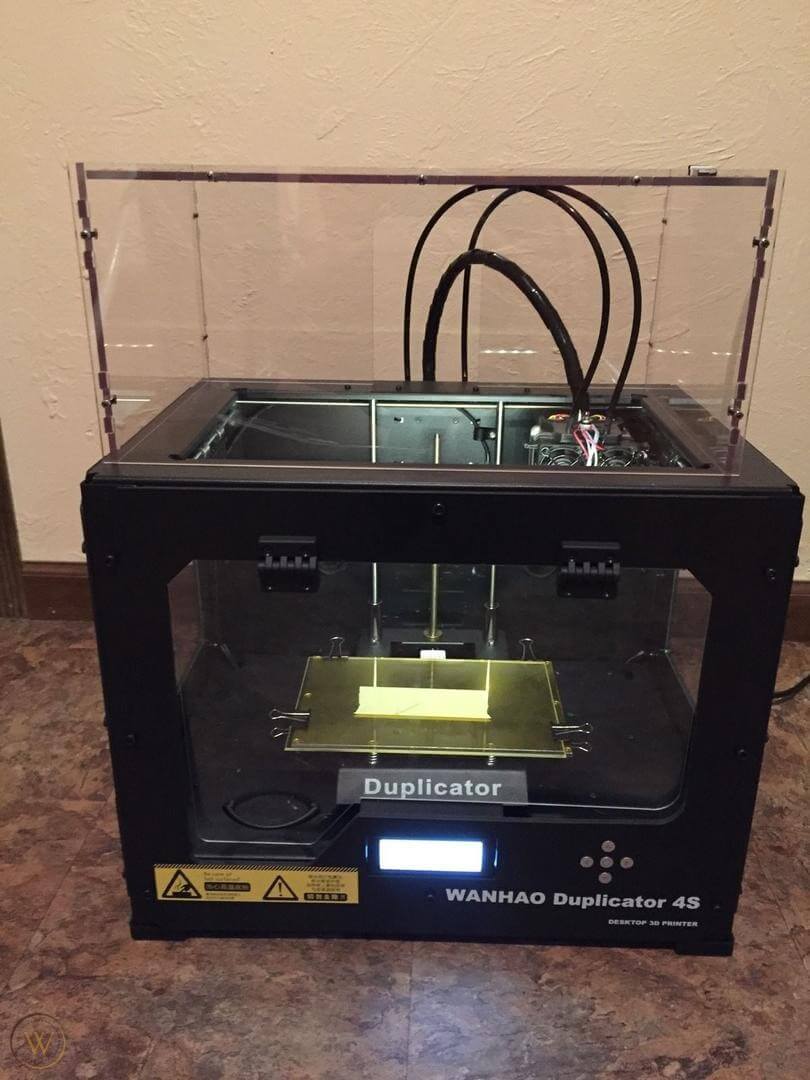 Credit: worthpoint
From its front end, your eyes will fall prey to its dark-looking, cage-shaped setup. You'll notice the little display interface on the bottom of this 3D printer's body, the provision of a filament spool holder from the head of the printer's body, and the inside mechanism of this 3D printer.
Yes! The 3D printer filament that you decide to 3D print with on this printer needs to be held exactly at the back of Wanhao Duplicator 3S' body.
In fact, there is not just one, but two provisions for filament spool holders at the back of this 3D printer.
For safety purposes, there is a window cover that you can use to cover the track from where the 3D printer filament enters the print chamber of Wanhao Duplicator 4S i.e. from the head of this 3D printer.
The nozzle system, print head, and the print bed are all visible from the transparent part of the body from the front as well as sides of this 3D printer.
You can get to know how the 3D printer is based on Cartesian type 3D printing and not Delta.
It is to be appreciated how the printer manufacturer has not restricted monitoring only from the front and allowed it even from the sides.
This allows you to pause anytime you feel there is something wrong that's happening in terms of 3D printing a part or functional prototype.
Setup
Wanhao Duplicator 4S is a plug-and-play type 3D printer. All you need to do is read the user manual and auto-calibrate the printer before starting with your first 3D print.
Printing Type/Cost
Wanhao Duplicator 4S is based on FDM 3D printing technology. At the back of the printer's body, you have the provision to hold two filament spools.
Once the spools are loaded, you can start with the heating procedure. The 3D printer filament spool needs to be heated till it reaches its glass transition temperature.
After which, the solid filament is ready to melt over the build plate via the nozzle system.
The print head moves the nozzle system of this printer to the print bed and the first layer of the part or functional prototype gets laid on it according to the geometry that is fed to the 3D printer via the sliced file.
FDM 3D printing technology is the simplest 3D printing technology compared to other 3D printing technologies.
And hence the cost of 3D printing a part or functional prototype via this technology is comparatively lower.
However, the overall cost of 3D printing depends on the geometry of that part or functional prototype, the type of 3D printer filament with which you wish to 3D print, the level of infill used in it, the support structures, and much more.
Print Quality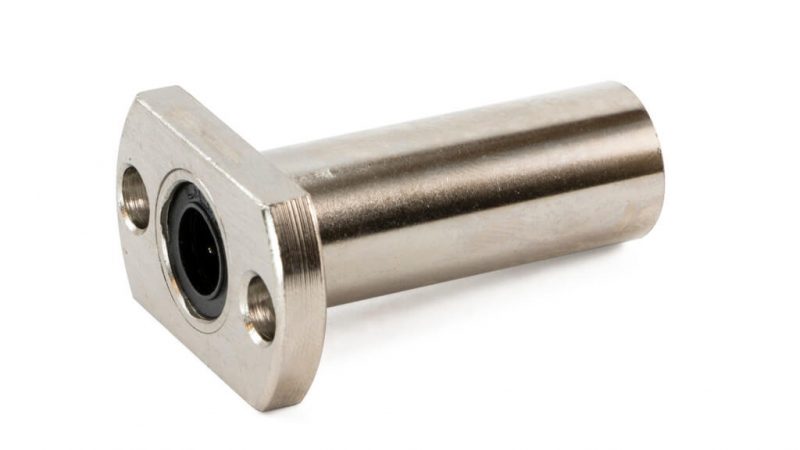 Credit: fargo3dprinting
Parts and functional prototypes, involving intricate designs like Small Minions, an extruder, a skull, and other aesthetically pleasing ones can be made with excellent surface finishes using Wanhao Duplicator 4S.
The layer resolution range for 3D printing any part or functional prototype is adjustable from the slicing software that comes with the printer. So, you can choose any layer resolution between 0.1 mm to 0.4 mm.
As the 3D printer is guided with two linear shafts, the probability of Z-axis wobbling is completely eliminated because of the complete replacement on Z-axis, with a stepper-driven cantilevered stage, which eliminates complete chances of any wobble.
And this is what results in neatly aligned layers which results in nicer and high-resolution prints. The drive system of Wanhao Duplicator 4S is completely overhauled for giving the optimum position accuracy.
This entire system has been upgraded to sturdy 3/8 inch diameter linear shafting. Due to which you can expect the axis to be sturdy, at times.
Another upgrade from their previous 3D printers has been seen in steel bearings. From the former self-aligning ones to self-sintered stainless steel bearings. This transformation provides nice and smooth motion on the steel rafts.
Software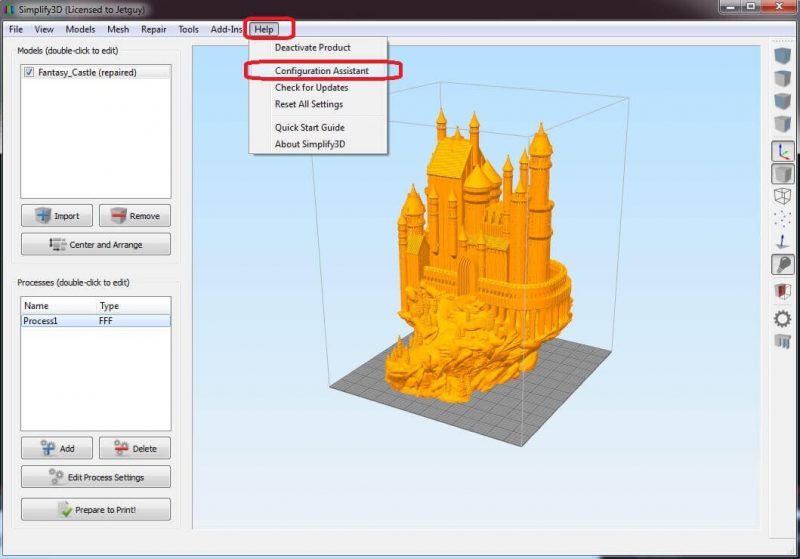 Credit: googleusercontent
The printer is compatible slicing with Replicator G as well as Simplify3D. Both of which work completely fine with Linus, OSX, and Windows operating systems.
To upload a file on Wanhao Duplicator 4S you will need an SD card or a USB cord. The input file format should be STL, whereas the output file format would be GCODE.
Customer Support
The user manual and software can be downloaded online. Apart from that, if you wish to contact the technical team of this 3D printer manufacturer, the email id of each one of those team members is available online with the contact number of their General Manager.
Parameters Influencing Buying Decision
Below mentioned factors summarize the complete article's main points.
3D Printer Cost: Considering the print quality and speed that this 3D printer can offer and comparing it with other 3D printers in the same price range, Wanhao Duplicator 4S is affordable.
3D Printer Quality: 100 microns layer resolution on each and every part or functional prototype manufactured on this 3D printer is a very commendable print quality considering the 3D printer is based on FDM 3D printing technology.
3D Print Speed: Because of the dual extrusion system, the printer is able to display excellent print speed especially when mass-producing.
3D Printer Capability: You can print with the most basic 3D printer filaments on this 3D printer.
3D Printer Practicality: When in operation, Wanhao Duplicator 4S manages to work smoothly.
3D Printer User Expectations: If you are someone who is willing to start experimenting with 3D printing technology, Wanhao Duplicator 4S will provide you a great opportunity to learn this technology.
The Verdict
Wanhao Duplicator 4S is a simple FDM 3D printer that is primarily targeted towards beginners in the field of 3D printing. Considering its features and print quality, it is the best you can manage from a budget of around $600.