eMotion Tech Strateo3D
eMotion Tech Strateo3D printer is a combination of too many amazing features in a very compact space and yet manages to provide huge build volumes that enable you to manufacture large parts in one go.
PROS
Dual extruder.
Heated build chamber.
Large build volume.
Multiple modes of connection.
Compatibility with lots of filaments.
Dual color, dual material 3D printing.
Excellent layer thickness and XY accuracy.
CONS
Removal of parts from the print bed can be an issue as the print bed cannot be removed or bent.
Table of Contents
Strateo3D is a professional scale 3D printer manufactured by eMotion Tech – a 3D printer manufacturer based in France. It offers a large build volume of 600 mm * 420 mm * 500 mm for scaling up your 3D printing projects.
Based on impactful Fused Filament Fabrication 3D printing technology, eMotion Tech Stereo offers a wide range of printable polymers that easily meet your requirements. A dual extruder allows printing with two different colors or materials, as well as with soluble support materials.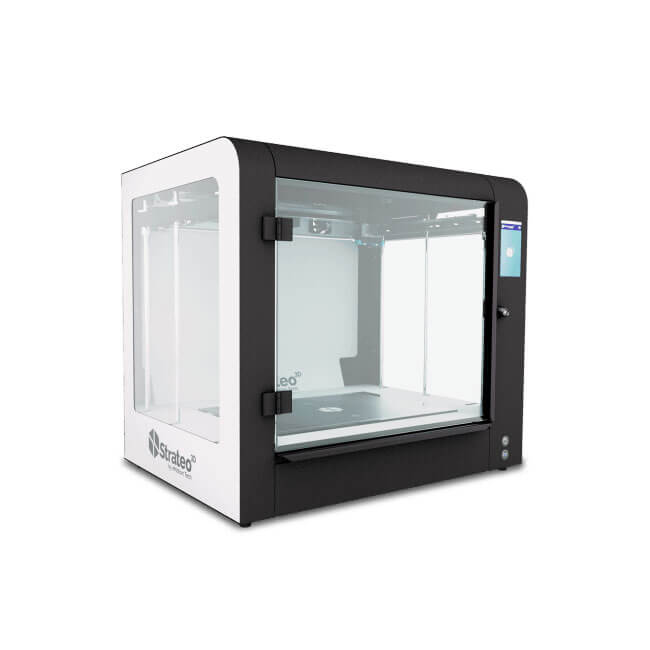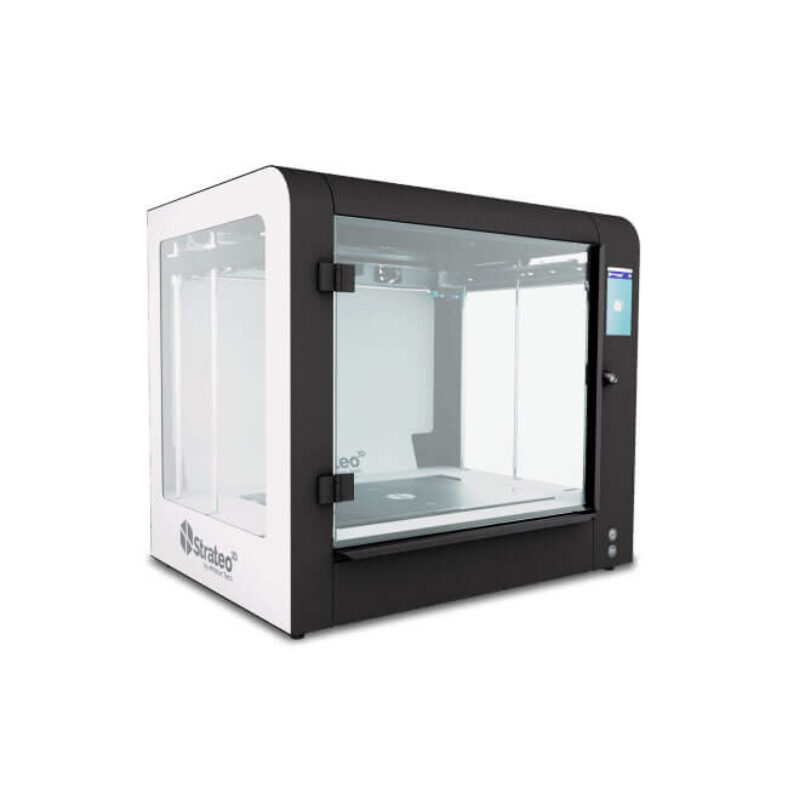 The printer hosts a large touch screen that provides users with an intuitive experience with its built-in slicer. Moreover, a heated chamber permits the printer to print complex models and withstand high temperatures.
There is a lot the eMotion Tech Stereo has to offer but is it worth the money that it's priced at? Well, let's find out by going in-depth about this machine.
Features
Being an open 3D machine, Strateo3D permits the use of nonproprietary materials. A ceramic glass fix bed guaranteed perfect flatness and the thereby good adherence of the part to the surface.
The printer is able to deliver industrial-level tolerance and repeatability which is unmatched on desktop machines. There is a thermoregulated room in the printer's body for technical materials with high retraction.
Strateo3D is a powerful and hyper-connected machine that integrates the slicing as well as a live remote monitoring system. It is full of such amazing features. So, let's look at them one by one.
Reliably ergonomic
Strateo3D comes with an intelligent and modular tool with automatic detection that gives more flexibility for using the machine. By utilizing this tool users can decrease human intervention with the printer, thereby increasing the overall print efficiency. The machine is equipped with a ceramic glass fix bed ensuring perfect flatness.
So, 3D printed objects will get the perfect bed adhesion needed for sticking to the bed. Moreover, Stratocontrol 3D – the interface provided by the printer manufacturer is a dedicated one.
It lets you control and monitors various functions in a smooth and easy manner. Also, the printer can be connected in three modes; via USB, with Wi-fi, and using Ethernet.
Overall, Strateo3D comes with an industrial tolerance that is hard to find in desktop 3D printers falling in the same price range.
Flexible yet robust
To manufacture complex geometries using Strateo3D users can make use of dual extrusion which allows printing with solvable support materials. Therefore, the post-processing of these intricate geometries will be easily manageable on the printer.
Strateo3D also features a thermoregulated room for technical materials with high retraction. It is an industrial-grade 3D printer based on FFF 3D printing technology offering a wide range of printable polymers to choose from. So, you will never be bored of creating geometry out of a limited set of 3D printer filaments.
Moreover, the printer specializes in creating large-scale prototyping parts for mass production. It is able to create huge build volumes in the order of 600 mm * 420 mm * 500 mm. The machine has a robust built up and does stable 3D printing of various types of parts and functional prototypes.
Versatile
Being an open machine Strateo3D permits printing with nonproprietary materials thereby increasing the range of materials users can print with the machine. The printer is compatible with a broad range of polymer standards and technicalities.
It has a versatile and intelligent tool that combines fineness as well as speed with nozzles ranging anywhere from 0.4 to 1.2 mm. The machine hosts a standard filtration system removing up to 99.95 percent of 0.3 microns particles with a 40 cubic meter per hour airflow.
Users can also choose an industrial filtration system with Strateo3D that removes up to 99.997 percent of 0.3 microns particles with 150 cubic meters per hour airflow. So, one thing is for sure that Strateo3D offers a lot in terms of flexibility to its users in all the areas.
All the materials that are compatible with the printer are low in cost, therefore decreasing the overall cost of 3D printing a part or functional prototype.
Heated chamber
Strateo3D allows users to print complex geometrical shapes with various materials that have a higher glass transition temperature. The printer's print bed can withstand 120 degrees Celsius. Whereas, its nozzles can reach up to 350 degrees Celsius! Such a high-temperature withstanding printer is rare to find in the prince range that Strateo3D falls into.
Large touch screen
eMotion tech has taken into consideration users' demands while 3D printing a part or functional prototype on a 3D printer. Easing out the complete control, monitoring as well as making amends in the print settings are the key capabilities of the large touch screen interface present on the body of the printer.
Moreover, the general interface is made eccentric by including the built-in slicer in it. So, last-minute changes in the design of the part or model would be efficiently possible.
Dual extruders
Strateo3D users can easily print with two different colors as well as materials using the printer. In fact, the dual extrusion system makes it possible for the designer to design complex parts or functional prototypes for making which, soluble support materials are a pre-requisite. So, not only can you go big with Strateo3D, but also dimensionally accurate while printing intricacies!
Specifications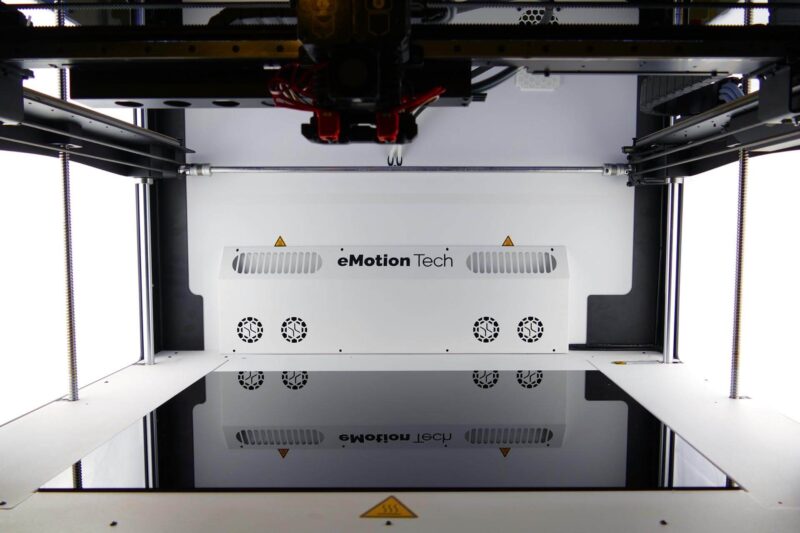 Credit: emotion-tech.com
Emotion tech Strateo3D prints objects using the simplest 3D printing technologies of all, Fused Filament Fabrication 3D printing. Users can gain an XY accuracy of 0.05mm on parts manufactured using the printer. The key feature of Strateo3D is the maximum build volume offered by it i.e. 600 mm * 420 mm * 500 mm.
Using the build volume mentioned above, users can print using 3D printer filaments like PLA, ABS, PETG, TPU, HIPS, PVA, BVOH, PA, PC, ASA, Acetate, and many more of 1.75 mm diameter. Strateo3D allows printing with two extruders, materials, and colors.
Its nozzle diameter ranges from 0.4 to 1.2 mm. The maximum temperature that its extruders can withstand is anywhere around 300 to 400 degrees Celsius, whereas the heated bed can resist temperatures up to 120 degrees Celsius.
Taking into consideration, its operator's safety, the printer features a filtration HEPA + active carbon. The machine's firmware consists of Stratocontrol 3D manufactured by eMotion Tech.
It allows for multi-user management, and Gcode conversion. Users can connect with the printer via three options USB, Wi-fi as well as Ethernet.
Strateo3D can manufacture parts with varying layer thickness ranging anywhere from 0.1 to 1 mm.
Price
The basic price of the eMotion Tech Strateo3D printer starts from $13,900.
First Impression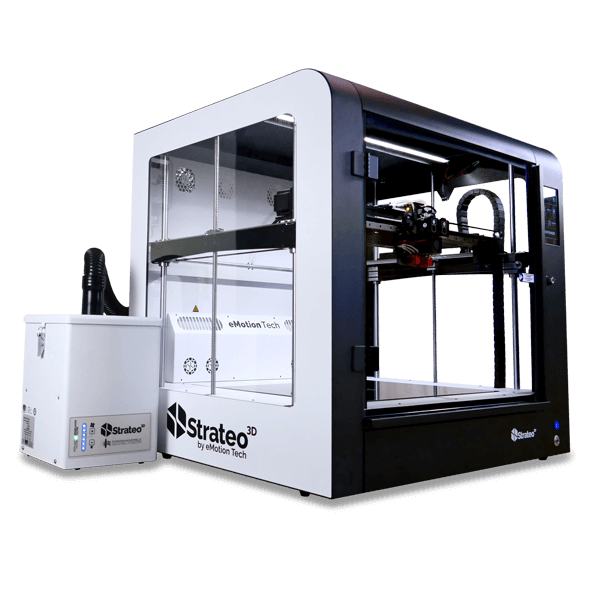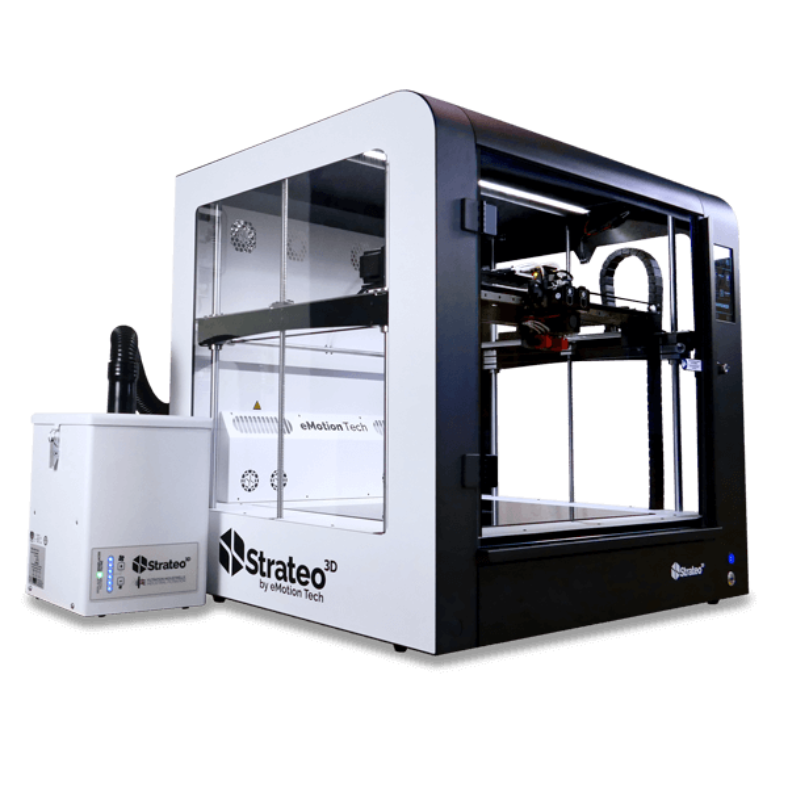 Strateo3D has an appealing design with a robust and stable build-up. It's pretty much cubical in shape with a nice color combo making it stand apart from other 3D printers on the shelf.
The front and sides of the printer are kept transparent to give its users a peek into the inside chamber and allow for monitoring the complete print process.
A door in the front gives access to Strateo3D's inner print chamber. The spool holder of the printer is not present on board and comes as a separate part that is visible.
Setup
The printer is a plug-and-play type. All users need to do is unwrap it from the box, place it in a dedicated space at home or office and give it the power consumption it needs.
Its intelligent and modular tool with automatic detection helps you gain more flexibility while using it. After turning the printer on, you can initiate the process with a touch screen interface. And then finally after transferring the files on it, users can start to print.
Strateo3D's touch screen interface is compatible with its slicing software, thereby giving users the freedom to make last-minute changes in design. Overall, the setup shouldn't take much time and end in minutes.
Print Type/Cost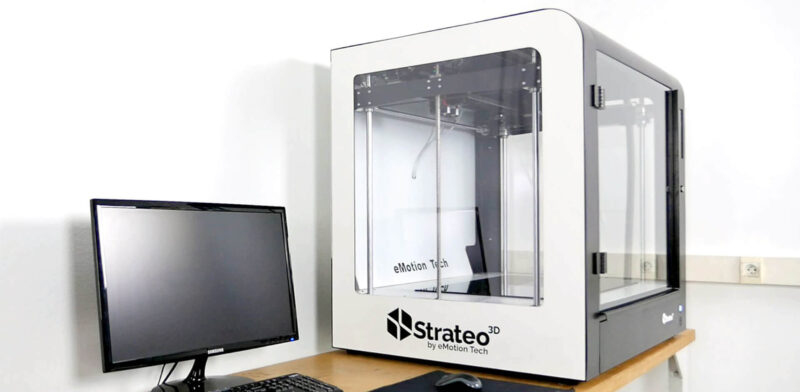 Credit: 3dmarkt.at
In an FFF 3D printer, a heated nozzle ejects the molten plastic filament to deposit thin layers, one over the other onto a print bed. For drawing a fixed pattern on the print bed, either the nozzle or the print beds move while plastic is extruded. And the question of how the layers will be printed is solved prior to printing by the slicing software.
Normally, the cost of 3D printing a part via FFF 3D printing technology is lower compared to other advanced 3D printing technologies. However, it depends on the part geometry, the filament used for manufacturing the part, its cost, the support structures, etc.
Print Quality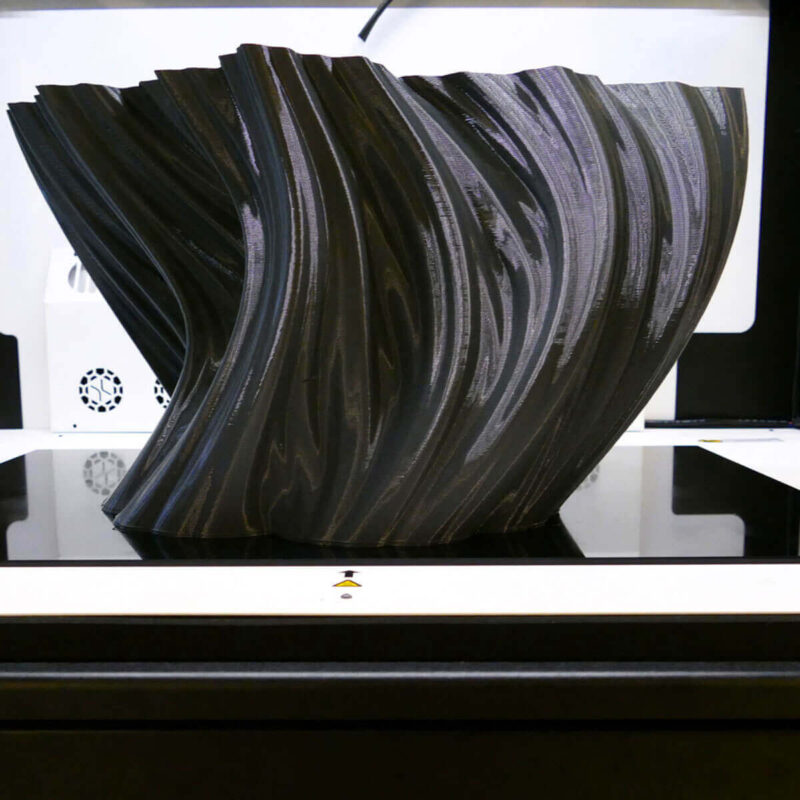 Credit: emotion-tech.com
Strateo3D can manufacture parts with two different materials, two different colors because of its dual extrusion system.
Varying nozzle diameters from 0.4 to 1.2 mm and nozzle types such as PLA, ABS, PETG, TPU, HIPS, PVA, BVOH, PA, PC, ASA, and Acetate allow users to print with layer height ranging from 0.1 to 1 mm. The printer is known to give XY robot accuracy of 5 micrometers and Z robot accuracy of 3 micrometers.
Software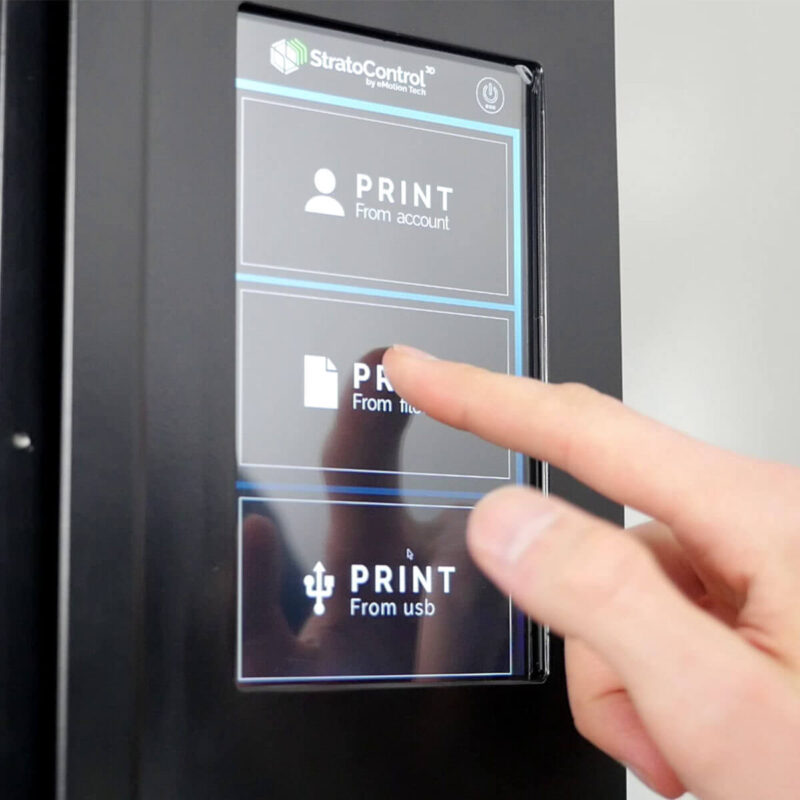 Credit: emotion-tech.com
The machine is compatible with its proprietary Stratocontrol3D developed by eMotion Tech. It allows for multi-user management, and GCODE conversion.
Customer Support
eMotion is a renowned company in the field of 3D printing known for providing excellent technical support. Users can reach out to the technical team in many ways, via email or phone. If need be one can also fill the form and wait for the company for a reply. There is also lots of material available online that can be handy while troubleshooting or setting the printer up.
Parameters Influencing Buying Decision
Below mentioned are the chief factors that are good to keep in mind while buying a Strateo3D printer.
3D Printer Cost: Users might feel that the printer is on a little higher end compared to other FFF 3D printers, but then Strateo3D's huge build volume offering complements its price.
3D Print Speed: Using Strateo3D, large parts can be printed in a very short span of time as it provides users with a commendable amount of maximum print speed.
3D Print Quality: Dual color, dual material 3D printing is possible because of dual extruders on Strateo3D. Also, the part quality is up to the mark and striking. Layers are hardly visible through naked eyes.
3D Printer Capability: Intermediate users who have a little bit of exposure to 3D printing are able to make the most of Strateo3D as it allows them to play with a wide range of materials.
3D Printer Practicality: An eccentric touch screen user interface enables users to control, monitor, and change various aspects of 3D printing with one touch. The printer also provides a thermoregulated room for technical materials with high retraction. Also, you can connect with the printer using USB, Wi-fi as well as Ethernet.
3D Printer User Expectations: Although the printer can fit your place's desks, it's no less than an industrial FFF 3D printer in terms of the build volume, print speed, and quality that it offers. So small manufacturers can benefit by buying Strateo3D, apart from that it's a great device for hobbyists as well as educationists!

The Verdict
Strateo3D is a robust and reliable FFF 3D printer. It allows printing with various filaments, nozzles, colors, and materials. Moreover, it's a very safe 3D printer that filters out harmful air particles quickly. The printer comes with a dedicated interface and allows three ways of connection.
So, overall the printer is a combination of too many amazing features in a very compact space and yet manages to provide huge build volumes that enable you to manufacture large parts in one go.