Polaroid Playsmart
Playsmart is capable of producing high-quality 3D prints rapidly. It also supports various filaments and has a built camera. Overall the printer is a perfect machine for learners, hobbyists, and academicians in the field of 3D printing.
PROS
Produces high quality prints in commendable print time.
Has a simple and easy to use user interface.
A built-in camera to monitor complete 3D printing process.
CONS
Software of the printer is not very flexible.
Product
Specification
Videos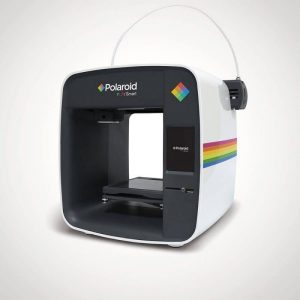 Equipped with an onboard wi-fi camera, Polaroid Playsmart is an affordable lightweight desktop 3D printer that enables users to monitor their prints ...
| | |
| --- | --- |
| Model | PlaySmart |
| Manufacturer | Polaroid |
| Price Range | $ 510 |
| Release date | 2019 |
| Country | United States |
| Availability | Coming soon |
| Classification | Desktop |
| Technology | Extrusion (FFF- FDM…) |
| Material | ABS, Other plastics, PLA |
| Filament diameter | 1.75 mm 0.07 in |
| OS compatibility | Microsoft Windows |
| Generic material | Yes |
| Max. build size | 120 × 120 × 120 mm 4.72 × 4.72 × 4.72 in |
| Max. build volume | 1.73 L |
| Min. layer thickness | 0.05 mm 0.002 in |
| Weight | 5 kg 11.02 lb |
| Nozzle diameter(s) | 0.4 mm 0.02 in |
| Heated print bed | Yes |
| Heated build chamber | No |
| Automatic calibration | No |
| Closed frame | No |
| Dual extruder | No |
| Independent Dual Extruder | No |
| Full color | No |
| LCD screen | No |
| Touchscreen | Yes |
| On-board camera | Yes |
| Mobile app | Yes |
| 3D scanners | No |
| CNC mill | No |
| Electronics 3D printing | No |
| Laser engraving | No |
| Conveyor belt | No |
| Air filter | No |
| Pellet extruder | No |
| USB | Yes |
| Wifi | Yes |
| Bluetooth | No |
| SD card | Yes |
| Ethernet | No |

Table of Contents
Here's a simple device that is capable of producing excellent quality 3D prints using a variety of materials.
Playsmart is made available to you by none other than the company that is well-known for making techy gadgets such as Polaroid cameras.
If you are a beginner in the field of 3D printing and are looking to learn the technology, Playsmart is a smart option for you.
Even money-wise it will definitely suit your budget. Moreover, it would not occupy much space on your work desk and yet let you produce parts and functional prototypes of decent print volume.
Based on FFF 3D printing technology, Playsmart is no less than any desktop 3D printer. Not only does it offer a decent build volume, but also commendable print quality. And it's so much easy to transfer the printer from one place to the other.
It's one of those cute looking functionally efficient gadgets that can be compared with not-cute looking functionally immensely efficient gadgets.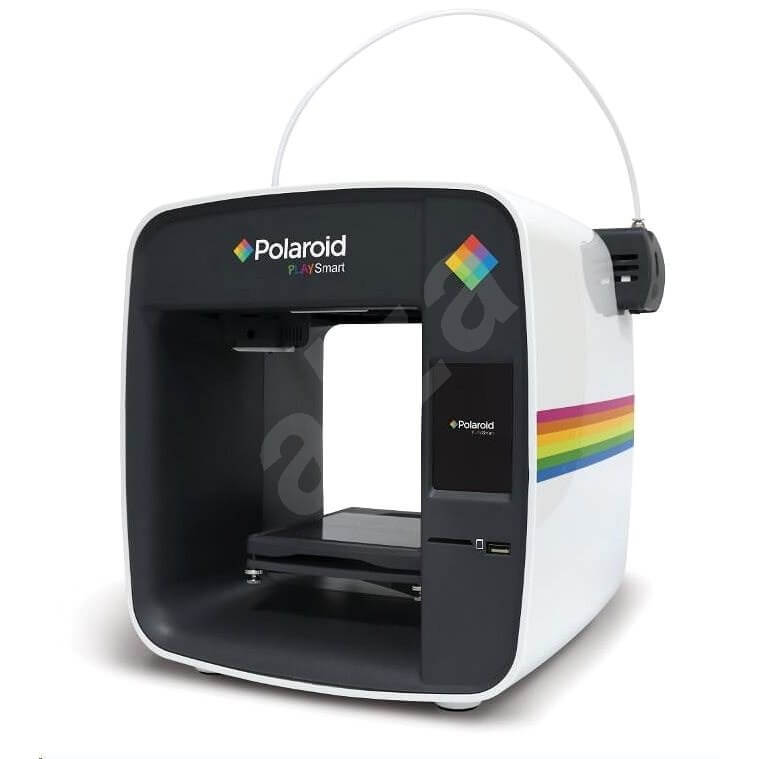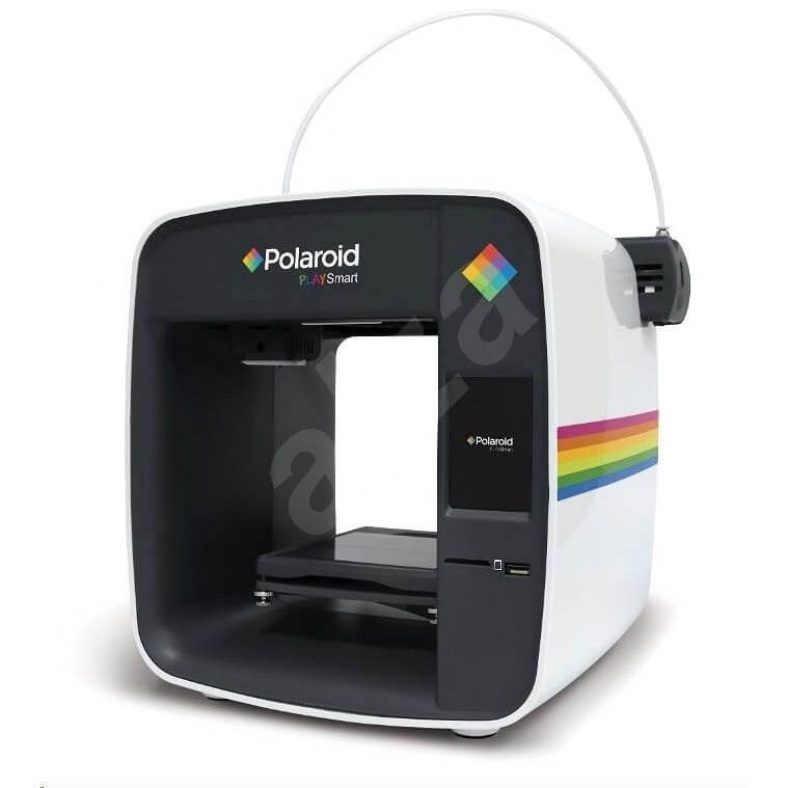 Above all, in such a small scale budget you get a device that you can monitor while 3D printing amazingly useful objects. So, it obviously makes you curious about the aspects that make this printer, doesn't it?
Don't worry! This article is just for you. We've covered almost all the characteristics of the printer.
Features
Polaroid Playsmart 3D printer offers a huge list of features that differentiate it from others in the same price range.
Based on Renowned Simplest 3D Printing Technology
FFF is the short form of Fused Filament Fabrication! Most of the 3D printers that you will come across will be based on this 3D printing technology.
There is a reason why this technology is the most favored by printer manufacturers all across the world. It gives beginners an instant connecting link because it's simpler than other 3D printing technologies.
So, if you are thinking to start learning 3D printing technology, it's advised even by the experts to choose one of the many FFF 3D printers available in the market.
And Playsmart is one of them. It's simple to use. All you've got to do is load the filament, upload the sliced 3D file, check the settings and start to 3D print.
Wide Range of Layer Resolution
If you wish to measure and compare the 3D print quality of a printer, you can do that by looking at its layer resolution range.
Playsmart from Polaroid offers a layer resolution range of 50 to 300 microns. Meaning that every part or functional prototype printed on the printer will be having layer height in the above-mentioned range.
The lower the resolution range is, the lesser noticeable the layers in the printed parts will be and vice versa.
For an FFF 3D printer like Playsmart, it's very noteworthy to offer such a resolution range because generally, FFF 3D printers are not known to offers good quality prints.
Printing with Variety of Materials
In case you get a 3D printer in the range of Playsmart, do compare it with the variety of materials that this one offers 3D printing with. Not many 3D printers offer such a feature.
Generally, affordable 3D printers are limited either to one or two 3D printing materials. On the contrary, Playsmart offers 3D printing with PLA, P-Wood, and PETG.
All these three 3D printing filaments are rare ones. You will find 3D printers offering you printing with ABS and other filaments, but not with PLA, P-Wood, and PETG. This is another special feature offered by Polaroid in its cute little functional Playsmart.
Decent Build Volume and Lightweight
3D printers are either known to be affordable or offer decent build volumes, Playsmart is the rare one to be a two in one 3D printer.
It has a dimension of 12.6 inches * 11.8 inches * 10.6 inches, from which 4.7 inches * 4.7 inches * 4.7 inches is offered to you as build volume.
So, you can easily print parts that you need for daily use at your home using it. You can build some amazing craft projects using the printer.
Search for some 3D files online and you will find a great collection within the mentioned build volume.
Additionally, the printer is very easy to carry. Often desktop 3D printers are very heavy that if you keep them at one desk, it's very hard to lift them and transport them to another.
That's not the case with Playsmart. It weighs only 11 pounds. That's like lifting a heavy laptop or something. It's that easy!
LCD Color Touch Screen
Although many 3D printer manufacturers have chosen the way to give in their machines touch screen user interface, it's still rare in the price range that Playsmart falls into.
Polaroid must be appreciated for giving its users a 3.5-inch LCD color touch screen user interface that lets you play with the printer with simple clicks.
And the fact that you are already used to playing like this with your phone's touch screen makes it intriguing. Almost all the functions of the 3D printer can be carried out using this LCD color screen.
You can change the important settings, monitor the printer, control its print speed, etc. It's not only responsive but just picking out options on it is a simple thing to do.
Built-in Camera
To monitor the complete 3D printing process in real-time Playsmart's print area has a small camera. It is also capable of producing timelapse videos.
Because of this feature, you can pause your print in case you see it going in some other direction than desired.
Specifications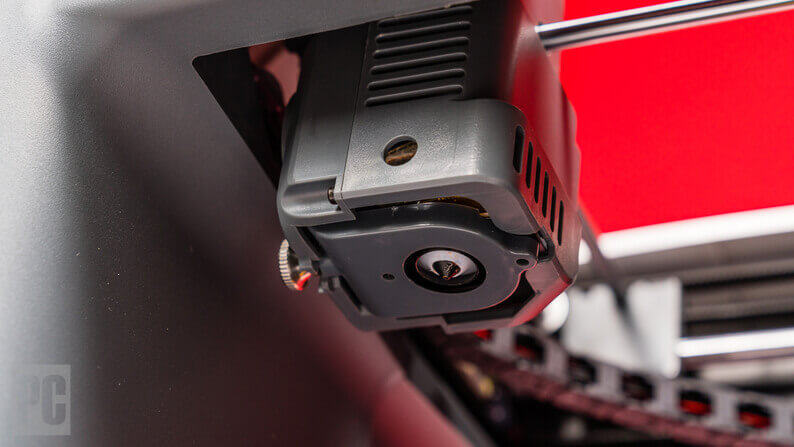 Credit: pcmag.com
Polaroid Playsmart offers you a print size of 120 mm * 120 mm * 120 mm. Each and every part that you print with the printer is going to have a layer height ranging anywhere from 50 microns to 300 microns.
For easing the user interaction with the machine the printer manufacturer has put in place an LCD touch screen which is 3.5 inches long.
A Wi-fi camera enables you to completely monitor the 3D printing process and take immediate decisions regarding it.
For data transfer on Playsmart, Polaroid has given you three variants, you can either use:
A USB card.
An SD card.
A mobile application.
The printer is compatible with PLA, PETG, and P-wood filaments. The machine weighs only 5 kgs and is one of the most transportable 3D printers that you will ever come across.
For cooling 3D printer filament, the printer manufacturer has placed a 360 degree Fan Duct that offers instant cooling.
To print a part or functional prototype, Playsmart offers one-click instant printing from the models that are already stored in its memory.
Playsmart's heated print bed is made from Aluminum-magnesium alloy. A quick release and quick replace 0.4 mm nozzle lets you instantly change it without wasting much time.
Price
Polaroid Playsmart is available at a very affordable price of $599. You can buy it from craft retailer Joann.
First Impression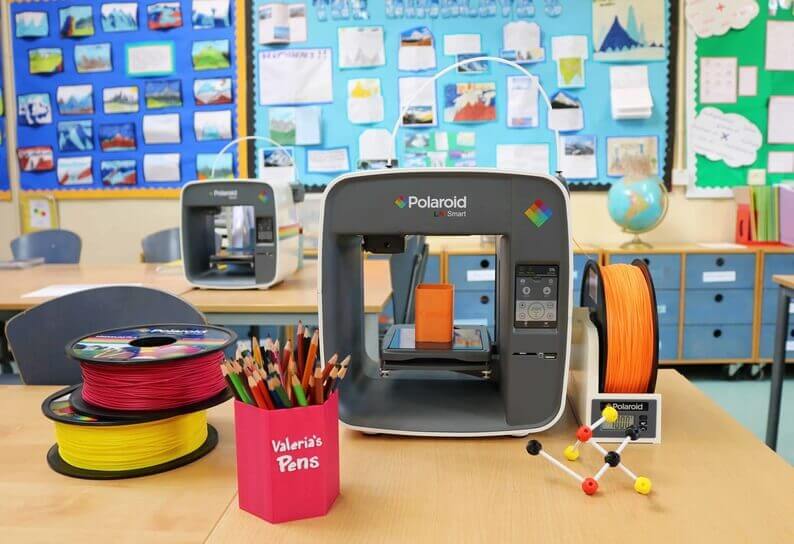 Credit: crave-play.com
There is something inherently attractive about the Playsmart. It makes you fall in love with the minimalistic design by Polaroid. If cure robots in the future will have a face, it has to be like Polaroid Playsmart.
The printer is cubical in shape but its edges are not sharp, we are guessing that's because the printer manufacturer knows it's going to be preferred primarily by home users. So, a little bit of safety precaution.
Though there is a built-in camera inside the printer, you can monitor the complete 3D printing process by your eyes from its front because it's kept transparent. You notice the touch screen interface on the right side of the printer's body in the middle.
The inverted semi-circle present over the head of the printer is for attaching the filament spool holder with an inner mechanism of its print chamber.
Setup
The printer is shipped to you completely in an assembled position. It's a plug-and-play type FFF 3D printer. All you have got to do is unwrap it, turn on the printer, load the 3D sliced file via one of the modes of connection mentioned above, load the filament spool on the spool holder and that's it start 3D printing.
You will complete the entire setup procedure within minutes. Also getting familiar with the 3D printer is a lot easy because you find a manual and there is a touch screen interface. Both of which are meant to ease your process, so make complete use of them before starting with your first print.
Print Type/Cost
FFF 3D printing technology is simple. You need to load the filament spool with which you plan to 3D print a part or functional prototype. As soon as you click on print, the temperature of the filament spool will start to rise inside the extruder until it reaches the material's glass transition.
After which, the liquid material will allow flowing through the nozzle over the print bed. As the geometry of the object is already fed to the printer, the layer would be paid accordingly. And the same process would be repeated till the complete part would be 3D printed.
Normally cost of 3D printing a part depends on various factors such as the geometry of the part, the amount of infill in it, the part quality desired, the print speed, etc. But, it is observed that building an object with FFF 3D printers is less costly than it is with others.
Print Quality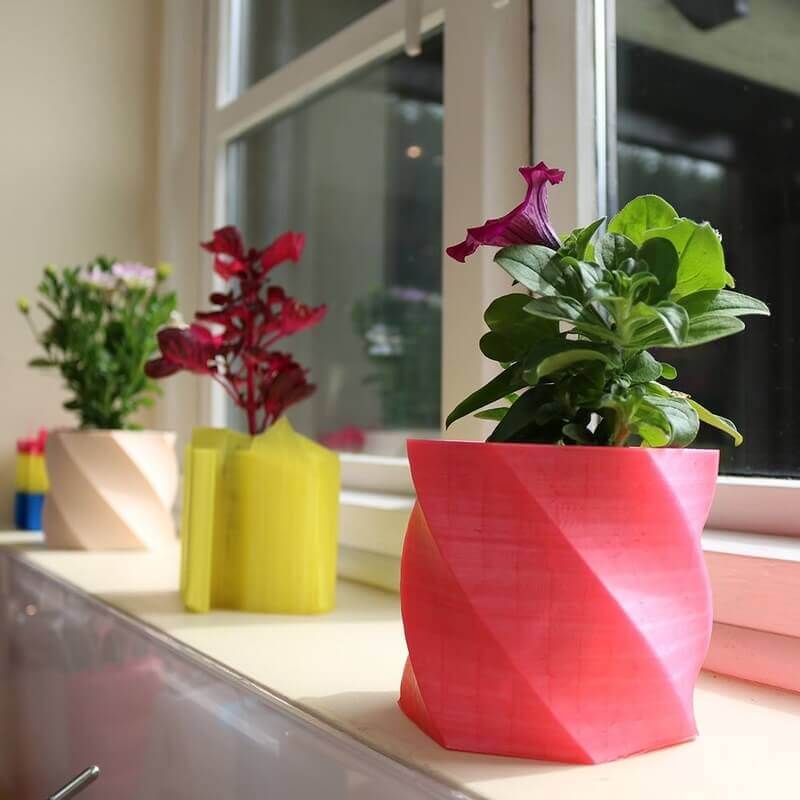 Credit: menkind.co.uk
Polaroid Playsmart not only creates prints faster but also more impressively. The objects 3D printed have a clean and smooth detailing.
Trustworthy websites report the test print quality after 3D printing: a) scan of Rodlin's Thinker, b) geometric sculpture, and c) a set of gears.
The first one turns out to have excellent detailing, smooth and organic look. The printer produces curves and can be compared with high-end FDM or SLA 3D printers.
The second test print showcases the ability of Playsmart to produce clean and sharp edges. You get to see the geometry of well-defined points.
Finally for the third test prints as well the printer manages to crack it off quite well. Though the structure is intricate and with lots of curves and edges, the hand-cranked planetary gears are easy to print with the machine.
Software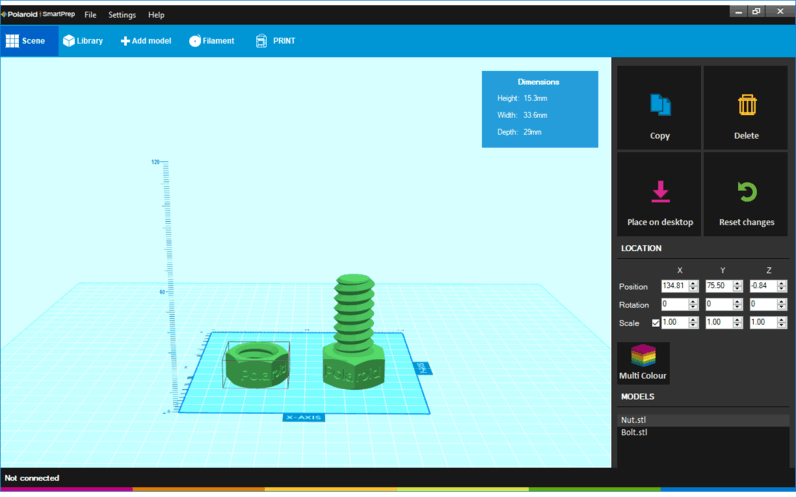 Credit: polaroid3d.com
The printer is compatible with Polaroid SmartPrep software that runs smoothly on Windows as well as Mac operating systems.
Customer Support
Polaroid offers excellent technical support with all its products. For Playsmart, the printer manufacturer has a user guide that's available online, you can download the software as well.
There are tutorial videos available on almost every function of the printer. There are also obvious FAQs that are answered by Polaroid. Apart from this, you can always contact Polaroid via email as well as phone.
Parameters Influencing Buying Decision
Basic buying pointers about the printer are mentioned below in brief.
3D Printer Cost: Considering the print quality and speed that Playsmart offers, it's available at a pretty affordable price.
3D Printer Quality: Being an FFF 3D printer, the printer offers extremely good quality prints.
3D Print Speed: Extraordinary.
3D Printer Capability: You can print with three different 3D printer filaments, monitor the 3D printing and spool holder as well.
3D Printer User Expectations: Almost all the expectations of beginners in the field are fulfilled by this amazingly performing minimalist 3D printer.
The Verdict
Available at a price of $599, Playsmart is capable of producing high-quality 3D prints rapidly. It also supports various filaments and has a built camera. Overall the printer is a perfect machine for learners, hobbyists, and academicians in the field of 3D printing.