Envisiontec Perfactory Micro EDU
Micro EDU is an easy-to-maintain DLP 3D printer. It is a plug-and-play device that comes with easy-to-use software. The printer is a perfect choice for making small engineering components and educational models with high quality.
PROS
Takes minimal time for setup.
The excellent print quality of parts and functional prototypes.
Allows printing with multiple materials.
Develops objects that find applications in multiple industries.
CONS
Build volume offered by the printer is very small.
Table of Contents
Perfactory Micro EDU is a professional desktop 3D printer made by the German 3D printer manufacturer named EnvisionTEC.
It falls under the Perfactory category of 3D printers that are used for rapid prototyping as well as rapid manufacturing. It is based on DLP 3D printing technology that is more or less similar to SLA 3D printing technology but consumes less time.
The machine is the smallest desktop 3D printer that offers the highest resolution in parts and functional prototypes that are manufactured using it.
It is an easy-to-maintain, user-friendly desktop 3D printer that is constructed for producing high-quality objects that educators, consumers as well as professional designers are primarily looking to offer.
Having stated so, where does Micro EDU exactly stand when compared to the features offered by its competitors in the same price range? We can only say after having a look at the printer in-depth. So, let's get started.
Features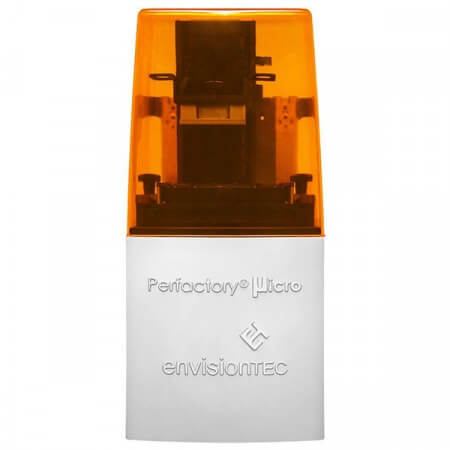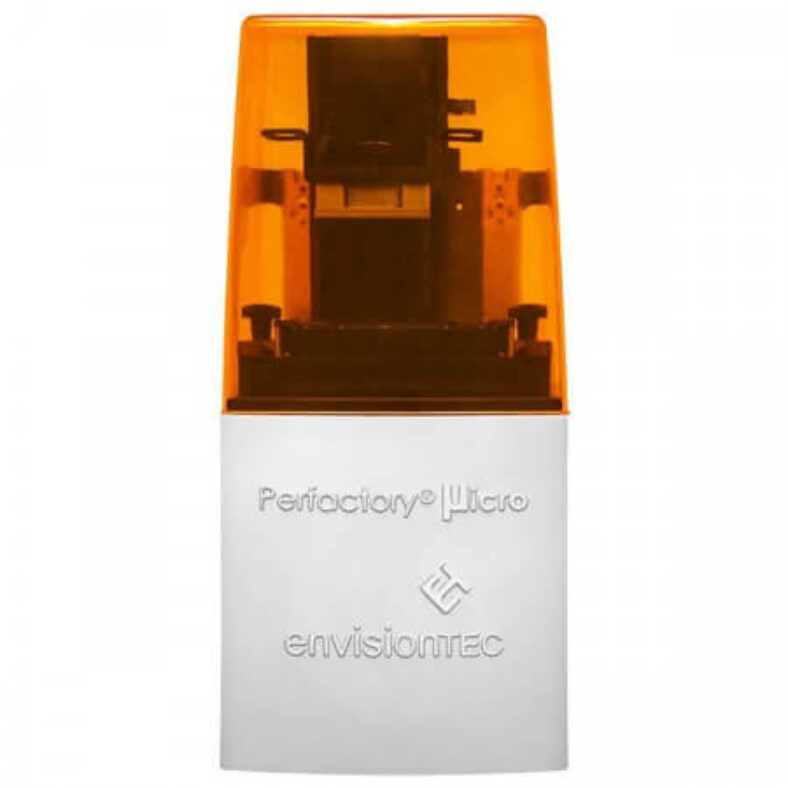 Micro EDU permits users to access a top-quality professional 3D printing system that is made to deliver parts and functional prototypes with top-notch quality.
The printer is also equipped to duplicate projects that have been previously created in a CAD environment or downloaded from design files that are available on the Internet.
It can directly connect to your PC workstation by utilizing the USB connection. After that, the machine can work similar to your desktop 3D printer and there is no longer a need to sacrifice the speed, accuracy, as well as surface finish quality.
Let's have a look at more such amazing features of the printer mentioned and explained below.
Plug and Play
Micro EDU needs no setup at all. Users can simply place it on the table which they have dedicated for the 3D printer and supply it with the necessary power to turn it on. There is no requirement for any sort of assembling after unwrapping the printer.
Not only does this saves users' time, but also it helps novices in the field to start the 3D printing process without any hassle. After connecting the printer to a power source, all one needs to ensure is the leveling of its print bed and that's it. One can directly start with the 3D printing process within minutes.
Automated Self-calibrating System
Envision has taken into account its beginner customers and has equipped the 3D printer with an automated self-calibration system. Because of this, the print bed is kept at a fixed distance from the print head based on the geometry that you plan to make.
This decreases human intervention with the printer, thereby increasing the overall efficiency. Also, it guarantees the accurate printing of the first layer which is considered to be a foundation for any sort of part of a functional prototype.
No matter how intricate the geometry is, the machine can automatically calibrate itself thereby ensuring less effort and a quick start to the 3D printing process.
Straightforward Software Interface
Micro EDU is equipped with an easy-to-use software interface that takes care of the user's minute design needs. It allows operators to build even small parts with intricate geometries in no time at all.
This is especially advantageous to the new users because they no longer have to take care of the micro design needs like support structures, or bracing while designing as well as slicing their file which is the most important part of the design.
The complete 3D printing process is dependent on the design file and by keeping uncomplicated software, the printer manufacturer has given a head start to every user. The application allows for smooth workflow and is compatible with multiple file formats.
Office Friendly
The maximum build volume offered by Perfactory Micro EDU is 100 mm * 75 mm * 100 mm whereas the overall footprint of the printer is 280 mm * 254 mm * 610 mm. Such a compact size makes it perfect to be kept in your office.
Also, the printer does not produce much noise so it won't affect the office's surrounding environment. Moreover, it does not need any special arrangement like typical desktop 3D printers.
The resin material management is also purposely kept simple taking into account the office-going customers in mind. Micro EDU weighs 11 kilograms and hence can be easily transported from one place to the other with minimal effort.
So, if a user wishes to shift it from one end of the office to the other it can be done without the need for any other hand.
High-quality Parts in Minimal Time
Based on DLP 3D printing technology, Micro EDU specializes in producing high-quality small engineering components as well as educational models. Not only does the printer manage top-notch quality parts, but also it does so in minimal time.
The curing of resin material takes place using an LCD screen of high width which exposes the majority part of the print bed to the curing source thereby ensuring completely even solidification of parts and functional prototypes.
Unlike SLA 3D printers, Micro EDU cures a large portion of the resin layer in a single go which benefits overall print time.
The machine can produce an XY resolution of 0.0006 inches and a Z-axis resolution ranging from 0.002 inches to 0.004 inches which is very high compared to other affordable DLP 3D printers.
Whereas the build speed of Micro EDU is up to 0.79 inches or 20 millimeters per hour which means parts with considerable build volumes can be manufactured in one go within minimal time.
Specifications
| | |
| --- | --- |
| | |
| Technology | DLP |
| Price | 10 700,00 $ |
| XY Resolution | 0.006″ (150 µm) |
| Build Envelope | 4" x 3" x 4" (100 x 75 x 100 mm) |
| Build Speed | 0.79" (20 mm)/hour |
| Layer Resolution Low | 100 micron (0.004 in) |
| Layer Resolution High | 50 micron (0.002 in) |
Micro EDU prints parts and functional prototypes using DLP 3D printing technology. It offers a maximum build envelope of 100 mm * 75 mm * 100 mm which allows users to print objects of lesser or equivalent build volume in one go.
The minimum layer thickness visible on the part or functional prototype built using the printer is 0.15 mm.
The machine delivers high-quality 3D prints with XY resolutions of 0.006 inches or 150 micrometers and a dynamic Z-axis resolution of 0.002 inches to 0.004 inches i.e., 50 to 100 micrometers. Also, the build speed of the printer is 0.79 inches or 20 millimeters per hour.
Users are allowed to print with materials such as:
LS600M: A highly durable resin material used for creating parts with general purpose and fine features.
HTM140M: High temperature withstanding molding material.Ab
ABS Touch M: General purpose material that resists high impacts.
E-Denstone M Ivory, E-Denstone M Tough: As the name suggests are liquid resins are used for making dentistry equipment that needs to resist high temperature for tooling inserts.
ABS Flex M, Superflex M: These are general-purpose resin materials that are similar to ABS plastic with flexible aspects.
The printer weighs 11 kilograms and cures using an LED source. Micro EDU comes with a one-year warranty on factory-made parts and labor.
Price
To know the exact price of Envision Technology Perfactory Micro EDU one needs to request a quote from the printer manufacturer.
First Impression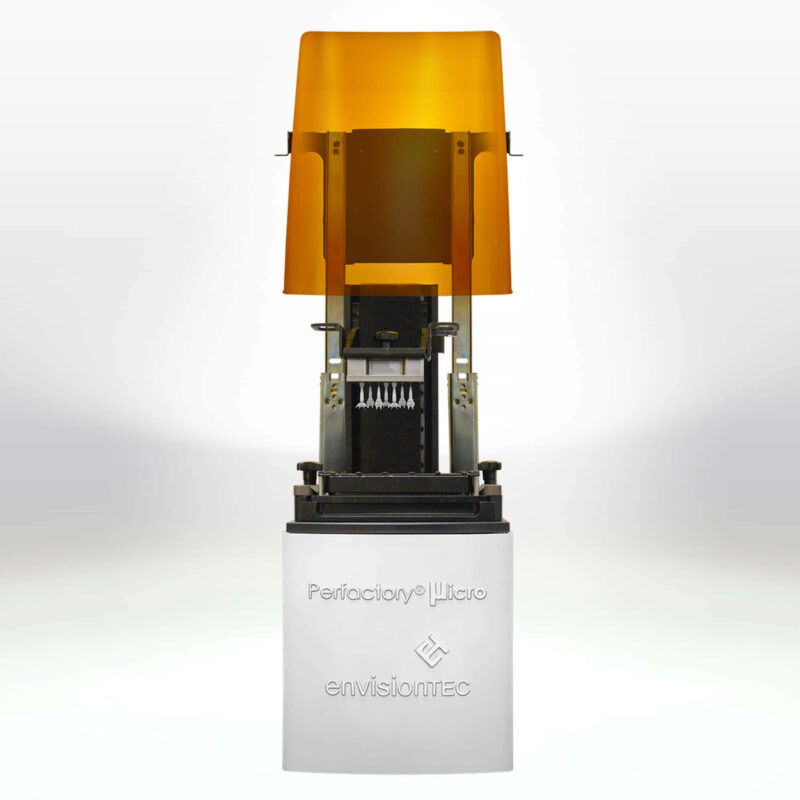 The first reaction after looking at Micro EDU makes you realize the compactness of the machine. Its X and Y-axis footprint are almost the same, whereas Z is where it has more spread than those two. A typical print cover over the print chamber makes it translucent but visible enough to monitor the inner mechanism while the 3D printing procedure is on.
Overall, the printer is an office-friendly 3D printer that can be easily transported from one place to the other without any hassle. The printer cover can be lifted to access the print chamber for removing parts and functional prototypes.
Setup
Micro EDU is a plug-and-play 3D printer which means that users need not spend time assembling the 3D printer. It's not like one of those typical DIY FDM or SLA kits available in the market that needs to be worked upon.
Instead, it needs to be placed on a dedicated table or space and supplied with the needed power supply to start with 3D printing a part or functional prototype on the printer.
Overall setting up the printer should not take more than minutes. Also, if you need any help, you can always contact the printer manufacturer for assistance.
Print Type/Cost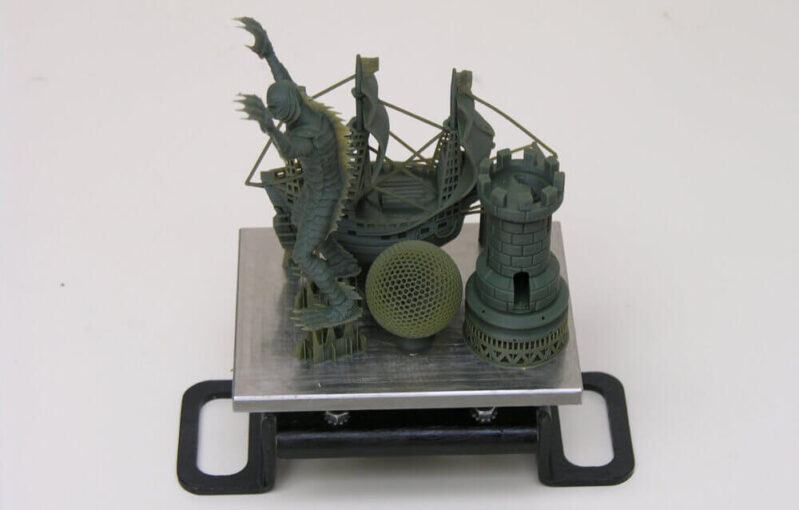 Credit: treatstock
DLP 3D printing technology stands for Digital Light Processing. As the name suggests, a UV light source of a particular wavelength is used for curing a resin material.
The typical process starts with the deposition of resin material over the print bed from its storage tank. After that is done, the resin is exposed to a UV light source but not directly, instead, via the LCD screen of a particular resolution.
The complete quality of the part that is to be printed depends on the resolution of the LCD screen as well as the wavelength of the UV light source.
The typical cost of 3D printing a part or functional prototype using Micro EDU depends on many factors starting from the part geometry, UV light source, the power consumed as well as support structures. Having stated so, the cost is higher than the usual cost of 3D printing an object using FDM or SLA 3D printing technology.
Print Quality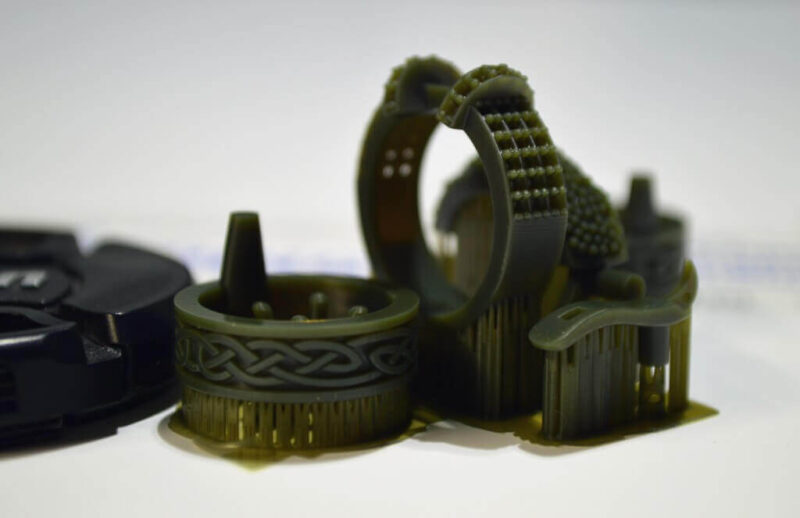 Credit: treatstock
In return for spending more on 3D printing, Micro EDU offers an excellent surface finish that is hard to get with 3D printers in the same price range.
Layer resolutions as low as 100 microns and as high as 50 microns are possible to achieve on the machine. Parts and functional prototypes such as jewelry, intricated showpieces, dentistry, and much more can be manufactured with dimensional level accuracy.
Software
The starter kit of Micro EDU consists of a software CD that needs to be installed on the printer before starting to 3D print. Envision One RP is very easy to use compared to other complicated software available in the market.
It allows users to easily access some of the most basic print settings with easy navigation. Even if you do not have any technical background, you would find no trouble in getting the correct set of print settings.
Customer Support
The support section of Envision allows users to generate tickets regarding any problem they face.
More than this, they also have displayed phone numbers according to the geographies for users who wish to directly reach out to the technical assistance team of the printer manufacturer. You can get the warranty information as well as renew the Envision Magic License online.
Parameters Influencing Buying Decision
The basic factors that should be taken into consideration while buying the 3D printer are mentioned below in brief.
3D Printer Cost: The printer falls a little bit on the higher end of the budget, not as affordable as general FDM or SLA 3D printers.
3D Print Speed: In terms of print speed, the printer manages to outshine its competitors by providing a build rate of 0.79 inches per hour.
3D Print Quality: By offering an XY resolution of 150 micrometers and Z-axis resolution ranging anywhere between 0.002 to 0.004 inches, the machine manages to deliver high-quality objects in varying industries.
3D Printer Capability: Users will have fun interacting with the printer because of its fully automated self-calibrating system and very few moving parts making guaranteeing a strong and reliable production system.
3D Printer Practicality: The printer features a lot of user-friendly options such as a built-in USB connection that makes it as easy to operate as your PC, also its compact size makes it effective to be placed in an office.
3D Printer User Expectations: Operators who are willing to manufacture high-quality small intricate parts in the field of jewelry, dentistry, as well as general home décor will find the printer a joy to work with.
The Verdict
Micro EDU is an easy-to-maintain desktop DLP 3D printer. It is a plug-and-play device that comes with easy-to-use software. The printer features an automatic calibration system which makes it a perfect choice for making small engineering components and educational models with high quality.