Felix Tec 4 3D Printer
Felix Tec 4 is based on the Fused Filament Fabrication 3D printing process and it's ready to perform the printing process with a single click. Also, this printer is available in an affordable price range which contains printers that do not match up to the same sort of Features offered by Felix Tec 4.
PROS
Optional dual extruders.
Flexible build plates.
Semi-automatic leveling.
Heated bed.
Product
Specification
Videos

Based on Fused Filament Fabrication 3D printing technology, Felix Tec 4 can print parts and functional prototypes of build volume 250 mm * 250 mm * ...
| | |
| --- | --- |
| Model | FELIX Tec 4 |
| Manufacturer | FELIXprinters |
| Price Range | $ 1649 |
| Availability | Available |
| Classification | Desktop |
| Technology | Extrusion (FFF- FDM…) |
| Material | ABS, Other plastics, PLA |
| Filament diameter | 1.75 mm 0.07 in |
| OS compatibility | Linux, Mac OS, Microsoft Windows |
| Generic material | Yes |
| XY accuracy | 0.013 mm 0.001 in |
| Max. build size | 255 × 205 × 220 mm 10.04 × 8.07 × 8.66 in |
| Max. build volume | 11.50 L |
| Min. layer thickness | 0.05 mm 0.002 in |
| Dimensions | 450 × 410 × 520 mm 17.72 × 16.14 × 20.47 in |
| Weight | 10 kg 22.05 lb |
| Nozzle diameter(s) | 0.35 mm 0.01 in |
| Power input | 100-240 V AC | 50-60 Hz |
| Heated print bed | Yes |
| Heated build chamber | No |
| Automatic calibration | Yes |
| Closed frame | No |
| Dual extruder | Yes |
| Independent Dual Extruder | No |
| Full color | No |
| LCD screen | Yes |
| Touchscreen | No |
| On-board camera | No |
| Mobile app | No |
| 3D scanners | No |
| CNC mill | No |
| Electronics 3D printing | No |
| Laser engraving | No |
| Conveyor belt | No |
| Air filter | No |
| Pellet extruder | No |
| USB | Yes |
| Wifi | Yes |
| Bluetooth | No |
| SD card | Yes |
| Ethernet | No |

Table of Contents
Headquartered in IJsselstein, Netherlands, Felix was established in 2011.
Since its inception, the company is trying to understand the demands of the 3D printing market and fulfill them completely.
The company has to date manufactured a variety of products that cater to various sets of people.
It has a bioprinter, two printers in the Pro XL series, two printers in the Pro series, and three printers in its Tec series.
Apart from printers, Felix is into consumables as well as additional products related to the 3D printing market such as spare parts, software, services and repair, and upgrades.
In short, if anyone becomes a customer of this company, it has nowhere else to go for purchasing anything related to 3D printing.
This article spotlights that segment of the company's Products wherein Felix has the most products i.e. on the Tec Series.
The article will share in-depth information regarding Felix Tec 4 3D printer, its specifications, print quality, price, setup, first impressions, and a lot more.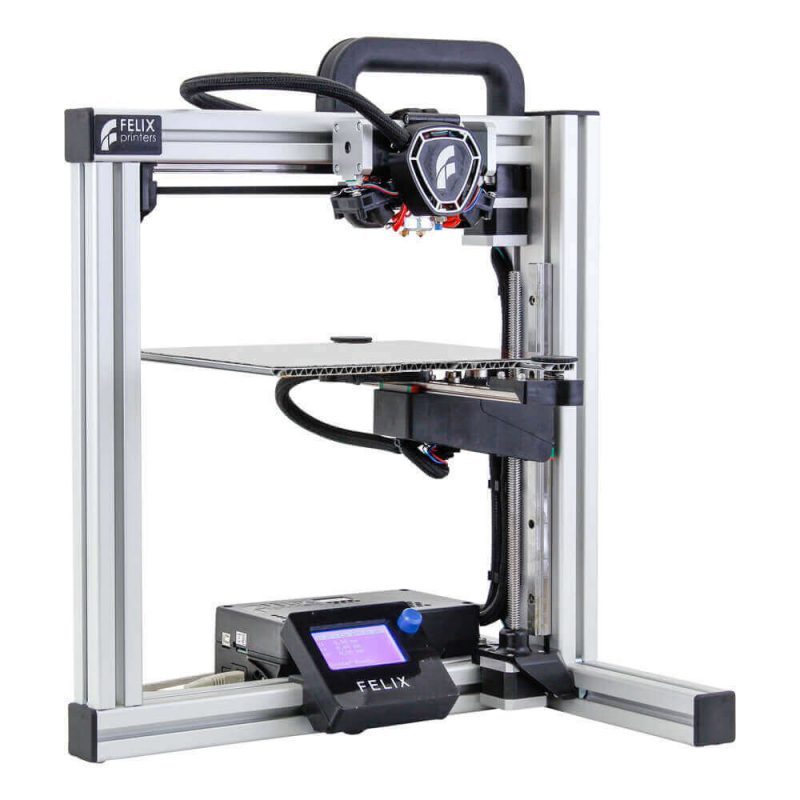 The attempt is to share that much information which one needs before making the buying decision after comparing two printers in the same price range.
Before we start with the main sections of this article, one must note how Felix Printers works closely with schools, colleges, and universities for providing 3D desktop printers that are ideally suited for demonstrating the functionality and versatility of the technology.
They point out a wide array of applications of the technology to the students as well as the next generation of engineers.
The company serves all its customers based on six foundational blocks i.e. Superior Technology, Extensive research and development, robustness and reliability, competitive pricing, lifetime support, and tailor-made solutions.
Features
Based on Fused Filament Fabrication 3D printing technology, Felix Tec 4 is a desktop 3D printer.
Print heads of this printer are all metal which can reach up to 275 degrees Celsius.
All the knowledge and research base that the company had gained with its previous tools is manifested in Felix Tec 4.
The company's belief in creating a tool for experimenting as well as benefitting from amazing 3D printing technologies has allowed it to manufacture Felix Tec 4.
The printer has the following list of amazing features.
Integrated automatic leveling
The printer is eccentric to other 3D printers in terms of integrating its automatic software leveling with bump-map registration.
The focus of the company is to concentrate on printing the first layer of the print which is considered as the foundational level.
The printing of the first layer of part or functional prototype is given immense importance in 3D printing.
This is because, if the first layer is not printed with the utmost care, the complete part or functional prototype would not stand how its meant to in its application.
And it is for making sure that the first layer is laid down in reality exactly how it is in one's imagination that this integrated automatic leveling helps.
The semi-automatic bed leveling is extremely helpful in assisting users with their calibration.
Flexible build plate
Another important issue that Felix printers have made sure that their users do not have to face any problem regarding is the removal of parts and functional prototypes.
In the post-processing procedure, when the object has been printed, the build plate of the printer needs to be flexible enough.
Not only the removal of this build plate from the printer should be possible, but also the bending of it.
And by providing both of these options in its build plate, Felix Printers have saved their customers from the headache of dealing with this complexity.
A flexible build plate ensures damage free-removal of printed objects.
So, once the printing process is completed, the build plate can be lifted from the build platform and the simple bending of the build plate will pop off the printed object within seconds.
High durability and getting started in a single click
Felix Tec 4 is ready to perform the printing process with a single click.
Thanks to the user-friendly interface deployed by the company that enables customers of the printer to interact and operate the printer easily using an LCD touch screen.
Felix Tec 4 comes with improved buttons that let you operate it with complete ease and no difficulty.
The manufacturer of this printer has installed in the printer high-quality components such as full metal print heads and industrial grade linear guides.
Because of the installation of high-quality parts, the operation of this printer is very smooth.
This results in decreased print times which is very beneficial while batch production.
Felix Tec 4 assures you a carefree 3D printing even while creating an enormous amount of 3D prints.
Design freedom
Even while creating complex geometries the printer does not fail. Thanks to the water-soluble support material.
Felix Tec 4 has two individual print heads that allows one to combine different materials for making a single part or functional prototype.
Also, with this printer one does not necessarily need to exchange print heads even while changing materials. The post-processing is where one benefits the most.
After the part or functional prototype is printed, you need to leave it in warm water for some time.
Once you take out the object, you'll see how the soluble support material has dissolved in the warm water and the object is completely how you imagined it to be.
Optional Single/Dual extruder
For those who wish to print with multi-material, the company has offered a facility to print with two extruders.
Felix Tec 4 is not necessarily available with a single extrusion system and if your application for this printer requires you to multi-material print, you might as well opt for a printer with dual extruders.
There is also a Wi-fi controller option which you can opt for, multiple set of nozzles that allow you to print with 0.25, 0.5, 0.7 mm too.
Specifications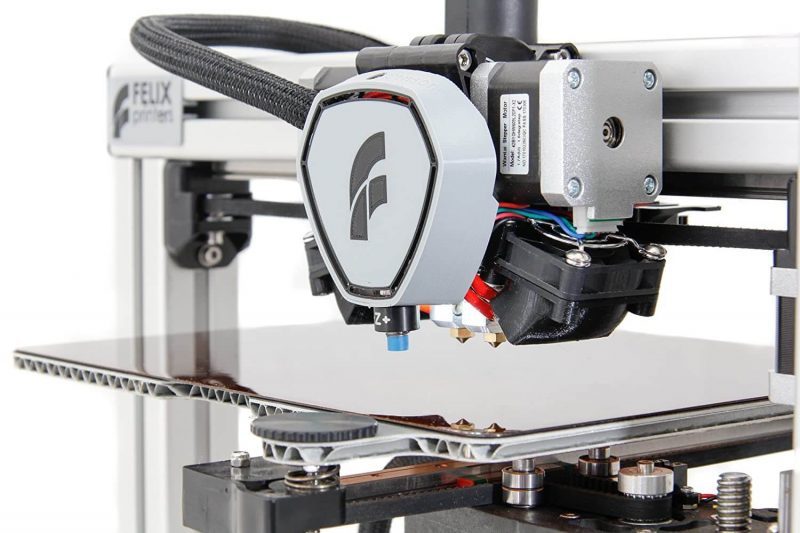 Credit: amazon.com
Felix Tec 4 has a print size of 450 mm * 410 mm * 520 mm and weighs approximately 10 kilograms.
It offers a build volume of 255 mm * 205 mm * 220 mm. Based on the Fused Filament Fabrication technology of 3D printing, the layer resolution range offered by this printer is 50 microns to 250 microns.
Depending on the print speed of the printer, one is able to either get 100, 150, 200 microns of layer resolution on all parts and functional prototypes that are printed.
The printing of part or functional prototype happens on a heated platform that has a flexible build plate that can be removed and bent when needed.
This build plate is known to withstand a maximum temperature of 90 degrees Celsius.
The build plate leveling is done using an induction sensor and is semi-automatic.
There are two metal print heads inside the printer including Teflon tubes.
The build speed of the printer in a 0.35 mm nozzle can be up to 15 cubic millimeters per second whereas the print head travel speed can be up to 200 millimeters per second.
The filament feeder type of this printer is driven by directly geared extruders.
The XY resolution of Felix Tec 4 is 13 microns, whereas the Z resolution is 0.04 microns.
The nozzle of this printer can reach up to 275 degrees Celsius and the 3D printing materials with which the printer is compatible are PLA, PETG, ABS, PVA, as well as FLEX.
Price
Felix Tec 4 is available in two forms:
Pre-assembled,
DIY Kit.
The kit price is $1209.
Click Here for Best 3D Printers Under $2000
First Impressions
Credit: amtech3d.com
There are three color options given by the manufacturer, they are:
Red
Black
Blue
When seen from the front, you see the build plate adjusted right in the middle of the top and bottom of the printer.
A Felix's logo just where the head of this printer is. A touch screen interface right at the bottom.
The build plate is strongly supported at its base as well as vertically by the industrial linear rails that let it move up and down.
The nozzle system of the printer is also very well supported to reach the build plate for printing according to the geometry of the part or functional prototype.
As mentioned above, one can configure Felix Tec 4 according to his or her own needs, either with Single or Dual extruders.
Setup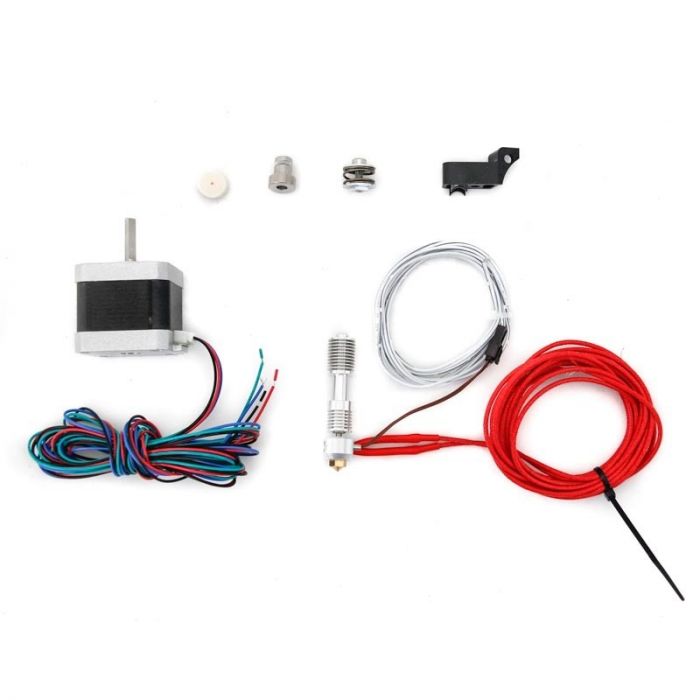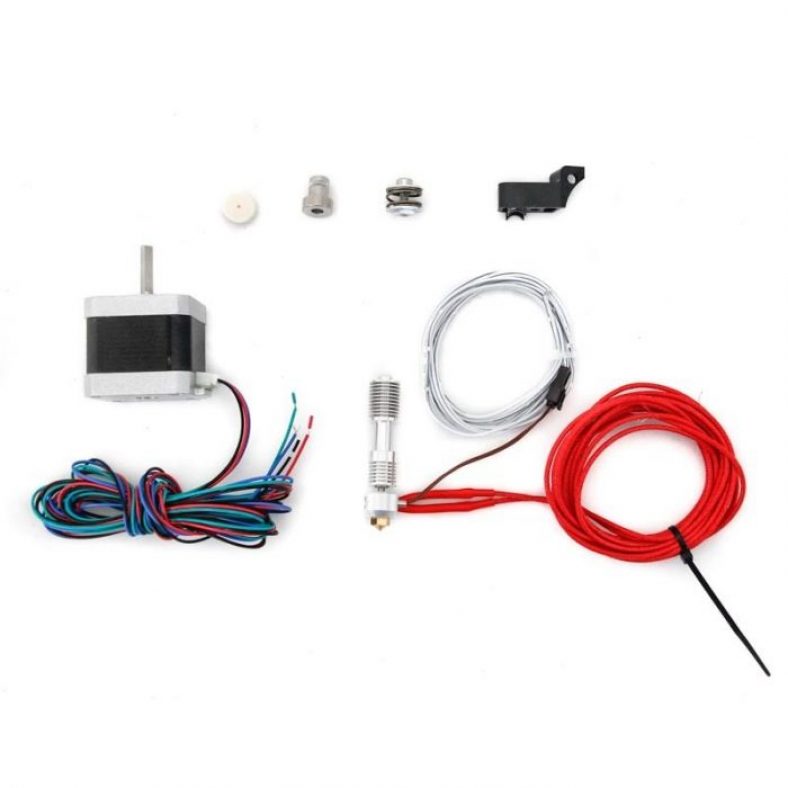 Credit: shropshire3dprinters.co
It depends on which option do you opt for while buying the 3D printer, whether the pre-assembled option or the DIY kit.
In case you opt for the former, you would have to plug and play the printer for starting the first 3D printing process on the printer.
Whereas if you opt for the latter, you would have to work on assembling the 3D printer which can consume your time, and then once you are done, you can start the 3D printing process.
In case you opt for dual-head assembly the box delivered to you contains:
Felix Tec 4 dual head assembly.
Small Tool Kit.
Starter Filament Set.
AC power supply card.
USB cable.
Quick Start Guide.
Print Type/Cost
As mentioned above Felix Tec 4 is based on the Fused Filament Fabrication 3D printing process which is the other name of Fused Deposition Modeling.
Printing of parts or functional prototypes happens using a 3D printer filament spool of various materials. And its deposition on the print bed, layer after layer.
The print cost of this process is generally on the lower end, compared to other 3D printing processes.
Print Quality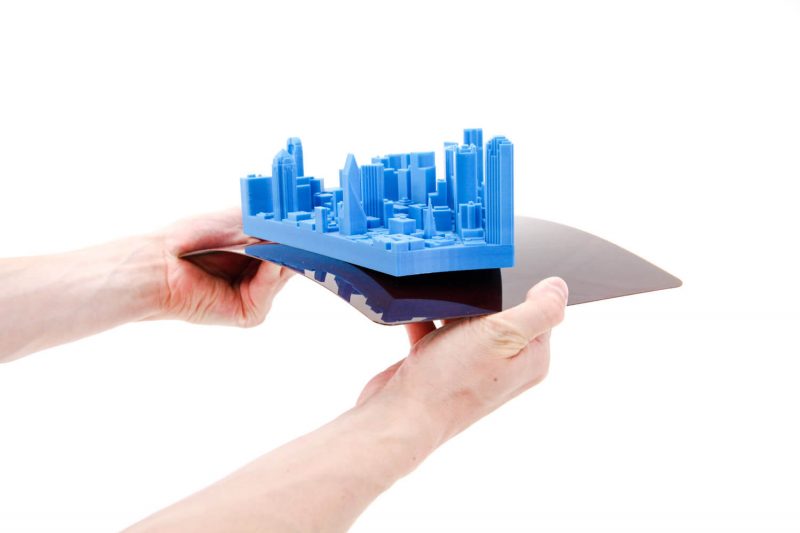 Credit: desktopmachinery.com
Felix Tec 4 is known to provide parts and functional prototypes ranging from resolution as low as 50 microns to as high as 250 microns.
It depends on the print speed that you are setting the printer at.
As well as the filament diameter used for printing a part or functional prototype.
Software
Repetier Host is the name of the software that is used with Felix Printers.
It can be downloaded from the website and is an open-sourced software that supports:
Windows 7 and higher versions.
Max OS X or higher versions.
Linux.
The file types that can be uploaded on this software are STL, AMF, OBJ, and 3DS. One can communicate with Felix Tec 4 using a USB connection or a standalone micro SD card.
Customer Support
Right at the time of buying the printer, Felix Printers offers a twelve-month warranty excluding wearable parts such as the hot ends of the printer.
As far as support is concerned, the company extends its hands for lifetime technical support i.e. via email, phone, and Skype.
Apart from this, the company's global community is always there to help you out with any of your doubts.
Parameters influencing the buying decision
Parameters such as the one mentioned below will allow you to quickly analyze the complete article in a short amount of time and compare two printers.
3D Printer Cost: Affordable.
3D Print Quality: Offers parts and functional prototypes in a layer resolution range of 50 to 250 microns.
3D Print Speed: Industry-standard.
3D Printer Capability: Multi-material printing is possible.
3D Printer Practicality: Professionals and intermediates in the field of 3D printing can surely consider Felix Tec 4.
3D Printer User Expectations: High-quality 3D print at a decent printing cost is possible using this printer.
The Verdict
Felix Tec 4 has had its predecessors and so it has been developed based on the reviews its former printers have received.
So to say, Felix Tec 4 is more advanced than its former printers made by Felix printers.
Also, it is available in an affordable price range which contains printers that do not match up to the same sort of Features offered by Felix Tec 4. So there are many reasons why you may want to opt for it, but only one to not opt for it i.e. its open body frame.