Flashforge Creator 3 3D Printer
This 3D printer is one of a kind that has something for the beginner, intermediate as well as expert in the field of 3D printing technology.
PROS
Independent dual extrusion system.
Built-in camera.
Can be monitored from anywhere.
CONS
Compact in size, small build volume.
Enclosed body.
Product
Specification
Videos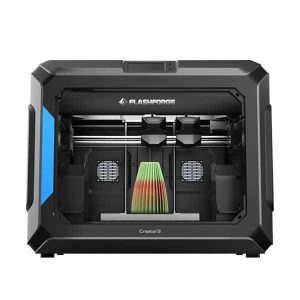 Based on Fused filament fabrication 3D Printing technology, the Flashforge Creator 3 is a very precise 3D printer. Offering a huge number of advanced ...
| | |
| --- | --- |
| Model | Creator3 |
| Manufacturer | FlashForge |
| Price Range | $ 500 – $ 5000 |
| Availability | Available |
| Classification | Desktop |
| Technology | Extrusion (FFF- FDM…) |
| Material | ABS, Other plastics, PLA |
| Filament diameter | 1.75 mm0.07 in |
| OS compatibility | Linux, Mac OS, Microsoft Windows |
| Generic material | Yes |
| XY accuracy | 0.1 mm0.004 in |
| Max. build size | 225 × 145 × 150 mm8.86 × 5.71 × 5.91 in |
| Max. build volume | 4.89 L |
| Min. layer thickness | 0.1 mm0.004 in |
| Nozzle diameter(s) | 0.4 mm0.02 in |
| Heated print bed | Yes |
| Heated build chamber | No |
| Automatic calibration | No |
| Closed frame | Yes |
| Dual extruder | Yes |
| Independent Dual Extruder | Yes |
| Full color | No |
| LCD screen | Yes |
| Touchscreen | No |
| On-board camera | No |
| Mobile app | No |
| 3D scanners | No |
| CNC mill | No |
| Electronics 3D printing | No |
| Laser engraving | No |
| Conveyor belt | No |
| Air filter | No |
| Pellet extruder | No |
| USB | Yes |
| Wifi | No |
| Bluetooth | No |
| SD card | Yes |
| Ethernet | No |

Table of Contents
Creator 3 is an update by China-based manufacturer Flashforge of the older Creator Pro. The updates in this 3D printer have made it put its feet in the more professional market.
The independent dual extrusion system, a built-in camera that has a high definition for monitoring prints are two of the most highlighting features of this printer.
In this article, we are going to focus in-depth on many such highlighting features, specifications, print quality, software, first impression, setup, and much more about this printer.
Features
This is the section wherein the heart of any 3D printer really lies.
So, if you are ever confused while buying one of the two 3D printers, get your answer by comparing, both of theirs' features section.
IDEX: As mentioned above, one of the most important highlights of the printer is the independent dual extrusion system. Each of the two extruders that the printer comes equipped with can move independently of each other. The printer can also be operated on the mirror mode which can be very helpful by printing two similar parts or functional prototypes in the same time frame. At the same time, the manufacturer has also allowed its users to use the printer in the opposite mode. Whenever a user wishes to use the 3D printer for printing two different parts or functional prototypes at the same time.
Built-in HD Camera: You would find this feature, nowadays, almost in every high-end 3D printer. They would allow you to monitor the complete printing process not only by sitting in front of the printer but also from your smartphone, on your SmartScreen, from anywhere on this planet. A built-in HD camera is one of the essentials needed to fulfill this task, the other one is a good Wi-fi connection.
Flexible removable build plate: This is one of the most important features when it comes to the post-processing of parts and functional prototypes. For ensuring that you do not damage the object manufactured by you, Flashforge has kept a flexible build plate in Creator 3. You can not only remove the build plate from its location but also bend it, in cases the part or functional prototype is typically stuck with it. Also, this would prevent warping and improve the overall quality of the print job.
Specifications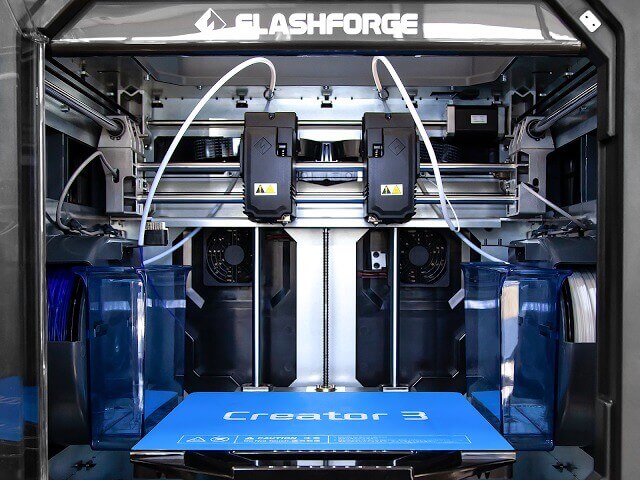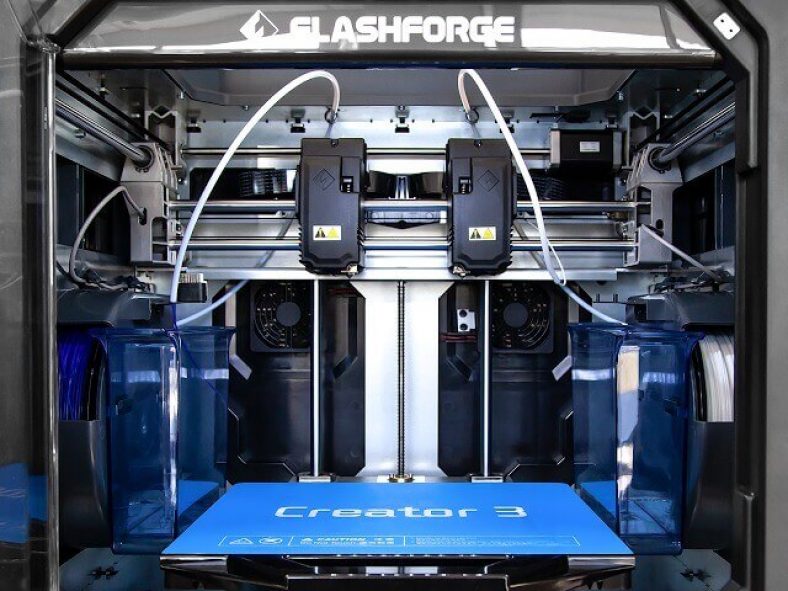 Credit: googleusercontent.com
Creator 3 is based on Fused Filament Fabrication 3D printing technology and has a build volume of 300 mm * 250 mm * 200 mm.
The printer weighs 40 kilograms and has dimensions of 627 mm * 485 mm * 615 mm.
The layer height range visible in parts and functional prototypes manufactured using this printer is 0.04 mm to 0.05mm.
The filament diameter of Creator 3 is 1.75 mm, whereas its nozzle diameter is 0.4 mm.
The XY position precision of this printer is 11 microns, whereas the Z-axis position precision is 2.5 microns.
Creator 3 can be connected using Wi-fi, 3D Cloud, USB as well as Ethernet.
The print bed of this printer is made up of PEI sheet material on the glass. It has a heated plate to ensure that the overall printing time for printing parts and functional prototypes is less.
The maximum plate temperature that can be achieved on Creator 3 is 120 degrees Celsius.
It allows printing using third-party filament, as well as printing with 3D printing materials such as ABS, PC, PLA, PVA, HIPS, PETG, nylon, and W.P.C.
The manufacturers of this printer have tried to ease up the monitoring process of Creator 3 users by installing a built-in camera.
Apart from that, another highlight that sets the printer apart from other printers in the same price range is the dual extrusion system.
Each of the extruders in the printer can withstand 300 degrees Celsius. The touchscreen interface of this printer is 4.5 inches long.
Price
Flashforge Creator 3 is priced at $3499.
First Impressions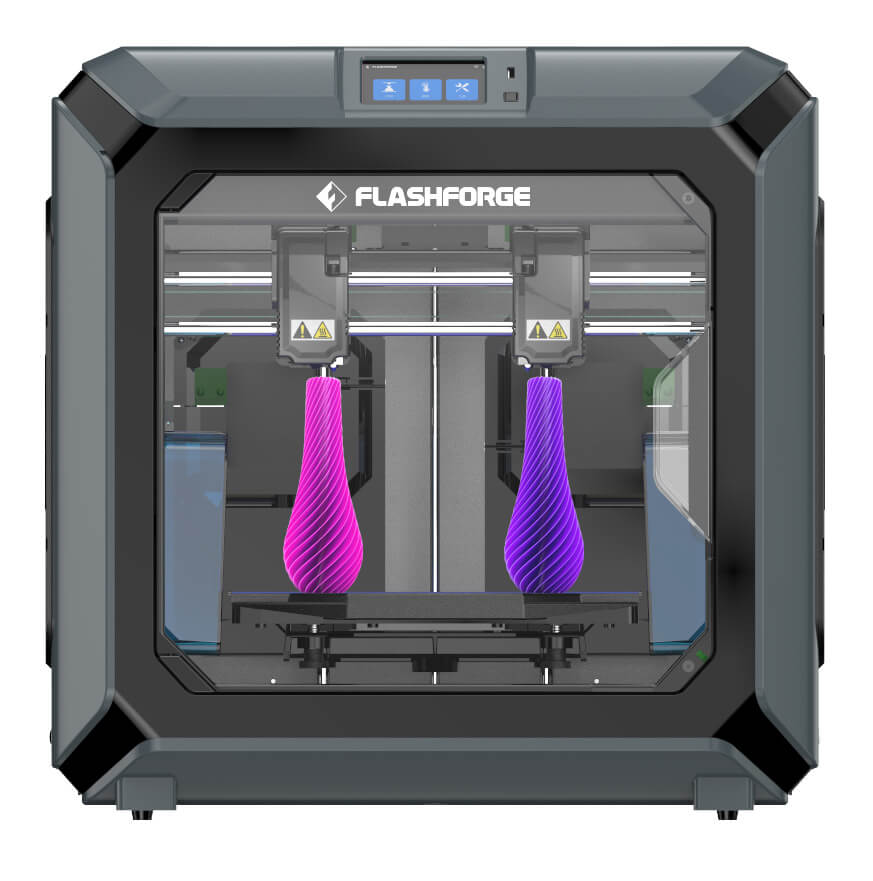 The printer's front look gives an impression of a very complex cage. Especially because one is able to look at the print chamber from the glass that is present right at the front body of the printer.
A sense of compactness is something inherently present when someone makes a judgment about Creator 3.
The touch screen interface, the nozzle system, the base on which the build plate is held and the linear rails all make up to look like a machine that can be understood easily as dexterous.
Setup
After having the first impressions of this printer, one cannot help but notice the compactness of this printer. So, your workspace would not be consumed completely by this desktop 3D printer.
In fact, there would be a little space left on your desks which you can utilize for other purposes.
Flashforge Creator 3 is built of full metal chassis that offers you a good amount of stability even when the 3D printing process is going on, it would not vibrate.
The glass doors of this printer are made up of Plexiglass, which gives you visibility into the print chamber of the printer.
Whereas the enclosed body of the printer ensures that the print temperature is maintained constant.
Some users may find the setup a little bit tricky because it requires you to set up the camera, which is not something you would see a printer in a similar price range demanding to be done.
Most of the general printers do demand loading the material, calibrating the bed, and setting up the Wi-fi which this printer does.
The most painstaking part of the process is to position the camera correctly.
But once you are done with this process, get ready for good monitoring of the complete printing process.
There is a touchscreen that allows you to use it in multiple languages, also it makes the complete material loading easy.
Coming to the bed leveling, it is also done by the touchscreen and the prompts that guide you to click on buttons that are essential.
For troubleshooting bugs on the Z-axis too, all you got to do is click on buttons.
After doing all these, what remains is setting up the Wi-fi which can take not more than a couple of minutes.
And then you are all set to make your first print using the Flashforge Creator 3.
Print Type/Cost
Based on FFF 3D printing technology which is also the other name of FDM 3D printing technology, Creator 3 prints using filaments of various materials.
The deposition happens layer after layer according to the complex geometries of parts and functional prototypes. And it is manageable to print with support structures.
Overall 3D printing cost of manufacturing a part or functional prototype is much lower than other printers based on other 3D printing technologies that use laser, or electron beams for solidifying the powder, resin into a part or functional prototype.
Although it depends on the geometry, the amount of infill needed, electricity, and also the kind of 3D printing material used for manufacturing the object.
Print Quality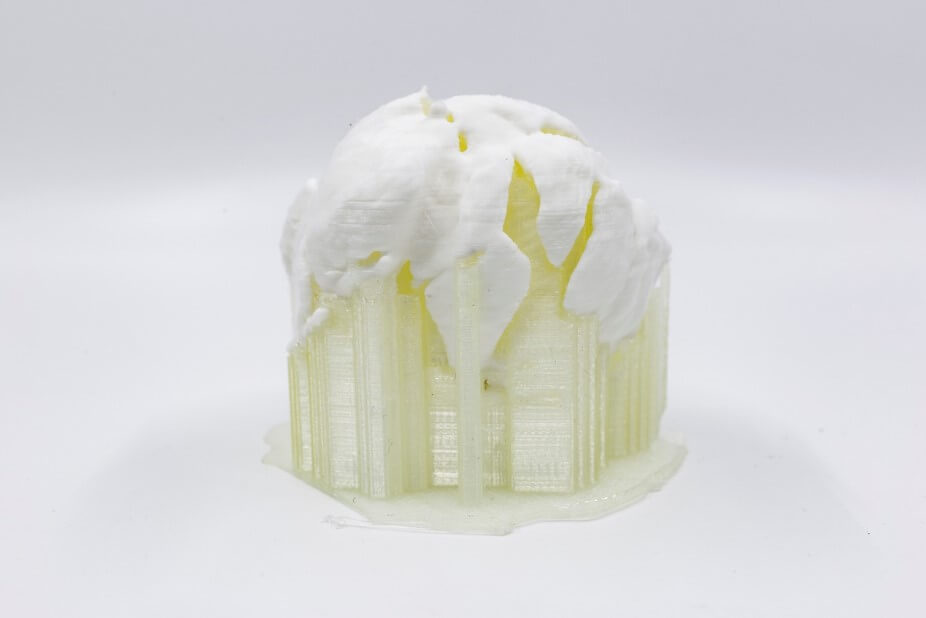 Credit: multistation.com
Flashforge Creator 3 is known to generate high-quality prints in all its parts and functional prototypes.
You experience a smooth surface, and all the flaws that you've learned about occurring in FFF 3D printing technology, like stringing, do not occur while printing with this 3D printer.
Although you do find errors in areas where you are lacking the right amount of supports, that is understandable. They can be cleared by using a scalpel or grit paper.
Each print that the printer delivers manifests the struggle of two-axis for repeating the same print each time, even the retraction capabilities of this printer are perfect in delivering to you excellent quality even while doing batch production.
You can also test the printer by subjecting it to files that involve complexities like no other.
The printer even delivers when making parts or functional prototypes without support structures.
So, you can imagine that with the right amount of support structures this printer can work as valuably as a gem for you.
Parts and functional prototypes that are manufactured have a smooth surface finish.
This goes true even when the 3D printing materials are sensitive. A little bit of altering and you are all set.
Software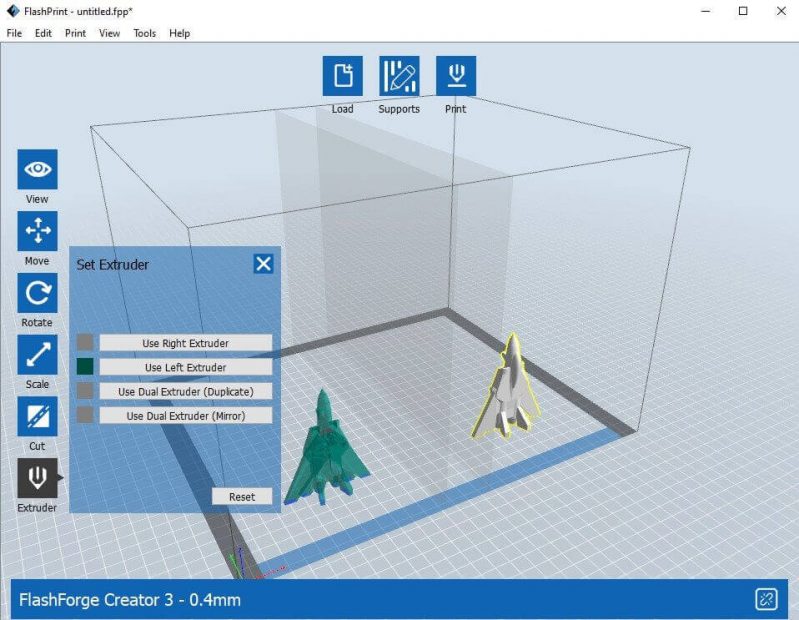 Credit: 3dprinting.com
FlashPrint is the name of the software Flashforge recommends its users to print with.
The types of file inputs that this software takes in are OBJ, FPP, PNG, JPG, JPEG, STL, 3MF, and BMP.
Whereas the software's file output type is GX/G. It supports Mac, Windows as well as Linux.
The software has been designed keeping in mind first-timers, and the complete programming of software is intuitive. Even experienced hands will love to play with the software.
In case you have used other software before, you will find this software, even more, easier to work with.
The buttons on the left offer you options for activating functions such as cutting, rotating, scaling, or repositioning.
After you have loaded and positioned your design, the software will direct you to support options wherein you can choose your kind of support structures for printing.
After the design is completed, you'd be asked to set the criteria such as print speed, resolution, retraction, temperature, and even more.
Although the software is not open-source, it will be familiar to use for those who have used open-sourced software in the past.
The interface, as well as the options on the software, are straightforward.
Customer Support
Flashforge is a company that has manufactured a lot of 3D printers and has a reliable name in the market.
This reliability that the company has gained is because of its maintained reputation in front of their customers when they demand support.
You can reach out to the company via email, or phone.
Parameters influencing the buying decision
A brief summary of all the main points mentioned in this article is given below.
3D Printer Cost: Expensive considering its built volume.
3D Print Quality: Above average.
3D Print Speed: Due to the independent dual extrusion system, Creator 3 can print on the mirror as well as independent modes, letting you save print time on batch production by a considerable margin.
3D Printer Capability: Creator 3 is capable of printing with a large variety of 3D printing filaments.
3D Printer Practicality: Parts and functional prototypes printed using this 3D printer find their use in various kinds of industries.
3D Printer User Expectations: Small business owners and professionals in this field would be happy to find this printer at their disposal. Enthusiasts who are new in the field would also want to consider Creator 3 for experimenting.
The Verdict
We are not trying to state anywhere in the article that Flashforge Creator 3 is without flaws. Just like every other 3D printer, it has its own set of limitations.
But with the price it is available in the market, it would not be unfair to say how it is one of the rare printers that offer printing with materials such as ASA, ABS, PLA, PLA wood, PETG, PC, and nylon too.
The 3D printer is also known to print excellently with polymers. Where it gets tricky with this printer is in the setup part.
But there too the touchscreen interface by Flashforge is all ready to guide you in making you click the right buttons for setting up the printer correctly.
And how can one not note the IDEX design which is not only an important highlight of the printer but also an important source of a learning tool for students? Professionals will love to play with the tool and save their time.
And the slicer of the printer is a joy to work with after having worked with various other open-sourced slicers.
Overall, this 3D printer is one of a kind that has something for the beginner, intermediate as well as expert in the field of 3D printing technology.