Lulzbot TAZ 6
Lulzbot TAZ 6 is one of the most popular desktop machines in the professional and consumer market because it offers more than one amazing feature.
PROS
Lulzbot TAZ 6 has a huge build size i.e. (280 x 280 x 250 mm).
The printer is reliable and gives consistent printing performance.
The frame of the printer is solid, also it has a sturdy design.
Lulzbot TAZ 6 is easy to use and setup.
You can auto-calibrate this printer and self-clean the nozzle.
The printer is open-sourced and hackable.
You can do untethered printing on the PEI print surface.
CONS
The printer is priced much higher than others offering the same amount of features.
Lulzbot TAZ 6 is slightly noisy.
Has a limited user control when operated in untethered mode.
You'd have to take a slow initial setting up the printer because of slicer issues.
Product
Specification
Videos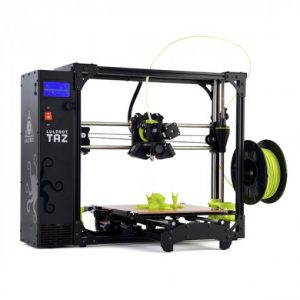 Starting with a large build size of 280 x 280 x 250 mm, Lulzbot TAZ 6 offers amazing features to its users. Designed for serious makers including ...
| | |
| --- | --- |
| Model | TAZ 6 |
| Manufacturer | LulzBot |
| Price Range | $ 2499 |
| Release date | 2016 |
| Country | United States |
| Availability | Available |
| Classification | Desktop |
| Technology | Extrusion (FFF- FDM…) |
| Material | ABS, Other plastics, PLA |
| Filament diameter | 2.85 mm 0.11 in |
| OS compatibility | Linux, Mac OS, Microsoft Windows |
| Generic material | Yes |
| XY accuracy | 0.1 mm 0.004 in |
| Max. build size | 280 × 280 × 250 mm 11.02 × 11.02 × 9.84 in |
| Max. build volume | 19.60 L |
| Max. print speed | 200 mm 7.87 in /s |
| Min. layer thickness | 0.05 mm 0.002 in |
| Dimensions | 660 × 520 × 520 mm 25.98 × 20.47 × 20.47 in |
| Weight | 11 kg 24.25 lb |
| Nozzle diameter(s) | 0.35 mm 0.01 in |
| Power input | Max 5.3A @ 100 – 240 VAC |
| Heated print bed | Yes |
| Heated build chamber | No |
| Automatic calibration | Yes |
| Closed frame | No |
| Dual extruder | No |
| Independent Dual Extruder | No |
| Full color | No |
| LCD screen | Yes |
| Touchscreen | No |
| On-board camera | No |
| Mobile app | No |
| 3D scanners | No |
| CNC mill | No |
| Electronics 3D printing | No |
| Laser engraving | No |
| Conveyor belt | No |
| Air filter | No |
| Pellet extruder | No |
| USB | Yes |
| Wifi | No |
| Bluetooth | No |
| SD card | Yes |
| Ethernet | No |

Table of Contents
Lulzbot TAZ 6 is one of the most popular desktop machines in the professional and consumer market because it offers more than one amazing feature.
The list of some of those includes, ease of use, reliability, and large build size. Colorado-based manufacturer Adelph's longtime dedication to providing hardware that's open-sourced and reliable to the extent of being faultless. What is surprising is the printer's double-sized print area than Lulzbot mini.
For people who are looking for a printer that is a dependable machine that has a build volume which is considered as big, in terms of industry-standard, Lulzbot TAZ 6 will be their go-to.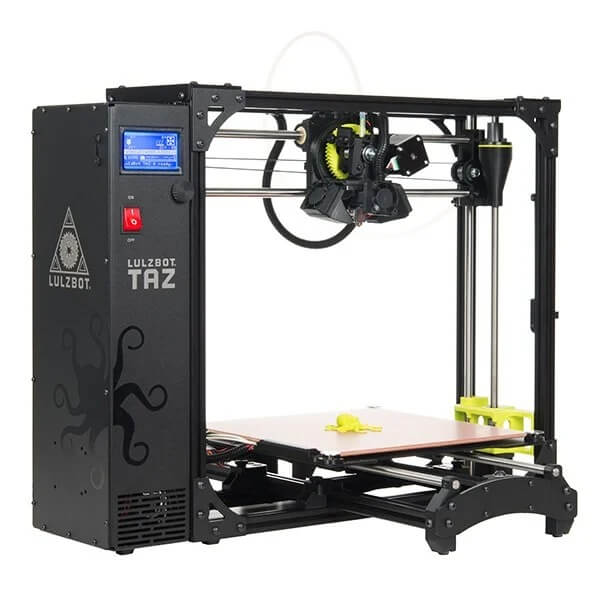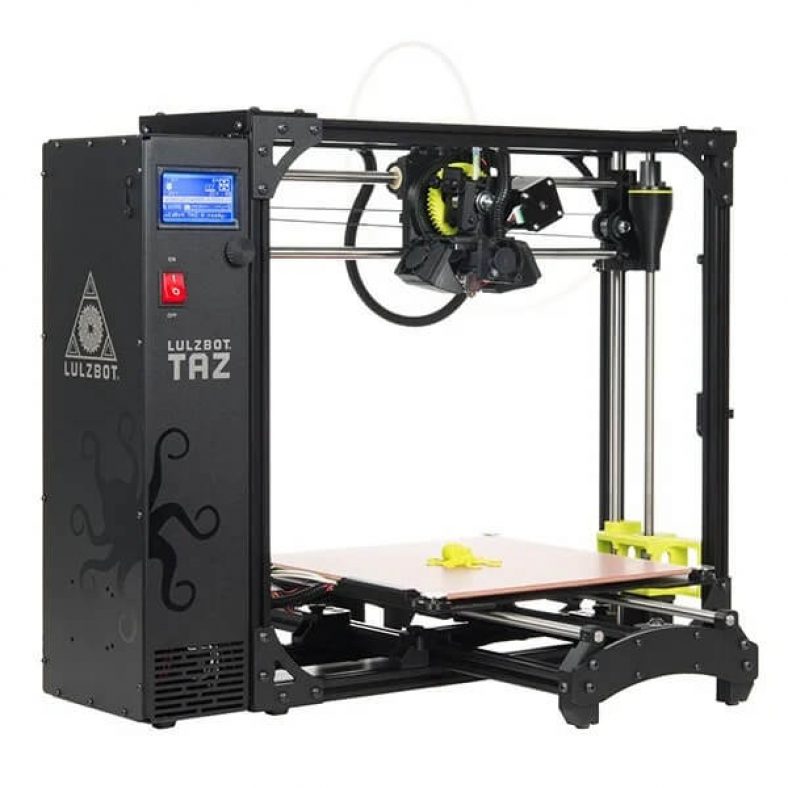 In this review, we will tell you different aspects of Lulzbot TAZ 6 which you should be aware of before purchasing this printer.
Sections in this article would also enable readers to compare this printer with the same sections of some other printer to exactly know, how better or worse this one is to that, or vice versa. Let's start our tech journey with the most obvious first section i.e.
Features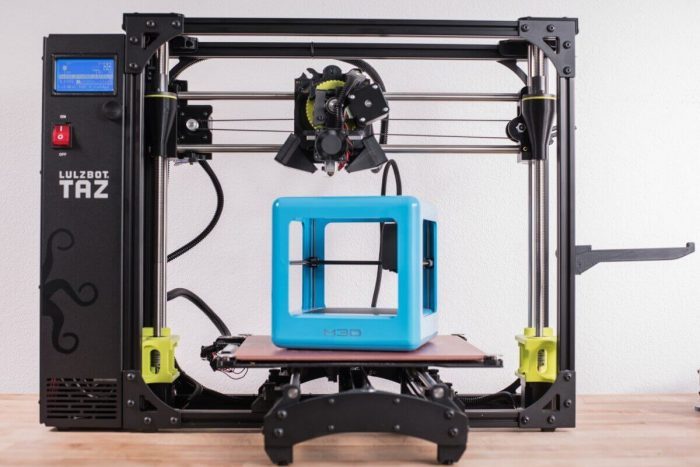 Credit: techgearlab.com
The Lulzbot TAZ 6 has the same industrial-looking design, as the models that came before it did. The machine has an open framework built from extruded aluminum.
Most of this printer's nonmetal parts are 3D printed, and as with previous models, the plans to build your own TAZ 6 are available online for free. Below are the features of this printer.
Automatic Print Bed Leveling
This uses four metal discs at the corner of the print bed for detecting its level. The extruder touches on each disc, one after the other. This completes a circuit that eventually detects the location of the print bed that discs hold in place.
The need to level the print bed manually is avoided, which makes it easier to set up and calibrate the printer.
In addition to all this, a small felt pad automatically cleans the extruder before each print and removes any blobs of filament that got stuck to the print head which could ruin a print. Both of these automatic features work flawlessly.
Glass Bed
Lulzbot TAZ 6 uses a glass bed that has a silicone heater mat on its bottom and a sheet of PEI on its top. The precision-machined washers hold these parts down and are also used for automatic bed compensation.
Not only does this help in placing and removal of the material but also during the printing process.
Hot End Extruder And Cooling Fans
Coming to the hot end and the extruder, the manufacturer Aleph Objects has created the hexagon hot end version. However, the extruder is the Wadeís extruder and there are three fans on the hot ends carriage.
Two of these three fans act as part of cooling fans from one side and the remaining one is for cooling the hot end. More than the fans, it's the arrangement that allows more cooling on one side of the printer than the other.
Specifications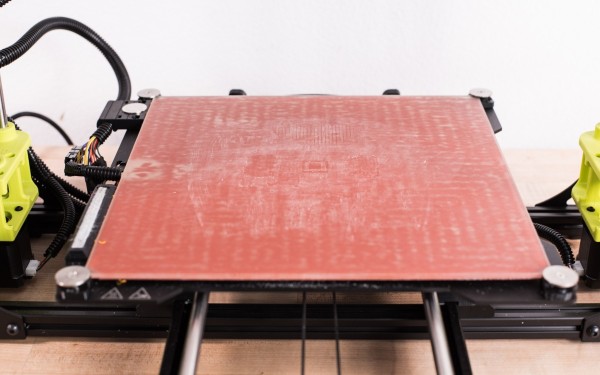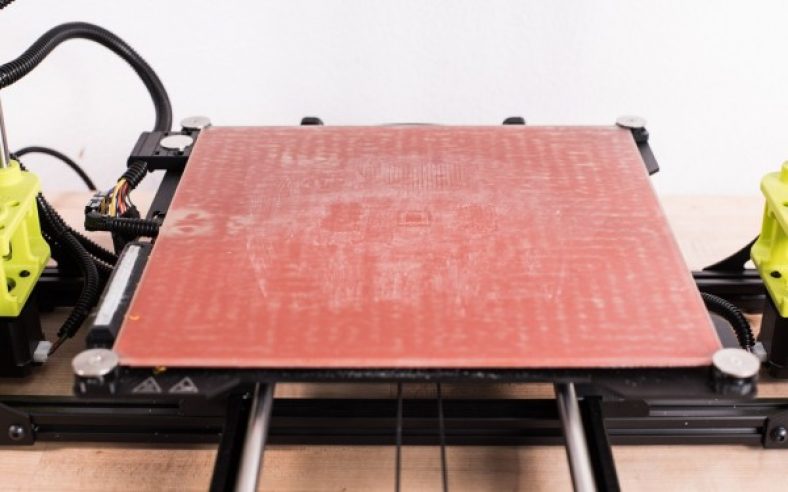 Credit: techgearlab.com
The build area of Lulzbot TAZ 6 is 280 mm * 280 mm * 250 mm, while the print speed of the printer is 200 mm per second.
The print Tolerance of this printer is 0.01mm in the X and Y axis, while the Z-axis is dependent on the layer thickness of the part you wish to manufacture.
A list of compatible materials includes ABS, PLA, HIPS, PVA, specialty filaments, Polycarbonate, Nylon, PETG, conductive, UV luminescent filaments, PCTPE, PC-ABS, etc.
The filament diameter which this printer uses is 3 mm. Operating systems compatible with this printer are Mac, Windows, and Linux. You can connect to this printer using USB and SD Card.
Price
Lulzbot TAZ 6 is priced around $2500.
First Impressions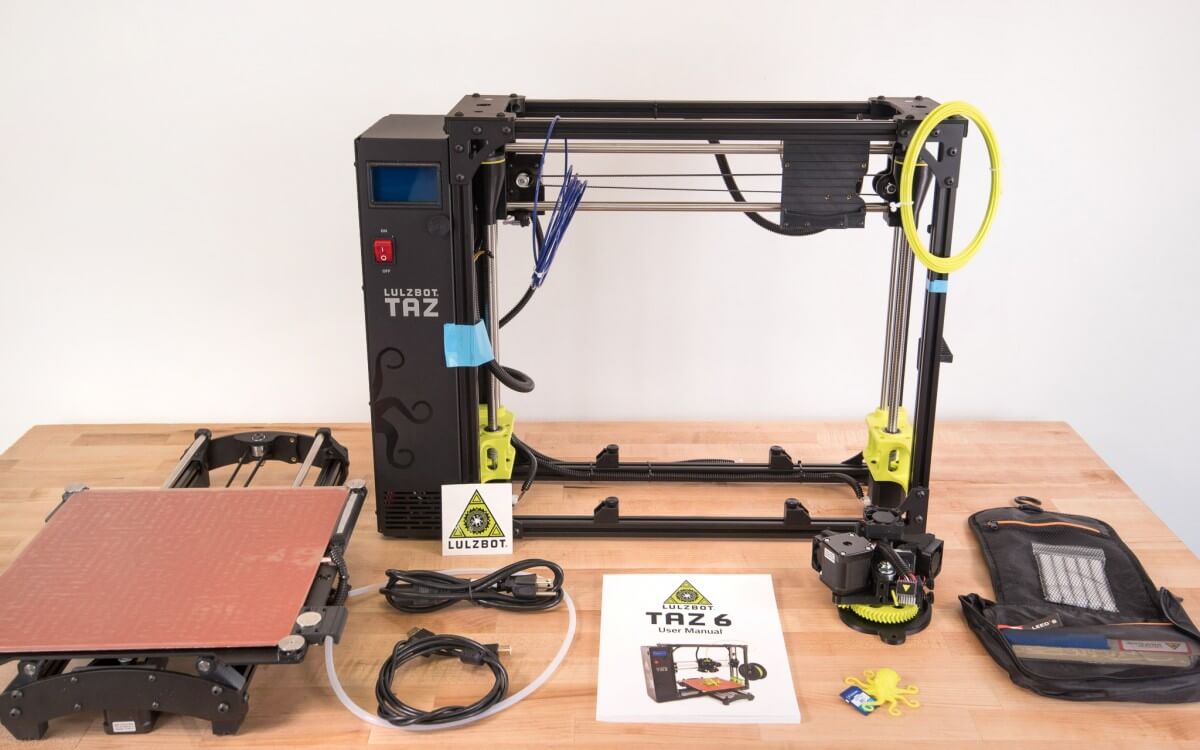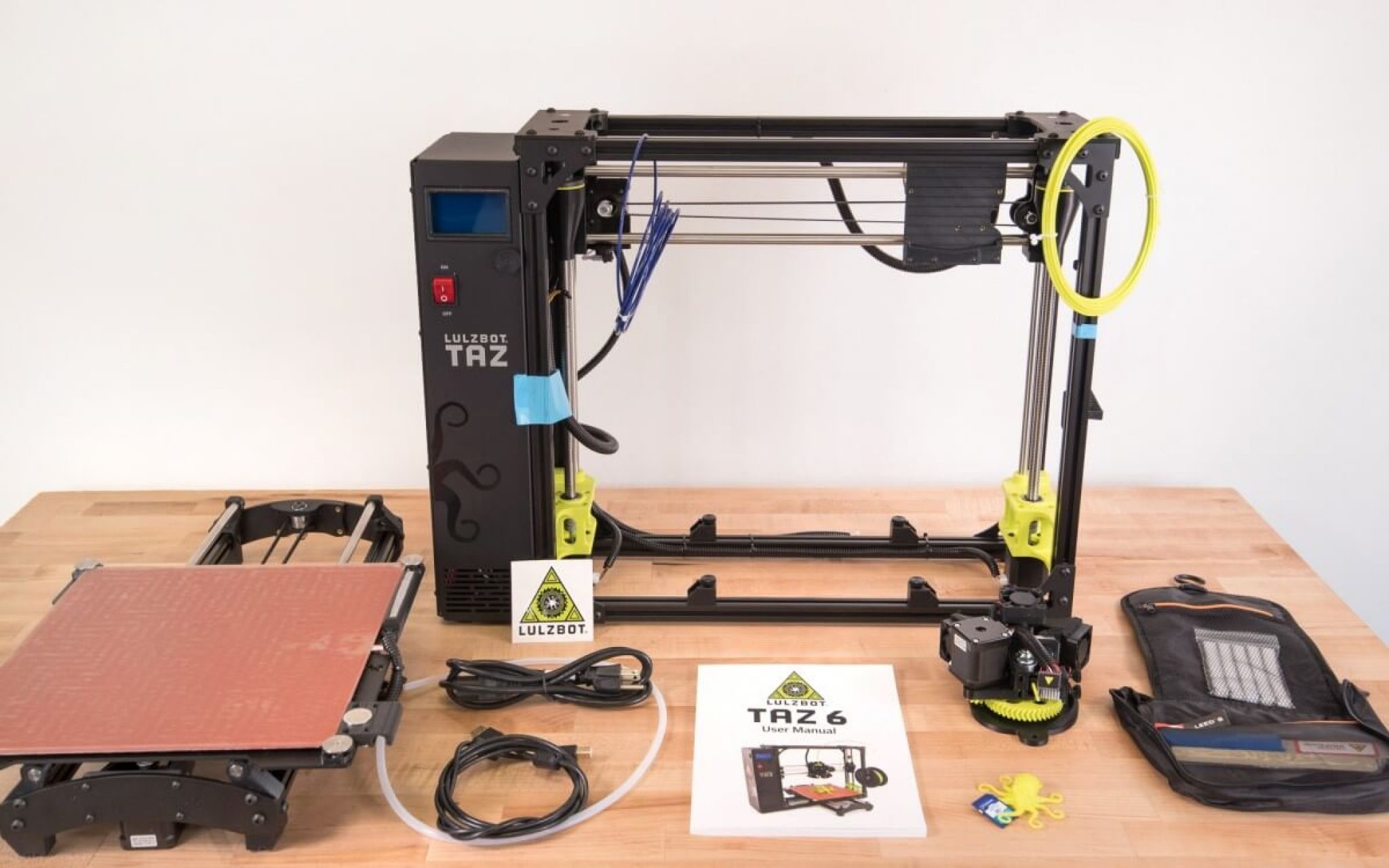 Credit: techgearlab.com
The printer comes assembled in a sizable box that has its name in big, bold letters alongside the company's iconic logo. This choice of packaging fits the printer's large build volume and open source.
Unpacking this printer reveals several useful tools and components. Aleph Objects has included the following list of tools with the Lulzbot TAZ 6 3D printer.
They are: LulzBot Hexagon Hot End Tool Head with 0.50mm Nozzle, Quick Setup Guide, 4GB SD Card Filament, Feed tube, Toolkit bag, A 15 Piece Metric Hex Key Set Pliers, Needle Nose, Tweezers, Standard Precision Knife, Dental Pick, Part Removal Knife, Metric Ruler, and complete documentation for Lulzbot TAZ 6
Setup
With all these spare parts mentioned above, it is natural for you to assume that some assembly is required for this printer. But that is not the case. A simply snap at everything into place and you're ready to start calibrating.
Approximately twenty minutes into calibration and you are done. You will want to thank the manufacturer for making this easier by the exceptional and eye-catching documentation that accompanies the printer.
There are three different booklets included with Lulzbot TAZ 6. They include A comprehensive user manual, as well as a "Start Here" and "Operation" guide.
The former offers a step-by-step on how to properly unpack and set up your printer. By opening this booklet, you'll find many high-resolution images and corresponding information.
Our advice to you as a user is to first, remove the packaging foam and tape. After this, you should assemble the remaining parts of the printer.
Following this guideline, the entire process should not take more minutes than are mentioned above.
To start the printing, you must mount the Y-axis assembly to the printer frame. For doing so you can use four thumbscrews to secure the print surface in place.
There are a few additional cables to connect and then mounting the tool head needs to be done. Last but not least, you snap the filament guide tube onto the side bracket and that's it! Time to start printing.
Printing Type/Cost
Lulzbot TAZ 6 is based on the Stereo Lithography process which uses a source of light for solidifying the part or functional prototype.
Instead of filaments, as in the case of FDM printers, this printer uses resin bottles. The printing cost of Lulzbot is higher than FDM printers but lower than DLP printers.
Print Quality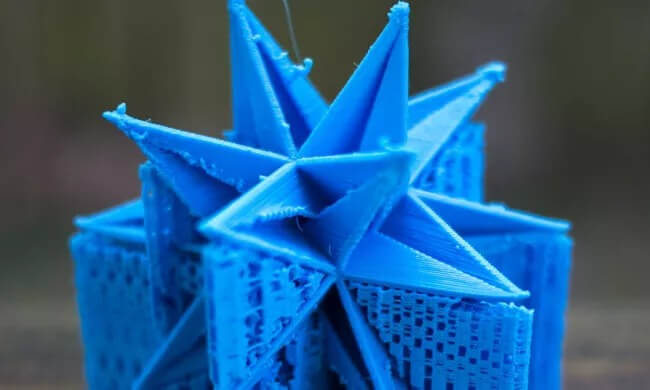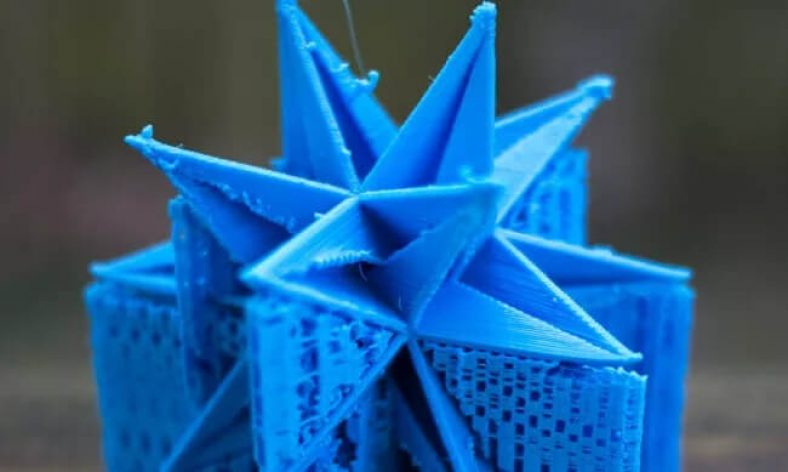 Credit: futurecdn.net
The TAZ 6 produces impressive-quality prints, by handling the smooth curves of organic shapes and the sharp edges of geometric shapes with equality.
The 3D scan of Rodin's "The Thinker" statue tests mentioned on websites, tells how well this 3D printer handles smooth, organic, and complicated shapes.
Lulzbot TAZ 6 aces some of the printing tests by producing prints that accurately captured the smooth curves of the original. The only thing that rarely comes up is the layering on all of these prints.
All filament 3D printers show this, though, and it can often be removed by post-processing the print in acetone to smooth the surface.
The attempt to print a set of planetary gears which is a complex set of interlocking cogs and gears tells how well the printer can handle fine details. There are no problems in printing this!
The finished gears fit together easily, they smoothly lock together for producing the working-gear set. Although some parts of the gears do require a little cleaning.
The top of the long screws holds all of the other parts in place has some filament threads attached, but that can be removed. Apart from these minor issues, though, the prints from the TAZ 6 requires significantly less cleaning than most.
Software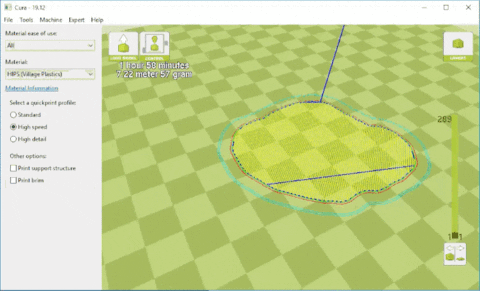 Credit: futurecdn.net
While slicing a 3D model, you can either use the recommended settings in Cura for a specific filament and printing profile. The other way to go is by customizing and tweaking each part of the printing process.
While using the latter, the Cura Lulzbot Edition slicer allows you to control every aspect of the shell, infill, print speed, cooling, experimental settings, and much more.
Advanced users can take benefit of this complete control offered by Cura over the Lulzbot TAZ 6. The user interface on the printer offers further possibilities to modify the setting mid-print.
With the recommended print setup, theirs is also a long list of materials to choose from. Although many filament types are not included on this preset list, there is a facility for users to easily import settings or create your filament profiles.
Overall, the slicer itself seems a little bit slower than other options, including the basic version of Cura. But otherwise, the specialized slicer is easy to use and it provides full control over the Lulzbot TAZ 6.
Customer Service
This printer includes a 12-month warranty, with the option to extend the same up to 3 years by paying an additional cost. Lulzbot's support team is helpful and responsive as mentioned in reviews of other websites.
It helps its users to walk them through adjusting and calibrating the issue with the lower layers appearing squashed. The services wherein it's their fault are free, the only fees that you have to pay are for the shipping.
Support can be done via phone or email. There were many other handfuls of videos on their YouTube channel that provides further instruction if you are lost.
Parameters Influencing Buying Decision
Below mentioned factors will allow you to go through a complete brief of elements that you should consider before buying or not buying this printer!
3D Printer Cost: Compared to the features of printers in the range at which this one is priced, the cost of TAZ 6 is justified.
3D Print Quality: Better than FDM printers, lower than DLP printers.
3D Print Speed: 200 mm per second is a print speed that is not only commendable but also hard to expect from a desktop SLA printer that is priced at $2500 and helps to achieve finishing as such as TAZ 6.
3D Printer Capability: The list of materials that the printer is capable of printing is very wide. Considering the quality and print speed it offers, TAZ 6 is very much capable.
3D Printer Practicality: The setup of this printer is easy, as simple and comparative as the printer looks, TAZ 6 is way more practical than its competitors.
3D Printer User Expectations: TAZ 6 stands by every user's expectations that's willing to spend more on getting better quality.
The Verdict
The Lulzbot TAZ 6 is a magnificent option for people who need a printer that offers a huge build size and is reliable. As the successor to the Lulzbot Mini, the Lulzbot TAZ 6 produces a similar level of consistency at a much bigger scale, and also provides more perks.
Unlike its predecessor, the Lulzbot TAZ 6 offers untethered 3D printing via an SD card. This is an extremely beneficial feature for all those that don't have space or the means for a stationary computer dedicated to 3D printing.
In addition to that increase in the print area, it comes at a doubling in price. But it's worth it.
The most significant issue with the Lulzbot TAZ 6 is the lack of user control with standalone printing. For instance, there's no option while using this printer to feed filament on the UI.
This makes changing materials a bit more difficult than you'd find in other printers. Lulzbot TAZ 6 also takes a little longer to calibrate and heat up than other printers, but complaining about this despite the printer's consistency and high-quality results won't be fair.