Makerbot Method carbon Fiber Edition
Makerbot Method Carbon Fiber Edition is especially renowned in the field because it lets you print objects using a rare material Carbon Fiber. Although there are other benefits of the 3D printing system, considering the price range it falls in, they are phenomenal.
PROS
Automatic Z Calibration.
Automatic Nozzle Calibration.
Automatic Material Loading.
Much of the printing system is completely automated thereby decreasing the overall inefficiency associated with the printer.
The printer is also well integrated with the CAD software meaning that all the flaws in the design can already previously be viewed and disposed of at the correct moment.
CONS
The printer has a closed chamber which would mean that manual cooling would be needed after the part is printed. This would in turn lead to an increase in overall print time needed for an object.
Product
Specification
Videos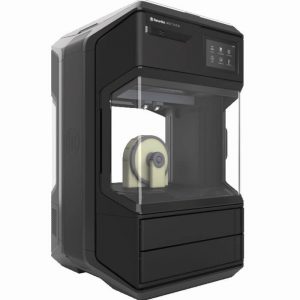 Coming fully enclosed with an actively heated chamber that can withstand up to 110 degrees Celsius, Makerbot Method Carbon Fiber Edition is capable ...
| | |
| --- | --- |
| Model | METHOD Carbon Fiber Edition |
| Manufacturer | MakerBot |
| Price Range | $ 3999 |
| Release date | 2020 |
| Country | United States |
| Availability | Available |
| Classification | Desktop |
| Technology | Extrusion (FFF- FDM…) |
| Material | ABS, ASA, Makerbot PLA, Nylon, PETG, PVA |
| Filament diameter | 1.75 mm 0.07 in |
| Generic material | Yes |
| XY accuracy | 0.02 mm 0.001 in |
| Max. build size | 152 × 190 × 196 mm 5.98 × 7.48 × 7.72 in |
| Max. build volume | 5.66 L |
| Dimensions | 437 × 413 × 649 mm 17.2 × 16.26 × 25.55 in |
| Weight | 29.5 kg 65.04 lb |
| Nozzle diameter(s) | 0.4 mm 0.02 in |
| Power input | 100-240V I 3.9A -1.6A I 50/60Hz I 400W max |
| Heated print bed | Yes |
| Heated build chamber | Yes |
| Automatic calibration | Yes |
| Closed frame | Yes |
| Dual extruder | Yes |
| Independent Dual Extruder | No |
| Full color | No |
| LCD screen | Yes |
| Touchscreen | Yes |
| On-board camera | Yes |
| Mobile app | No |
| 3D scanners | No |
| CNC mill | No |
| Electronics 3D printing | No |
| Laser engraving | No |
| Conveyor belt | No |
| Air filter | No |
| Pellet extruder | No |
| USB | Yes |
| Wifi | Yes |
| Bluetooth | No |
| SD card | No |
| Ethernet | Yes |

Table of Contents
The method by Makerbot is primarily meant for producing strong, heat-resistant metal replacement parts that can find application in various industries. So, let's look at some of the most intriguing aspects of this printer in detail.
Features
Below mentioned are some of the rare features that set this printer apart from others in the same price range.
Heated Chamber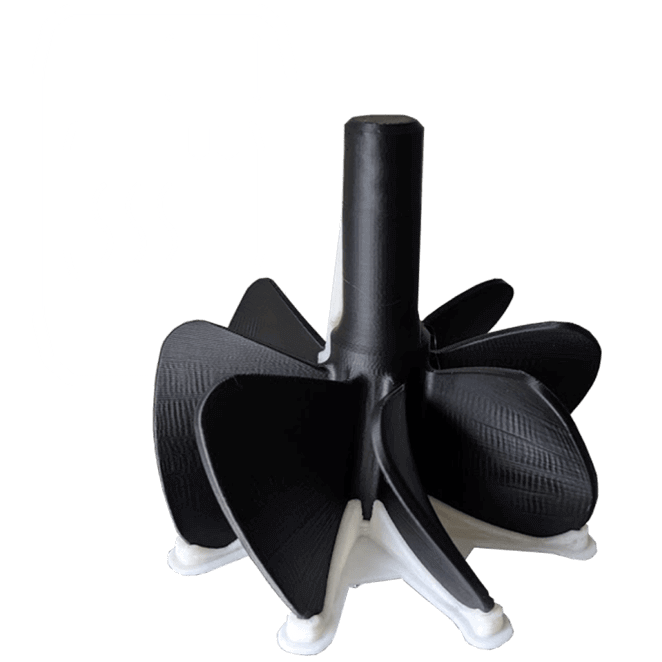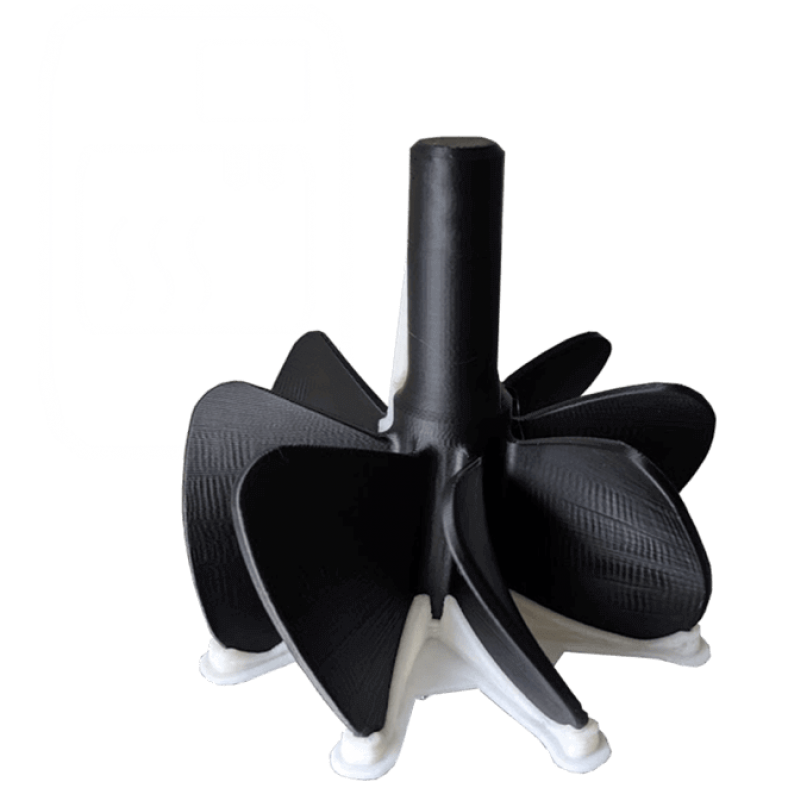 Credit: makerbot.com
Makerbot Method Carbon Fiber Edition features a heated chamber that expedites the complete 3D printing process.
It also allows you to print with filament materials that have a high glass transition temperature making it a next-generation desktop 3D printing platform that delivers manufacturing grade parts with advanced engineering materials.
Method's open platform lets you play and iterate with different advanced engineering materials thereby letting you experiment with various materials for numerous applications.
Guaranteed Part Accuracy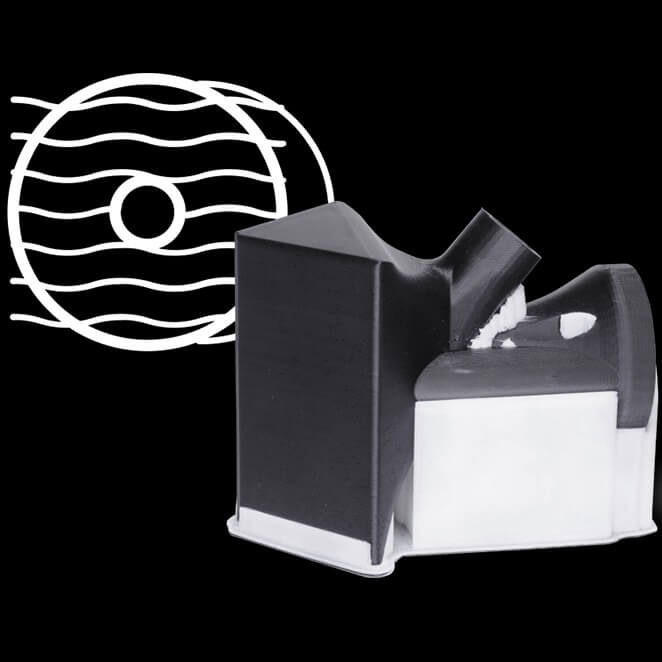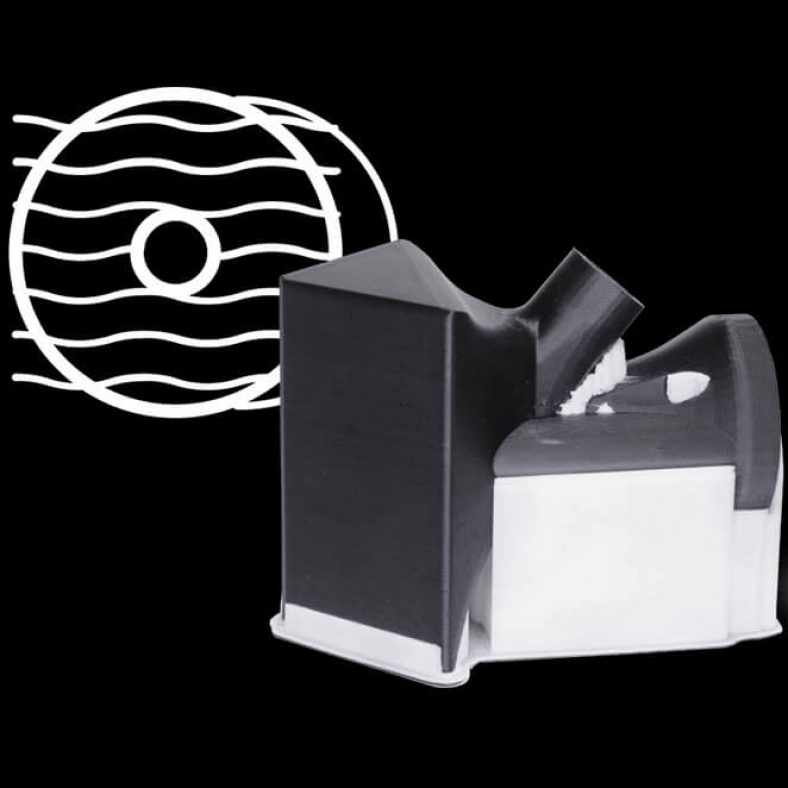 Credit: makerbot.com
All the parts that you make with Method are guaranteed to have dimensional accuracy because of uniform heating with its heated chamber.
The surfaces of the objects created on the 3D printer will be even because the heating would equally be distributed on them.
Especially parts made from Nylon Fiber reinforced Nylon 6/66 has a high strength to weight ratio as well as heat resistance which gives maximum performance in controlled environments.
On the other hand, the Carbon Fiber reinforced Nylon 12 provides the easiest carbon fiber composite 3D printing experience for which its superior moisture resisting characteristics is credited.
Saving Engineering Time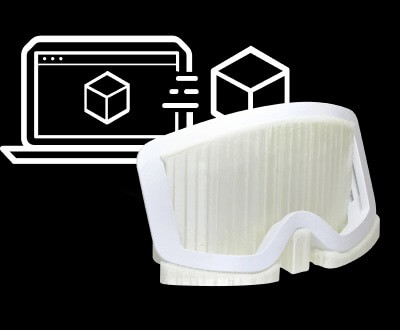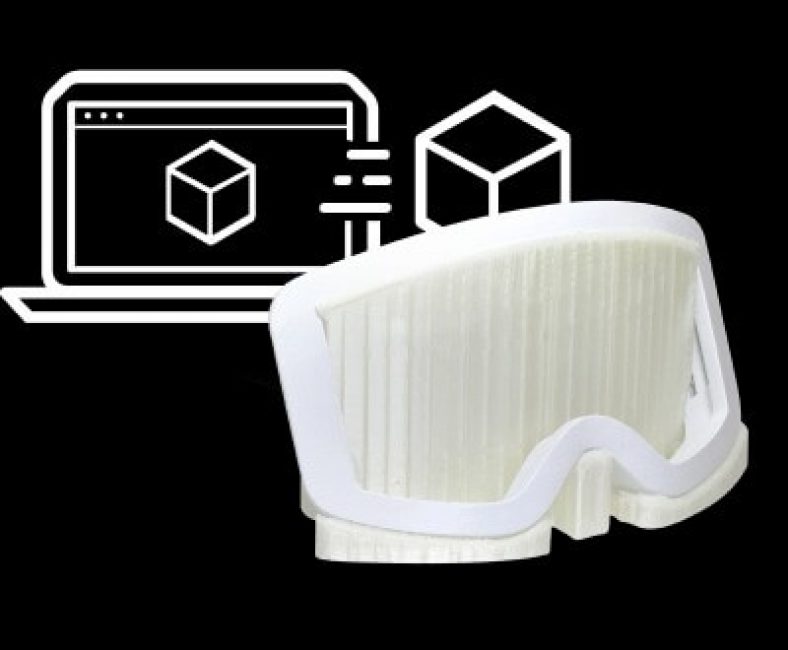 Credit: makerbot.com
Method by Makerbot is a printing system that is completely automated and integrated with CAD software. Once you start working on an object with the printer, it automatically helps you control and monitors various necessary aspects of the printing procedure.
The complete system is so aiding even to beginners in the field of 3D printing that the most technical parts too appear to be seamless and smoothly flowing. And these characteristics lead to saving time.
So, say on other 3D printers you require days to 3D print a specific part or functional prototype, the same object can be 3D printed on Method in hours.
All thanks to the automated workflow and CAD integration. These aspects have been given extra care by the 3D printer manufacturer for which they are meant to be appreciated.
Vibrationless 3D Printing
Makerbot has constructed a Method 3D printer using a set of materials that is extremely high in grade.
The printer's frame is constructed using Aluminum Die-Cast Base, Extruded Aluminum Uprights, and Steel Weldment Gantry Frame. All of which are in constant and complete coordination with each other thereby providing motionless 3D printing.
So, even while 3D printing a part of maximum build volume, the 3D printer would not vibrate. The build plate of this 3D printer is made of a Flexible Steel build plate whereas the build surface is fabricated by a reusable grip surface.
By using high-end materials in the construction of the 3D printer, Makerbot's Method has made its place in the list of rare 3D printers that produce a part or functional prototype without vibrating much.
Strong Heat-resistant Metal Replacement Parts
Carbon fiber reinforced nylon is optimized for high strength, stiffness, and heat resistance making it an ideal material for structural applications and metal replacements.
The method can 3D print with Carbon fiber reinforced Nylon to create superior Nylon Fiber parts.
The printer has a unique industrial feature set that produces carbon fiber parts with superior three-dimensional strength and accuracy.
Specifications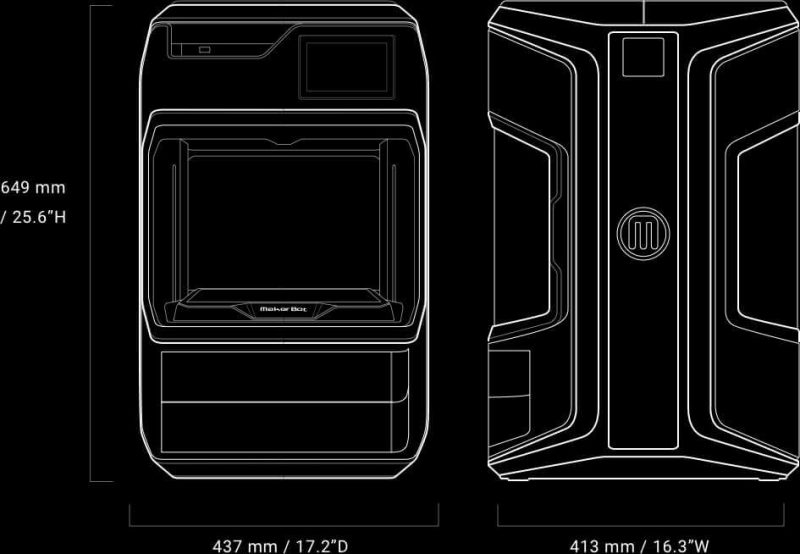 Makerbot Method Carbon Fiber Edition 3D printer is based on Fused Deposition Modeling 3D printing technology. It has two print heads and is known to offer dimensional accuracy of 0.2 mm.
The parts and functional prototypes printed with this printer are known to have layer resolution ranging from 20 microns to 400 microns. The printer manufacturer claims to have up to two times faster build speed than other desktop 3D printers.
It offers a maximum material flow rate of 50 cubic millimeters per second and a print head travel speed of up to 500 millimeters per second.
The print modes of Makerbot Method Carbon Fiber Edition are tuned and optimized for 100 microns high-quality print mode which is said to come soon, whereas the balanced print mode is said to provide 200 microns.
The maximum build volume of parts that you can print on this printer is 6 inches * 7.5 inches * 7.75 inches with dual extrusion.
Another build volume which the company is soon about to launch will have to allow you to print a maximum build volume of 7.5 inches * 7.5 inches * 7.75 inches.
The printer's frame is made from Aluminum Die Cast Base, extruded Aluminum uprights, and steel weldment gantry frame which keeps it stable even during the highest vibrations faced by the printer.
The Makerbot Method Carbon Fiber Edition's temperature is controlled by a circulating heated chamber, the build plate is made from flexible steel whereas the build surface is fabricated out of reusable grip.
There is a five-inch fully colored capacitive touch screen interface with which you can smoothly interact with the printer. There is a camera fitted on the body of the printer which has 640 * 480 pixels.
In all there are 21 sensors with which the printer is equipped, they sense temperature, humidity, material RFID, of the drawer; temperature, material, and encoder of the extruder; lid, door, temperature, chamber, and calibration of the printer.
The printer supports filament spools of ABS, ASA, PLA, Tough, PVA, SR-30, NYLON, and PETG. You can connect with the printer using USB Drive, USB, Ethernet, and Wi-fi.
The extruder of this printer can have a thermal core length of 48.2 mm, drive torque of 200 Newtons, and nozzle diameter of 0.4 mm.
Price
If you are in the US or Canada, you can buy it from the company's local distributors or dealers. But if you wish to order it online, you will have to quote for this 3D printing system.
First Impression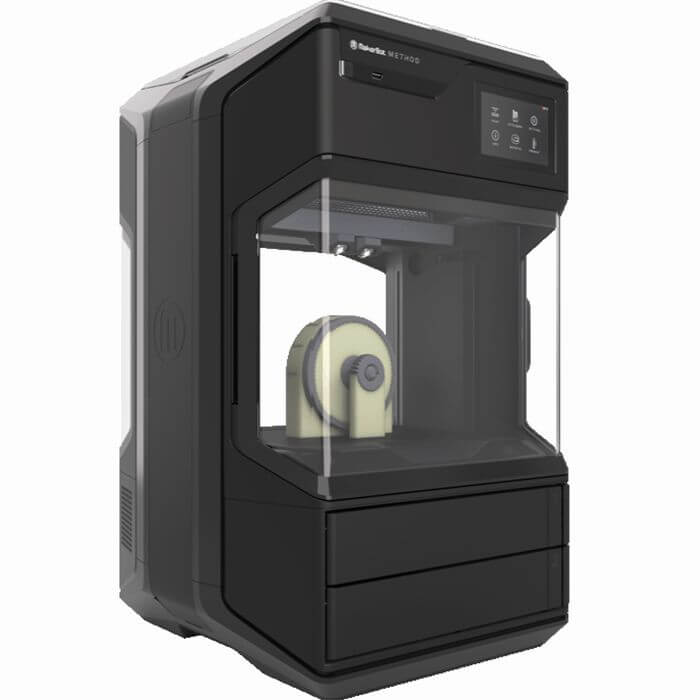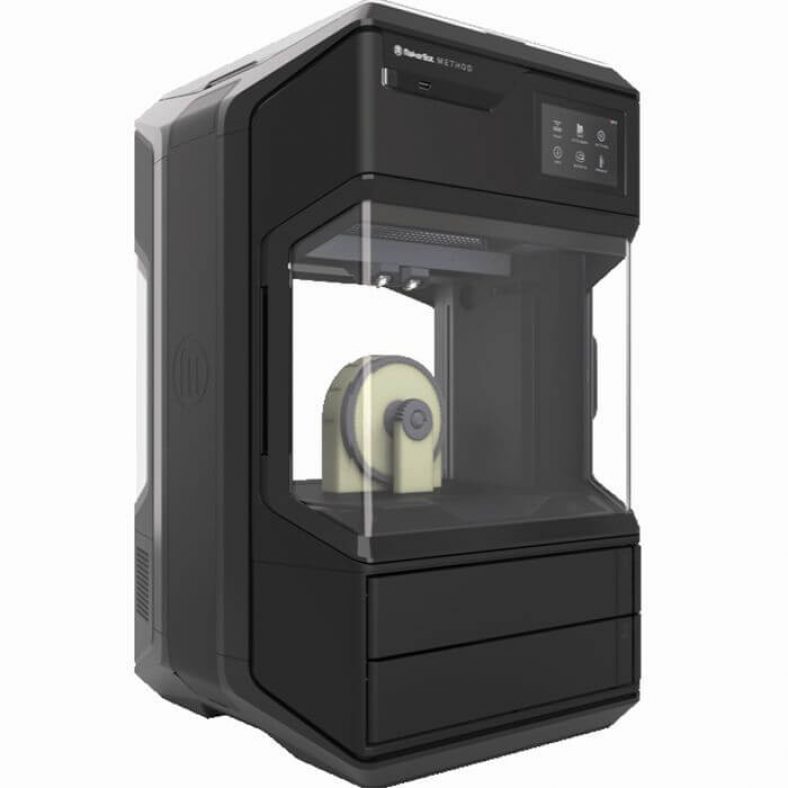 Makerbot's Method has been uniquely constructed. It is not like some of those regular FDM 3D printers that you get to witness in the market. Though being cuboidal in shape, its front view is not completely transparent, neither completely opaque.
The middle of its front contains a transparent look that lets you have a glance inside the print chamber of the printer. There are two compartments beneath the transparent-looking print chamber.
There is a touch screen LCD interface that is present at the right top body of the printer. The height of the printer is 649 mm, whereas the breadth is 437 mm.
Setup
The printer is a plug-and-play type, it comes completely assembled and is completely automatic so the tasks that you need to do manually in other 3D printers can be done automatically on Makerbot's Method.
You are requested to go through the reader's manual before starting to print with the printer. Doing that would make you completely familiar with all the parts of the printer. After that, you can initiate the process of setup once you turn on the 3D printer.
Then, uploading the file with whichever means of connection suits you to start 3D printing. Doing all this should not take much of your time and you should be able to get to 3D printing your first part within 15 minutes after unwrapping the printer.
Print Type/Cost
FDM 3D printing technology prints objects using a solid filament spool of various materials. For Makerbot's Method, you are allowed to print with ABS, ASA, PLA, Tough, PVA, SR-30, NYLON, and PETG filament.
These filaments would be held by a filament spool holder which will be connected to the extruder and the nozzle system of the printer.
The extruder's role is to raise the temperature of this filament to its glass transition temperature and finally when it starts melting, to let it flow from the nozzle system onto the print bed.
One by one the layer of parts according to its geometry will be laid down one above the other on the print bed of the printer. The process will be repeated as per the GCODEs input given to it.
After the 3D printing process is completed, you will have to give time to the printed part to cool down. And only then you can take the part or functional prototype for post-processing.
Print Quality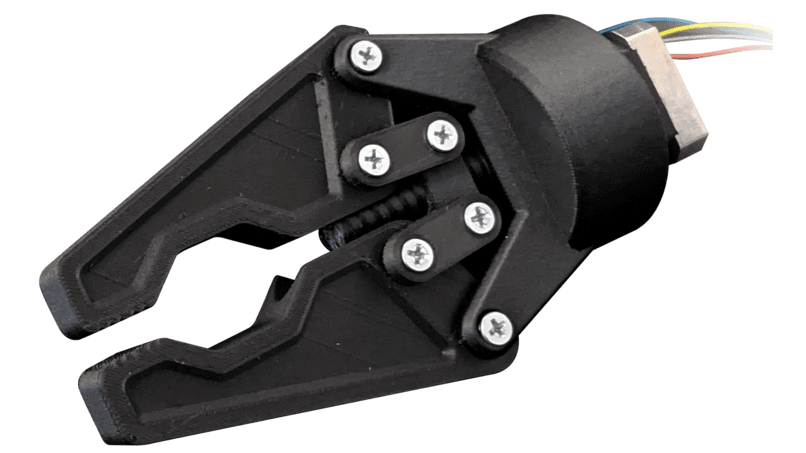 As mentioned before, the printer is fully automated to the point that it has Automatic Z calibration, automatic nozzle calibration, and automatic material loading.
So, there will be no chances of inaccurate first layer 3D printing, or over extrusion or under extrusion. Also, the printer is completely safeguarded from scenarios like higher or lower than needed flow rates.
And, in case you run out of the currently loaded 3D printer filament, the printing system will automatically load the next one. All of these features will lead to increasing the print quality of the objects manufactured on the printer.
You will enjoy amazing prints with excellent surface finishes and a layer resolution ranging from 20 to 400 microns depending on the build speed rate you plan to go with.
The printer will also soon have printing with two modes available:
100 microns high-quality print mode.
200 microns balanced print mode.
Software
Makerbot Method Carbon Fiber Edition is compatible with Makerbot Print and Makerbot Mobile which supports file formats such as .makerbot, .stl, .sldprt, .sldasm, .ipt, .iam etc. And, it is compatible with Windows as well as macOS.
Customer Support
For Method, Makerbot gives its customers a free one-year extended warranty which can then be supported with MakerCare Gold a warranty plan for two years, and MakerCare Platinum a warranty plan for three years.
In order to reach technical support, the company offers a number of ways. Such as email, phone, etc. You can also make use of the material that is made available online by the printer manufacturer on their website as well as other 3D printing sites.
Parameters Influencing Buying Decision
A summary of all the important factors about the Method mentioned above is given below.
3D Printer Cost: Depending on the geography at which you are located, you will have to either ask for the cost from the resellers or request a quote.
3D Printer Quality: The printing system of Method is uniquely equipped with two printing modes, high and balanced quality 3D printing. You can print parts with layer height ranging anywhere from 20 to 400 microns.
3D Print Speed: The printer is claimed to be two times faster than other desktop FDM 3D printers.
3D Printer Capability: Not only can you print with the most popular FDM 3D printing materials, but also with high strength materials such as Nylon and Carbon Fiber.
3D Printer Practicality: When practically 3D printing a part or functional prototype, the printer produces little or almost no noise and vibration.
3D Printer User Expectations: Professional designers in the field of 3D printing would love to use this printer because it stands upon their expectations of getting a finished part with dimensional accuracy.
The Verdict
Makerbot Method Carbon Fiber Edition is especially renowned in the field because it lets you print objects using a rare material Carbon Fiber. Although there are other benefits of the 3D printing system, considering the price range it falls in, they are phenomenal.