Sculpto Plus
Sculpto Plus 3D printer is a compact yet super-efficient machine for creating extremely functional parts and prototypes.
PROS
Requires no setup.
Easy to use.
Available at an affordable price.
Can be operated via your smartphone.
Includes desktop applications as well.
A flexible print bed.
Construction allows easy removal of rafts and supports.
Permits queuing of prints.
CONS
Brittle filament is often at risk of getting stuck in the tube.
One printer per account policy.
Users do complain about the hot end clogging often.
Table of Contents
Product
Specification
Videos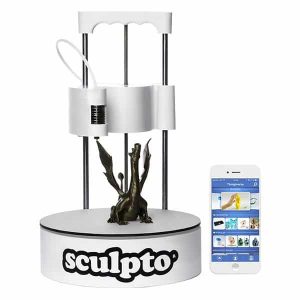 A printer designed for kids and school setup, Sculpto Plus looks beautiful and sturdy at the same time. Offering high-quality prints, the machine can ...
| | |
| --- | --- |
| Model | Sculpto+ |
| Manufacturer | Sculpto |
| Price Range | $ 500 |
| Availability | Available |
| Classification | Desktop |
| Technology | Extrusion (FFF- FDM…) |
| Material | Other plastics, PLA |
| Filament diameter | 1.75 mm 0.07 in |
| Max. build size | 200 × 200 × 160 mm 7.87 × 7.87 × 6.3 in |
| Max. build volume | 6.40 L |
| Min. layer thickness | 0.15 mm 0.006 in |
| Weight | 2.7 kg 5.95 lb |
| Heated print bed | No |
| Heated build chamber | No |
| Automatic calibration | No |
| Closed frame | No |
| Dual extruder | No |
| Independent Dual Extruder | No |
| Full color | No |
| LCD screen | No |
| Touchscreen | No |
| On-board camera | No |
| Mobile app | Yes |
| 3D scanners | No |
| CNC mill | No |
| Electronics 3D printing | No |
| Laser engraving | No |
| Conveyor belt | No |
| Air filter | No |
| Pellet extruder | No |
| USB | No |
| Wifi | Yes |
| Bluetooth | No |
| SD card | No |
| Ethernet | No |

Sculpto+ is a small desktop 3D printer weighing only 2.7 kilograms. Not more than the size of a compact coffeemaker, the printer offers a print volume of 5 liters. The manufacturer claims that Sculpto+ is up to five times bigger than other 3D printers available in the same price range.
Because of its compact design with a built-in handle, the printer is portable. Hence, home users can switch the printer's place whenever needed, without any trouble. In addition, the machine supports an especially designed app for iOS and Android that makes the printing operation pretty straightforward and simple.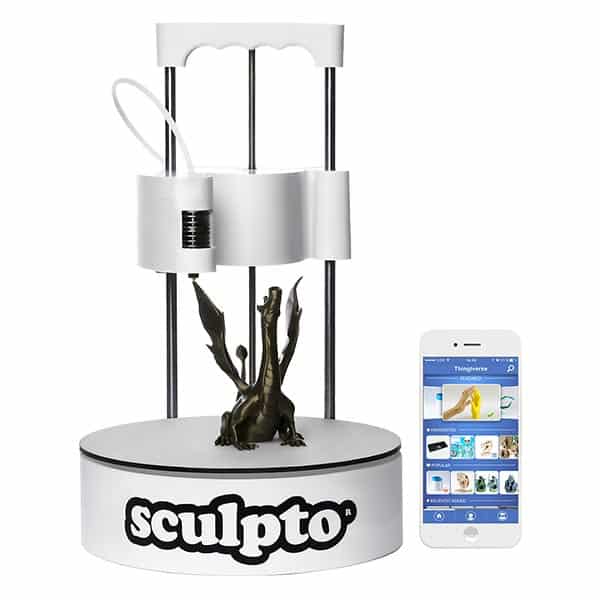 Along with many advanced features, the printer has a robust build that offers users an amazing printing experience. At an affordable price, Sculpteo Plus happens to be one of the most popular budget-friendly 3D Printers.
And, if all of this sounds too good to be true, read the in-depth Sculpto Plus review and find out the various advantages the machine offers to the users.
Features
Overall, the Sculpto+ 3D printer is unique in many ways. For instance, it is based on a precise 3D printing technique involving a double, swivel rotation replacing the typical X-Y movement.
In addition, the printer simplifies the user interaction by breaking the complete process into few user-friendly steps. At the same time, by maintaining its typical design, the printer enables the users to 3D print without any confusion, while enjoying the premium features for high-quality prints.
Below mentioned are some of its unique features that make this printer the top choice among home users.
Flexible Print Bed
Sculpto completely understands and acknowledges the problem that many users face when removing the print attached strongly to the print surface. Often when taking the parts out after printing, it breaks and ends up as a failed print.
And therefore, the Sculpto+ 3D printer comes with a removable print bed. Not just that, the print bed is flexible too. Hence, taking off the printed parts from the build surface becomes a piece of cake for every user. One only needs to turn the flexible print bed from sides to pop out the part, without engaging in any complex routine.
Wi-fi Compatible
Sculpto+ 3D printer does everything over the Wi-fi. Hence, users do not to a wired connection to the computer for sharing 3D files. Also, the printer can be monitored from anywhere, right from the user's smartphone.
Moreover, one can get a push notification when the printing is done. Additionally, the 3D printer also features a built-in memory. Hence, in case the Wi-fi connection fails during a print, Sculpto+ will finish the job anyway.
Queuing Prints Feature
Perhaps the most useful feature of Sculpto+ is that operators can queue the prints. So, if there is more than one part that you need to make, you can load all of the work and queue them in advance. Once the print completes, you can remove it and press the "start next print" to carry on with printing of the models queued in advance.
Also, owners can access the machine through a web application. The website permits access to Sculpto+ via desktop. Users can just login into their account and choose the file that they wish to 3D print.
Users have access to some of the designs available on Thingiverse using the same application. Hence, it becomes simpler to queue large files using the web application without a need to download the designs on the desktops. In addition, users can take control of the printing operation on their smartphones as well, further making it convenient to handle files remotely.
Silent Printing
Sculpteo+ is an amazing 3D printer. It does a lot of work without making too much noise. All that a user can hear is the fan of the printer during the printing process and nothing else.
The printer manufacturer has reduced its printer's sound level to 44-47 decibels. Hence, users do not need to worry about the noise even when working from their homes.
High Resolution
Sculpto+ delivers excellent surface finishes. Users can choose from different print settings such as 'fine,' 'normal,' and 'fast' to create varying print results. Users can choose to adjust the printing time and resolution according to their needs.
Compatible with Biodegradable PLA
Sculpto+ is a very wonderful 3D Printer ensuring the highest level of accuracy when modeling 3D designs. It can print with PLA, is made of corn, and is completely biodegradable.
In addition, apart from manufacturing 3D printers, Sculpto also creates high-quality filaments at competitive prices to ensure that every part printed using this machine is perfect. Sculpto PLA is a sturdy 3D printer filament that can withstand excessive stress, force, and weather.
Easy to Customize Models
It has never been as easy as it is with Sculpto+ to customize existing models. The printer permits users to create parts with great accuracy by just altering some of the settings of the machine.
All you need to do is, choose the existing STL file, select the preferred print setting, and support structure strength, and that's it. The rest of the work is taken care of by the manufacturer's cloud-based slicer.
Specifications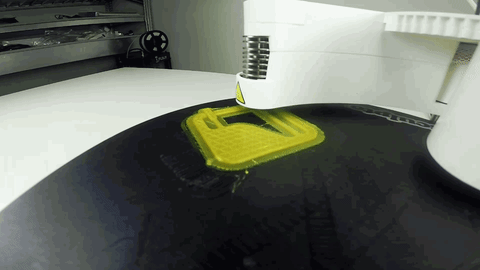 Credit: all3dp.com
Sculpto+ prints using FDM 3D printing technology. The printer offers a build area of 200 mm * 160 mm and a printing size of five liters. Users can print parts with a precision of around 0.1 mm. The layer height range permissible on Sculpto+ lies between 0.15 mm to 0.4 mm.
Operators are allowed to print with environment-friendly biodegradable PLA filament, 1.75 mm in diameter. The printer weighs 2.7 kilograms and has a footprint of 420 square centimeters.
Price
Sculpto+ 3D printer is available for $500.
First Impression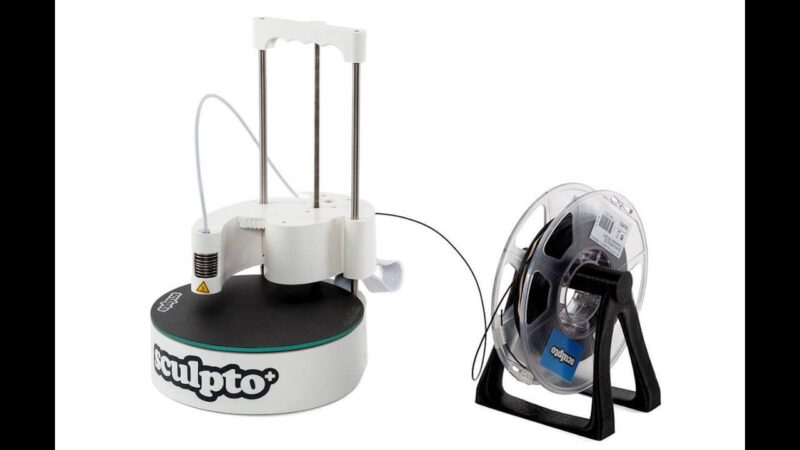 Credit: Youtube / AMain Hobbies
The most unique aspect of the Sculpto+ 3D printer is its printing mechanism. Instead of the clichéd X-Y movement of the hot end/ extruder, it uses two rotation axes, one for the print bed, the other for the extruder arm.
The design seems a little confusing to those habituated to work with the usual extruder movement. It may feel as if the nozzle cannot reach the complete print bed.
However, that is not true. The two-axis swivel rotating in complete sync ensures the complete movement of the nozzle around the entire build plate.
Overall, the printer has a simple design. Every component is controlled via the smartphone application provided by the manufacturer.
Setup
Sculpto+ 3D printer comes fully assembled. Users only require to plug in the printer to the power source and feed filament to start the printing process. The print bed fits into place via magnets.
The Sculpto+ 3D printer comes along with all the necessary tools and accessories. Users receive a power cable, a spool of black filament weighing 0.5 kilograms, and a flexible build plate along with the 3D printer.
The manufacturer also includes an instruction manual for helping users with the complete setup.
Print Type/Cost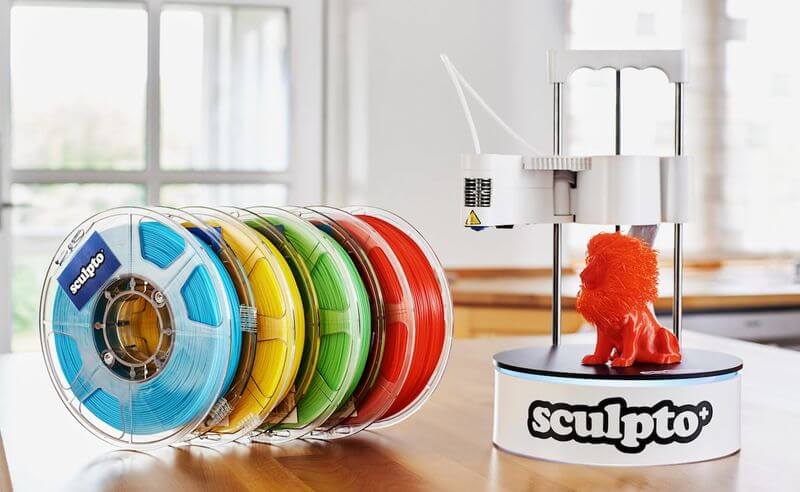 Credit: trendhunterstatic.com
Although the printer has a unique design, it's based on the simplest 3D printing technology in existence, FDM. Herein, the process starts with heating the filament spool, which in this case is a biodegradable PLA.
The extruder ensures that the filament reaches its glass transition after which it is allowed to flow through the nozzle system, on the print bed. The melted filament is deposited on the print bed, one layer after another, until the part completes.
The cost of 3D printing via FDM technology is not as high as for printing with other technologies. However, it depends on more than factors. One must consider various factors such as infill percentage, filament used, part design, layer height, and more.
Print Quality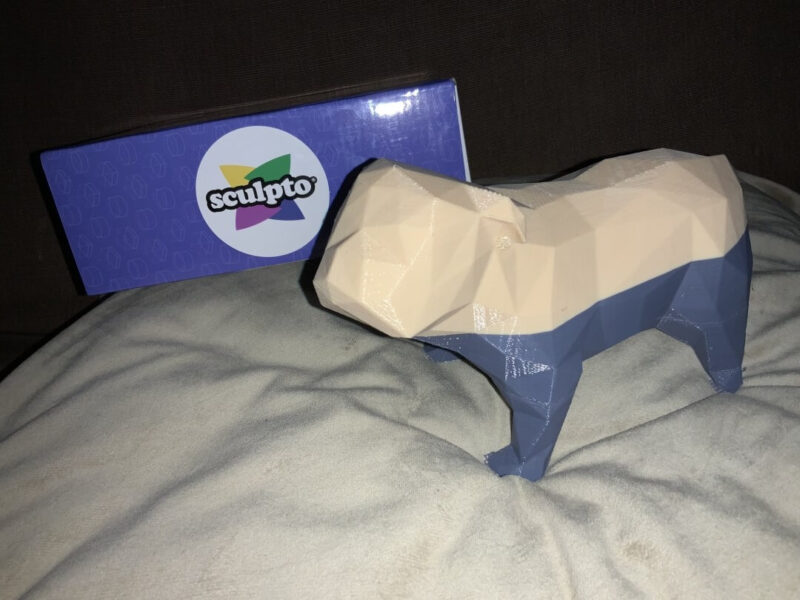 Credit: collectibulldogs.com
Sculpto+ performs very well when printing basic models. The prints turn out to be striking. For instance, the machine offers an excellent surface finish when printing a bench. You can come up with fascinating designs with high-quality print results. That too, without investing too much effort.
In short, it is easy to print objects with barely visible layer thickness. It has an accurate positioning system ensuring that parts with support structures are equally precise in terms of quality as parts without it do.
Software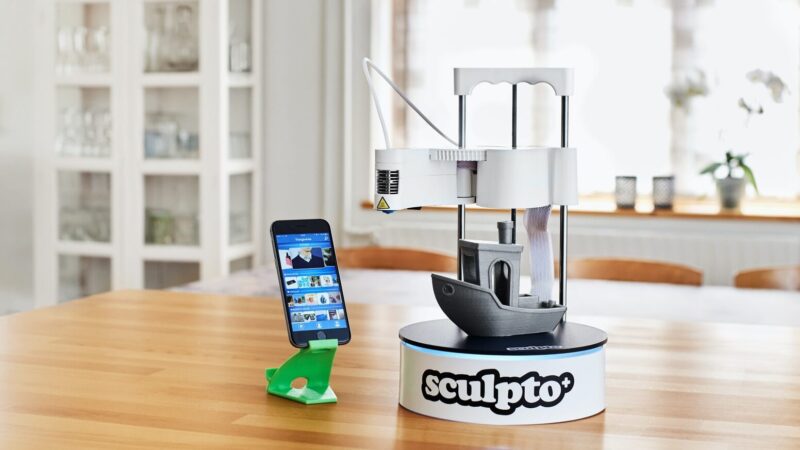 Credit: imgix.net
The most wonderful addition by the company is its intuitive software. Allowing users to create accurate parts, the application does an exemplary job. The software lets you choose from three different modes of printing, 'fine,' 'normal,' and 'fast.'
In addition, users can select between the various support choices. One can either go with none, partial, or full support design. Lastly, there are three options for part's strength as well: weak, normal, and strong.
To make 3D printing more accessible to beginners and inexperienced users, the manufacturer has ensured automated operation for most of the tasks. For instance, the application takes care of slicing, G-codes, and fine-tuning, without a need for manual intervention. Moreover, whether users are printing models directly from the application or their STL files, the workflow is always hassle-free.
Customer Support
Sculpto offers unmatched support to its users. Individuals can browse the various FAQs, video guides, and manuals available online. In addition, it is equally easy to seek help from their Facebook groups.
In order to contact the manufacturer directly, users can either call or send an email.
Parameters Influencing Buying Decision
Do you feel that Sculpto Plus can offer you the print results you seek? While it certainly is a wonderful machine, it is always wise to analyze the printer based on crucial factors. Find out if the printer sets the expectation right for your specific needs.
3D Printer Cost: Available at $500, Sculpto+ is one of those rare 3D printers that offer large build volume for an extremely affordable rate.
3D Print Speed: The printer offers decent print speed.
3D Print Quality: Sculpto+ 3D printer allows the creation of complex geometries with support structures delivering dimensionally accurate parts. The application takes care of trimming and other settings.
3D Printer Capability: The printer is almost silent while in operation. It integrates with Thingiverse thereby allowing users access to some of the easiest things to print. Moreover, users can customize their own models by choosing STL files and selecting the preferred quality, support structure as well as strength of the object. Hence, it is best suited for home applications.
3D Printer Practicality: Best suited for beginners. Specially designed for those wanting to learn about 3D printing, the machine can help not only home users but enthusiasts as well.
3D Printer User Expectations: Certainly, a very reasonable choice for those wanting to create accurate parts but cannot afford the expensive machine.
The Verdict
In a nutshell, the Sculpto+ 3D printer is a compact yet super-efficient machine for creating extremely functional parts and prototypes.
Its software lets users customize objects in three varied categories, quality, strength, and support. The printer has an eccentric design as opposed to the normal Cartesian designed FDM 3D printers.
The machine's compatibility with Wi-fi permits push notifications on the operator's smartphone. A flexible build plate enables easy removal of parts and supports after printing is over.
Although there are some issues with the brittle nature of the filament and nozzle clogging, it is not very difficult to avoid these challenges by following proper printing tips.
Overall, Sculpto+ works great for hobbyists as well as beginners, offering desired results without much hassle.