XYZPrinting PartPro300 xT
PartPro300 xT is a 3D printer for all kinds of users. Though being an FFF 3D printer, it produces commendable quality parts that can find application in many industries in a short span of time.
PROS
Allows you to print with multiple materials.
Gives you a layer resolution range of 50 microns to 700 microns depending on your build speed.
A hardened steel nozzle enabling you advanced material usage.
A heated chamber guaranteeing you excellent 3D print quality.
Auto leveling and calibration ensuring high precision.
Automatically replenishing the filament when a filament is finished.
CONS
Cooling of parts is a problem because the printer has a closed body.
Product
Specification
Videos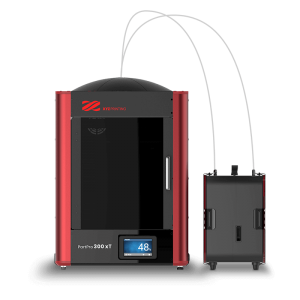 Armed with a dual extruder, XYZ Printing Part Pro 300 xT is an all-in-one 3D printer that prints using extrusion 3D printing technology. It features ...
| | |
| --- | --- |
| Model | PartPro300 xT |
| Manufacturer | XYZprinting |
| Price Range | $ 5500 |
| Release date | 2019 |
| Country | China |
| Availability | Available |
| Classification | Professional |
| Technology | Extrusion (FFF- FDM…) |
| Material | ABS, Other plastics, PLA |
| Filament diameter | 1.75 mm 0.07 in |
| OS compatibility | Mac OS, Microsoft Windows |
| XY accuracy | 0.0125 mm 0 in |
| Max. build size | 295 × 300 × 300 mm 11.61 × 11.81 × 11.81 in |
| Max. build volume | 26.55 L |
| Min. layer thickness | 0.05 |
| Dimensions | 540 × 610 × 733 mm 21.26 × 24.02 × 28.86 in |
| Weight | 41.6 kg 91.71 lb |
| Nozzle diameter(s) | 0.4 mm 0.02 in |
| Heated print bed | Yes |
| Heated build chamber | No |
| Automatic calibration | Yes |
| Closed frame | Yes |
| Dual extruder | Yes |
| Independent Dual Extruder | No |
| Full color | No |
| LCD screen | No |
| Touchscreen | Yes |
| On-board camera | Yes |
| Mobile app | No |
| 3D scanners | No |
| CNC mill | No |
| Electronics 3D printing | No |
| Laser engraving | Yes |
| Conveyor belt | No |
| Air filter | Yes |
| Pellet extruder | No |
| USB | Yes |
| Wifi | Yes |
| Bluetooth | No |
| SD card | No |
| Ethernet | Yes |

Table of Contents
PartPro300 xT by XYZPrinting is primarily designed for ease of use and high performance. Its simple yet appealing construction makes it attractively functional. There are many interesting aspects of the printer that we are going to go through in this article. So, without further ado let's get started.
Features
The printer's manufacturer claims how PartPro300 xT is able to print functional prototypes such as a Cylinder head, Compressor wheel, Rotary switch guard, and many more using ABS, Carbon Fiber, etc. Well, how is it that a FFF 3D printer can print such mechanical parts with efficiency?
The features mentioned below will inform you about the backend of the printer that makes it print with this level of ease rarely possible in this printer's price range. So, read ahead to find out what differentiates other normal FFF 3D printers from this one.
Hardened Steel Nozzle
The High temperature hardened steel nozzle enables advanced material usage, it aims for providing quality results. It lets you use advanced auto-leveling and calibration features, thereby ensuring accurate parts with high precision.
Using the auto-leveling feature can guarantee that the base of the printer will be adjusted according to the geometry of the part accurately. Which would in turn mean that the first layer printing of the object would be without any hassle at all.
A result of this would be a dimensionally accurate part or a functional prototype. Also, a hardened steel nozzle can withstand high degrees of temperature, which lets you print with more than one type of material.
Heated Chamber Ensuring Excellent Print Quality
Some materials require extremely high-temperature ranges to 3D printing them. Gaining such a high temperature in minimal time is not possible with just any kind of print chamber.
Keeping this criterion in mind, the printer manufacturer has constructed it with a heated chamber that maintains the printing temperature at a constant number once achieved.
The benefit of keeping the temperature constant is uniform heating on all the sides of the layers that are printed during the printing process.
The resulting part will have an excellent surface finish because of which you can use in many applications.
High-performance Dual Extrusion System
PartPro300 xT comes with an option of the dual extruder that you can use in case you do not wish to use a single extruder.
This high-performing dual extruder permits you to use advanced materials with the printer such as PETG, ABS, PLA, Tough PLA, and also water-soluble support material.
This allows you to print parts with intricate geometries even if their volume is small. Such a feature is very rare to find in printers of the same budget as PartPro300 xT.
Double Capacity Supporting Large-Area Continuous Printing Without Interruption
Two 3kg rolls capacity extends the ease of use and changes over intervals. The printer's Y tube connector can replenish the filament in use immediately even if you run out of the filament from one side during the 3D printing process.
Continuous loading of filament will give you an uninterrupted 3D printing process which would mean an increase in the overall efficiency of 3D printing the desirable parts.
Print Resuming and Air Filtering
When your workplace runs out of electricity and you are in the middle of your 3D printing process. What then? Well, PartPro300 xT is equipped with the feature of resuming print exactly from the point where it stopped.
Meaning that all your print progress would be saved when the electricity is lost and the resumption of work from the same point without any progress lost.
Additionally, the manufacturer of PartPro300 xT has equipped it with air filters that filter out the air with harmful fumes in it after the 3D printing process is over.
Remember ABS and other filament materials are known to produce very foul odored fumes which makes it difficult for the operator to work further on the printer. But thanks to the air filter inside this printer which will ensure that the working condition in the area of the printer is manageable.
Built-in Camera
PartPro300 xT comes with a built-in camera that lets you monitor the complete 3D printing process. Due to this feature, you can be assured of lesser to the point of being negligible flaws in the geometry and thereby a desirable print in the least number of iterations.
Specifications
PartPro300 xT is based on FFF 3D printing technology. It allows you to print with a single as well as a dual extruder, according to your wish.
While printing with a single extruder, it offers you a build volume of 295 mm * 300 mm * 300 mm. Whereas, while printing with a dual extruder, offers you a build volume of 195 mm * 270 mm * 300 mm.
Every part or functional prototype that you manufacture on this printer has a layer resolution ranging from 50 microns to 700 microns. The printer permits you to print with a build speed of 300 millimeters per second.
PartPro300 xT's XY positioning precision is 12.5 microns. You can print with two varied nozzle diameters 0.4 mm or 0.8 mm, according to the dimensional accuracy that you need in the resulting object.
There are three types of nozzles that the printer can accommodate, they are:
Single Hardened Steel Nozzle
Dual Copper Nozzle
Single High-Temperature Steel Nozzle
The first and the second hot ends of the printer can withstand 260 degrees Celsius temperature whereas the third and optional hot end can withstand up to 350 degrees Celsius.
The print bed of PartPro300 xT is made from glass material that can be removed, it can resist temperature up to 100 degrees Celsius. And the heating bed of the printer can withstand 70 degrees Celsius.
You can automatically as well as manually calibrate the printer. For easing the complete user interaction, there is a five-inch color LCD Touch Panel on PartPro300 xT's printer body which is multilingual.
Connection to this printer is possible using the Ethernet, USB cable, USB flash drive, or even wirelessly. The printer is compatible with ABS, PLA, PETG, BVOH, Tough PLA, XYZ Carbon Fiber, Premium Metallic PLA, and PC.
Price
You need to get a quote for PartPro300 xT for buying it online.
First Impression
The printer has a standard cuboidal-shaped construction with a little bit of domb on the top. To access the print chamber, there is a door handle that you need to open before and after the 3D printing process.
A user interface providing an LCD screen is present on the right bottom. You will notice two wires coming out from the printer and going inside another machine beside it.
The other machine is where you will have to attach the filament spool. When you open it from the right side, you will notice the filament spool holder inside it.
The print bed of PartPro300 xT is removable, thereby letting you remove the printed part with ease. Overall, the printer has a standard construction and manages to look simple yet appealing because of the use of black and red color.
Setup
PartPro300 xT is a plug-and-play type of 3D printer. Its setup won't take much time. All you will have to do is unwrap the printer, keep it on your work desk. Do its auto-leveling before starting to print any geometry.
Initiate the setup and get used to the LCD touch screen interface. Install the sliced file using any one mode of connection. And that's it, you are ready to go. Printing the first part should not take much time.
Print Type/Cost
PartPro300 xT is based on FFF 3D printing technology which is an abbreviation for Fused Filament Fabrication. It is the other name for Fused Deposition Modeling 3D printing technology. In this printing process, a solid filament spool of desired material is used to make parts or functional prototypes of the desired shape.
The filament spool is fixed on a filament spool holder which is connected to the extruder and the nozzle system. The 3D printing process starts with heating the filament spool inside the extruder.
It is taken to the glass transition temperature of the material and when it finally starts melting, it is allowed to flow from the nozzle to the print bed.
The cost of 3D printing a part or functional prototype using FDM 3D printing technology, when compared with other 3D printing technologies is on the lower end.
However, it depends on the geometry of the material that you are 3D printing, the filament spool used, the level of infill, etc.
Print Quality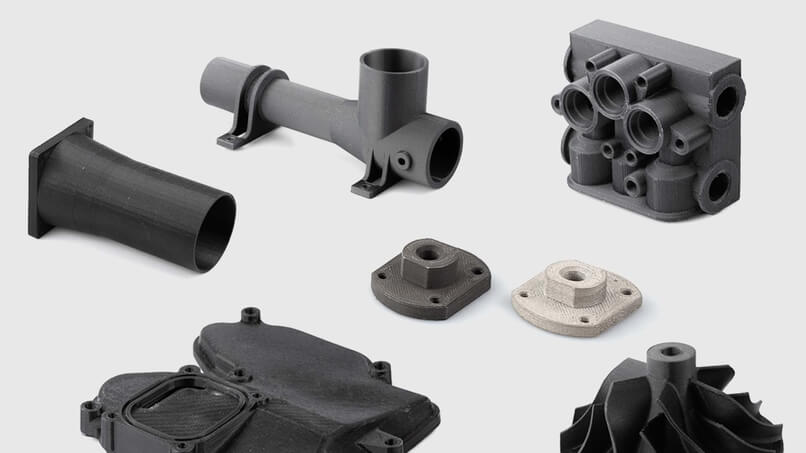 Credit: xyzprinting.com
As mentioned in the specifications section, the objects printed using PartPro300 xT have layer height resolutions ranging from 50 microns to 700 microns.
This range is noteworthy for any FFF 3D printer coming in the same price range as this one does. So, the overall print quality is decent.
You do not get to see the layer lines that easily. The surface finish of 3D printed parts is excellent.
Software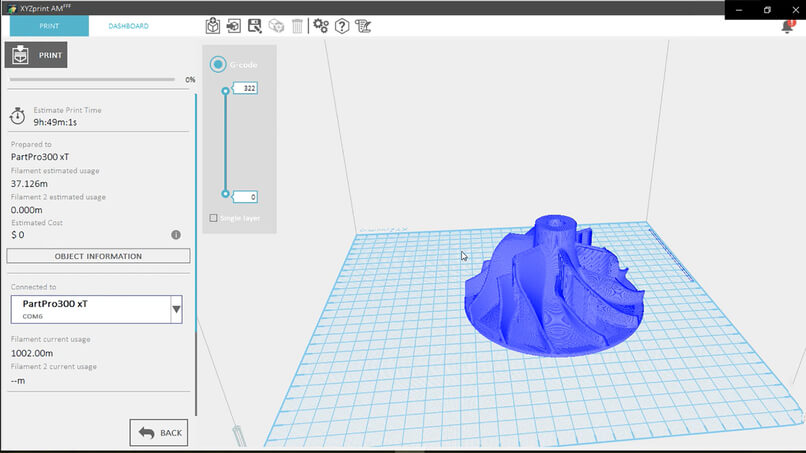 Credit: xyzprinting.com
PartPro300 xT is compatible with XYZprint AM. It can be operated on Windows as well as Mac OS. And supports file formats such as .stl, .3mf, .obj, .igs, .stp, .ply, .amf, .3cp, .nkg, and XYZ Format (.3w).
For engraving software, the printer uses XYZ engraver, also compatible with Windows as well as Mac OS. It supports image formats .jpg, .png, .gif, and .bmp.
Customer Support
XYZ 3D Printing is a renowned 3D printer manufacturer in the market. It offers Videos, downloads, and documents of various printers online. As a user, you can make use of these videos, documents to learn and educate yourself.
In case that does not work, you can also contact the company using its email id as well as phone or reseller resources. The company's technical team is ready to serve you answers to your queries.
Parameters Influencing Buying Decision
The below-mentioned factors can be handy while you are out in the market comparing another printer with this one.
3D Printer Cost: You will have to know by asking for a quote.
3D Printer Quality: The layer resolution of parts or functional prototypes is commendable.
3D Print Speed: 300 millimeters per second is an excellent build speed for any FFF 3D printer in the same price range as PartPro300 xT.
3D Printer Capability: The printer is capable of printing with single as well as dual extruders and with multiple 3D printer filaments.
3D Printer Practicality:  There are many features like resume printing, air filtering, built-in camera, that make PartPro300 xT interesting to use in practice.
3D Printer User Expectations: This printer is promising when it comes to fulfilling the expectations of professionals in the field as well as small manufacturers. But it can also be used by beginners who carry a strong zeal for 3D printing.
The Verdict
Overall, PartPro300 xT is a 3D printer for all kinds of users. Though being a FFF 3D printer, it produces commendable quality parts and functional prototypes that can find application in many industries in a short span of time.