Every year on the 14th of February, the concept of romance gets noticed with a new aspect. A thing, completely unrelated before, gets its relation with love.
Lover partners get more reasons to love each other and gift each other, not just materialistically, but also emotionally and mentally.
Valentine's Day never fails to bring something new. A technology that is as fresh as Valentine's Day is currently rising.
3D Printing is capable of manufacturing unique and customized gifts for your partner. So, why not give him or her a 3D printed Valentine's gift?
Wish to know what all you can offer? Read ahead to reveal.
List of 23 Romantic 3D printed Valentine's Gift
They are unique because they are customized. These gifts are customized to make your loved one feel special.
So, check out the list below and select your favorite one for the next Valentine.
Romantic Tealight Holder by Helder Santos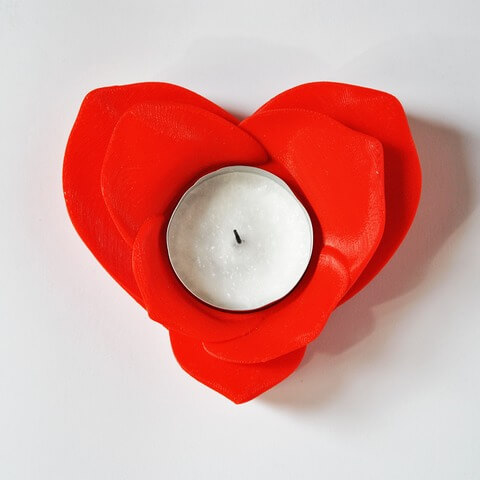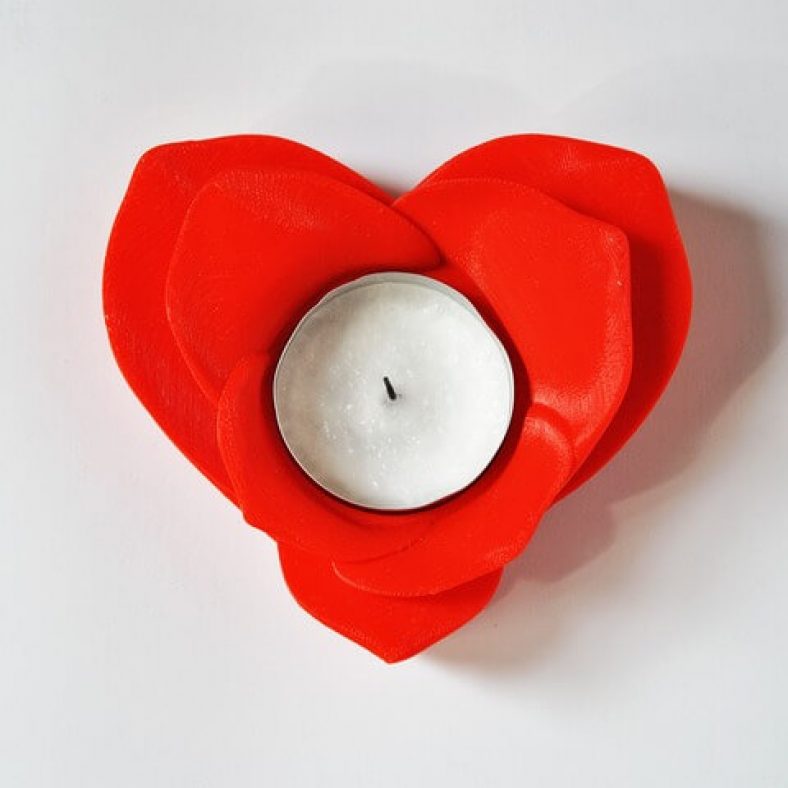 This 3D printed Valentines Gift has red colored petals shaped to form a heart. In the middle of the heart shape, there is wax and candle.
The maker on his Cult's profile claims that while 3D printing this part, you require no support structure and that the print will be perfect if the material is PLA, at 150 microns Z-Axis resolution.
The recommended infill is 15 percent, whereas the recommended print speed is 75 millimeters per second.
Sweetheart Collection 1 by timcel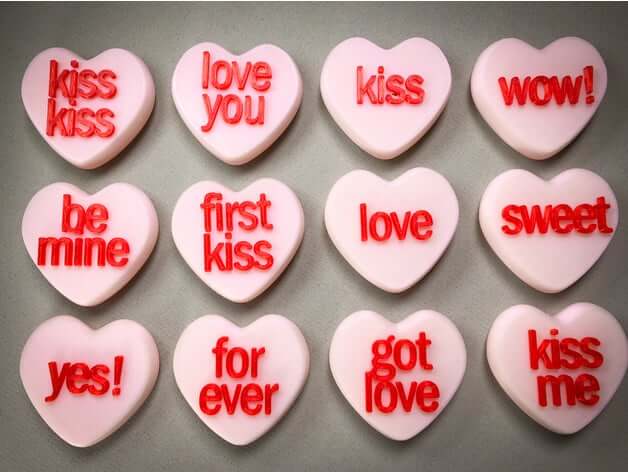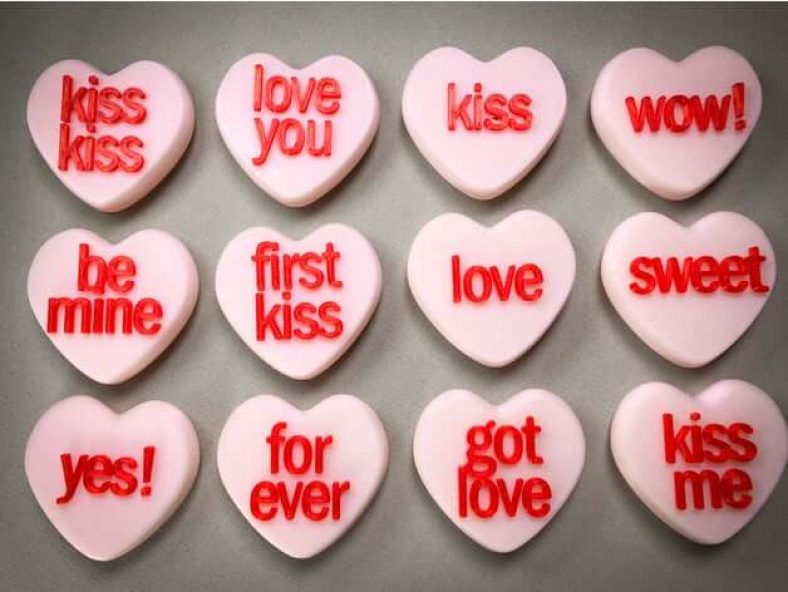 Timcel is short for Tim Celeski. The user claims on the Thingiverse website that he or she operates from the Seattle area.
And apart from Sweetheart collection1, he or she has fifty-one designs to his or her name.
This 3D printed part looks like a white-colored store marked with a message for a loved one. There are four collections offered by Timcel on his or her Thingiverse account. 
Remixed SuperRose using M10 Threads by indyToronto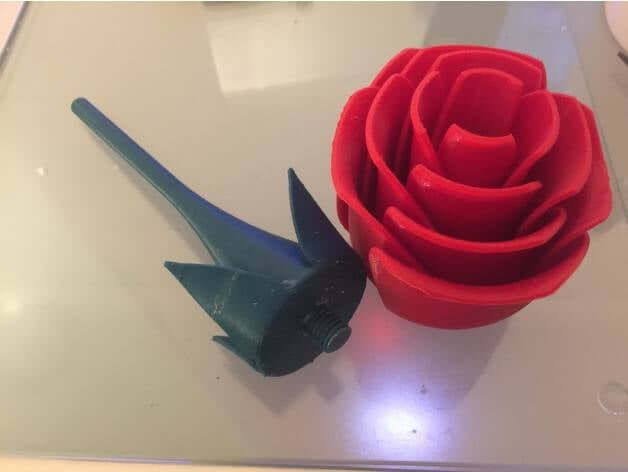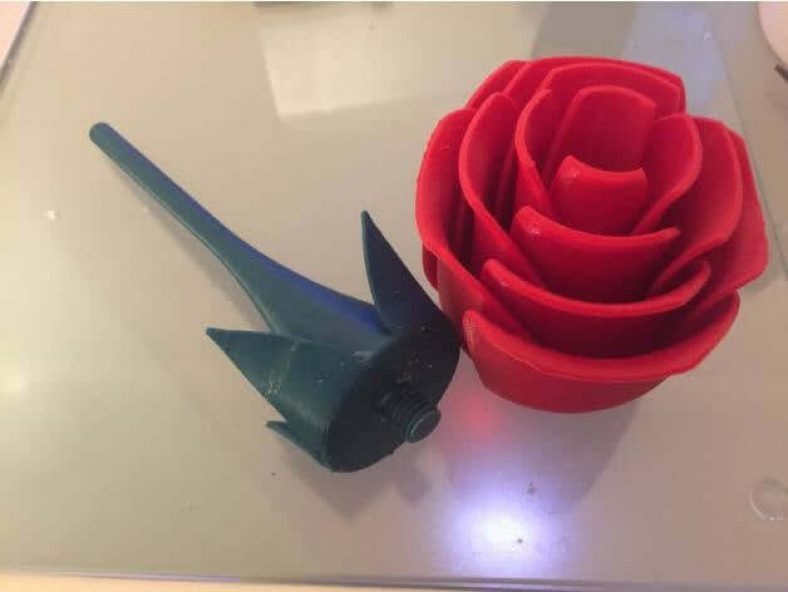 Here is a 3D printed version of rose. For tech lovers, this is a visual delight. CR-10 Mini is the name of the printer used in manufacturing this 3D part.
As recommended by the maker on his or her Thingiverse account, this part requires no rafts, no support structures.
It has an infill of 33 percent and a layer resolution of 0.2mm. Apart from this design, Indy L has 22 other designs on his or her name.
Endless Hearts Valentine Vessels by filypretzel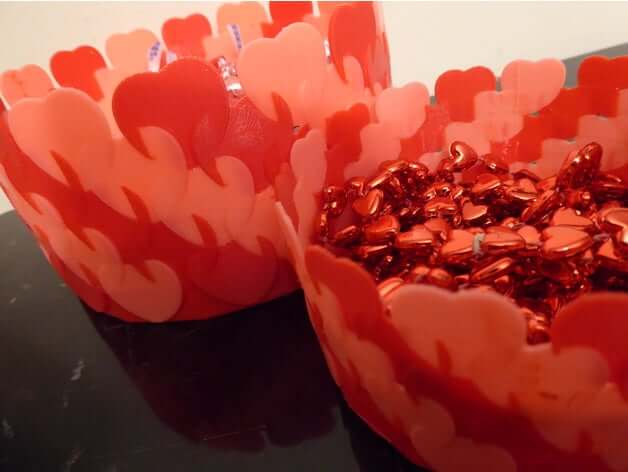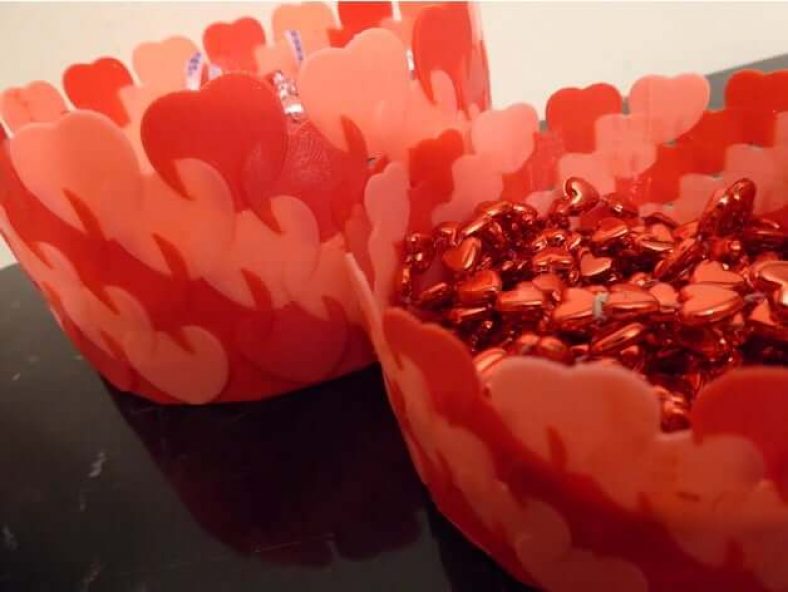 Have you ever heard of a vessel made of a collection of small hearts? A red-colored bowl? A bottle made of many heart pieces?
If not, here is a 3D printed part that will surprise you. There is a sixteen dish bowl three inches in diameter and 1.2 inches tall.
There is a 12 loose bowl 2.5 inches in diameter and 3 inches tall, and 8 heart tall cup 1.75 inch in diameter and 3.2 inches tall, whereas a 6heart vase 1.5-inch dia and 4 inches are tall.
Low Poly Heart Necklace by Vectary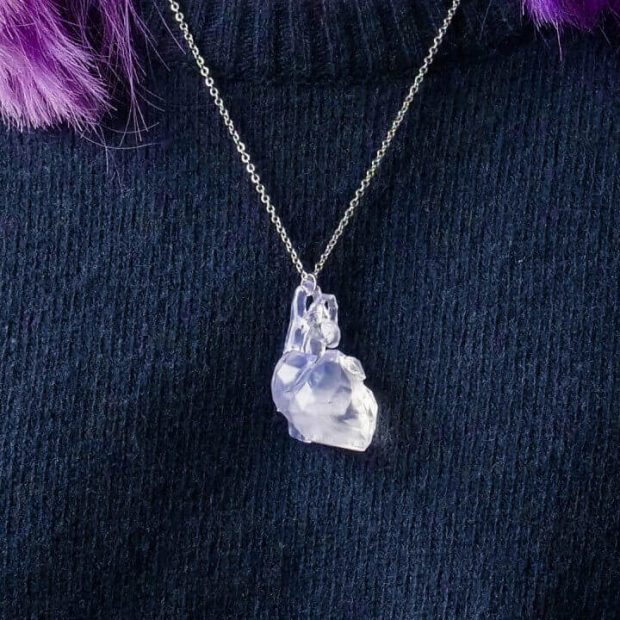 All the twenty-seven designs that Vectary has on his or her name at the Thingiverse account are delightful because of the intricacy involved in small parts.
Primarily a free 3D modeling software service provider, Vectary also showcases the designs it has come through.
What else could be a better gift to your Valentine than a necklace with a poly heart? Made by the Formlabs Form1 3D printer, this necklace is no short of a glass crystal.
Valentine photo stand by bq3D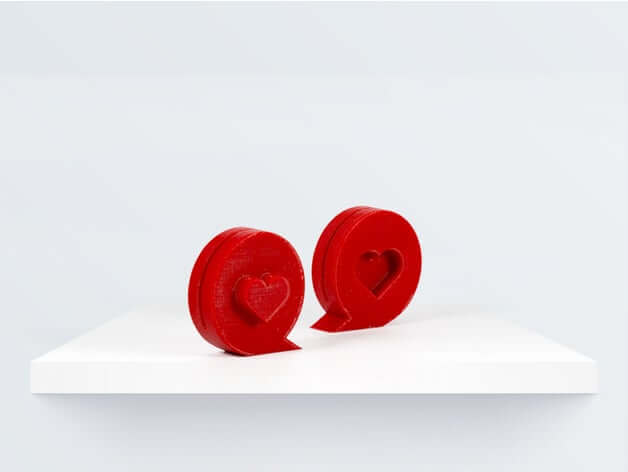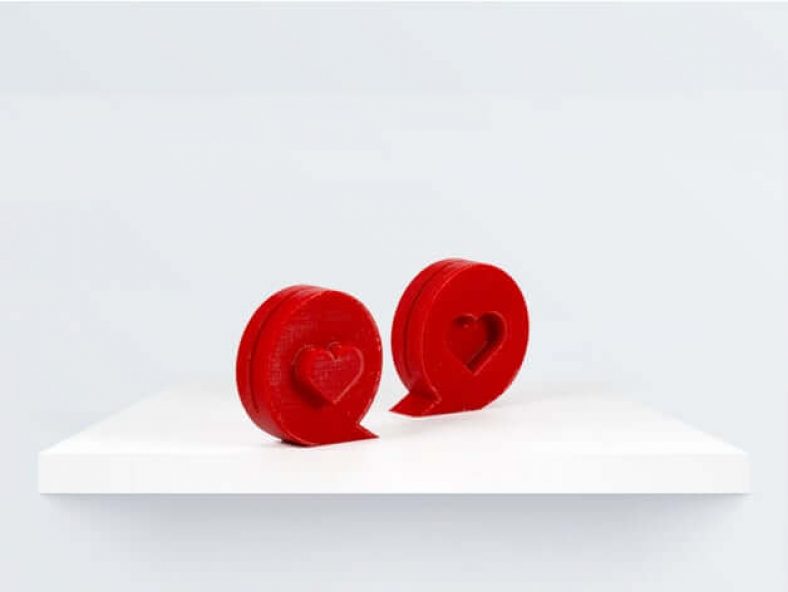 Based in Madrid, Spain, the designer has seventy-eight other designs than this photo stand.
Manufactured by Witbox Go, the photo stand design requires no rafts, no supports, the resolution, and the infill are standard.
The first picture on the link to the Thingiverse website shows a heart embedded inside a circle, but coming out of it.
There is also a picture in which the inside of this circle, cut into a heart shape.
Flippin Love by scooter250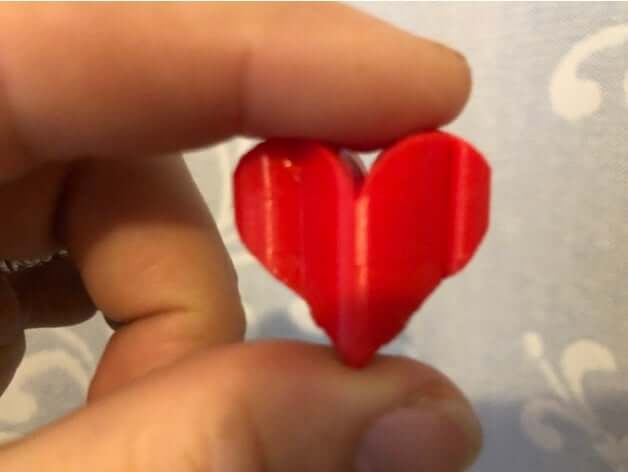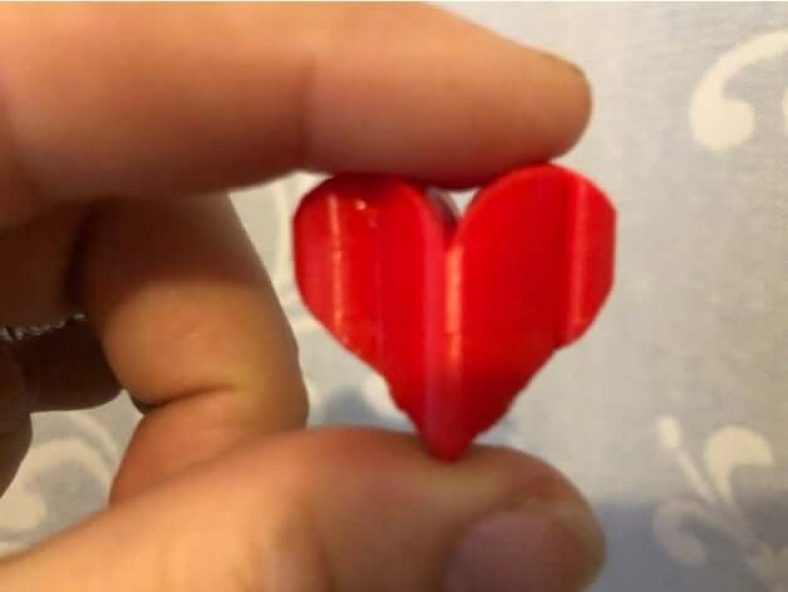 It's interesting how the designer has not put product pictures to describe it; instead, he has put a video.
Flippin Love can serve two purposes. When viewed from one end, the product shows your eye a heart.
But, when viewed from the other end, your eyes are struck with the word," Love." Scooter Sutterer, based in Portland, has twenty-two other eccentricities apart from this one.
Heart Bookmark by 102 Creations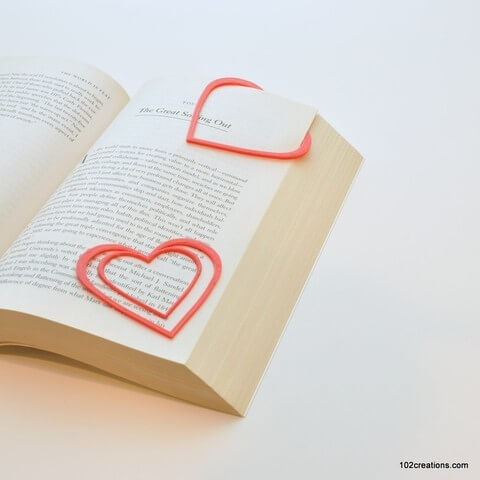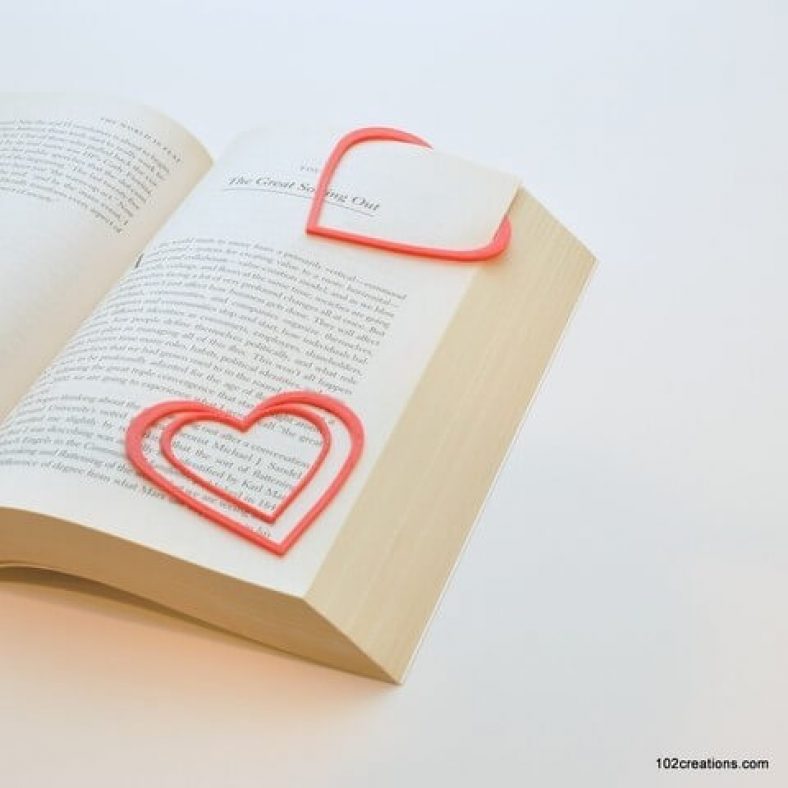 What better 3D printed Valentine's gift for your book reading Valentine than a heart-shaped Bookmark?
2.75 inches long, 3 inches wide, and 0.10 inch high, this heart-shaped bookmark has three thousand eight hundred fifty-eight downloads till now.
Operating from Cults3D, the designer 102 Creations also has his or her website.
Even if you do not have a book reading Valentine, and you consider a book as your Valentine, this heart-shaped bookmark is a good gift for yourself.
Valentines Floating Candle Holder by acwakeford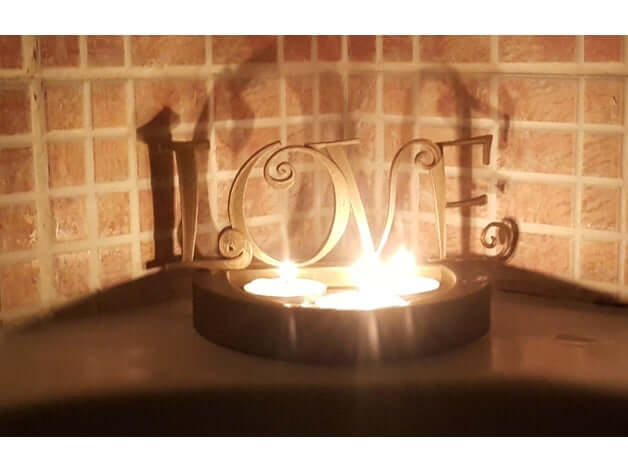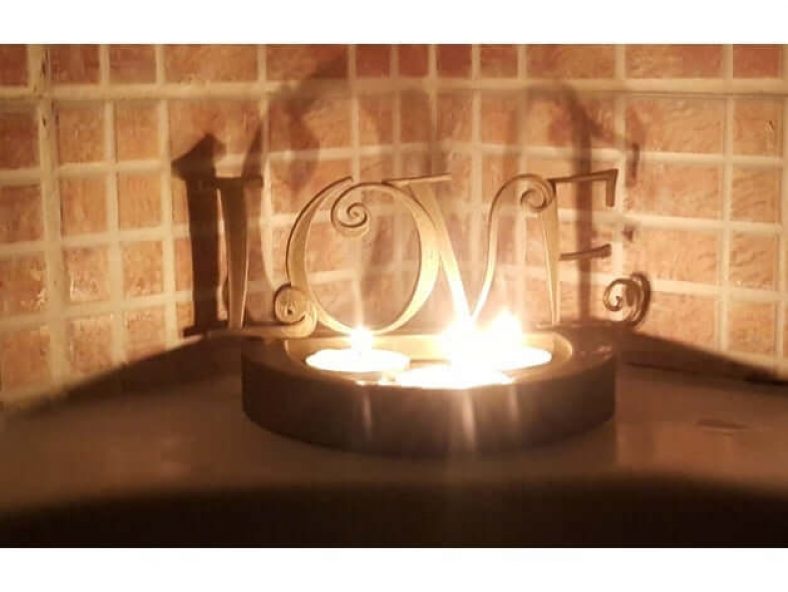 Made in Tevo Tarantula, this Valentine floating candle holder needs no rafts, no support structures for its printing.
It has a layer resolution of 1.5 mm and a 20 percent infill. If you and your partner love making your dinner, candle-lit, this is the gift you should check out.
Apart from this 3D printed Valentine's gift, the designer has a burger time pass and a Galaxy Note 4 Deck to his or her name on Thingiverse.
Tabletop plant: Valentine's Day Plant 2019 by GrimGreeble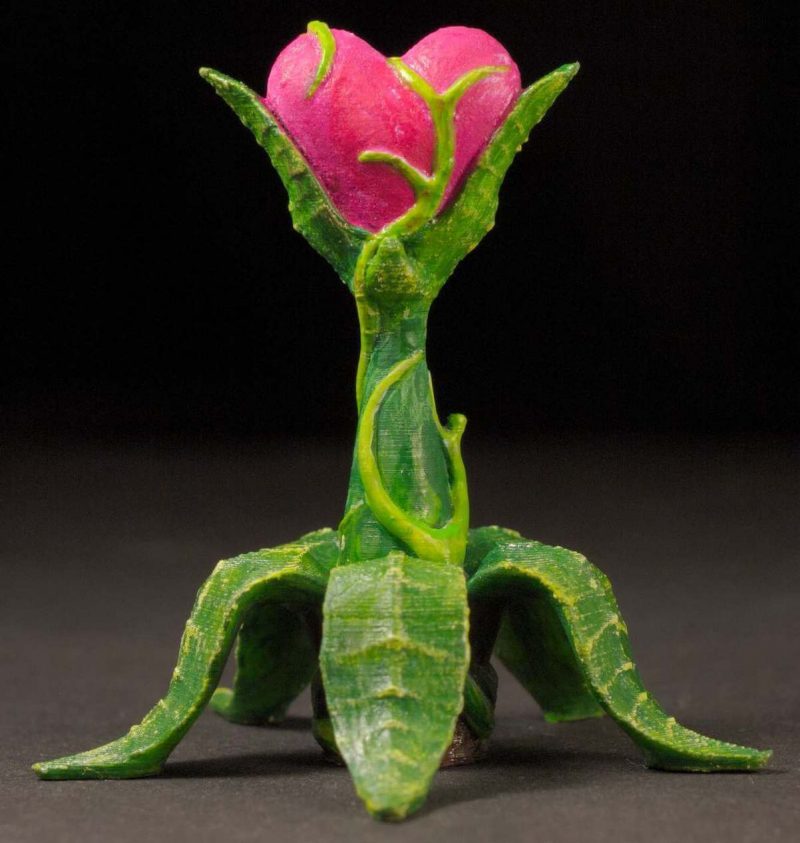 If your or your partner's table is lacking love, this tabletop plant is the perfect seed for growing it.
GreemGreeble is a Thingiverse account that operates from Germany and has thirty-six other designs apart from this tabletop plant.
The account holder prints using a CR-10 3D printer. For software, he or she uses Blender, OpenSCAD, and Inkscape.
The print settings recommended by GrimGreeble states no rafts, no support structures needed to print the part.
Infinity Heart by Buildtower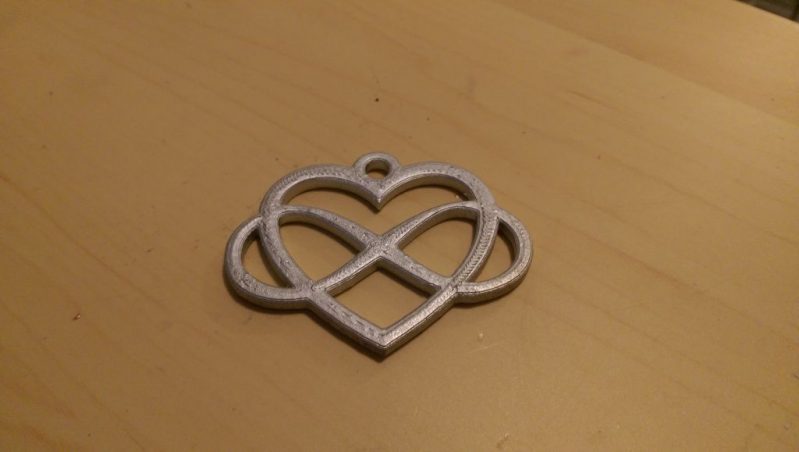 You become a witness to the generosity of the designer of this 3D printed part when you read in the Summary of this part on his Thingiverse account, which states how he is sharing this design, made for his wedding a few years back!
Sam Hightower has a hundred and seventy other 3D models on his Thingiverse's account apart from Infinity heart. He operates from Savage, Minnesota.
heart charms or hearticles by mieke van der poll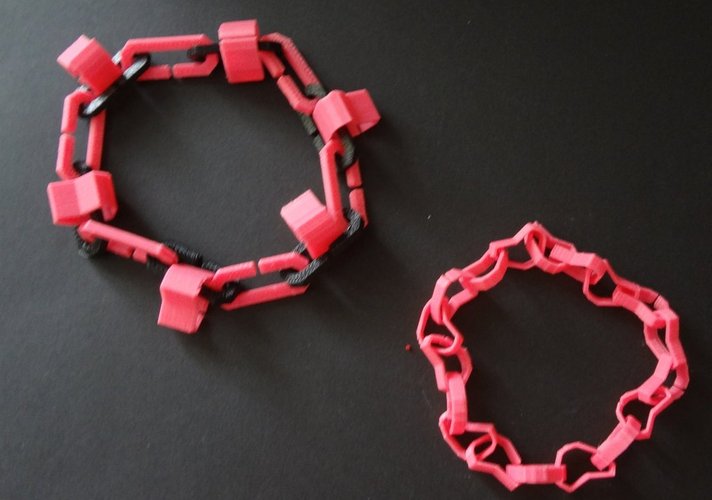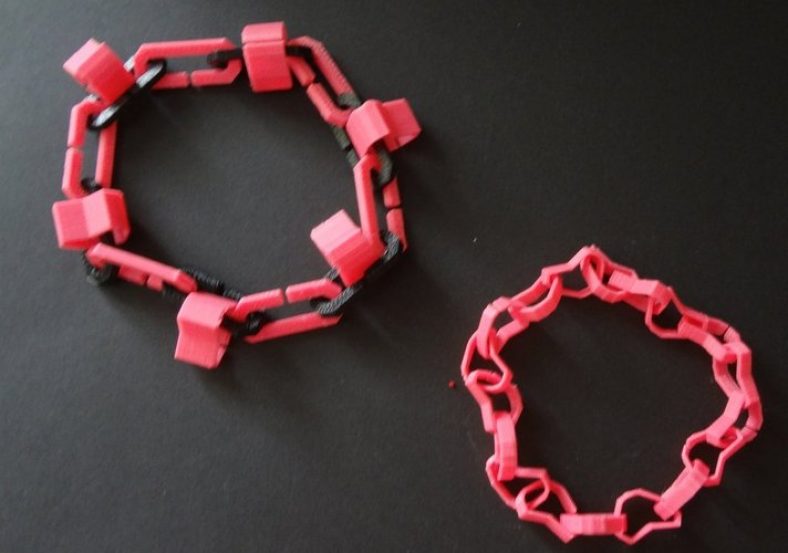 Linking them with each other can form a bracelet. If you wish, you can make yourself or your partner a necklace.
A ring made from the heart charms or hearticles would be considered a gift straight from your heart.
You can download the 3D printing file of this part from Mieke Van Der Poll's Pinshape account. It is available for free.
Heart Wings Cookie Cutter by OogiMe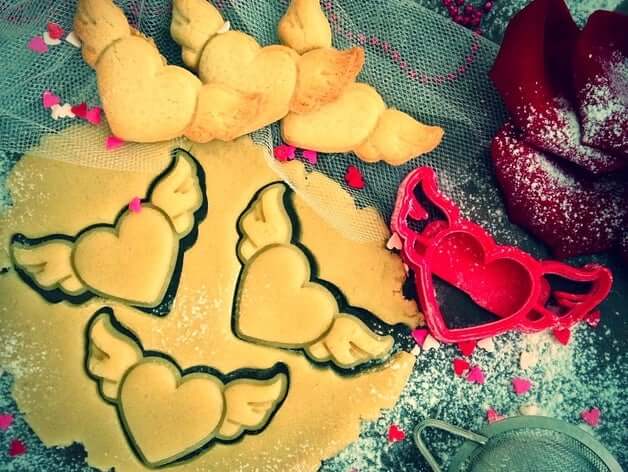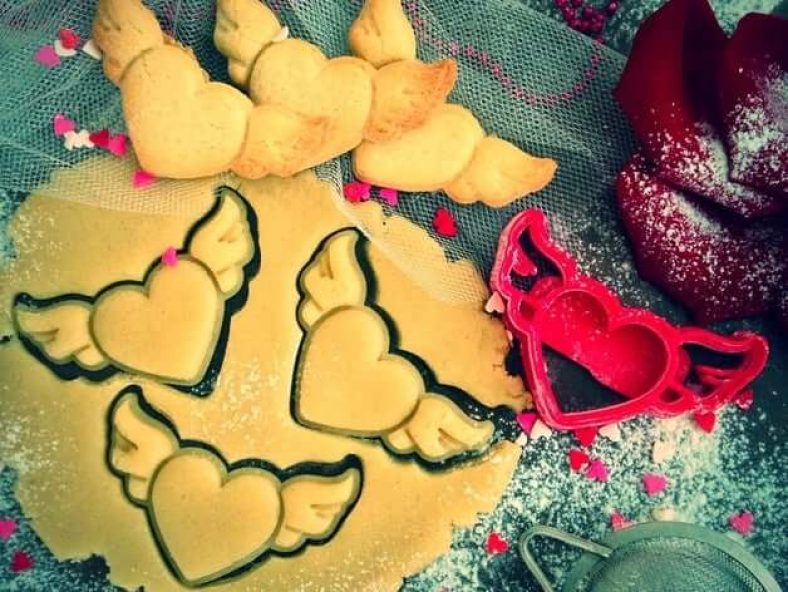 How many of you readers have a partner who likes Baking Cookies? Yours? Yours? Or yours?
In his or her collection of forty-four designs, oogiMe has everything from a Pineapple bowl, to a USA cookie cutter, to an easter cookie cutter, just like he or she has this heart wings cookie cutter on his or her Thingiverse account. The account holder prints using Makerbot Replicator 2.
Valentine Vase & Dish Set by richard_swika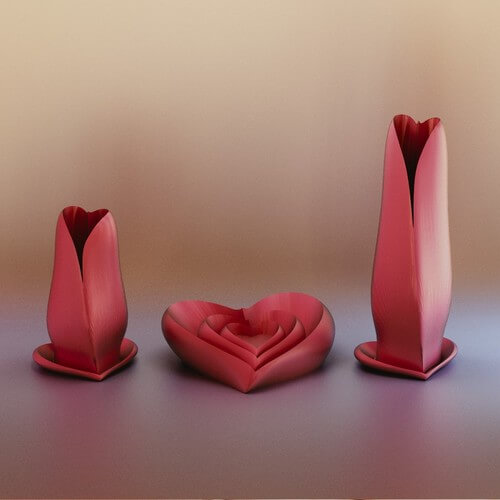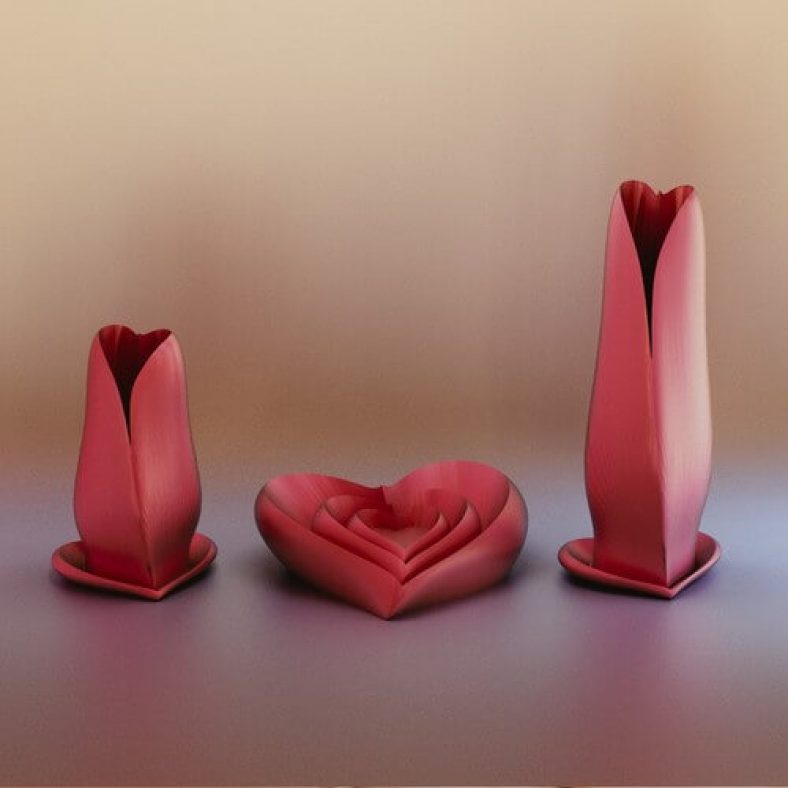 On his pinshape profile, the designer states himself as a technical artist and engineer specializing in product design for 3D printing. Richard's work emphasizes a synergy between art and technology.
Apart from his pinshape account, he also operates from his website. As far as printing is concerned, Richard lists Makerbot Replicator, RepRap Prusa i3, and Wanhao Duplicator 4 3D printers.
"I Love You" box by MakeALot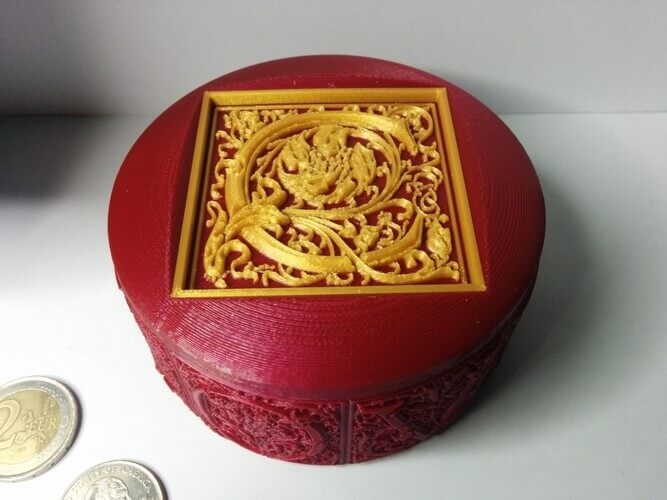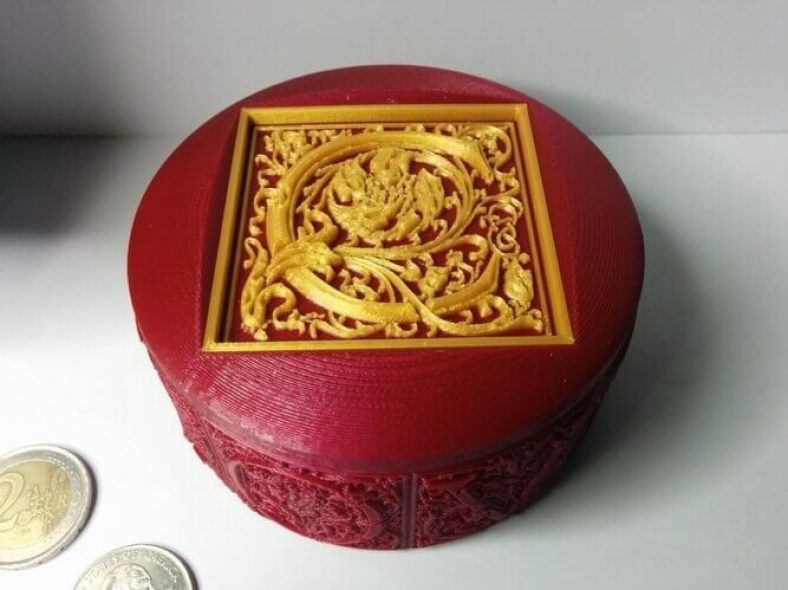 The description of this product on Pinshape reads," I Love You," in Morris/Goudy style around the outside of the box.
So, your partner should have adequacy in reading Morris/Goudy style, in case you are thinking of gifting this box to your partner as a 3D printed Valentine's gift!
Even if he or she does not know how to read that style, you can still buy the box if they are interested in an intricate design.
Two-finger hearts ring by ashepp3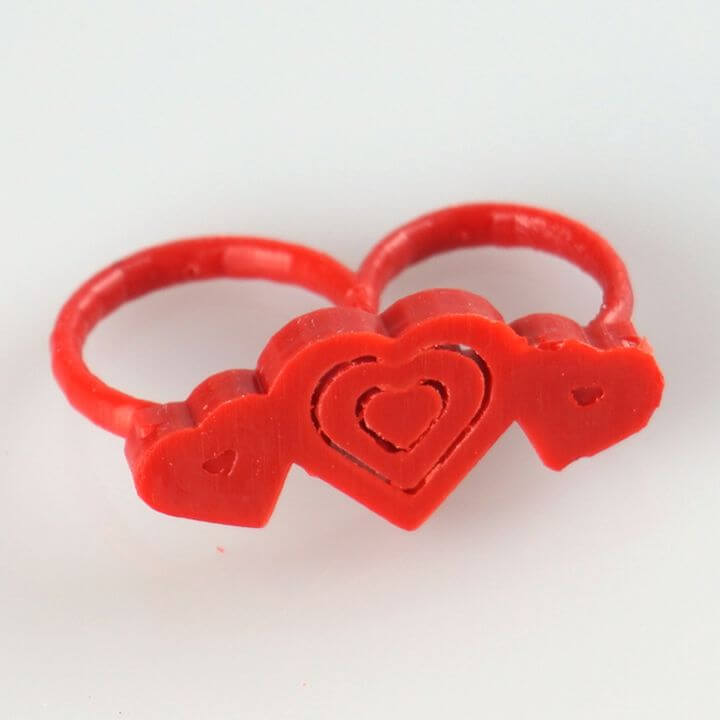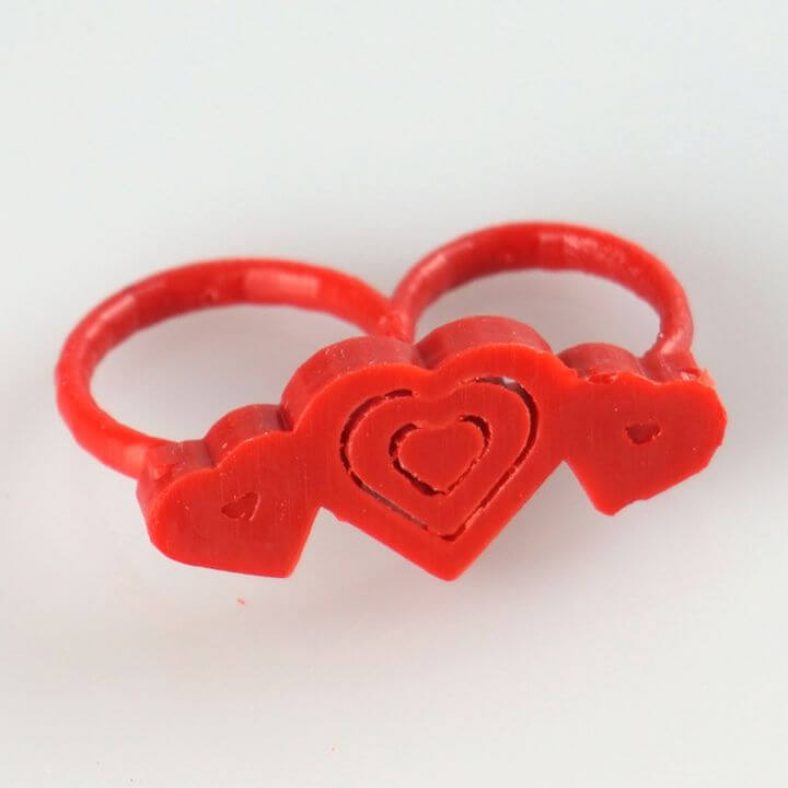 Ashley Sheppard is the name of the designer of this 3D printed part. A ring is a symbol that most lovers wish to gift to their partners while proposing.
Since the significance of Valentine's is widespread throughout the world, what better day can a lover get for confessing to his or her partner than Valentine's Day?
If you also are a believer in this idea, why not check this gift out on Pinshape!
Support Bouche by pydimpression3D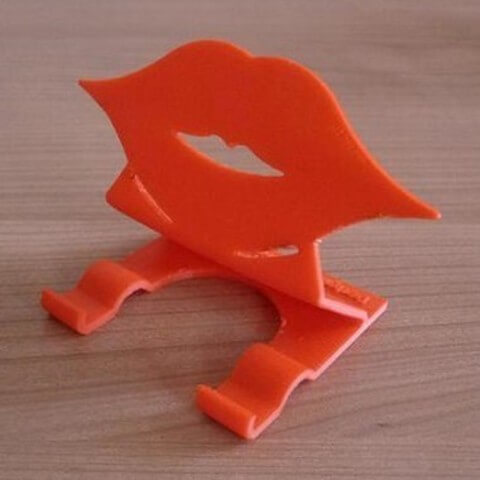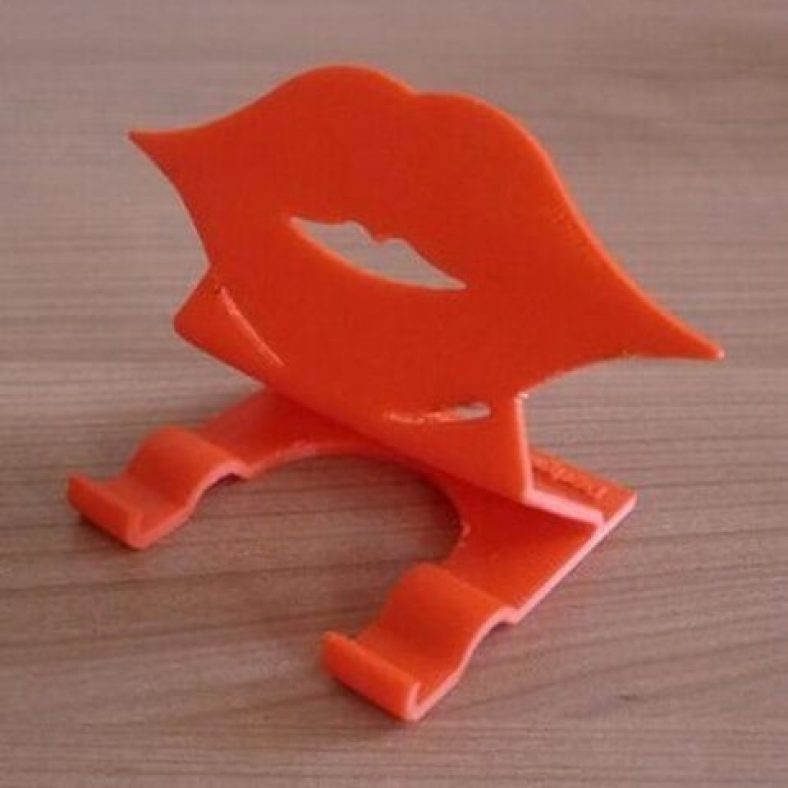 By seeing photographs of other designs apart from Support Bouche, the designer seems to be a support design specialist!
This one is a 3D printed Valentine's gift that has lips; on the designer's Cult profile, you will also get a skull, guitar, middle finger, etc.
The Support Bouche is not a piece of art for art's sake; it's a utilitarian art piece, used for support.
Heart Gear Keychain by urbanatwork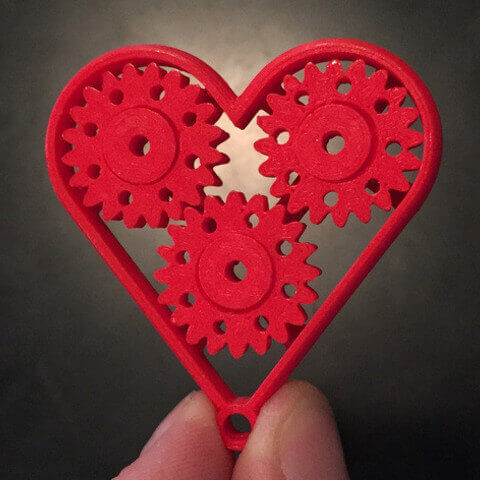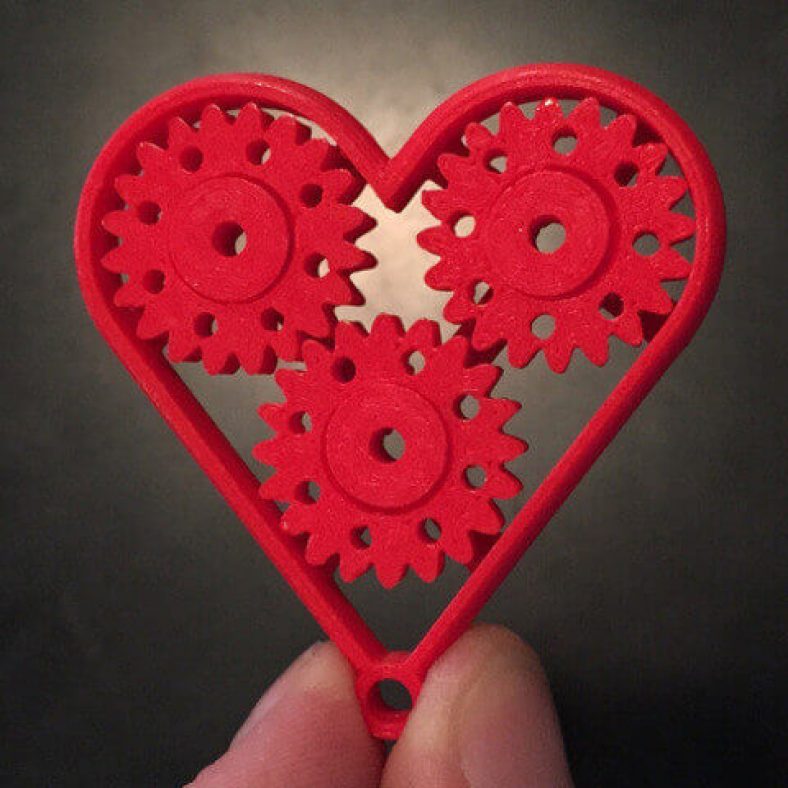 If gears are something, you guess, your lover's heart is full of, but this 3D printed valentines' gift to give him or her a notice of the fact that you require some space too!
The photographs posted on his Cults' profile gives an idea of the colorful keychains making the "dull-keys" smell fresh.
Valentine Heart Love Bowl by keithblack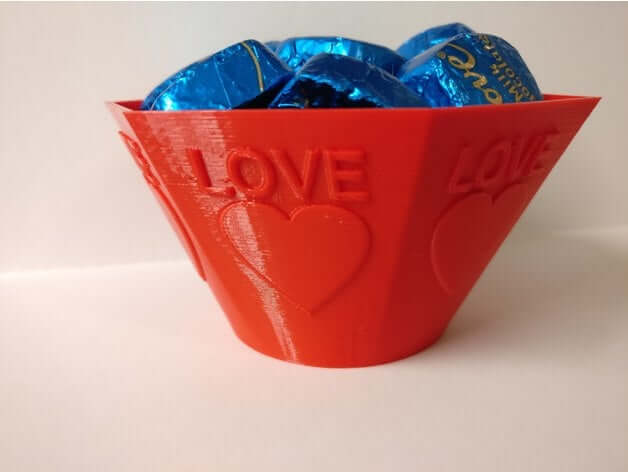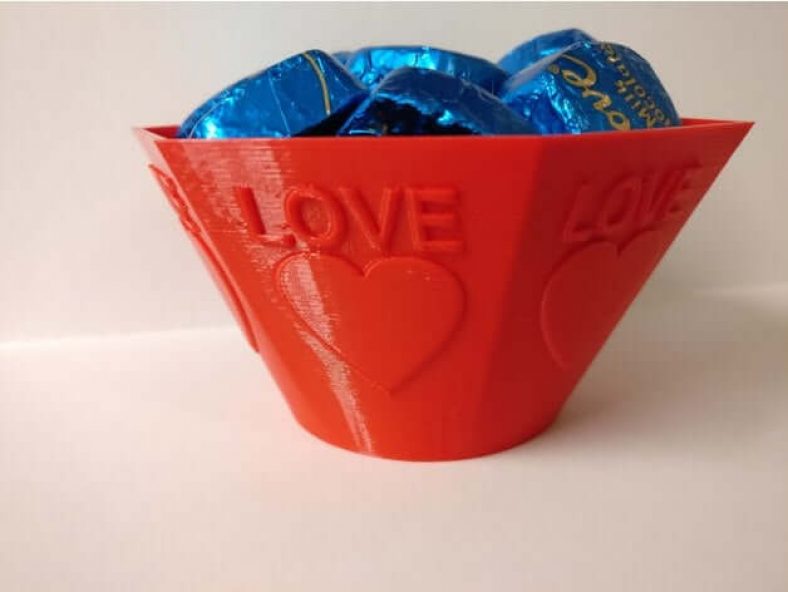 This 3D printed part posted on Thingiverse is different from the previously mentioned bowls made of heart.
It is the color, text, and shape of this valentine's heart love bowl that manifests love rather than hearts; that was the case of the previously mentioned bowl.
The designer has printed this part using Monoprice Select Mini, no rafts, no supports. The layer resolution of this 3D printed Valentine's gift is 0.2187.
Simple Heart Bracelet by CBeddow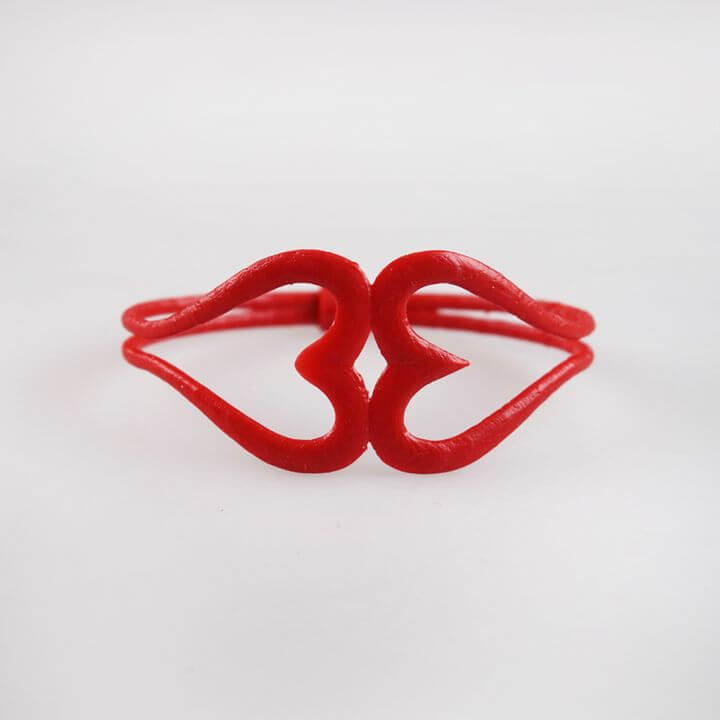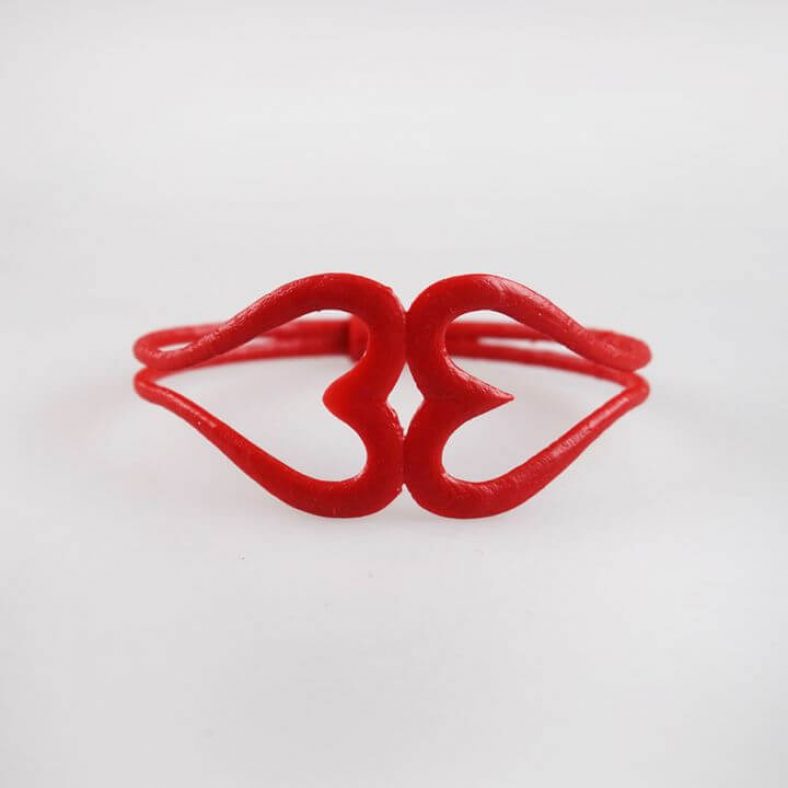 As per the information posted on Craig Beddow's MyMiniFactory account, this part has dimensions 29.01 mm * 29.01 mm * 50.6 mm. You can deploy DLP or SLA 3D printing technology for 3D printing this Simple heart bracelet.
The Z-axis resolution of the part is 25 microns, whereas the X and Y-axis resolution are 50 microns.
Spiral heart pendant by ideamx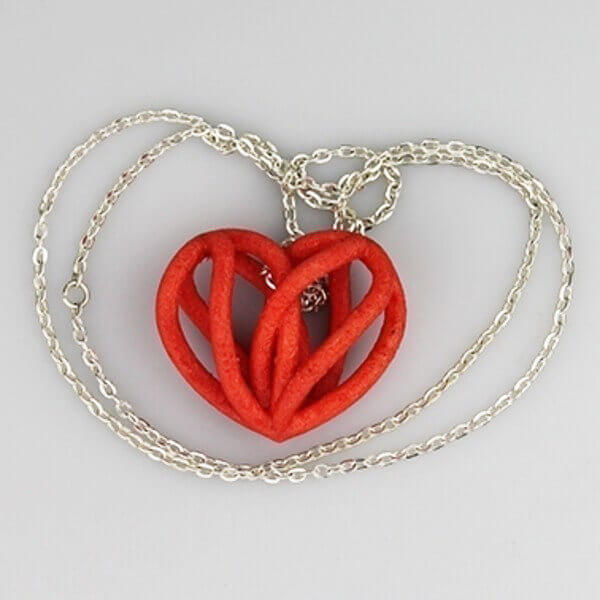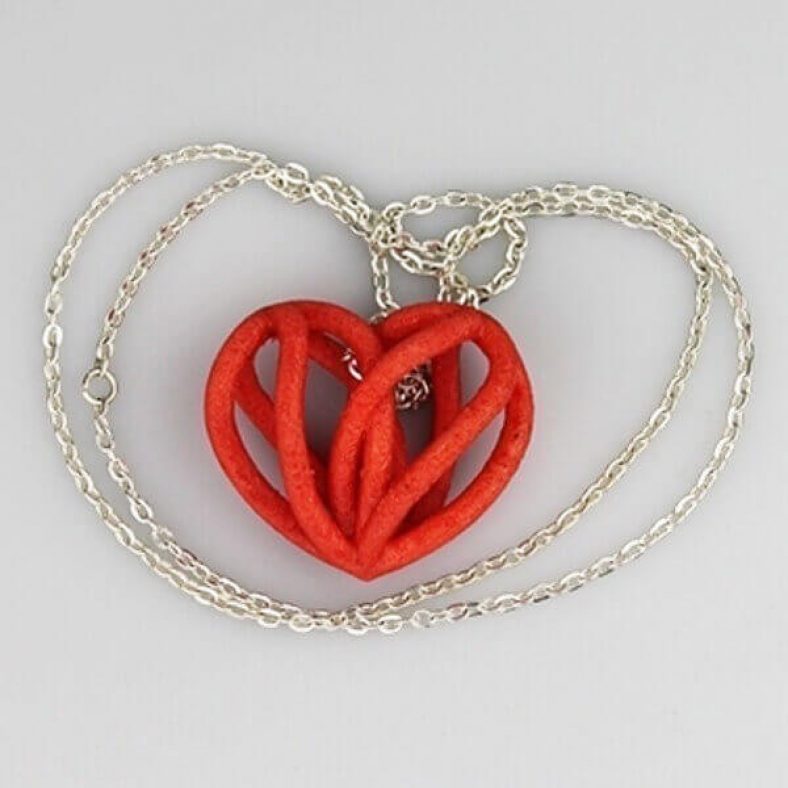 Just like we had a support specialist designer in the earlier part of the article, we have a pendant design specialist.
You will find some of the most intriguing pendant designs on Ideamx's Cults profile.
The designer has, in total, nineteen number of 3D models and is interested in architecture, design, and impression 3D.
Heart light by mingshiuan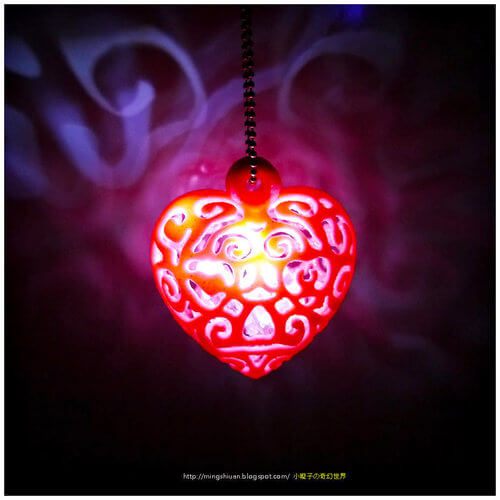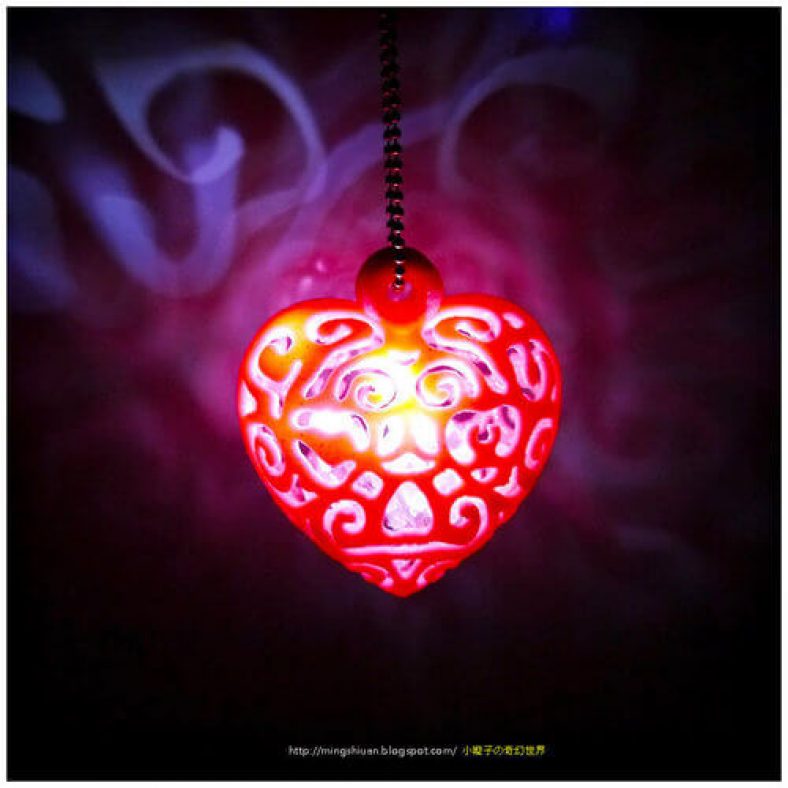 Made using Meshmixer 3D printing software, this 3D printed Valentine's gift can be perfect for lighting up your lover's balcony when he or she wants to be mesmerized by the memories you've shared with each other.
Mingshiuan is a teacher of design and application of 3D printing and a designer-maker.
For her creations, she uses Flashforge Creator, UP Plus 2, and Flashforge Finder 3D printers, as mentioned on her Pinshape profile.
PLP Robot Heart by PLP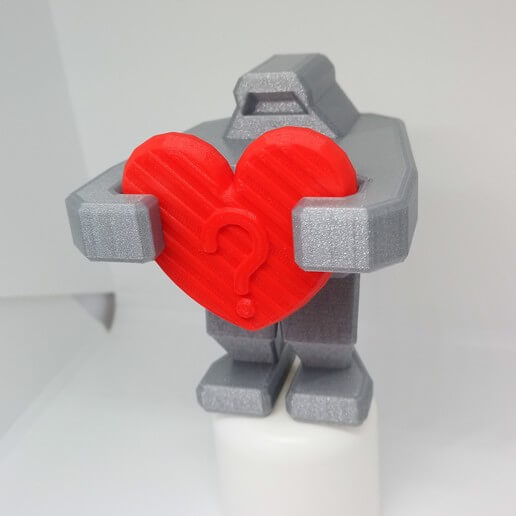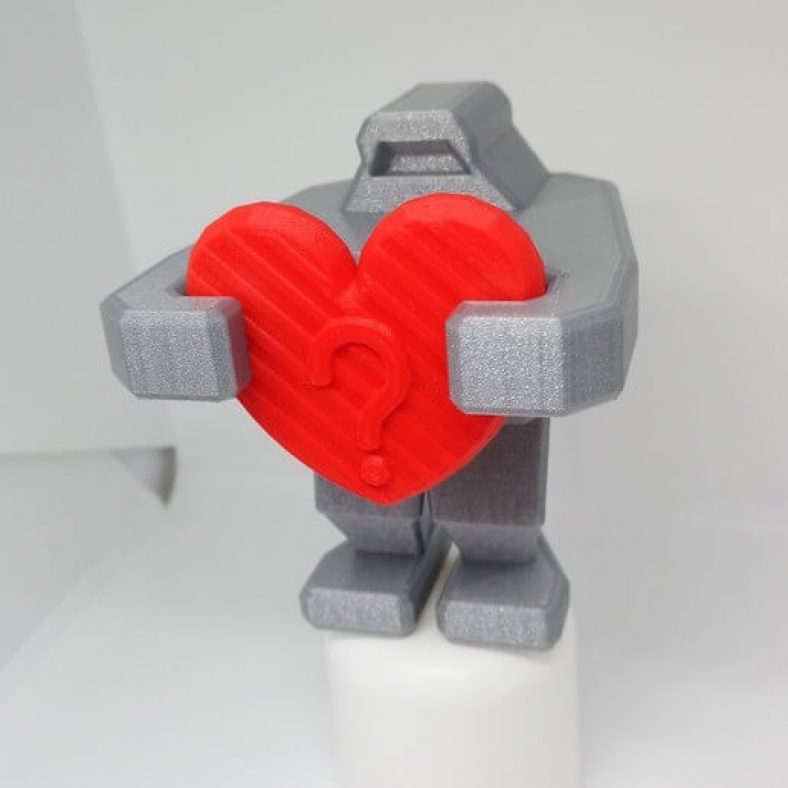 Based on our general knowledge of identifying the written French language and separating it from English, we can say that the designer is based in France.
Keeping in mind the increasing technological scenario, the designer has 3D printed a showpiece that is an irony in itself because the robot carries a heart in it!
Whereas, we all know that for real, robots can have everything except a human heart.
To download the 3D file of this part, you will have to visit the Pinshape account of the designer.
The Conclusion
A 3D printed Valentine's gift can be a very novice idea, keeping in mind the fact that the technology is still developing and yet to get old enough as other manufacturing technologies.
All of the gifts mentioned above are mouse picked on our computer by visiting Cults 3D, Pinshape, MyMiniFactory, and Thingiverse websites, from the available millions.
If you have an idea of your own gift, you can customize that by negotiating with the website hired 3D designers.
The best thing about 3D printing technology is its personalization, because of which it can be used extensively for making gifts!