Tevo Tarantula
Tevo Tarantula is a highly affordable 3D printer that is easy to assemble and does not disappoint while printing with tricky filaments.
PROS
Eccentric aesthetics are not easy to witness in affordable desktop FDM 3D printers.
Extremely affordable.
Has an active user community which makes it quick to find a solution to the problem.
CONS
The frame of the printer is unstable.
It has poor control over quality.
The open frame makes it difficult to get control over temperature.
Table of Contents
Compatible with 3D printing materials such as PLA, ABS, Flexible PLA, HIPS, Wood, PVA, and Nylon, Tevo Tarantula is a desktop 3D printer known for its simplicity and robustness. The machine features an automatic bed leveling system with a big print bed – a square plate of 200 mm on each side made of Aluminum.
It is an easy to assemble 3D printer with a simple and sturdy construction that delivers good performance and high-quality 3D prints. Offering a layer resolution of 50 microns, Tarantula can print objects with a maximum print speed of 150 millimeters per second.
The printer manufacturer allows users to expand the printer's original build volume by applying a bigger 3D print bed. Also, although the standard nozzle diameter with Tarantula is 0.4 mm, the machine is available with 0.3 as well as 0.2 mm nozzles.
As you can see the machine has got a lot of exciting features, but it is a tough competition for the printers available in the same price range? We can only tell after going into details about the printer. So, let's get started.
Features
With a fairly straightforward construction, Tevo Tarantula is easy to assemble. It offers layer integration because of which the parts and functional prototypes produced using the printer possess a layer resolution of 50 microns.
A small screen at the top of the printer lets you control the printer when it is not connected to the PC. Moreover, a heated print bed allows printing with lots of material as well as allows you to reach high temperatures in minimal time.
Overall, Tarantula is packed with such exciting features that outshine other printers in the same price range. Below mentioned and explained are some such features.
Huge Build Volume
Tevo Tarantula boasts a build volume of 200 mm *200 mm * 200 mm, a larger version is also available that allows users to go up to 280 mm on the Z-axis.
The trouble that most users face – of creating an object in parts – isn't the case while using this printer as it allows for printing of larger build volume.
A considerable build volume always gives you more freedom especially while designing a part or functional prototype. So, the pre-printing phase becomes easy while having a greater build area.
Automatic Bed Leveling
Bed leveling refers to the height that lies in between the place where the nozzle is situated and the print bed. This height needs to be adjusted before starting to print. And with the most affordable desktop FDM 3D printer, the adjustment needs to be manual.
Fortunately, the printer manufacturer allows for an automatic bed leveling in Tarantula. Such a feature increases the overall efficiency of the printer by decreasing human intervention. Also, it ensures users of greater precision while printing the first layer of the print which is the rudiment on which the complete part or functional prototype stands.
Heated Print Bed
Tarantula features a heated print bed as opposed to a normal one which allows printing with tricky filaments such as ABS and PETG. The heated bed is made of standard Aluminum material which is capable of withstanding higher temperatures than permit printing with materials that have a higher glass transition.
Moreover, a heated bed expedites the overall print speed by taking less time to reach higher temperatures. Additionally, it ensures uniform heating all across the surface. Another remarkable feature of the print bed is how well it lets the part adheres after getting coated with the Build-Tak-like substance.
Good adhesion is particularly necessary for achieving a good part quality. Such a multi-functional print bed is very difficult to get especially in printers falling in the same price range.
Specifications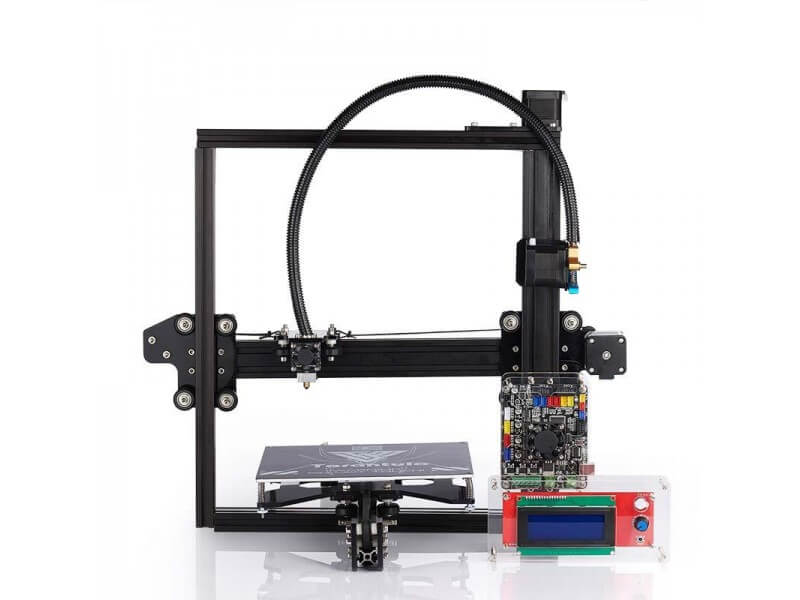 Tevo Tarantula is based on Fused Deposition Modeling 3D printing technology. It has a Cartesian type arrangement that is basically seen in almost all affordable desktop FDM 3D printers. The printer offers a maximum build volume of 200 mm * 200 mm * 200 mm and a layer resolution ranging between 0.1 to 0.35 mm.
The print bed of the machine is DC heated and allows for excellent adhesion of parts and functional prototypes over it. The printer features an MK8 nozzle type of 0.4 mm diameter. A Bowden-type extruder takes care of taking the filament material above its glass transition.
Tarantula is capable of printing with the most common 3D printer filament such as ABS and PLA, as well as rare filaments such as HIPS, PETG, and other flexible filaments of 1.75 mm diameter. It allows users to go up to a maximum printing speed of 100 millimeters per second.
Users have a benefit while doing the pre-printing phase of the printer because of its automatic bed leveling system. The motherboard of the printer is the standard MKS GenL with a Marlin firmware.
Price
Tevo Tarantula is available as a kit for $269. Check here for more 3d printers in the same price range.
First Impression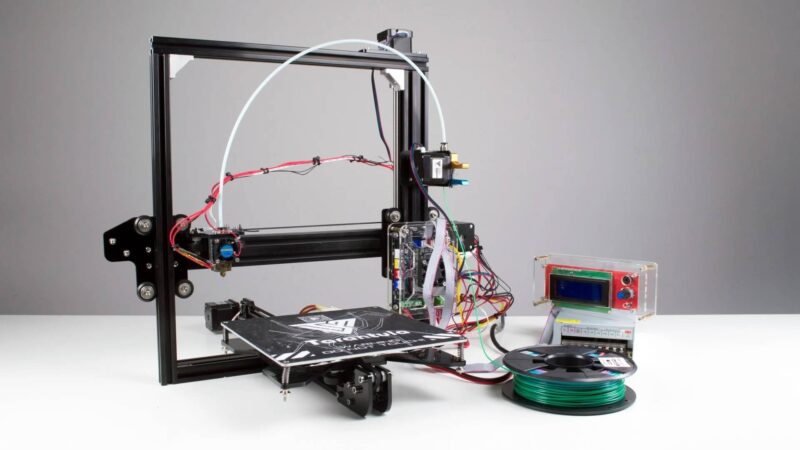 Credit: all3dp.com
A sleek black packaging with aquamarine cyber detailing carries the parts present inside the box which includes the instruction manual as well as the supporting documentation. This contradicts Tarantula's inexpensive branded packaging and clear visual identity.
All the components making the printer lie in three foam trays. The plastic bags are all filled with nuts, bolts, screws, tools, and all the materials are labeled in a systematic pattern that would not take much time for you to grasp. A pictorially-led 15-stage booklet guides you through every minute detail.
So, the first impression of the Tevo Tarantula is pretty impressive as well as detailed compared to what you'd generally have in mind while unboxing a desktop FDM 3D printer.
Setup
Tevo Tarantula isn't a plug-and-play 3D printer so you'd have to start from scratch assembling its components. But don't worry as the printer manufacturer has supplied some diagrams with assembly instructions. So, if you follow them much of the ride wouldn't be worth too much hassle.
Overall, assembling the printer will make sure that user those who do not have an experience of 3D printing understand the complete mechanism as well as components' functionalities.
Print Type/Cost
FDM 3D printing technology is also known as FFF 3D printing technology is widely accepted as the simplest way to do 3D printing. It is also the cheapest and fairly efficient way of creating parts and functional prototypes.
The process starts by fixing a solid filament spool over the spool holder. The material with which you decide to print is taken past its glass transition in the extruder.
Till then, the print head reaches exactly to the point where it needs to deposit the melted filament over the print bed, according to the part geometry that's fed into the printer. After this, the nozzle system allows the filament to flow through it by laying down layers of part one after the other until the complete geometry is created.
Normally, the cost of 3D printing a part with FDM 3D printing technology is lower compared to creating it with other 3D printing technologies. However, judgment about its comparison can only be passed after knowing the part's geometry, the material utilized for its creation, the amount of infill need for the creation of the part, support structures, etc.
Print Quality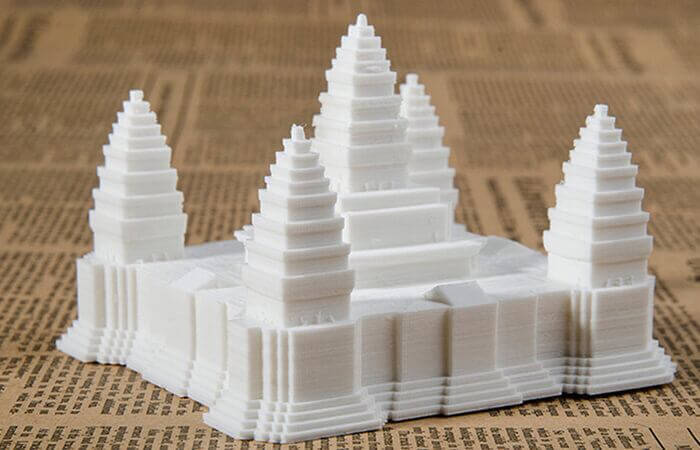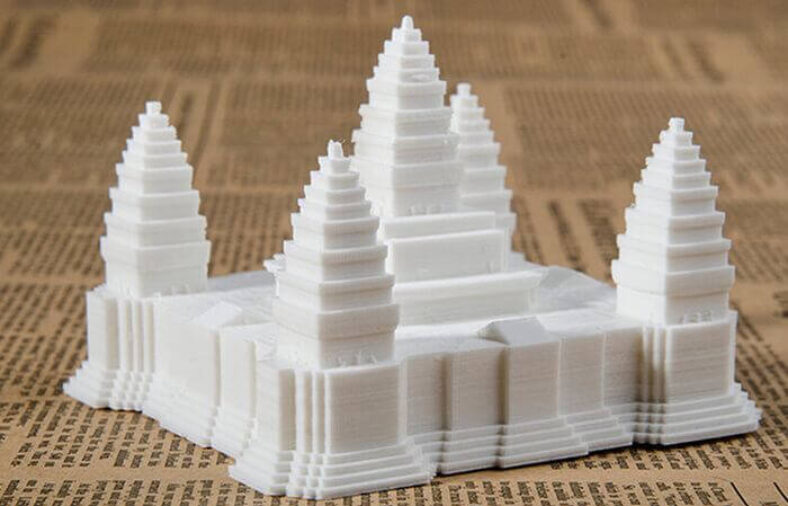 Credit: gbtcdn.com
The overall print quality of Tevo Tarantula is like any other standard inexpensive desktop FDM 3D printer. Allowing for a 50-micron layer height on parts and functional prototypes, the printer is pretty difficult to handle at first, but after getting some hand to it, users learn how to make the most out of the parts present on the printer.
With the best possible results, experienced hands can even get the intricate geometries with small parts made from support structures pitch-perfect. But one has to deal with temperature management nicely otherwise it's very easy to ruin the part quality because of its open-frame nature.
Also, it's advisable to print with a cooling fan because reviews suggest that doing so increases the quality as well as the consistency. Although it is a wide accepted note that cooling makes things worse especially for the first layer 3D printing, it is not much of a hindrance after some experience with the printer.
Software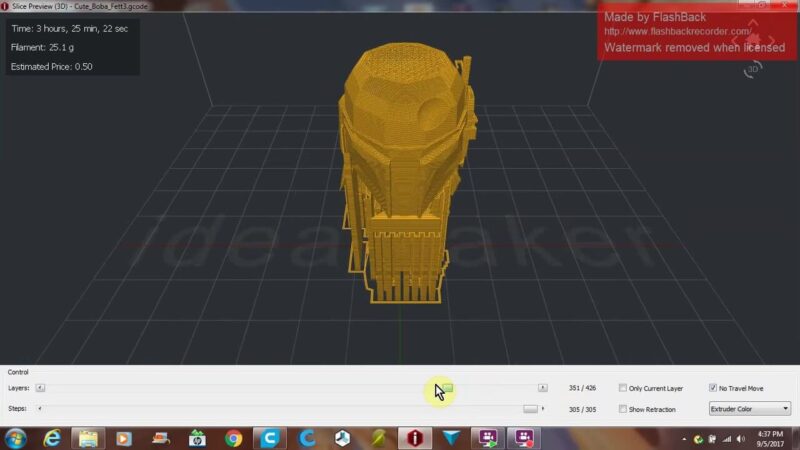 Credit: Youtube/ David Boss
The printer manufacturer suggests Cura, Slic3r, Simplify3D, Prusa-slicer, KiSSlicer, and more to be used with Tarantula.
All of these are open-source software that is already known for offering the best user-friendly tools for design and minute print settings such as retraction as well as the infill. Moreover, they provide operators with good navigation which is one of the most important aspects for getting any beginner in tune with the interface.
Having stated so, the applications also permit minute control as well as settings related to the part geometry. So, the software list does not disappoint even the professionals in the field of designing by allowing them to create intricate models.
Customer Support
There are five support methods provided by Tevo to its customers. They are:
Knowledge base: Allows free access to the FAQs as well as documentation related to different 3D printers.
Chat support: Sanctions information exchange in the form of messages.
Contact Form: Wherein you enter your details and wait for the company to get back to you.
Ticket support: Allocating different tickets for various kinds of specialized troubleshooting.
Forum: Answering questions regarding 3D printing, software, designing, as well as education in general.
Apart from this, the users can also contact the technical team of the printer manufacturer via phone or email.
Parameters Influencing Buyin Decision
The key factors that are essential to keep in mind while making the purchase decision are mentioned below.
3D Printer Cost: Tevo Tarantula is a very cost-effective desktop FDM 3D printer as it offers considerable build volume and decent print quality at under $300.
3D Print Speed: The highest that you can go with the printer is 100 millimeters per second. But even the average i.e. 50 millimeters per second is higher than other 3D printers in the same price range.
3D Print Quality: Once mastered, the printer is able to provide good quality surface finished parts and functional prototypes. Even intricate designs on small parts can be done with a fair amount of accuracy.
3D Printer Capability: In terms of materials, the printer manufacturer ensures you have more than most of the 3D printers in the same price range. From the very popular ABS, PLA, to the very rare HIPS, Wood, as well as Flexible filaments, the printer is capable of printing with them all.
3D Printer Practicality: When in operation, the printer does not wobble over a specific axis or gets a clogged nozzle while laying a specific material. The machine delivers above par in terms of quantity, quality as well as speed, considering the price at which it is offered.
3D Printer User Expectations: Primarily, the printer is meant for beginners in the field who are not looking to invest much and are willing to learn the basics of 3D printing.
The Verdict
Overall, Tevo Tarantula is a highly affordable 3D printer that is easy to assemble and does not disappoint while printing with tricky filaments.
Equipped with a heated build plate and an automatic bed leveling system, the machine delivers an output of an average intermediate FDM 3D printer or above. Even in terms of 3D printing quality, it does not disappoint.
Although, there are some downsides relating to its frame and temperature control, the issues are not typically like any other that is beyond managerial! Once you get a hand over the printer, it's very easy to master the prints.