Concept Laser XLine 1000R
The print quality provided by Concept Laser XLine 1000R is remarkable. The 3D printer is very impressive for sure. It can help create amazing models with high complexity without any hassle.
PROS
Concept Laser XLine 1000R is a very precise SLM 3D printer
It is reliable
One can create multiple metal parts in a matter of hours.
It offers the user a smoother finish and can create complex geometries without any restrictions
One of the best Metal 3D printers for industrial use
The speed is also faster than most of the SLM 3D printers out there
CONS
The 3D printer is very huge, hence its not easy to move from one place to another weighing around 8000 kgs. Hence, not suitable for personal use at home. Dedicated to industrial applications only.
Moreover, the price is way too high for an individual to afford
Product
Specification
Videos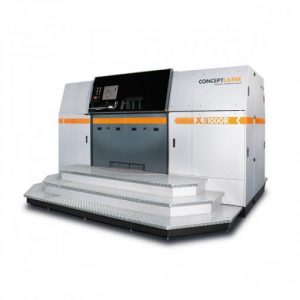 Capable of replacing the costly sand casting and die casting applications, Concept Laser X1000 is the biggest 3D printer of its kind. It has a ...
| | |
| --- | --- |
| Model | X line 1000R |
| Manufacturer | Concept Laser |
| Price Range | > $ 250000 |
| Availability | Available |
| Classification | Industrial |
| Technology | Powder (SLS- SLM…) |
| Max. build size | 630 x 400 x 500 mm 24.8 x 15.74 x 19.7 in |
| Max. build volume | 125.00 L |
| Heated print bed | No |
| Heated build chamber | No |
| Automatic calibration | No |
| Closed frame | No |
| Dual extruder | No |
| Independent Dual Extruder | No |
| Full color | No |
| LCD screen | No |
| Touchscreen | No |
| On-board camera | No |
| Mobile app | No |
| 3D scanners | No |
| CNC mill | No |
| Electronics 3D printing | No |
| Laser engraving | No |
| Conveyor belt | No |
| Air filter | No |
| Pellet extruder | No |
| USB | No |
| Wifi | No |
| Bluetooth | No |
| SD card | No |
| Ethernet | No |

Table of Contents
Who says that 3D printer cannot build big parts from metal or are not fast enough to suit large scale industrial application? The XLine 1000R from Concept Laser has changed that mindset for good.
With time, additive manufacturing technology is evolving. Today, we can find 3D printers at homes. These have become smaller and accessible. On the contrary to the commercial needs, the industrial focus, however, is more on the fast speed and large models.
The good news is that the new innovations do have made a huge contribution to catering to those needs too. And, one such 3D printer is the one we are talking about. The Concept Laser XLine 1000R review would illustrate all the ways this revolutionary design is helping industries gain better output.
Back in 2014, Concept Laser, the German company using its patented LaserCUSING® technology came up with the XLine series. And, the first 3D printer in the series was XLine 1000R.
Later, it did come up with better versions, however, it isn't easy to forget about that one 3D printer that led to further discoveries. Hence, this one still remains one of the most popular laser 3D printers out there.
The company did a very great job bringing this 3D Printer for the industries in need of faster production while increasing the precision of their models.
The 3D printer is not only able to produce many accurate parts when compared to die casting or other traditional methods, it is fast enough to be used in the industrial setup.
And, the best part is that parts created inside the 3D printer are lighter in weight when compared to the ones produced with conventional methods. Isn't that something that industries like automobile and aerospace keep looking for?
Features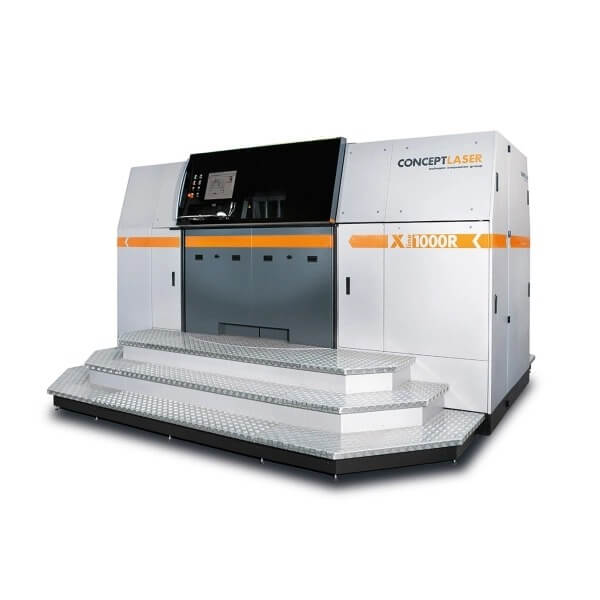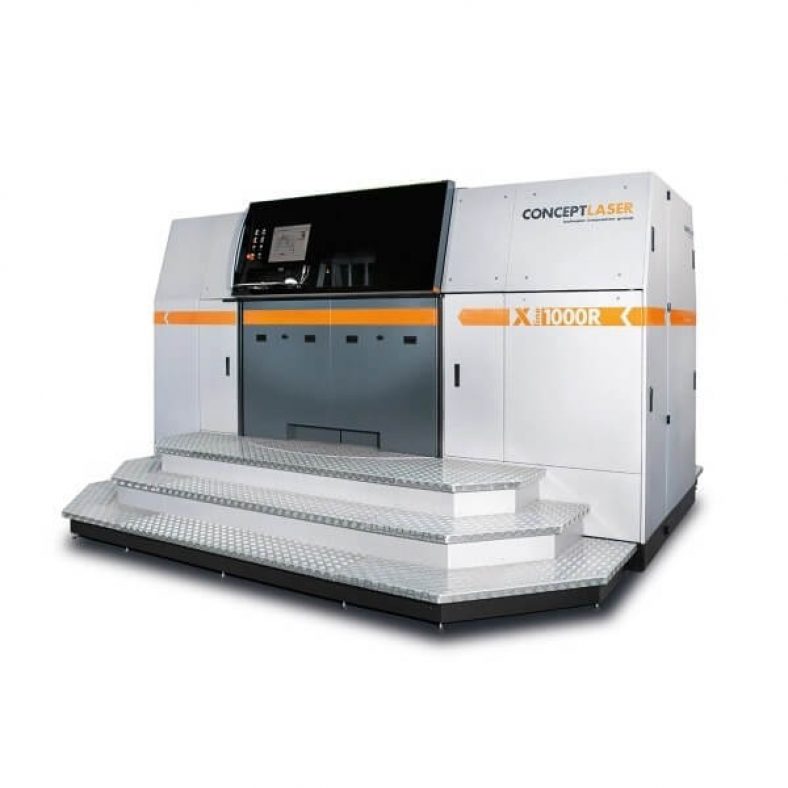 Concept Laser Xline 1000R is rich in advanced features offering users the best printing experience. For instance, you can use the powder left after printing the models.
Hence, helping is reducing the waste produced by many SLM machines. The high power laser makes it easier to contribute to the precise design. Moreover, the touch screen interface offers users easy access to the settings of the 3D printer.
Not just that, you can work with multiple metal powders including various metal alloys. The huge space and metal frame provide users to print large size models without any hassle.
You can depend on its speed as well as size to create large objects of metals. And, you do not have to worry about the removal of support too. Isn't that fascinating?
Specifications


Credit: bolee.com
A 3D printer capable of creating models weighing up to 1000 kg isn't something that we always hear. Isn't it? And, a few years back when it was released, it was considered the largest 3D printers for metal. This machine can develop models with part dimensions ranging up to 740 mm.
With all that said, you must understand how the machine would look in person. It is large enough to occupy more than just a corner of your room. It has a footprint of 4415 x 3070 x 3900-4500 mm, hence weighing around 8000 kgs. Plus, XLine 1000R has a building envelope of 630 x 400 x 500 mm3.
Hence, offering a build volume of 125 liters, which is pretty fascinating.
Using this giant 3D printer, companies can achieve a layer thickness between 30 – 200µm. The production speed is even more attractive.
One can print between a range of 10 cubic centimeters per hour to 100 cubic centimeters per hour, depending on a lot of factors such as design, layer height, etc.
When talking about laser power, this 3D printer seems to be the superhero of all, flaunting 1000 watt laser strength.
Overall, this is a very powerful and efficient machine fitting most of the industrial needs that work with metals including medical, jewelry, and whatnot.
Price
Let's be clear about one thing here. XLine 1000R is not a commercial model. On the contrary, it is an industrial-grade machine. Hence, it does not come cheap.
The price of this super amazing 3D printer is around 250,000 dollars. However, it may differ depending on the distributors' rate. You can even contact the sales department of the company to find out the current value of the machine. But there won't be much difference.
First Impressions
If you are planning for getting this 3D Printer for your manufacturing load, you must make enough room for this giant 3D Printer. As mentioned before, it would require a permanent space of its own. Won't be easy to move once set at one end of the room.
Talking about the looks of it, it's pretty impressive. The grey and black shade with a touch of some orange and green patches look attractive. It looks like a complete chamber and is huge.
In short, you get what you pay for. XLine 1000R does offer great results and you can gaze that by the looks of it.
The company takes extra care of shipping the machine to your warehouse. So, you can stay assured that you will get the machine safely at your preferred location.
Setup
Not to mention, the industrial 3D printers, which such huge stature, remain difficult to set up on your own. Hence, you get all the guidance from the manufacturer, as expected.
The installation and training are carried by the company itself. You get the complete instruction of handling this giant 3D printer. Thus, you do not have to worry about the installation process at all.
Printing Type/Cost
XLine 1000R is an SLM 3D printer. This 3D printing technology works on powdered metal. Yes, unlike the FDM 3D printer that uses filaments or the SLA 3D printer that works with liquid resin, this one takes into account the powdered metal.
The process starts with distributing a single layer of powdered material on the build plate. The laser helps in the sintering of the powdered particle and melting them to combine those particles together.
After this is done, the bed moves to make room for the next layer. Once again, the same process continues until the competing model is prepared. The best part is that the remaining powder can be used again for building the next model.
When talking about the cost of printing using an SLM machine, you must understand that it is not going to be anywhere near the cheap FDM 3D printer models. Yes, you would be working with metals. Hence, a lot of things would come into play.
Starting from the metal of choice to the size of the model and many others. Gold alloys would cost higher than silver alloys and so on.
Print Quality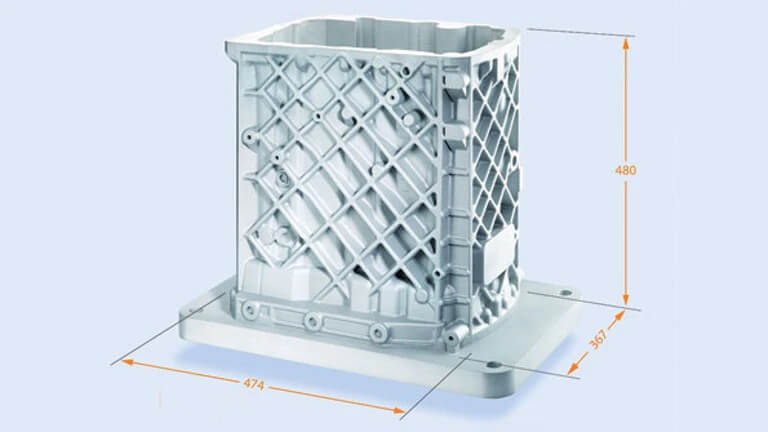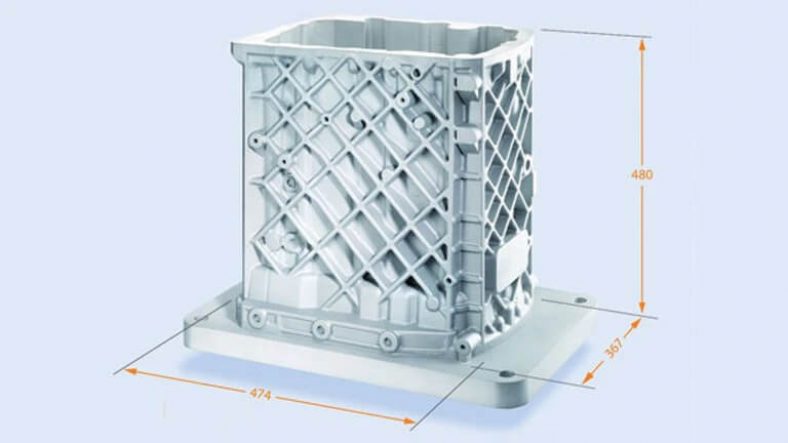 Credit: imgix.net
Without a pinch of doubt, the print quality provided by Concept Laser XLine 1000R is remarkable. The surface is way smoother and the details are highly precise.
You can depend on this machine for complex geometries and better mass to weight ratio. In other words, you can create structures that are huge, yet lightweight, however, rigid and strong. Hence, offering weight enhanced geometries.
Plus, you can print with a variety of metals. And, what could be best when you can plan your production without restricting yourself in terms of the complexity of the design. Yes, you can 3D print almost every design.
Software
When it comes to matching the efficiency of the machine along with its slicing software, not every app can possibly fit. Hence, 3DPrinterOS is the answer to all your questions.
Apart from being one of the most advanced cloud apps for 3D printing, it is easy to operate too. Solely created for the Concept Laser X line series 3D printers, the software does a very intuitive job.
Nothing can match the capabilities of this app while helping XLine 1000R do the best it can. Starting from the slicing, it covers almost every need of the user pertaining to 3D printing.
With this cloud manager, you can manage complete fleets of this 3D printer, that too, remotely.
Among the many benefits of using this software, there are a few you would not like to miss. For instance, the software can help fix as well as orient your STL 3D files.
Moreover, you can easily slice the models in more than 300 slicing parameters, saved on the cloud. The magic does not end here. Using version control, you can go back to your older modifications.
That sounds like fun. However, most importantly, this feature enables a more controlled slicing process of the models.
Slicing software is a very intuitive option and easy to learn. You can do a lot of things from this app. Best for all kinds of users. From industries to individual users, the app can help realize great models.
Customer Service
Most of the manufacturer often miss having dedicated customer service for meeting the after-sale needs of the customers. However, this one is different.
Concept Laser has a dedicated team for helping customers with training for additive manufacturing. And, the customer service prompt reply is plausible. In short, you can trust the team for getting you all you need to get started with the Concept Laser XLine 1000R.
Not just that, the company also focuses on providing timely maintenance to its clients. You can expect prompt replies for training, parts, refunds, and everything else.
Parameters Influencing Buying Decision
It is important to understand every dimension of XLine 1000R before making the purchase. Being an expensive 3D printer, you cannot just pay for it right away.
And, when making such a bigger investment, you must find out how good is the 3D printer for your specific application. Here is the gist from the Concept Laser XLine 1000R review.
3D Printer cost: You can expect this 3D printer to be very expensive costing around $250,000. This is not for commercial use. On the contrary, it is for large industries.
3D Print quality: Well, print quality is exceptional. Almost every complexity seems easy when printing with XLine 1000R. You can create precise models with high accuracy. Plus, the surface finish is also amazing.
3D Print speed: This is also one of the best offerings of this 3D Printer, the fast speed. Unlike other 3D printers that cannot create models at a fast rate, this one amazes with its competitive speed.
3D Printer capability: As it is an industrial-grade 3D Printer, it is very capable of producing complex parts. Plus, you can work with various sorts of metals and metal alloys.
3D Printer Practicality: Best for automotive and aerospace industries where lighter models made of metals are required. However, suits other industries as well such as medicine, dental, jewelry, etc.
3D Printer User expectations: Very well serves the user expectations providing exceptional quality and speed.
The Verdict
What can we say? The 3D printer is very impressive for sure. It can help create amazing models with high complexity without any hassle. Plus, you can depend on it for the fast speed of production.
The machine is very reliable and works along with the most intuitive slicing software, managing all your printing operations remotely.
The Concept XLine 1000R review does outline all the best things this machine is capable of doing. Along with the few limitations that you cannot take away when opting for an industrial 3D printer.