Geeetech Delta Rostock Mini G2s
Among many open-source designs, some are made to impress. And, Rostock Mini G2s very well takes care of its user-base to offer a seamless printing experience. At an affordable rate, individuals can enjoy premium features such as dual extruders and automatic leveling.
PROS
Compact design
Affordable cost
Automated leveling and calibration
Heated build plate
Support for multiple materials
CONS
Takes hours for assembly, especially if you are a beginner
Small build space
Table of Contents
Rostock mini G2s by Geeetech is an upgrade over Rostock mini G2. This new machine supports a dual extruder, enabling printing with two colors at the same time. Alternatively, just use the dual extruder for infill or support. Just remember, the printer has two separate extruder motors along with 2 heads to push different filaments. Therefore, mixing colors isn't possible currently.
In addition, the manufacturer has taken care of many other limitations that existed with its predecessor. When talking about the similarities, Geeetech Rostock mini G2S too comes as a kit and needs assembling.
This delta 3D printer boasts many premium features and is easy to handle. Apart from a few limitations such as longer setup times, the overall performance is exemplary. Available at a very affordable price, the machine produces amazing models with utmost precision.
Popular among hobbyists and home users, Rostock Mini G2s has passed the test of time. So, if you are interested in buying this machine, check our in-depth Geeetech Delta Rostock Mini G2s review. Learn about the various perks and challenges the 3D printer brings with itself and make an informed choice.
Features
Undoubtedly, Rostock Mini G2s is a very impressive machine. With a variety of automated features, it is one of the most popular choices among beginners. Being able to handle finer details, the printer offers reliability as well as affordability for the best user experience.
To sum it up, here is a list of advanced features that make this printer the best among its competition.
Compact Design
If you are looking for a sleek 3D printer that offers great results, do not forget to check out this compact Rostock Mini G2s 3D printer. With a small footprint, it offers individuals great ease of use, when working from home or having limited space. The machine will easily sit comfortably on your work desk, without occupying too much space.
Automatic Calibration
Unlike budget-friendly machines that aren't equipped with automated bed leveling features, this one allows users to sit back and let the printer do the job. Its automatic calibration allows users to print right away, without engaging in machine adjustment every time printing a new model.
Dual extruder
With two extruders, users can print using different colors. In addition, one can also make use of soluble supports when printing with one color. This helps in creating finer details with a smoother surface finish.
Support for Multiple Filament
Although being a budget-friendly 3D printer, the Rostock Mini G2s works with an array of different filaments. You can use PLA, ABS, Nylon, PVA, and more. Hence, making it simpler for individuals to accomplish projects involving different needs.
Heated Print Bed
As you might expect, with support for flexible filament, the printer ensures strong bed adhesion by making use of a heated build plate. Its laser-cut aluminum and acrylic heated print bed helps in improving the overall quality of the 3D models.
The thoughtfully designed build plate creates a smooth surface. Therefore, enhancing accuracy as well as 3D printing speed.
High Extruder Temperature
Rostock Mini G2s is a versatile printer. It easily supports printing with stubborn materials such as Nylon and wood filaments. Thanks to its extruder that can withstand a temperature of about 240 degrees Celsius.
Upgraded Control System
The manufacturer of the machine has done an exemplary job of ensuring high-quality prints. By upgrading over a lot of features, the company has come up with this absolute precise 3D printer. And, one such notable upgrade is its newly designed control system.
With support for two extruders, the design eliminates the problem persisting with complicated wiring, often visible in its predecessors. Hence, saving a lot of space for printing.
Stand-Alone Printing
Using the SD card, users do not need to connect the printer with a desktop throughout the printing process. On the contrary, the Rostock Mini G2S can work as a stand-alone device.
Enhanced Speed along with Positioning Accuracy
The main advantages of delta 3D printers, in general, are high-speed printing coupled with precise positioning. Using the lightweight print head which is driven by three motors, these printers allow for faster extruder movements.
And, Rostock Mini G2S with speedier steppers and controller, has taken the print speed to an altogether new level. Also, you will experience highly accurate positioning at the center of the print bed. All of these perks ensure high-quality 3D printing, and at a much faster rate.
Robust Design
With a sturdy body and robust design, this 3D printer is able to print without vibrations, even at a higher speed. Hence, offering users accurate models.
Specifications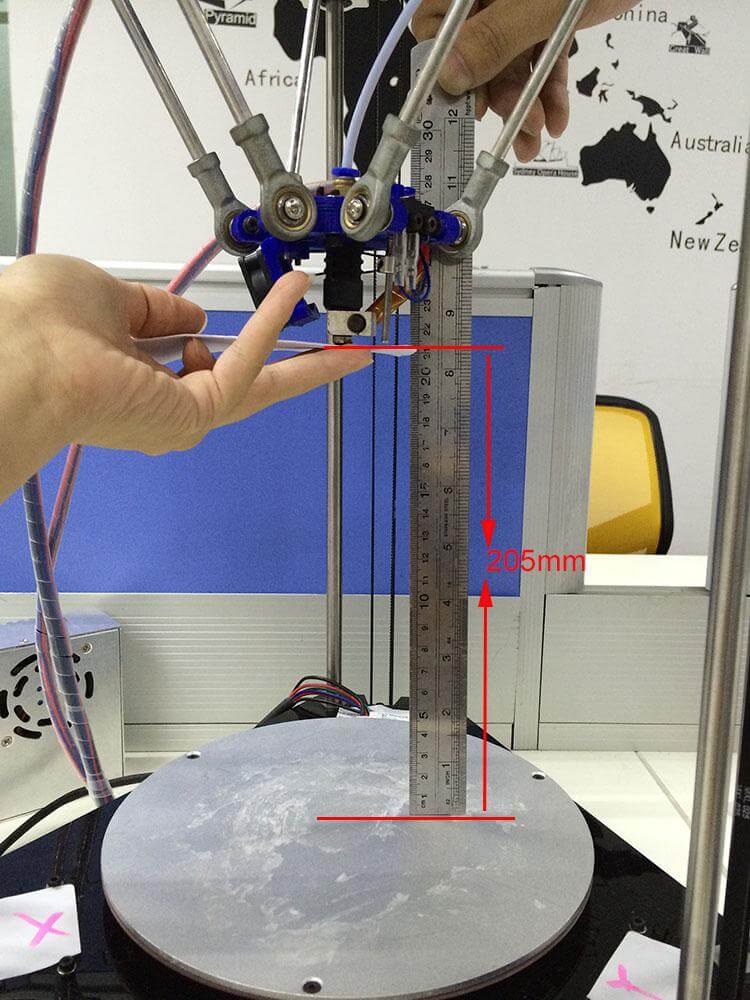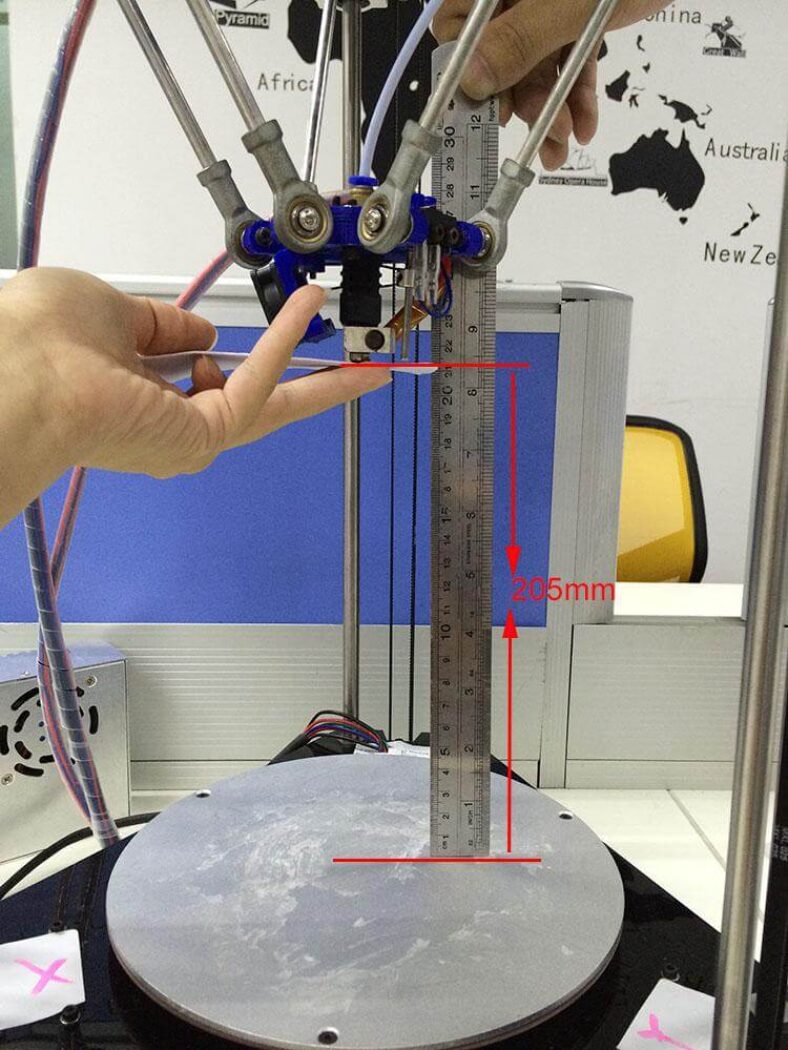 Rostock Mini G2s has a footprint of 320 x 320 x 870 mm. It is a compact 3D printer that can fit easily in your house or work desk. With a build volume of 170 x 170 x 200 mm, the machine offers sufficient space for printing small 3D models.
As with other FDM 3D printers, this one also works with the standard filament diameter of 1.75 mm. However, it does support a 3 mm filament diameter too.
One can switch between different nozzle sizes to create designs with varying results. It supports nozzle diameters of 0.3, 0.35, 0.4, and 0.5 mm. Depending on your design needs, you can easily change the nozzles when needed.
It has an aluminum plate that can withstand a temperature of 110 degrees Celsius. Hence, users can work with different filaments, requiring diverse printing temperatures. Also, the extruder temperature support for 240 degrees Celsius is another major feature in making this printer so versatile and capable.
Rostock Mini G2s offers a minimum layer height of 0.1 mm. This provides users enough room for creating finer details with ease. Not just that, the print speed ranging between 60 mm per second to 120 mm per second enable users to complete designs at the needed pace.
Above all, its compact design, weighing just 9 kgs makes this printer very user-friendly and easy to handle.
Price
Just costing around $375, Rostock Mini G2s is one of the most affordable delta 3D printers. The prices may vary a little among different distributors.
First Impressions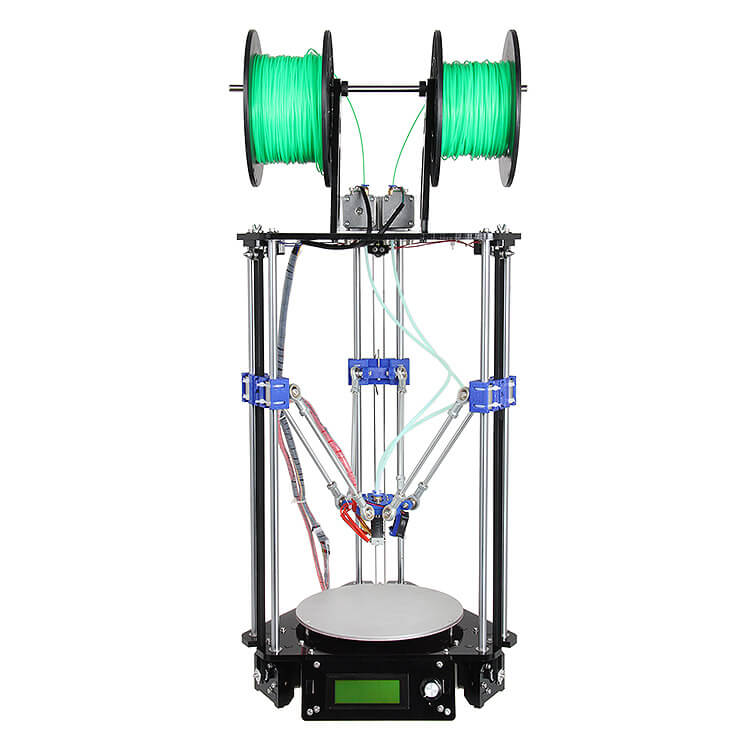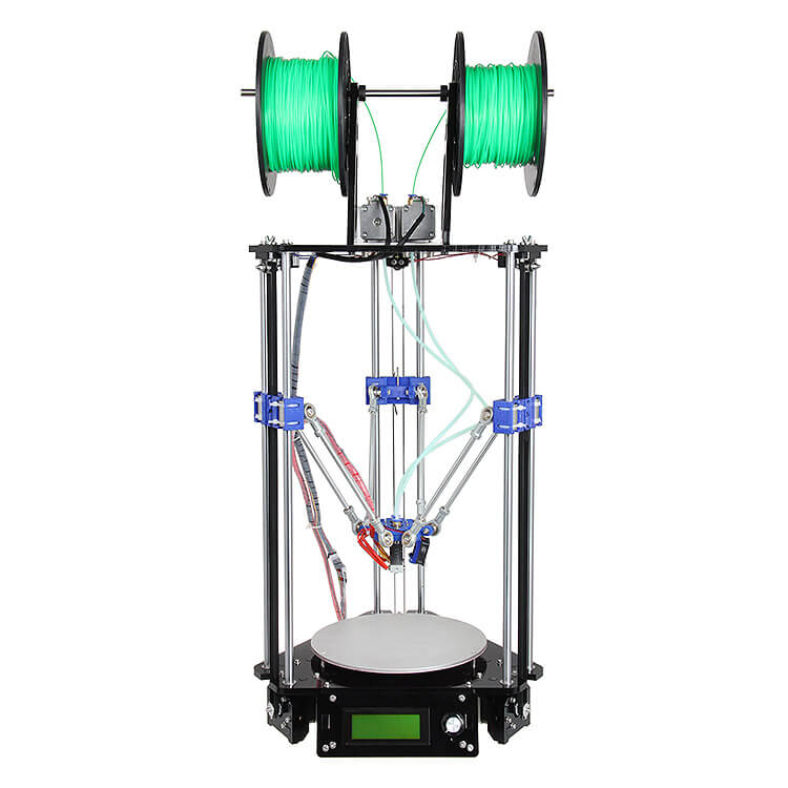 The printer looks very much similar to the usual delta 3D printers. Safely snuggled inside the package, the Rostock Mini G2s comes as a kit. The different components are perfectly labeled and separately wrapped for secure delivery.
After assembly, the machine stands tall with filament holders on the top, feeding the two different extruders. In addition, with an upgraded LCD control panel, now it is possible to complete printer settings in no time. One can have an eye on the real-time progress of the 3D projects. Thanks to the intuitive control panel that provides entire details with ease.
Setup
Unlike plug-and-play design, a kit needs a lot of effort for completing the setup. From verifying if all the components are present in the shipped package to final cable tidying, you will require a lot of work before starting to print.
Do not forget to read the complete assembly manual before you start putting the components together, even if you have prior experience of working with DIY kits. You can also check the photos available in the manual for a better understanding of the build process.
Remember, you will be handing a lot of small pieces throughout the assembly. So, keep a white plate or cloth handy to hold all the tiny components. This way, you won't miss any piece, necessary to complete the assembly.
Also, you will rarely require too much pressure for adjusting screws and bolts. Ensure to read the assembly tips carefully, or else, the extra force can lead to broken parts. For instance, over-tightening the M3 square nuts can break the acrylic.
Those finding it difficult to fully seat the acrylic pieces into its socket, can lightly sand the socket as well as the corners of those pieces and make sure these fit correctly and tightly.
Printing Type/Cost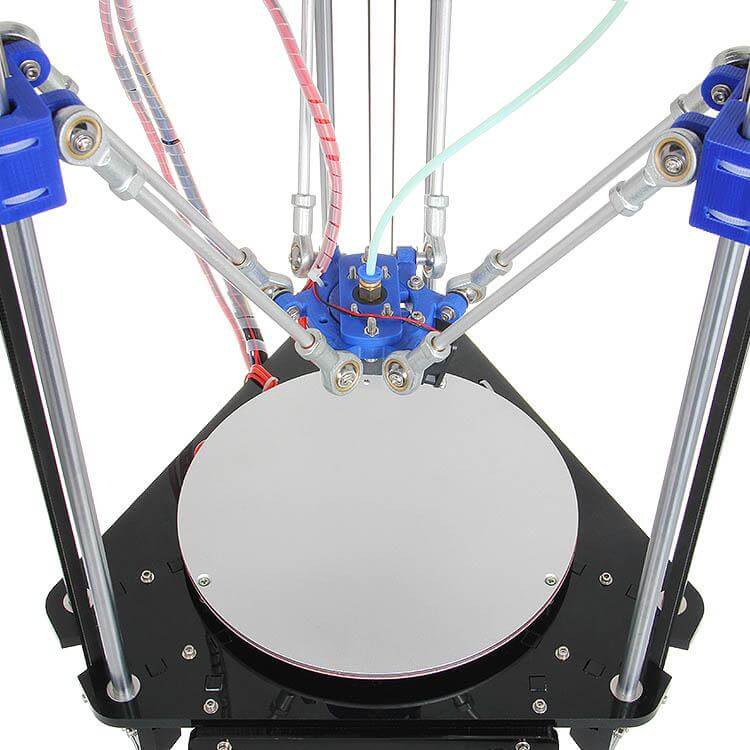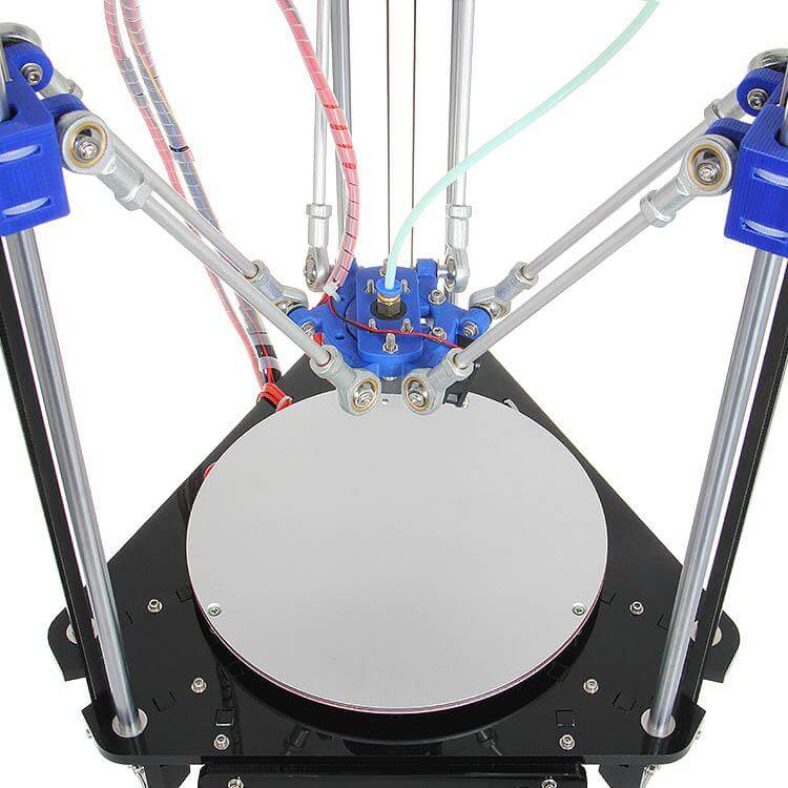 Rostock Mini G2s 3D printer is based on FDM technology. In this printing process, the extruder heats the filament above the melting point to deposit it on the build plate.
Each time, one layer is deposited and is let to cool partially. Later, the bed moves and prepares the space for the next layer. This process repeats until the complete model is prepared.
FDM technology is the most accessible of all AM processes. In addition, it is also simpler to learn and accomplish.
When it comes to the printing cost, making objects on an FDM 3D printer happens to be cheaper when compared to other 3D printing technologies. However, you must consider the different variables that constitute the overall cost of the parts. For instance, the filament cost, amount of filament used, part infill, layer height, and more.
Print Quality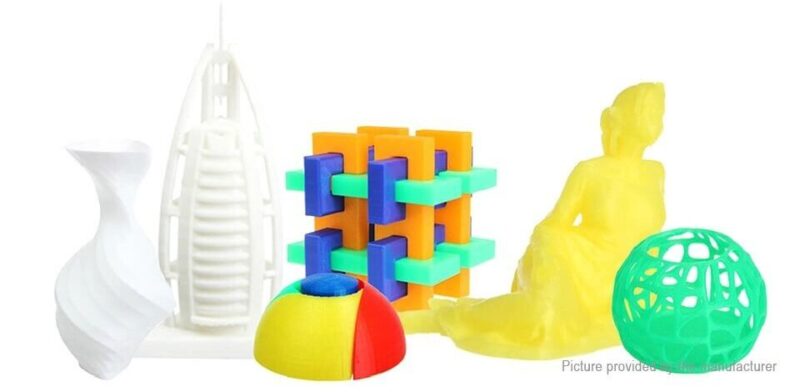 Credit: fasttech.com
As mentioned, the Rostock Mini G2s 3D printer allows a maximum layer resolution of 0.1 mm. Therefore, it is really a pleasant experience working with this printer. One can create precise parts involving finer details with ease. By simply using the desired settings, with proper calibration, users can come up with accurate models, without much hassle.
Software
The printer is compatible with Repetier Host 3D software. This application supports STL as well as G Code 3D files. The interface is user-friendly and very intuitive. And, the software offers advanced settings for an optimal printing experience.
In addition, Repetier Host is supported by multiple operating systems: Windows, MAC, and Linux.
Customer Service
Considering the popularity of the printer, you will find a huge community supporting each other in times of need. Also, the company has a dedicated support team to help those finding trouble getting acquainted with the machine.
Parameters Influencing the Buying Decision
Before buying Rostock Mini G2s, you must review the various parameters influencing the buying decision.
3D Printer cost: This is a very affordable 3D printer costing around $357. Hence, it is accessible for beginners, home users as well as hobbyists.
3D Print quality: At this price, the attainable print quality is amazing. With 0.1 mm layer height and soluble supports, users can create smoother models with finer details.
3D Print speed: It is possible to print between 60 mm per second to 120 mm per second. Hence, the printer offers standard speed.
3D Printer capability: Rostock Mini G2s can print with two colors, soluble support as well as print at a faster speed. It can also create finer details with ease. Overall, the printer is best for educating beginners.
3D Printer Practicality: This affordable 3D printer is best for home use. With given print quality and speed, even enthusiasts and professionals can also make use of this machine.
3D Printer User expectations: Apart from the difficult assembly, the printer does satisfy users with amazing print results and ease of use.
The Verdict
Among many open-source designs, some are made to impress. And, Rostock Mini G2s very well takes care of its user-base to offer a seamless printing experience. At an affordable rate, individuals can enjoy premium features such as dual extruders and automatic leveling.
Overall, this printer is a really great choice for beginners and home users. Just a little effort to put the components together, and you can start printing in no time.