XYZprinting Da Vinci 1.0 A
XYZprinting Da Vinci 1.0 A is not only meant for beginners, but also for professionals with advanced design requirements. It is a simple, yet highly capable 3D printer.
PROS
Super simple to use, ready to work out of the box.
Features easy to install filament cartridges.
Has an enclosed print area.
Offers huge build volume.
Free online gallery, and 3D modeling software.
Heated Bed
CONS
Cooling isn't very impressive
No removable bed
Product
Specification
Videos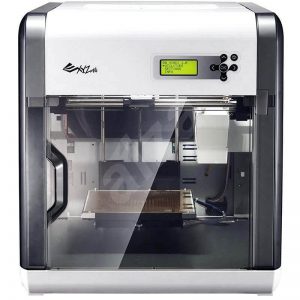 Equipped with a heated print bed, XYZ printing Da Vinci 1.0 A is a reliable and economical 3D printer preventing warping by cooling parts at ...
| | |
| --- | --- |
| Model | Da Vinci 1.0 AiO |
| Manufacturer | XYZprinting |
| Price Range | $ 1293 |
| Availability | Available |
| Classification | Desktop |
| Technology | Extrusion (FFF- FDM…) |
| Material | ABS, Flexible filament, PLA, Tough PLA |
| Filament diameter | 1.75 mm 0.07 in |
| OS compatibility | Mac OS, Microsoft Windows |
| Max. build size | 200 × 200 × 200 mm 7.87 × 7.87 × 7.87 in |
| Max. build volume | 8 L |
| Min. layer thickness | 0.1 mm 0.004 in |
| XY accuracy | 0.0125 mm 0 in |
| Nozzle diameter(s) | 0.4 mm 0.02 in |
| Dimensions | 468 x 558 x 510 mm 18.43 x 21.97 x 20.08 in |
| Weight | 24 kg 52.91 lb |
| Max. print speed | 120 mm 4.72 in /s |
| Power input | 100V ~ 240V I 200W |
| Heated print bed | Yes |
| Heated build chamber | No |
| Automatic calibration | No |
| Closed frame | Yes |
| Dual extruder | No |
| Independent Dual Extruder | No |
| Full color | No |
| LCD screen | No |
| Touchscreen | No |
| On-board camera | No |
| Mobile app | No |
| 3D scanners | No |
| CNC mill | No |
| Electronics 3D printing | No |
| Laser engraving | No |
| Conveyor belt | No |
| Air filter | No |
| Pellet extruder | No |
| USB | Yes |
| Wifi | No |
| Bluetooth | No |
| SD card | No |
| Ethernet | No |

Table of Contents
Da Vinci 1.0 A by XYZPrinting is a very reliable machine. Falling under $1,300, the printer boasts a lot of premium features.
From its unprecedented print quality to easy-to-install filament cartridge, the printer ensures safe and simple operation for users. It is quite easy to work with this device for accomplishing prints with accuracy.
The printer makes it hassle-free for users to refill filaments and swap from one material to another. Offering a completely enclosed design, Da Vinci 1.0 A provides a safer experience.
It is quiet and comes with a heated bed, supporting a large number of material choices. Moreover, the users can also print with materials offered by other vendors.
To be candid, the printer includes many great features with its robust design to offer users with amazing printing experience. However, there are certain limitations that are equally imperative to note.
For instance, the printer does not have a removable print bed. This may increase the trouble of users during the separation of printed models from the build plate.
Therefore, it is crucial to analyze the Da Vinci 1.0 A in detail before you plan to purchase the printer. Check for the various benefits and challenges you may face with this machine. And, make the right choice as per your specific manufacturing needs.
Features
Designed and improved since 2014, the Da Vinci 1.0 A has it all. The machine is beginners' friendly, offering simple operation. However, that does not mean it is not useful enough.
Boasting high-quality and premium features and various advanced setting options, the printer can help create intricate designs with ease. That too, at such a reasonable rate.
So, without much further ado, let's go through the printer's unique features that make it stand out among its competitors.
Sufficient Build Volumes
Da Vinci 1.0 A has a build size of 7.9 inches * 7.9 inches * 7.9 inches. Hence, space is enough to create medium size parts. When compared to the other desktop 3D printers, the space is considerably huge at this price range.
Safe Enclosed Print Area
Considering that Da Vinci 1.0 A is primarily meant for beginners, XYZprinting has kept the design safe by providing an enclosed print chamber.
Not only for adults, but the enclosed design makes it safer to operate the printer around kids. With no way to access the hot components snuggled inside the printer, the design is very secure and home-friendly.
Consistent Print Quality
With an enclosed frame, the printer is able to maintain a consistent temperature around the build area. This ensures a consistent internal temperature for attaining better print results. Hence, offering users a smoother surface for printed parts.
Online Resources to Help You Start Your Journey Into 3D Printing
XYZ's masterpiece comes with a wide range of online resources that support users in every step while 3D Printing. It offers an online gallery and free 3D modeling software. Thereby letting you choose designs from the list of many choices for a quicker printing experience.
Heated Print Bed
It is not so often to find a heated bed with 3D printers falling in a similar price range. But that's not the case with Da Vinci 1.0 A.
It does come with a heated print bed. This assists in 3D printing with multiple filaments such as ABS and PLA. It also aids users in finishing projects at a faster speed when compared to printers featuring a non-heated bed.
And most importantly, the printer guarantees uniform heating all across the surface of the print bed. All of which accounts for high-quality parts with a smoother surface finish and stronger first-layer adhesion.
Compatible with Multiple Materials
The printer can not only print with the usual PLA but a variety of other materials. Hence, it offers users more freedom to design as per their needs and specifications.
Easy to Operate
Da Vinci 1.0 A is a plug-and-play 3D printer that needs minimum effort from the users when operating the machine. It is ready to print right after you unbox the 3D printer.
The machine features easy to install filament cartridges for quick refills and filament swaps. Thereby making the complete spool changing and installing process a piece of cake for users.
Basically, Da Vinci 1.0 A is designed to ensure that users do not need to hassle around while starting the 3D printing procedure.
The thoughtful arrangement of components, as well as efficient construction, aids users during the entire printing process. So, even if you are a beginner, it won't be difficult to get acquainted with the machine quickly.
Specifications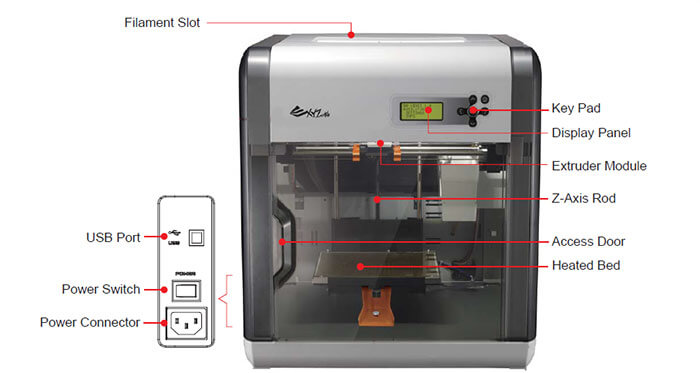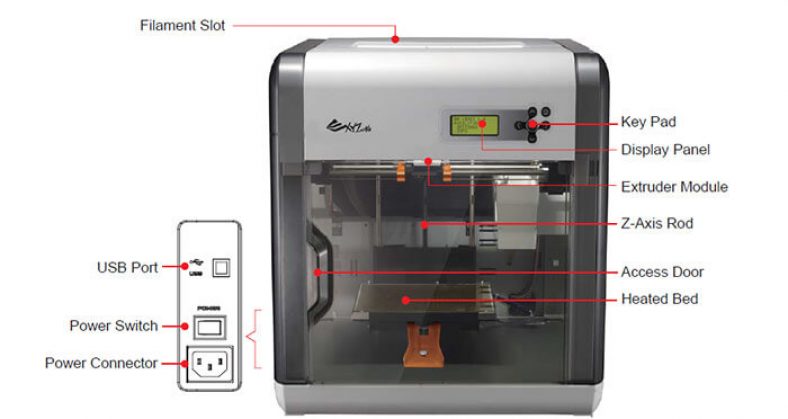 Credit: fossbytes.com
Da Vinci 1.0 A is based on FFF i.e., Fused Filament Fabrication 3D printing technology. The technique is another name for the Fused Deposition Melting process. The maximum build volume of parts possible to create on the printer is 200 mm * 200 mm * 200 mm.
The machine offers layer resolution ranging from 100 to 400 microns. In addition, its XY positioning precision is 12.5 microns and its Z positioning precision is 0.0004 mm.
Da Vinci 1.0 A by XYZprinting has a decent speed to complete printing at a faster rate. Users can print at a maximum speed of 120 millimeters per second.
It is compatible with popular 3D printer filaments such as ABS, PLA, Flexible as well as Tough PLA. Just make sure that the filament diameter is 1.75 mm.
To handle multiple filaments with varying temperature requirements, the manufacturer has included a powerful extruder that can withstand 235 degrees Celsius.
The print bed of Da Vinci 1.0 A is made of glass and is non-removable. It can resist 40 to 90 degrees Celsius temperature. Further, the printer boasts 1.8 degrees HB Stepper motors.
There is a 2.6-inch LCM user interface embedded in the body of the machine which displays information in more than one language.
Da Vinci 1.0 A needs anywhere from 100 to 240 Volts power, 200 Watts, and an operating temperature ranging from 15 to 32 degrees Celsius.
Price
The market price of Da Vinci 1.0 A is $1293.
First Impression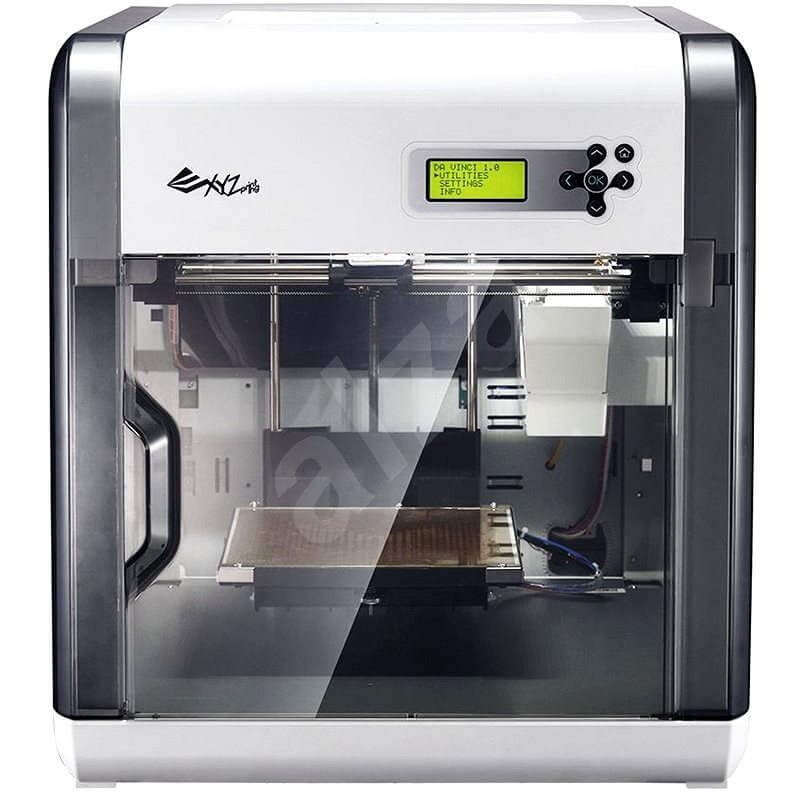 Da Vinci 1.0 A is a compact machine. And, it comes securely packed to ensure damage-free delivery. The striking machine's color combination looks stunning while the transparent design allows for quick glance at the interior of the device.
Being a plug-and-play machine, the printer comes fully assembled. Unboxing is easy too. Taking off the Styrofoam and other packaging materials is a piece of cake. Just remember to handle the machine with care when you try to pull it out of the box.
Setup
The printer is a plug-and-play design. This means less hassle and a quick setup. Instead of juggling around with unassembled components, users can just snap the extruder and filament to start working with the machine.
The manufacturer has kept the complete process, as simple as possible. The bed leveling is also simple.
Moreover, you get the detailed instruction manual with your 3D printer. Hence, if you have any trouble starting the print, you can right away access the guide for a hassle-free experience.
Print Type/Cost
FFF 3D printing technology makes use of filaments for printing parts and functional prototypes. The process starts with heating the filament and extruding the melted material through the nozzle to print the bed.
The extruder lays one layer at a time. Once it solidifies, the bed moves down to make room for another layer. And, the process continues until the printing of parts completes.
Generally, FDM-printed parts are cheaper when compared with those created using other technologies. However, for calculating the cost of each part, one must consider various variables such as the geometry of that part, the filament type, infill percentage, layer resolution, and more.
Print Quality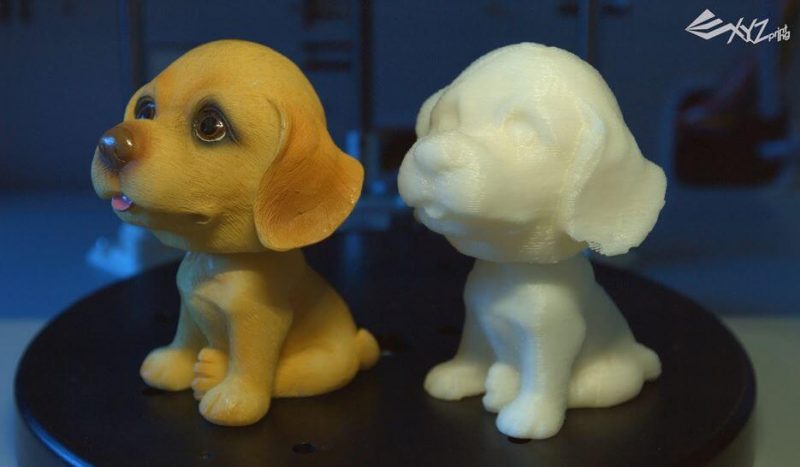 Credit: fossbytes.com
The printer is very precise. It can print with layer resolutions ranging anywhere between 100 to 400 microns. This is the standard accuracy offered by most of the FDM 3D Printers falling in the same price range. As expected, the parts will have visible layers.
However, you can definitely use sanding and other post-processing methods to get the perfect print quality as desired.
Software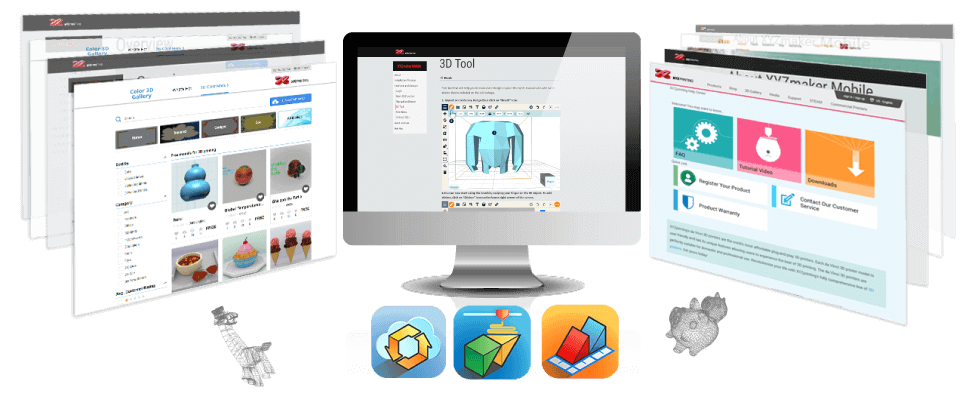 Credit: xyzofficialweb
XYZmaker Suite is compatible with Da Vinci 1.0 A. It supports various file formats apart from STL, offering high accessibility to the users. It runs smoothly on Windows and macOS.
When talking about the performance of the application, it is really an impressive solution for editing and processing prints. With a clear interface and a lot of advanced controls, users can get to the tiniest of details with ease.
In short, the application is very user-friendly and highly intuitive. On top of that, the software offers an easy learning graph for beginners.
Customer Support
XYZprinting company manages great assistance for users. They have a huge knowledge base such as FAQs, Tutorial Videos, Downloads, and Documentations to provide quick support. In addition, they offer a product warranty to ensure the highest level of user satisfaction.
In order to reach the support, you can use the contact details provided on their website. The team is responsive and very active when it comes to solving customers' queries. XYZPrinting is certainly a reliable company ensuring the utmost attention to the problems of the customers.
Parameters Influencing Buying Decision
Are you interested in buying Da Vinci 1.0 A? If yes, do not forget to go through the quick analysis of the printer, based on crucial parameters.
This would help you define your priorities while assisting you in making the right choice.
3D Printer Cost: Acknowledging the amazing set of features the printer offers, its budget is pretty impressive. It costs $1,293.
3D Printer Quality: Da Vinci 1.0 A offers 100 to 400 microns layer resolution. Hence, users can create intricate designs without worrying about the complexity of the parts. However, the parts have visible lines, very usual with FDM printed parts. Therefore, the completed models require post-processing for further enhancing the final quality.
3D Print Speed: The printer has a decent speed of 120 millimeters per second. Hence, users can create large parts quickly.
3D Printer Capability: Being an entry-level 3D printer, it's fascinating how the manufacturer has permitted 3D printing with four different filaments. Plus, the print quality is decent for an FDM 3D printer. Moreover, it is possible to print fine details and accurate parts, without compromising the speed.
3D Printer Practicality: The printer is suitable for hobbyists, enthusiasts, and home users. Beginners will love to work with this machine offering simple design and easy operation. Overall, a great choice for those wanting to start their 3D printing experience.
3D Printer User Expectations: If you are a beginner, it is impossible not to like this pretty-looking 3D printer. Da Vinci 1.0 A fulfills all the expectations of the users, falling at an affordable price tag and offering decent quality prints.
The Verdict
To sum it up, Da Vinci 1.0 A is not only meant for beginners, but also for professionals with advanced design requirements. It is a simple, yet highly capable 3D printer.
Users can create parts with great accuracy and precision. The compact design and simple operation make this printer suitable for home as well as small office use.
And, if you are ready to trade off visible layers with fast prints and an easy setup, Da Vinci 1.0 A would become an unbeatable choice for new users.