Sintratec Kit
Sintratec Kit 3D printer promises to provide its users a balance of print speed with quality and printing with rare materials such as Nylon.
PROS
High print speed.
Good quality of parts and functional prototypes.
Allows printing with Nylon.
CONS
No built-in camera.
No user interface touch screen.
Product
Specification
Videos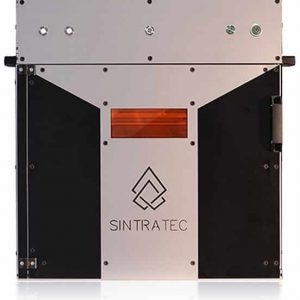 The Sintratec kit 3D printer is a desktop SLS 3D printer that was released in the year 2016. Sintratec is a Swiss company specializing in the ...
| | |
| --- | --- |
| Model | Sintratec Kit |
| Manufacturer | Sintratec |
| Price Range | $ 5999 |
| Release date | 2015 |
| Country | Switzerland |
| Availability | Available |
| Classification | DIY/Kit |
| Technology | Powder (SLS- SLM…) |
| Material | Other plastics |
| OS compatibility | Linux, Mac OS, Microsoft Windows |
| Max. build size | 110 × 110 × 110 mm 4.33 × 4.33 × 4.33 in |
| Max. build volume | 1.33 L |
| Max. print speed | 650 mm 25.59 in /s |
| Min. layer thickness | 0.1 mm 0.004 in |
| Dimensions | 600 × 520 × 380 mm 23.62 × 20.47 × 14.96 in |
| Weight | 28 kg 61.73 lb |
| Power input | 230 V 110 V AC |
| Heated print bed | No |
| Heated build chamber | No |
| Automatic calibration | No |
| Closed frame | Yes |
| Dual extruder | No |
| Independent Dual Extruder | No |
| Full color | No |
| LCD screen | No |
| Touchscreen | No |
| On-board camera | No |
| Mobile app | No |
| 3D scanners | No |
| CNC mill | No |
| Electronics 3D printing | No |
| Laser engraving | No |
| Conveyor belt | No |
| Air filter | No |
| Pellet extruder | No |
| USB | Yes |
| Wifi | No |
| Bluetooth | No |
| SD card | No |
| Ethernet | No |

Table of Contents
Creating complex structures especially with Nylon is something that not every 3D printer offers. There are very few choices of 3D printers that offer this anomaly and the Sintratec 3D printer kit is one of them.
The most amazing part of this 3D printer is, as soon as you read the little introduction about this printer, you might have guessed it to be higher in price, but that is not the case.
Now, what's up with Nylon? Why is it a rare material and why do many printers do not offer printing with this material? If we judge this material based on 3D printing parts and prototypes, Nylon is an ideal material for 3D print with.
And why is that? Because it fulfills all the essential needs of a 3D material. Not only does Nylon produce a relatively strong object, but also is way more in terms of strength than the other commonly used materials.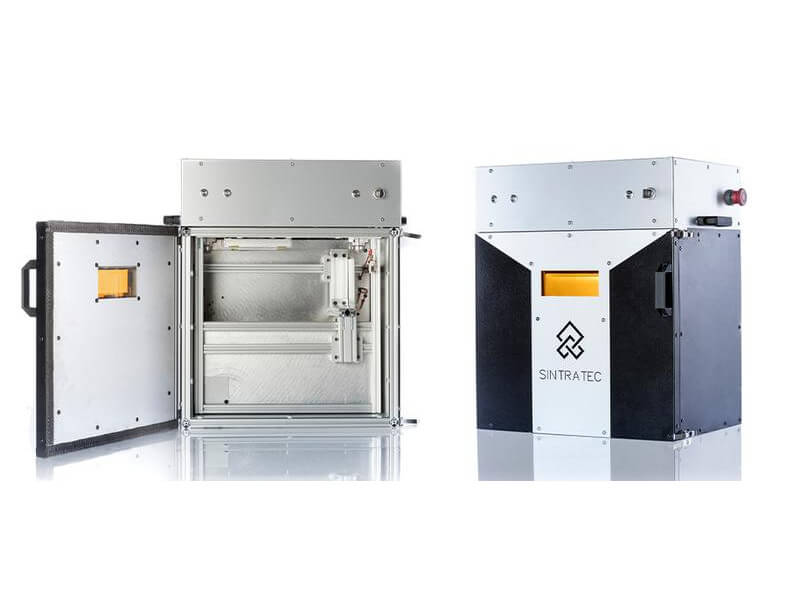 Also, according to the reports, 3D printing with nylon filament is not a good option because the results are not good in comparison to printing from the expensive industrial nylon powder-based machines due to the nature of the laser sintering process, which is something that happens with inside this printer.
It is laser sintering so the powdered form of Nylon is used, they are laid on the flatbed and then they are sintered by a moving laser beam.
Again the process is repeated and another layer of powder is added. The laser beam again sinters the particles of Nylon and so on until the complete part has been made.
Sintratec Kit does this complete process is not costing you a six-figure amount. It lets you print many parts at less cost and get it at your place rather than opting for any 3D print service, you can just get it at your home if you own the machine.
Features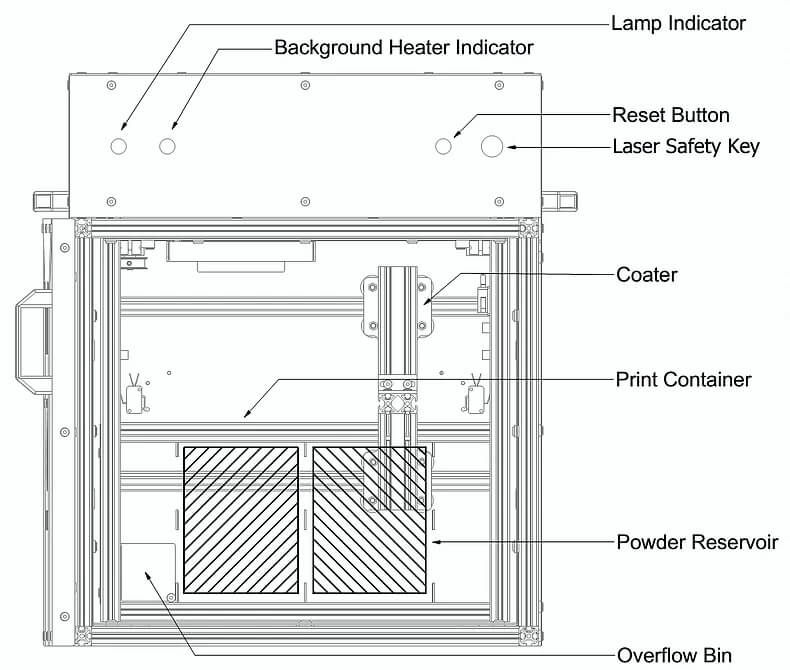 Credit: shop3dchimera.com
Sintratec Kit is based on the Laser Sintering method of 3D printing. So what happens in this printer is that you need to decide of course on the part of the functional prototype that you wish to make.
With that, you also need to decide the raw material with which you wish to make this part or a functional prototype. After having decided both of these, you need to get the powdered form of that raw material and spread it on the print bed.
After doing so, what happens is, this laid down powder gets heated up by the laser rays. And it is because of this heating that the first layer of the part or functional prototype that you wish to produce is made.
After this the same process is repeated i.e. you sprinkle the powder, the powder gets heated up, and then another layer. This is done until the part is successfully made.
So all the printers that are based on SLS printing technology go through these steps but what differentiates one printer from the other is their features. And that's exactly what we are going to talk about one after the other in this section in-depth. So let's start.
Amazing print speed and no need for support structures
The Sintratec Kit can print 20mm per hour while printing the entire build volume of parts or functional prototypes. The printer is not much dependent on the object's complexity.
While printing parts and functional prototypes that have higher resolutions, the speed of doing this can drop by half, but still it is just as much as industry-standard or more.
The real task here is to fill up the build volume that his printer has with as many objects as can be fitted and print them all at once. So, there is a minimum amount of time which is spent, if at all.
In such a scenario using the powder approach means that you can attempt to print very complex structures.
But the fact here is that printing can be done without concerns for support material. The remaining powder which is technically called the unsintered powder serves as support.
So, you have a benefit over all the techniques that use support structures, whenever you are printing with SLS technology.
All you have to do is when the print is complete, lift the part out of the printer and remove the residual powder and that's it. You are done with having printed the Nylon part.
Printing with Nylon powder
There is a lot of hype in the market when it comes to printing with material such as Nylon. This hype is because of the absence of a lot of printers in the market.
And the fact that Sintratec Kit offers to print with Nylon is what sets it apart from very many printers in the same price range or the category of SLS printers into which Sintratec Kit is present currently.
Nylon is a material that is very strong compared to other materials that are used in 3D printing of parts and functional prototypes.
Although there are some of the extrusion 3D printers which offer printing with Nylon they are all more than the price of this printer.
Prints without support structures
Unlike the printers based on FDM and SLA 3D printing techniques that need some of the other support structure that takes care of the main part or functional prototype that you are making, Sintratec Kit needs no support structure.
That means essentially that you would be able to make parts and functional prototype by utilizing less material than what you were using in the case of FDM and SLA printing techniques.
This results in an overall cost decrease compared to the printing cost of FDM and SLA printers.
What is also essentially means that the post-processing of parts and prototypes made using Sintratec Kit would very much lesser compared to that of FDM and SLA printers.
Because in Sintratec Kit the support structures are not to be removed from the part of the functional prototype that is produced! All we have here is the unsintered or unused powder.
Specifications
The printer is based on SLS printing technology for the manufacturing of parts and functional prototypes. The materials that you are allowed to print with using this printer are Nylon PA 12 and TPE. Sintratec Kit has an open material system.
The build size of this printer is 110 mm * 110 mm * 110 mm. The minimum layer thickness offered by this printer is 100 microns and the laser used in the printer is a diode laser, Sintratec Kit gives the spot size of 0.25mm.
The printer's build chamber is closed and one can connect to this printer using USB and SD cards.
There is no built-in camera that is present inside the printer. The dimensions of this printer are 560 mm * 380 mm * 590 mm. The weight of this printer is 29 kg.
The recommended print volume as per the company's website is 90 mm * 90 mm * 90 mm. Whilst the layer speed of it ranges from 5 to 20 mm per second and the layer height from 50 to 150 micrometers.
The temperature that the printer can withstand is from 80 to 150 degrees Celsius. Sintratec Kit is designed to meet the professional needs of many industries that include: Medical, Mechanical engineering, Rapid prototyping, Industrial design, Durable spare parts, Education, and Research Model building.
The SLS technology that Sintratec Kit uses can print highly complex parts and functional prototypes that have intricate geometries which can be difficult to print otherwise with other 3D printers.
Price
The market price of this printer is $5,999.
First impressions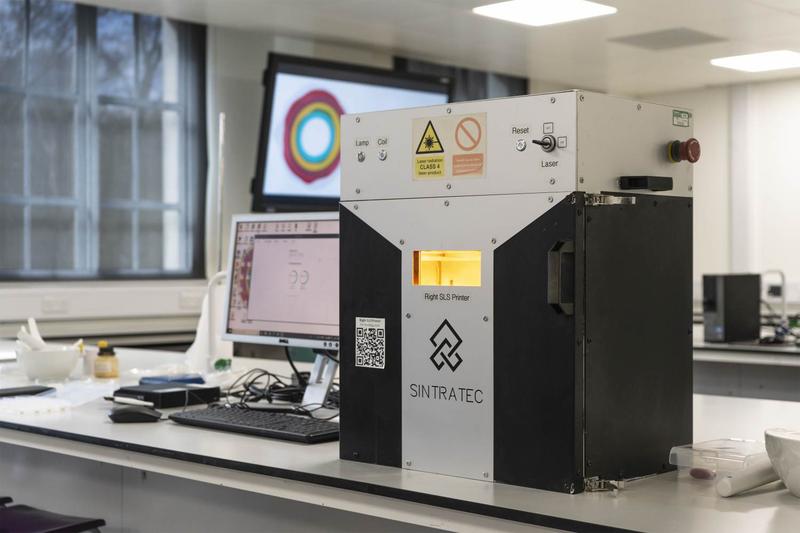 Credit: top3dshop.com
Sintratec Kit is a rectangular box that has a unique design. The front view of the printer can be divided into two unequal halves. Black and Silver are the two colors with which the printer is colored completely.
The lower part which is square has a handle with which the door can be opened to gain the excess of the inner parts of the machine.
While the upper parts of the rectangular printer have to be lifted to open up. When you lift that upwards you get to see the complete mechanism of the printer.
It looks like the inner part of a control processing unit of your desktop computer. You need no skills as such to open up these parts they can be easily opened.
There isn't any user interface touch screen that you get for controlling the operations on this printer. Since this comes as a complete kit you have almost everything that is needed for the printer accompanied at your place with the printer itself.
Setup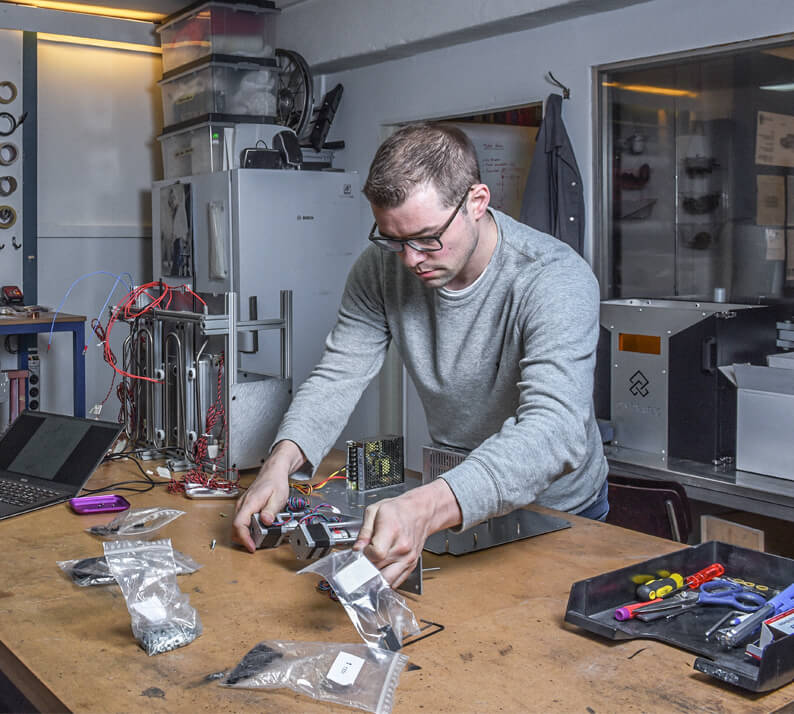 Credit: radiate.ch
As per the assembly section mentioned on the company's website, it takes four days to assemble the printer.
You need to download the assembling portal from the company's website and that will be your guide to tell you what to do and what not to!
There are eight things which are mentioned on the company's website that has to be done in the exact order as per the company's recommendations.
They are:
Door.
Base.
Core.
Lamp.
Heat.
Electronics.
Initial commissioning.
But before doing all of that you need to read the company's best practice document and then start the assembly.
Although there are some guidelines given by the company that you need to take care of before the printer gets shipped to your place.
The first thing that you will need is of course a computer that has one free USB port, a 64 bit Windows 7 or above, and an Internet connection.
You will need some tools like scissors, an Allen wrench, and a power screwdriver. Apart from that, you will need 2 liters of powder and some health and protection kit that includes safety gloves, glasses, and dust filter masks.
Printing Type/Cost
Because the printer is based on SLS 3D printing technology it utilizes laser technology which is generally known to have a little more printing cost than FDM or SLA's.
But then in turn what it promises is quality. You cannot get high-quality parts and functional prototypes using FDM or SLA printing technology.
So, overall it is a balance of spending a little more and getting a little more quality.
Print Quality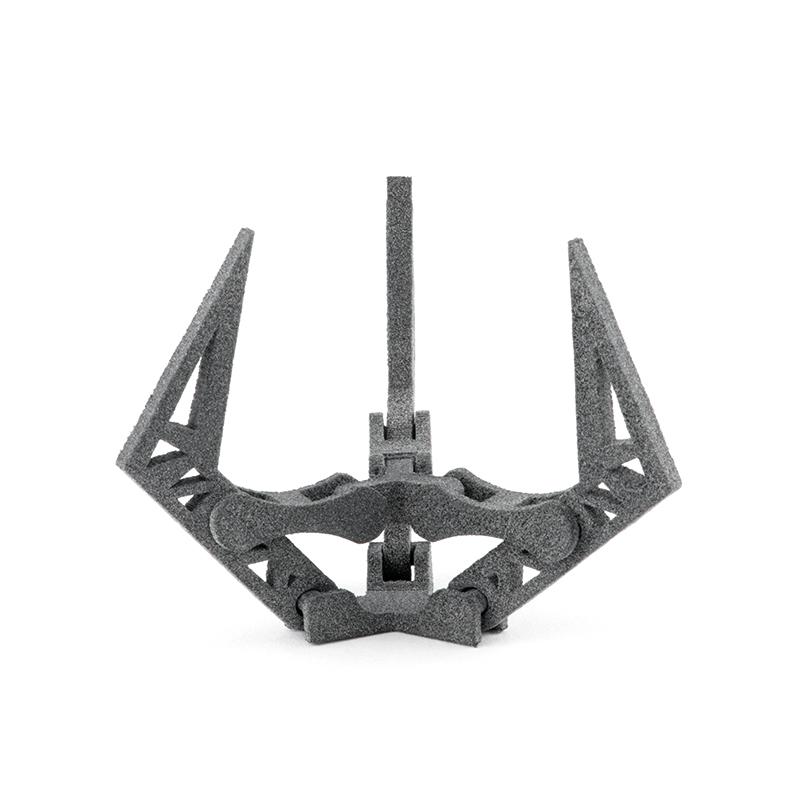 Credit: shop3dchimera.com
Just as mentioned in the above section, what SLS 3D printing guarantees are great quality parts and functional prototypes.
In the sections of the specification of the review, we reveal in front of you the minimum layer thickness that has been offered by Sintractec Kit.
If you compare that with any of the printer that is available in the same price range, you are bound to find it up to the mark or even more.
So, whatever part or functional prototype that you are making is bound to have a very low possibility of layer visibility after they are made.
Software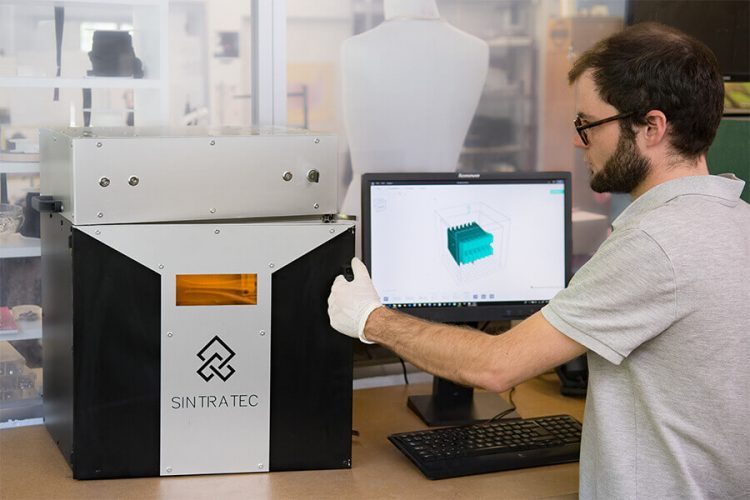 Credit: radiate.ch
Sintratec Central is the slicing software that you will need to instruct this machine on what to do.
Customer Service
You contact the manufacturer from their website. Email is one of the options, calling them is another. If need be the agents won't hesitate to Skype help you out.
Parameters Influencing Buying Decision
Below mentioned are some of the factors, in brief, a summary of the complete article.
3D Printer Cost: Affordable.
3D Print Quality: Excellent.
3D Print Speed: Best in the market.
3D Printer Capability: Can print with rare materials.
3D Printer Practicality: Parts and prototypes produced by the printer can be used in many industries.
3D Printer User Expectations: Small business owners and professional designers would be happy to take a bet on this printer rather than buying an FDM or SLA for a slightly lower price.
The Verdict
Overall the printer promises to provide its users a balance of print speed with quality and printing with rare materials such as Nylon.