X-Maker 3D printer
If you are in search of a moderately priced 3D printer that is easy to use right when put out of the box, it's Qidi Tech X-maker that you are looking for. Primarily designed for educationists as well as entry-level users, the printer would not disappoint an expert also in the field.
PROS
The enclosed area provides noise-free printing.
Comes with clear instructions and guides.
Bed leveling is automatic.
The build plate is magnetic.
Can be connected using Wi-fi and has a built-in camera on board.
CONS
Build volume is smaller compared to others in the same price range.
Replacements are hard to find.
Product
Specification
Videos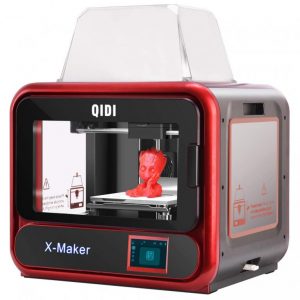 Rather compact in build volume 170 mm * 150 mm * 150 mm, the Qidi Tech X-Maker offers printer resolution ranging from 50 to 100 microns. It is a ...
| | |
| --- | --- |
| Model | X-Maker |
| Manufacturer | Qidi Tech |
| Price Range | $ 499 |
| Release date | 2019 |
| Country | China |
| Availability | Available |
| Classification | Desktop |
| Technology | Extrusion (FFF- FDM…) |
| Generic material | Yes |
| Max. build size | 170 × 150 × 160 mm 6.69 × 5.91 × 6.3 in |
| Max. build volume | 4.08 L |
| Heated print bed | No |
| Heated build chamber | No |
| Automatic calibration | No |
| Closed frame | No |
| Dual extruder | No |
| Independent Dual Extruder | No |
| Full color | No |
| LCD screen | No |
| Touchscreen | No |
| On-board camera | No |
| Mobile app | No |
| 3D scanners | No |
| CNC mill | No |
| Electronics 3D printing | No |
| Laser engraving | No |
| Conveyor belt | No |
| Air filter | No |
| Pellet extruder | No |
| USB | No |
| Wifi | No |
| Bluetooth | No |
| SD card | No |
| Ethernet | No |

Table of Contents
To its name, Qidi technology has many printers based on FDM and LCD resin 3D printing technologies.
X-maker 3D printer is based on the FDM 3D printing technologies alongside XMax, XPlus, XPro, XOne 2, and Qidi Tech I.
This printer manufacturer is an expert in making mid-priced 3D printers available to the layman.
For the same reason, the affordability that it provides to people by making and pricing low-cost 3D printers is unmatched in the 3D printing market.
Qidi Technology is based in China and is known to target entry-level enthusiasts as well as the student segment in the market of 3D printing.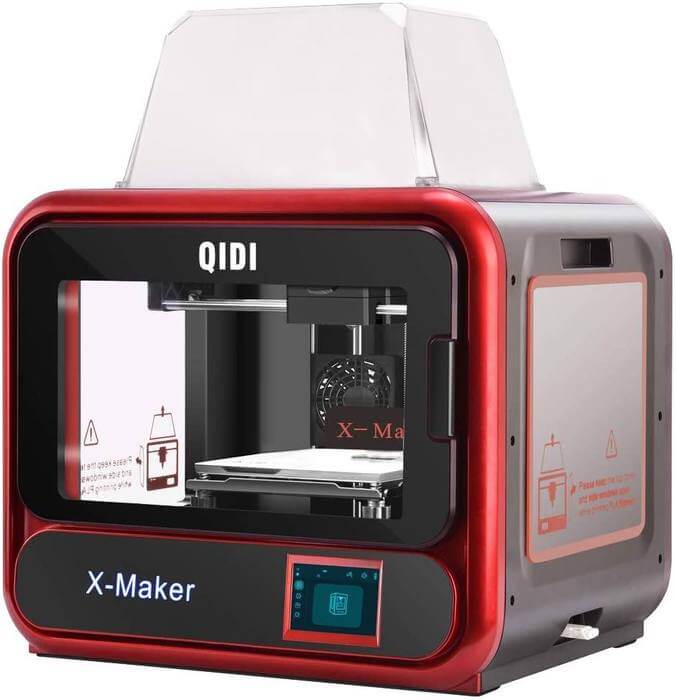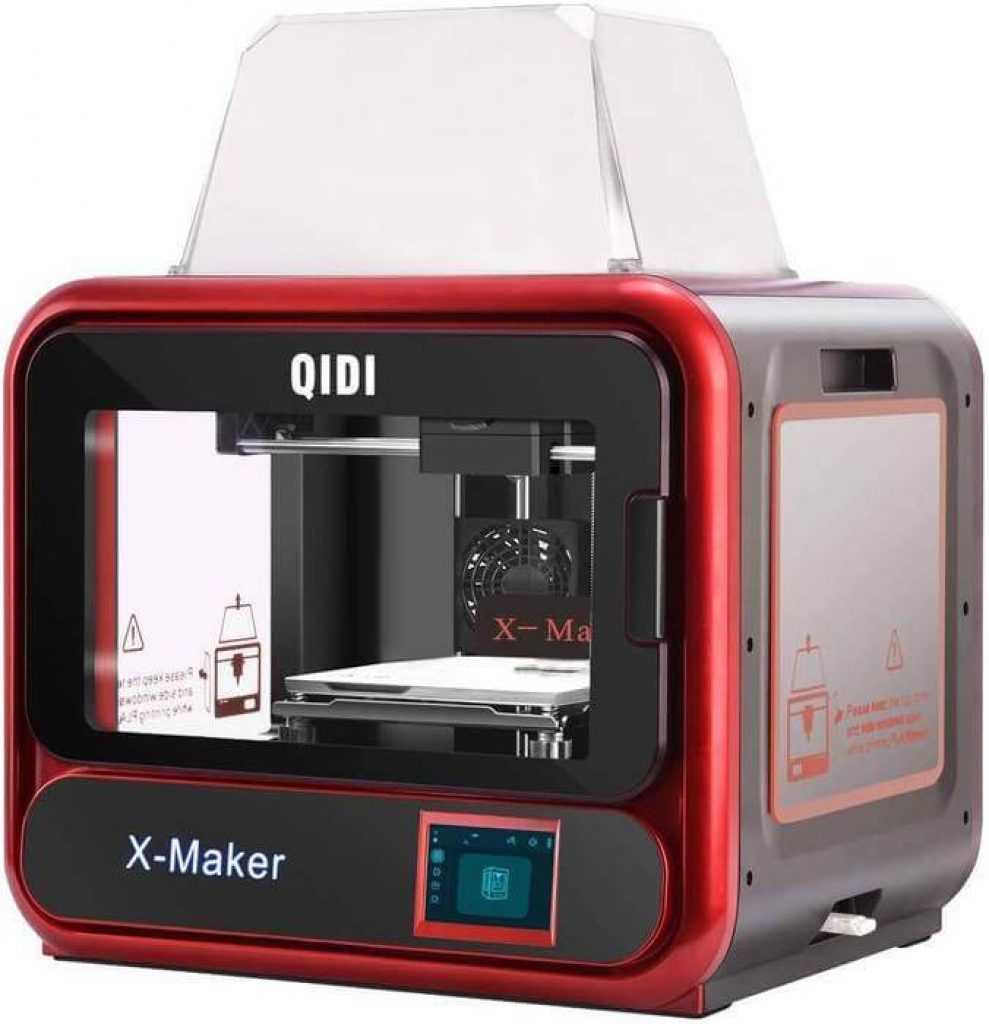 It is to be noted how, in recent years, the market of 3D printers based on FDM 3D printing technology is flooded with the development of 3D printers.
These are printers that are not in the intermediate or industry level 3D printers, but in fact, desktop 3D printers that are known to produce commendable results, with a little bit of patience and perseverance.
The urge of every customer of this technology i.e. to get more at a lesser price is completely fulfilled by this range of 3D printers.
Also to be noted is the accessibility of FDM 3D printing technology since its inception.
After having remained available only for the industrial 3D printing market, the technology advanced enough that it was made available for the intermediate market and then is made available for the desktop 3D printing market.
The sheer journey of this technology gives proof of how it has been growing and becoming more and more accessible.
With the rise in SLA 3D printing technology, currently, the FDM 3D printing technology does face some threats.
In this article, we are going to share with you in-depth information about the X-Maker 3D printer starting from its features.
Features
If one looks at the marketing of this printer, he or she can easily term it more towards the high-end educational 3D printing market.
As equally as it remains highly accessible to the entry-level makers of 3D printing technology.
So, before digging in for specific features that set the printer apart from the set of other printers, let's gets some of the facts correct.
The Qidi X-maker 3D printer has a build volume of 170 mm * 150 mm * 150 mm. And there are many sources to claim the resolution range of the printer from 50 to 100 microns.
The printer comes equipped with a heated nozzle that can resist 250 degrees Celsius of temperature.
While the print bed of this 3D printer is known to withstand 120 degrees Celsius.
Notice how the makers of the printer have made sure they've got most of the famous 3D printer filaments in FDM 3D printing covered by letting their printer withstand such a high temperature.
There is also a print resume function to help all those whose electricity didn't support them amid their prints.
Can be connected via Wi-fi
Take all the 3D printers that are available in the same price range and check for this feature.
Not many will be able to offer you the stable Wi-fi connectivity that Qidi has managed to offer in X-Maker.
This feature allows educationists as well as entry-level makers to upload and print 3D models without being harassed by the machine.
Think of a situation wherein, in a classroom of students, someone who is not sitting near the printer wants to upload a file.
Although the idea of getting a Wi-fi connection on-board isn't new, it is for sure rare to see in the price range in which Qidi X-maker belongs.
Has a camera on-board
There is hardly any other amazing way to let someone monitor the 3D printing process.
By ensuring each of its X-makers features a camera on-board Qidi Technology has taken away all the tension from the heads of users who wish to monitor the 3D printing process in real-time.
Qidi Technology has also created an application called "iCookyCam."
The application is available on Android as well as iPhone and allows teachers as well as entry-level makers to monitor the printer remotely using their smartphone. Could 3D printing be any cooler?
3D Printing build plate
The removable build plate of the printer is magnetic. Situated inside the print chamber, the manufacturers of this printer have taken care of the flexibility that users would need while removal of a part or functional prototype from the printer.
And it is this factor's consideration that lets them keep a fully-bendable magnetic plate inside their printer.
The structures that you would make on this 3D printer will be easily taken out, without any risk of getting damaged.
And even after a part or functional prototype is removed from the build plate, it can be easily fit back into its place for starting another print.
The magnetic print bed is claimed to be mounted on a 6-mm aerospace-grade Aluminum plate.
The arrangement of the printer is so kept that this build plate is surrounded by turbofans which quickly cool the printed layers.
More than one way to mount the filament
Insisted by the maker; this way is taking into the consideration type of filament used by users. One can mount the filament inside the enclosure for ensuring that its material maintains a consistent temperature that is ideal for 3D printing ABS.
The filament spools could also be mounted outside the Qidi X-maker which makes the enclosure smoother while printing with filaments such as PLA, TPU, and PETG.
A slicing software that benefits in more than one ways
The company-made Qidi Print is optimized for the process of 3D printing especially considering students and teachers and entry-level makers.
Qidi Education features a cartoon interface that brings in the fun while 3D printing.
It keeps students intact and aware, educating them about the simplicity of this complex 3D printing process.
This it does by allowing them to easily view their print progress from anywhere, not necessarily only when they are present around the printer.
Support structures can easily be added to their 3D models.
In case teachers or some students are interested to dive into a more advanced version of 3D printing technology, they are able to, using Qidi Print.
The software has the ability to be run on two modes i.e. Rookie and Expert.
The former contains print settings for students, which allows for a ready to go 3D printing process.
Whereas the latter contains print settings that could be tweaked, enabling special functions, and allowing for much more customized printing preparation for experts, as the name hints.
Specifications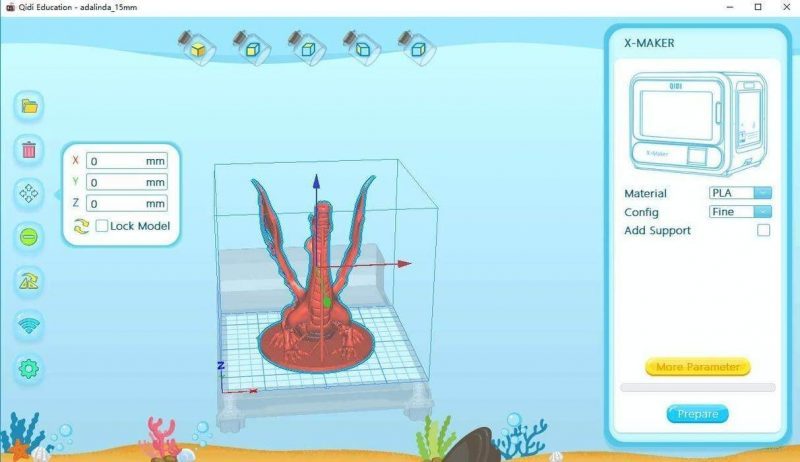 Credit: shopify.com
Qidi Tech's X-maker is a 3D printer based on FDM 3D printing technology.
It has a mechanical arrangement of cartesian XY-based, featuring a build volume of 170 mm * 150 mm * 150 mm.
The minimum layer height offered by this 3D printer in its parts and functional prototypes ranges from 100 to 140 microns.
The nozzle size of the printer is 0.4 mm, which is known to withstand 250 degrees Celsius of temperature.
Whereas the hotbed of the printer can resist 120 degrees Celsius of temperature.
The recommended print speed for making a part or functional prototype on the printer is 150 millimeters per second.
X-maker features a 3.5-inch full-color touch screen interface from which its users can monitor as well as operate the printer.
The frame body of this printer is made up of Aluminum with plastic side panels.
Targeted mainly towards entry-level makers and educationists, Qidi X-maker has automatic bed leveling and can be connected using a USB or Wi-fi. 1.75 mm is the filament diameter that the printer can operate with. One can print using third party filaments.
The printer is comfortably printing ABS, TPU, PLA, etc. Frame dimensions of X-maker are 457 mm * 381 mm * 381 mm and the weight is 21.9 kilograms.
Price
Qidi X-maker is sandwiched between Tech X Pro and X Smart models.
It is priced at $500 and makes for impressive features that are far more valuable than the printers in a similar price range.
First Impressions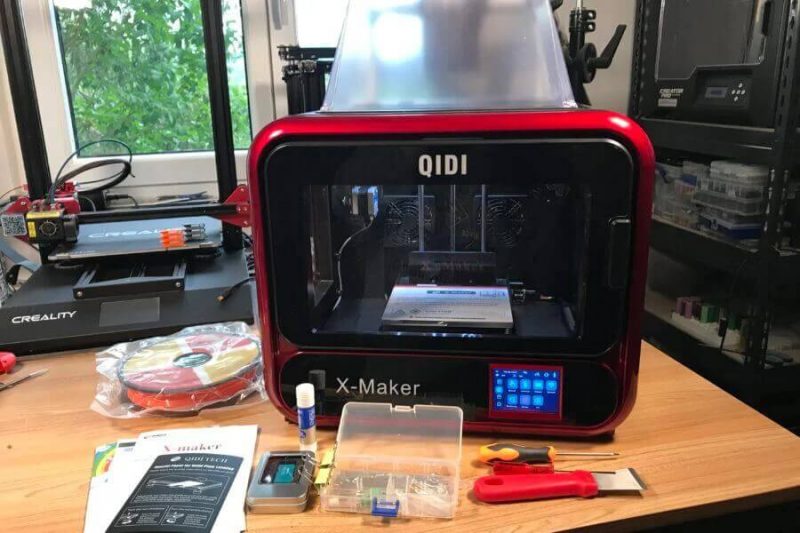 Credit: gbtcdn.com
Having a sturdy look that can impress anybody at the very first glance, the Qidi X-maker 3D printer is made using colorful red injection molded parts and a solid frame that would not vibrate when undergoing a 3D printing process.
Along the axis, one may find chrome accents with expandable arms.
The print area of X-maker is enclosed with removable screens and a vented hoop that enhances the ability of the printer to maintain high temperatures while printing with ABS.
A 3.5-inch touchscreen display makes the printer easy to navigate with.
There is also a 720 high definition internal camera that lets you keep an eye on the 3D printing process via the company's application that can be downloaded on your smartphone.
Setup
When received at your place, the Qidi X-maker comes fully assembled and ready to print, once out of the box.
All you need to do is connect the power cord and the filament holder.
And some minutes of your time would be consumed by loading your filament, activating the automatic bed leveling feature of this printer, and adjusting settings according to the 3D printing material.
But once you select your job from the manuals, you are all set to start with 3D printing a part or functional prototype.
Print Type/Cost
Qidi X-maker is based on FDM 3D printing technology wherein printing will happen layer by layer using the 3D printing filament made from various materials.
Print Quality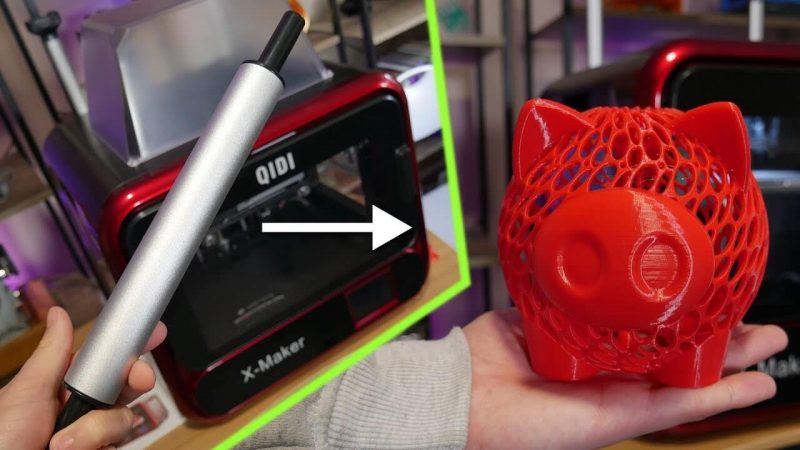 Credit: 3dprinterly.com
After the bed levels are adjusted the printer can easily print with PLA or ABS, but a little bit of adjustment is needed while printing with TPU, HIPS, and PETG, but overall with little adjustments the printer is known to provide excellent results.
Software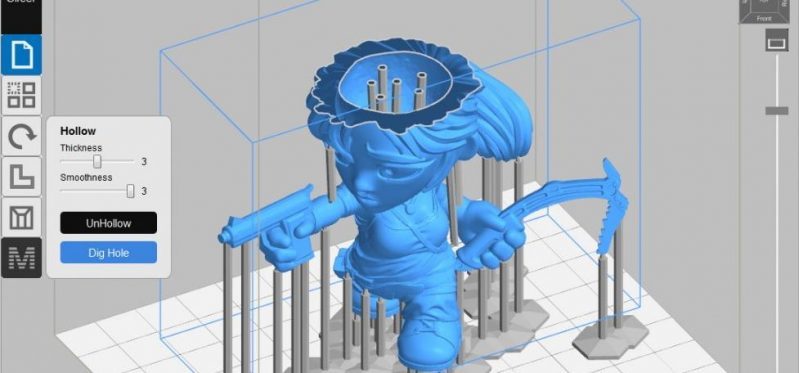 Credit: 3dprint.com
As mentioned above Qidi Print is software that comes in two versions. The Rookie version for beginners, whereas the expert version for the professionals.
There are default settings that the company has put in to ensure no troubles are faced by anyone who wants to stick to the basics or explore the advanced.
The printer is also compatible with software such as Cura or Simplify3D.
Customer Support
A year's warranty is provided by the manufacturer. The after service team of the company promises to reply within 24 hours of the inquiry.
Contacting the amazon website team can be done via email, Skype, or WhatsApp. For easing the use and guiding you with the same, there are video tutorials available on the USB drive.
Parameters influencing the buying decision
There are some parameters that one must look at before buying a 3D printer, to compare. Such parameters are mentioned below.
3D Printer Cost: Very affordable.
3D Print Quality: Industry-average.
3D Print Speed: Ranges around from 100 to 150 millimeters per second.
3D Printer Capability: All the popular 3D printer filaments can be 3D printed.
3D Printer Practicality: A conveniently lucrative option for educationists as well as entry-level makers.
3D Printer User Expectations: One can expect a decent print after having spent a fair amount of price for a 3D printer.
The Verdict
If you are in search of a moderately priced 3D printer that is easy to use right when put out of the box, it's Qidi Tech X-maker that you are looking for.
Primarily designed for educationists as well as entry-level users, the printer would not disappoint an expert also in the field.
The internal in build camera and wi-fi connectivity sings about the printer's advancedness.
They undermine the printer's inability to produce small parts or functional prototypes. Try to know more about it.