Tiertime UP Box Plus
Coming with a year's warranty and upgraded components, Tiertime UP Box Plus makes up for an ideal successor to the Tiertime UP Box. Closed frame, automatic calibration, compatibility with multiple filaments are the three cherries over the cake.
PROS
Uncompromising printing performance.
Automatic calibration
Interchangeable print surfaces
Empty spool detection
Huge build volume
Advanced material options
User-friendly software
CONS
No touch screen interface.
Table of Contents
UP Box Plus is a desktop 3D printer manufactured by Tiertime. It uses the Melted Extrusion Modeling method for creating parts and functional prototypes. The printer features a completely automatic platform leveling with automatic platform height detection that makes the pre-printing phase easier for its users.
The machine is also one among the many 3D printers available in the same price range offering a close frame fitted with an air filtration system. Such an arrangement safeguards the operator from breathing in any harmful fumes.
Moreover, due to the closed frame, the issues such as warping and tampering noise are almost eliminated. So, all owners get a fully finished 3D printed part without disturbing the surroundings.
But, are other features of the printer equally reliable? Does the 3D printer compare to other machines available in the same price range? To get answers to such questions we must look at them in-depth. So, let's get started.
Features
UP Box Plus is a successor of UP Box and hence hosts a more reliable mechanical structure delivering enhanced 3D printing performance.
The printer features a new 3D print head that is capable of resuming a 3D print job even after a power outage. A 3D filament run-out sensor alarms users of the need to replace the raw material.
The printer manufacturer has kept the machine open to 3rd party filaments thereby giving operators the freedom to choose from a wide range of filaments.
Connecting with the printer is an easy thing and can be done using the place's Wi-fi or iOS App support. Below mentioned are more such amazing features that make the printer outdo its competitors in the same price range.
High Print Quality
Box Plus is capable of printing detailed prototypes in a dimensionally correct manner. Although being an FDM 3D printer, the machine manages to surprise users with its print quality. Even parts that require support structures are built with the optimum amount of accuracy.
The printer creates high-quality end-use parts with minimal layer line visibility in a variety of different materials. A layer resolution of 100 microns can be achieved using Box Plus.
Tiertime should be credited for equipping UP Box Plus with a heated print surface, upgraded reliable structure, a new and more efficient print head, and advanced features. After all, those are things that make up for this characteristic of the printer!
HEPA filtration with Activated Carbon
One of the most common issues with entry-level FDM 3D printers is safeguarding the operators in dealing with fumes that are generated while the 3D printing process. Tiertime has put in place an internal air filter that is tested by The Built Environment Research Group at Illinois Institute of Technology.
This component radically reduces the amount of UFP i.e. Ultrafine particles as well as the VOC – volatile organic compound that is generated with emissions that take place during 3D printing. Also, it recycles the build chamber's air over and over thereafter causing securing the operator's breathing during and after the 3D printing process.
Complete Enclosure
Box Plus is one of those rare desktop FDM 3D printers that houses an enclosed framework. Such an aspect is very beneficial especially because it allows for optimum thermal management.
Because of the complete enclosure, the warm air that is generated during the heating process stays inside the print chamber thereby minimizing the risk of ABS warping.
Also, it makes up for uniform heating which results in the consistently smooth surface making up for the excellent surface finishes of 3D printed objects. Moreover, it allows the print chamber to withstand more temperatures and so allowing users to print filaments that have high glass transitions.
Impactful Software
UP Studio and the UP Studio App are two software applications extensively created to allow Tiertime 3D printer users to take full advantage of their devices. These are multi-functional software that permits operators to:
Setup prints.
Adjust smart-support creation based on the part geometries.
Import a wide variety of file formats.
Perform standard maintenance tasks that lead to the long life of the printer.
Offer a straightforward interface.
Compatibility with Multiple Filaments
Not only does Box Plus offer superior and safe ABS printing without any warpage, but also has the ability to set custom nozzles as well as platform temperatures. This essentially means that users can print with a wide range of 3D printing filaments suiting all your professional needs.
Some of the examples of filaments with which Tiertime is supportive are PLA, PLA composites, ASA, PET, Flexible filaments, Carbon fiber, etc.
Huge Build Volume
Box Plus provides a whopping 255 mm * 205 mm * 205 mm build envelope to build parts and functional prototypes. Using this, users can easily build decent parts in one go. So, you will not have to build the objects in different parts and then assemble them.
Interchangeable Print Surfaces
This is one of the rarest features that you'd get with printers available in the same price range. For flexibility purposes and especially to help users an edge while continuously 3D printing, the printer manufacturer ships Box Plus with two different surfaces. So, you can swap one over the other according to your needs.
For example, while building parts with filaments that need maximum layer adhesion users can make use of US Perf. Whereas, while creating objects with materials that need minimum layer adhesion operators can opt for UP Flex! Cool, isn't it?
Automatic Platform Calibration
Users would no longer have to go through the hassle of calibrating the nozzle height according to the print bed, manually. Box Plus's electronic sensors and probes automatically detect the perfect nozzle height according to the part geometry and level the print bed based on the nine-point calibration sequence.
Specifications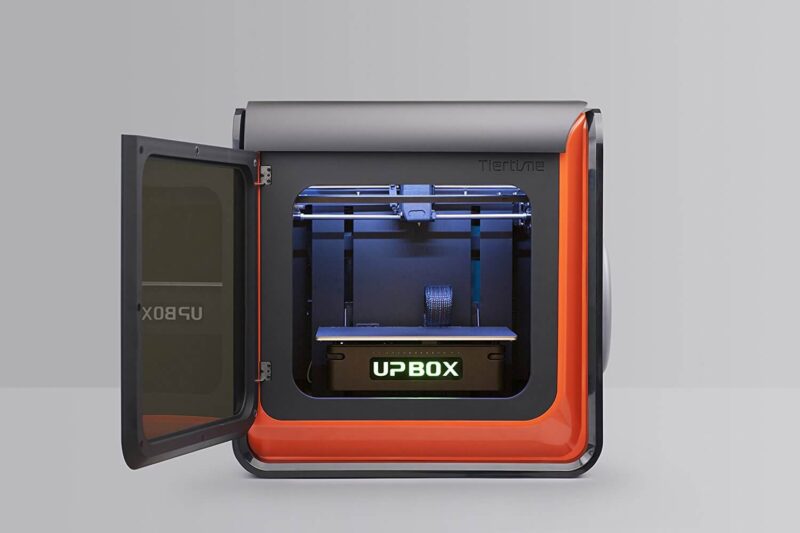 Box Plus creates parts and functional prototypes based on MEM i.e. Melted Extrusion Modeling – another name of FDM 3D printing technology.
The printer offers a maximum build volume of 255 mm * 205 mm * 205 mm which allows users to create large objects in one go. A passively heated build chamber manages the printer's thermal changes in a favorable manner.
The bed calibration of the machine is automatic and a HEPA with an activated carbon component takes care of the air filtration.
Box Plus stars a UP Perf / UP Flex heated print surface which can be swapped alternatively on the requirement of maximum / minimum layer adhesion. The machine has a fully enclosed frame that calls for consistent surface quality on objects manufactured using it.
Box plus provides an optimum layer resolution of 100 microns while printing with any of the compatible materials such as ABS, ABS+, PLA, PLA Composites, Conductive, Wood, Bronze, Flexible, Nylon, Polycarbonate, Carbon Fiber, PET, ASA, and more. The printer can be connected via USB cable or Wi-fi.
Price
Box Plus is available for $1899.
First Impression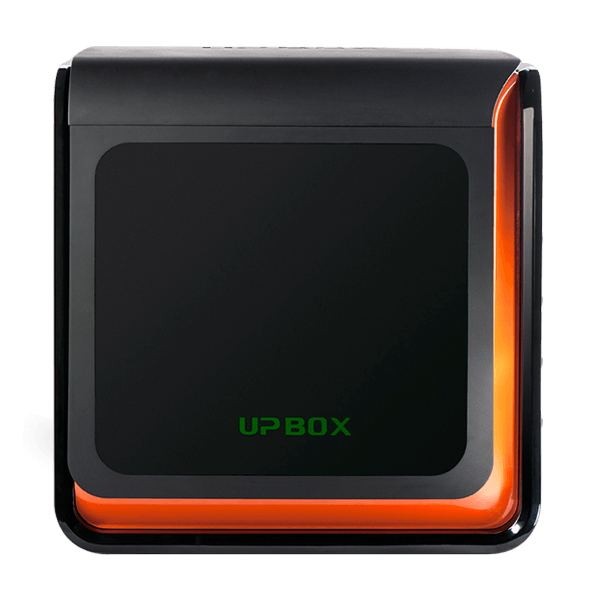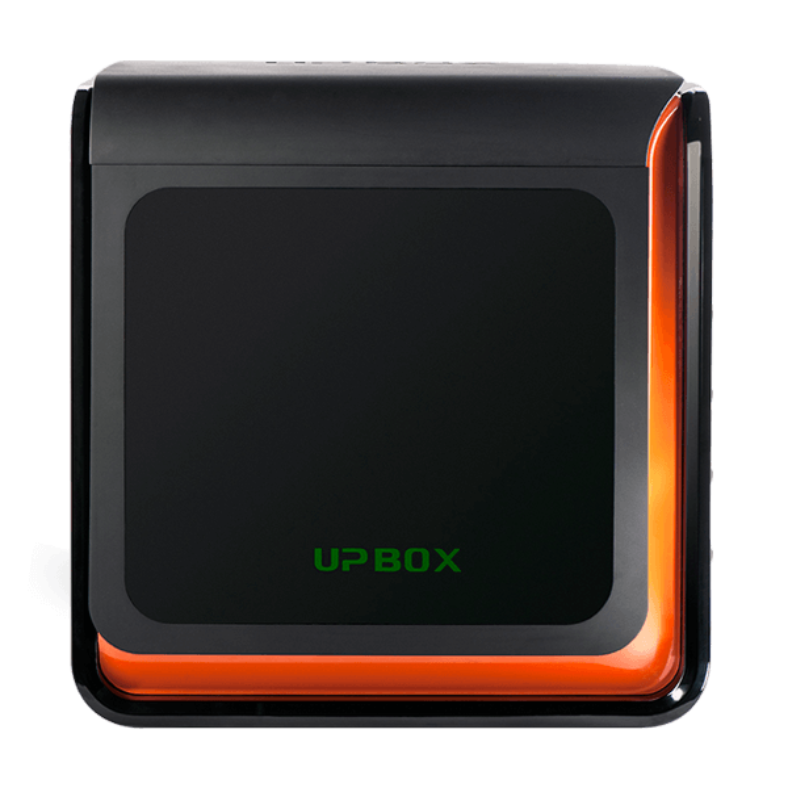 The printer is well-packaged and shipped to users with the following set of tools:
A 0.5 kg spool of ABS filament
A Bed scraper
A Filament cutter
A pair of heat-resistant gloves
Two UP Perf Boards, Two UP Flex Boards
A Micro SD card and reader
Two 0.4 mm nozzles
A Nozzle wrench
A Spool cover for 1 kg spools
A Spool rack for 1 kg spools
Two Binder clips
A Calibration card
Box Plus is aesthetically very rick. It has a sleek design, is square, and needs to open from the door present in front to access its print chamber. There is a spool holder present at one of its sides while there is a switch at its back that lets users turn it on / off.
Setup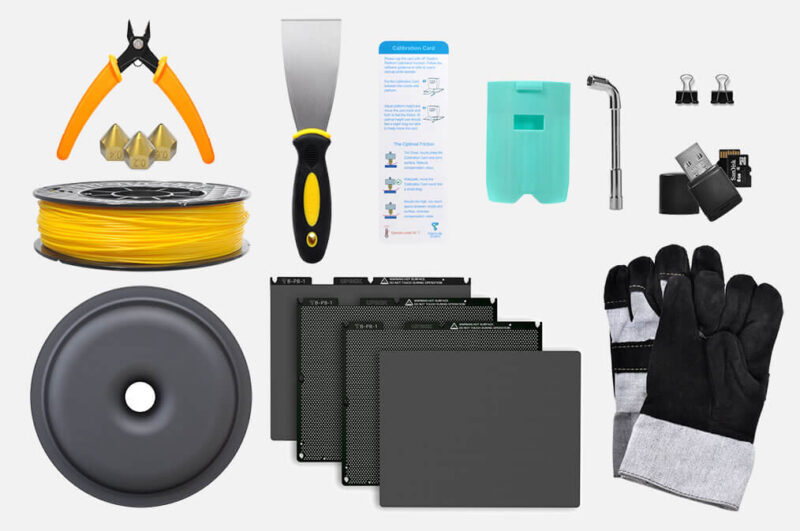 The printer comes almost in a pre-assembled condition so all you got to do is give it a power supply and start 3D printing.
However, there is a quick start guide that experts recommend going through. It helps users get a hold of the components present inside the printer and make the most of them.
Overall reading it and grasping everything takes few minutes of your time after which you are all set to start 3D printing with the machine.
Print Type/Cost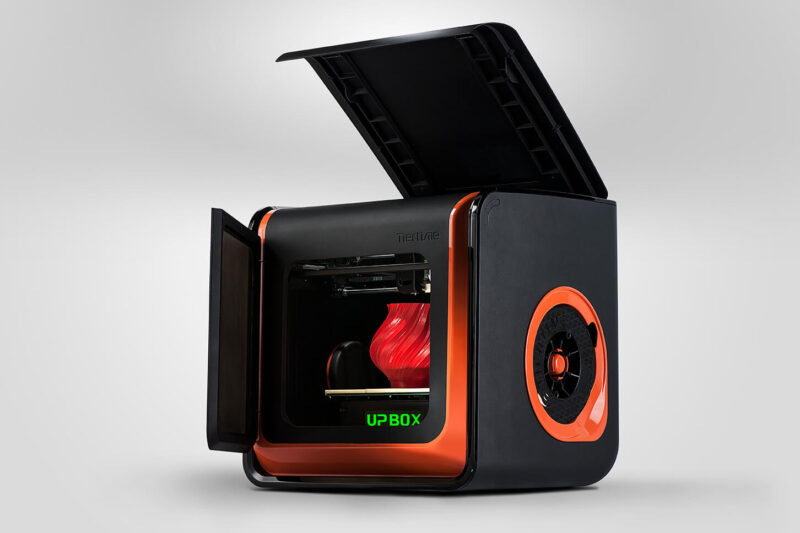 Melted Extrusion Modeling is another name of FDM 3D printing technology. Here too, like in FDM the 3D printing process typically starts with a solid filament spool and its heating past glass transition temperature.
The melted filament is then allowed to be deposited according to the part geometry layer by layer. After cooling those layers you get a solidified version of the melted filament which can then be sent for post-processing according to the need.
Generally, the cost of 3D printing a part or functional prototype using MEM 3D printing technology is lower than that with other techniques. However, it depends on various factors including part geometry, the type of filament used and its cost, the amount of infill, support structures, etc.
Print Quality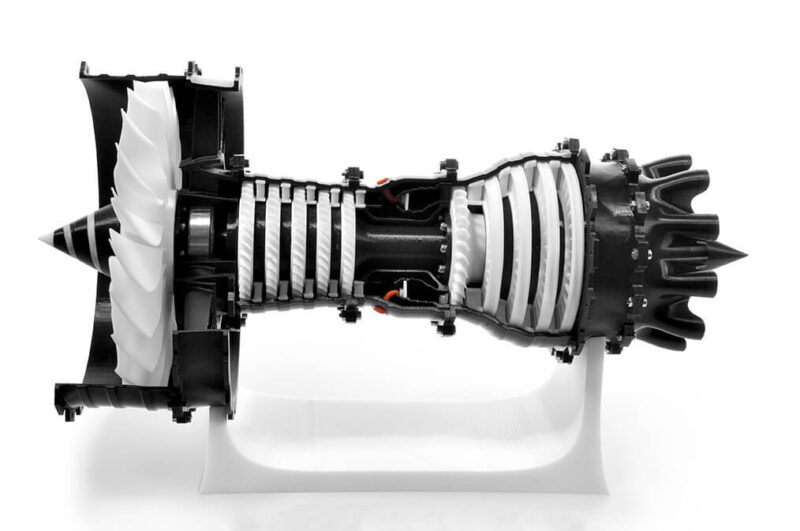 Parts and functional prototypes of commendable print quality are made using Box Plus. The printed objects possess an optimum layer resolution of 100 microns which is pretty good considering it's an FDM desktop 3D printer at an affordable price. Box Plus manages to deliver intricate geometries with dimensional accuracy.
Software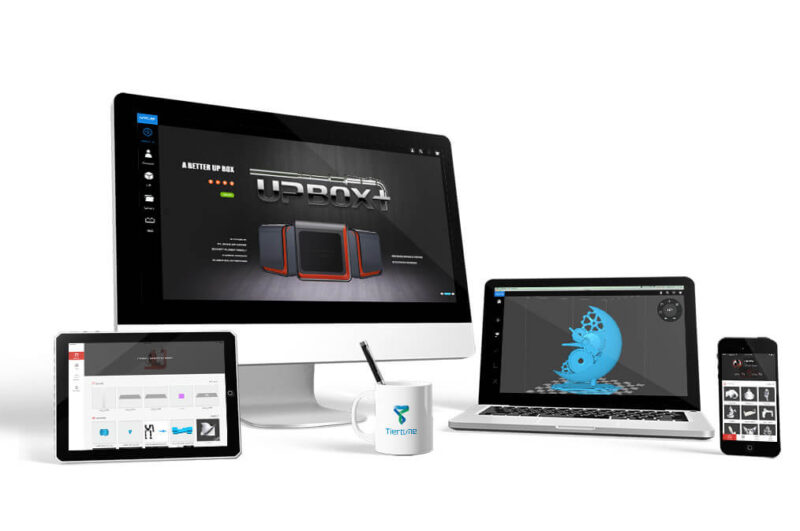 UP Studio and UP Studio App are Tiertime's proprietary software compatible with Windows as well as Mac Os. These are extremely user-friendly applications that have straightforward interfaces. They allow even the most non-technical operators to get a hold of the design aspects in a minimal amount of time.
Customer Support
Teirtime's support center consists of an open knowledge base that users can access for free. The printer manufacturer also offers Tips and Tricks to deal with its machines. Apart from this, there are general FAQs that can help you with basic answers.
The resource center consists of information regarding Software, Touchscreen program, User Manuals, as well as Printable parts. In case the operators wish to talk with the technical team they can always reach out to them via email or on call.
Parameters Influencing Buying Decision
Below mentioned are the most important aspects of printer summarized briefly.
3D Printer Cost: Although a little bit on the higher end than usual FDM 3D printers, considering the advanced features that Box Plus manages to offer, it's worth the extra cost.
3D Print Speed: Average.
3D Print Quality: Compared to other printers in the same price range, Box Plus manages to stand out by offering excellent print quality in even the smallest parts and functional prototypes it manufactures.
3D Printer Capability: The printer is capable of creating large parts in one go. Users can play with enough 3D printing materials with ease. Also, it safely takes care of the harmful fumes generated during the process with its unique filter.
3D Printer Practicality: There is a lot that the machine offers for making the work completely seamless especially for beginners in the field of 3D printing. Starting from the empty spool detection, extended to automatic calibration, and ending with interchangeable print surfaces and much more!
3D Printer User Expectations: The machine has plenty of advanced options which can enable not just novice, but also professional designers to achieve the print quality they wish in a comfortably large print area.
The Verdict
Box Plus manages to stand up to the expectations of users who are willing to spend a little more than cheap desktop 3D printers for getting modern features with a huge build volume at their disposal.
Coming with a year's warranty and upgraded components, it makes up for an ideal successor to the Tiertime UP Box. Closed frame, automatic calibration, compatibility with multiple filaments are the three cherries over the cake.