XYZprinting Da Vinci 1.0 Pro
XYZprinting Da Vinci 1.0 Pro offers a considerable build volume seeing the price at which it is available. By offering one of the widest range of 3D printer filaments to print with, it stands out in the list of its competitors.
PROS
Large build area.
Supports multiple filaments.
Can be connected using Wifi as well as USB.
Affordable.
CONS
The calibration process is a little tricky.
Print Quality is inconsistent.
Table of Contents
XYZprinting Da Vinci 1.0 Pro is a 3 in 1 3D printer that apart from 3D printing, does laser engraving as well 3D scanning. It is a professional-grade 3D printer packed in a compact size of normal desktop machines.
The printer supports the creation of objects using 3rd party plastic filaments. So, users can juggle a lot of choices for making a part or functional prototype.
The machine offers a large print area that allows users to create huge parts in one go. It can be connected using Wi-fi as well as USB connectivity.
XYZprinting has put in place a heated aluminum print bed that can resist high temperatures which lets the user easily print using ABS material.
Moreover, an eccentric feature of the machine is its nozzle cleaning box which you do not generally find in printers offered in the same price range.
Overall many such features make Da Vinci 1.0 Pro stand out from the list of its competitors. But are they worth the cost at which the printer is available in the market? Well, let's find out by having a deep look at the printer's features.
Features
An enclosed print area means users would not have to worry about uniform heat management which is a general problem in printers available at an affordable price.
The Da Vinci 1.0 Pro claims to consistently print parts and functional prototypes that have negligible warping. Even while printing with ABS material, the printer's aluminum print bed manages to maintain consistent print quality.
Onboard Menu
Da Vinci 1.0 Pro features an on-board menu that assists the user to control calibration in a much simpler manner than other printers on which operators have to manually calibrate. The printer offers four print speeds to print with:
Fine print speed: Normally preferred when the user wishes to print a part with 0.1 mm resolution.
Standard print speed: For obtaining resolution in the order of 0.2 mm.
Speedy print speed: While printing parts wherein quality is not a big concern.
Ultra print speed: To attain a layer resolution of 0.4 mm.
Owners can control the print speed with one touch and reduce their print time according to the print quality required. Apart from this, users can start, stop or pause the printing process using the onboard menu.
Closed 3D Printing Chamber
The printer manufacturer has kept in mind the design needs of professionals in the field of 3D printing by creating Da Vinci 1.0 Pro with an enclosed print chamber.
This means that none of the print models will ever be exposed to elements that can cause any sort of negative impact on them. Moreover, the temperature effects that can significantly change the part geometry and characteristics will also be no point of concern.
Also, the heated print bed will be able to achieve high-temperature ranges in the order of 80 to 90 degrees Celsius or higher rapidly because of the controlled environment. And lastly, the closed print area helps reduce the noise that is produced during 3D printing, thereby making Da Vinci 1.0 Pro suitable for home and office environments.
Internal Light System
To monitor the complete printing process in a darker environment or spaces wherein there is less exposure to lights, XYZprinting has facilitated the printer with an internal light system.
Users can easily watch every part of the 3D printing process via the neat door from which the print chamber can be accessed for part removal and making necessary changes.
Not only can the lights be turned on and off manually, but also automatically while in the middle of the 3D printing process.
An Active Community of Users
Da Vinci 1.0 Pro's users can access 1000+ solid models, download them and send them to their 3D printers and print parts using the same.
XYZprinting has its community by the name Design+ Cloud which has world-class designers uploading their innovative ideas to inspire others.
This is extremely helpful for those who are new to designing as well as 3D printing in general. They do not have to go to some other platform to search for innovative design files that can be printed using their printer. This is also a nice way to get familiar with the calibration of the machine.
Nozzle Cleaning Box
This is a feature that many users prefer Da Vinci 1.0 Pro for. The self-cleaning nozzle box present on the side of the printer allows the nozzle to separate the surplus filament from the needed one.
Although seemingly a very small thing, it has its impact on the overall print quality of the part or functional prototype that's being built.
XYZprinting should be credited for tackling the problem of nozzle clogging using such simple construction. This gives Da Vinci 1.0 Pro a special place in the list of 3D printers that face almost no nozzle clogging problem at all.
Heated Print Bed
Da Vinci 1.0 Pro is equipped with an Aluminum heated print bed that allows users to reach high temperatures very quickly. More than that, it permits users to easily experiment with their design ideas by permitting them to print with a wide range of filaments.
Aluminum heated beds are tested and proven to improve the overall print quality by keeping the extruded plastic warm. Also, they prevent warping – a characteristic that is extremely useful while printing with ABS filament.
Specifications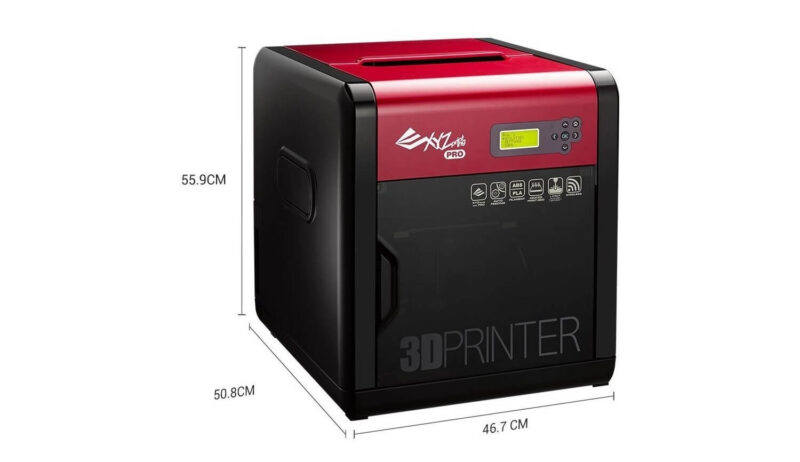 Credit: buyitdirect
Da Vinci 1.0 Pro prints parts and functional prototypes using FFF 3D printing technology. It allows users to achieve an XY positioning precision of 12.5 microns and a Z positioning precision of 0.0004 mm.
The layer resolution of every object manufactured ranges anywhere from 20 to 400 microns. Whereas, the maximum build area that can be built using the machine is 200 mm * 200 mm * 200 mm!
A nozzle diameter of 0.4 mm takes complete care of offering a precise flow rate while depositing layers on the print bed. The maximum temperature that the nozzle can withstand is 240 degrees Celsius, while the print bed can go up to 90 to 104 degrees Celsius.
Such flexibility allows users to print with 3D printer filaments such as PLA, Antibacterial PLA, ABS, Tough PLA, PETG, HIPS, and Wood of 1.75 mm filament diameter.
Operators can automatically level the print bed using the onboard menu present on the printer's body. The menu is multilingual and hence more interacting than those 3D printers that just support the English language.
The engraving area of the printer measures 20 cm * 20 cm. It engraves using a laser source of 406 nanometers wavelength.
Da Vinci 1.0 Pro utilizes 1.8 degrees Stepper motors for the movement of print head up and down while layer shifting. Users can connect with the printer using a USB 2.0 Cable, and Wi-fi 802.11 b/g/n.
The printer manufacturer recommends storing filaments that are to be used with the machine at a temperature ranging from 10 to 40 degrees Celsius. Whereas, the operating temperature of the machine needs to be anywhere between 15 to 32 degrees Celsius!
Price
Da Vinci 1.0 Pro is available for $499.
First Impression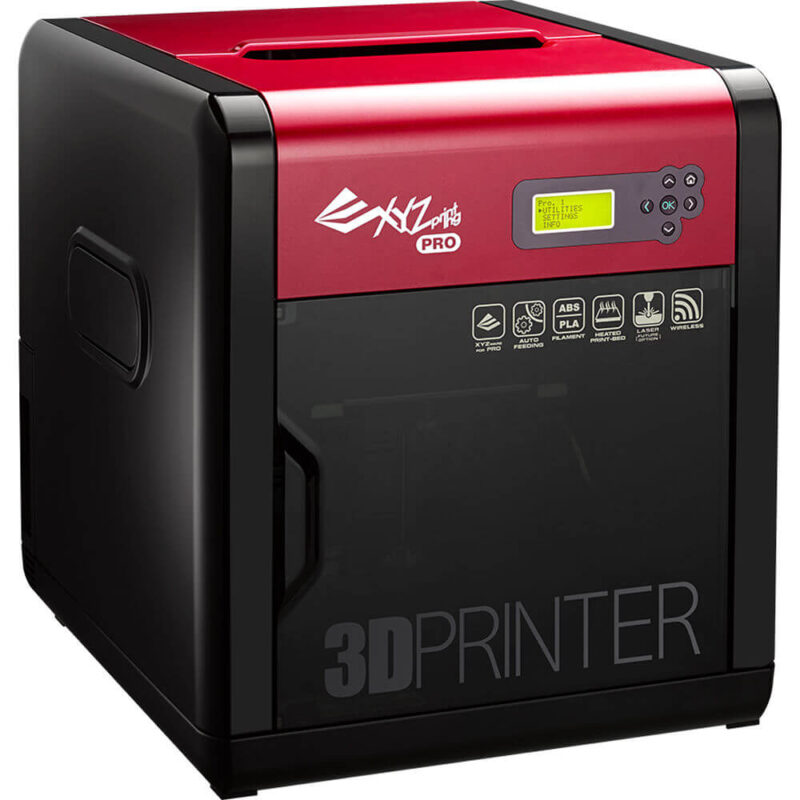 Anyone can say after seeing the shipment of Da Vinci 1.0 Pro how well-packed it is so that the parts would not shift even while in travel. The printer has sleek look and a desktop-friendly design.
Its size and looks fall in the grey area lying between desktop 3D printers and industrial 3D printers. Meaning that the printer does use more space than typical home 3D printers, but not as much as dedicated industrial 3D printers.
The machine is moderately heavy weighing slightly about 55 pounds, but thanks to the printer manufacturer for arranging to handles on each side for easy transport of it from one place to the other.
A square design makes the printer look a little modern as well as eccentric than the usual rectangular 3D printers.
Setup
Da Vinci 1.0 Pro comes pre-assembled. All the user needs to see is whether their printer is received to them in a calibrated manner or not. If not they'd have to minutely tweak the calibration by tightening the screws that are present underneath.
But that's pretty much it. It's a plug-and-play 3D printer that needs nothing more than a power supply to let users start with their first print.
Print Type/Cost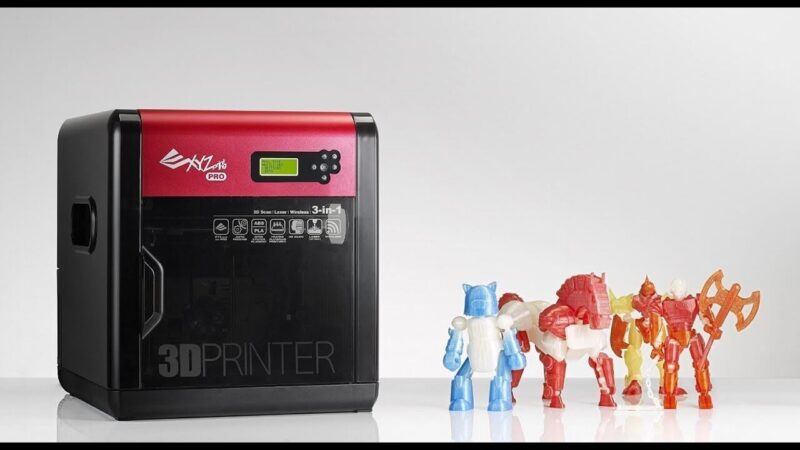 Credit: Youtube: Chris Myers
FFF 3D printing technology is the simplest among all the methods available currently. It starts with a typical solid filament's heating inside the extruder until it passes its glass transition temperature.
After which, the melted filament is allowed to pass from the nozzle to the print bed, thereby laying layers of parts one after the other.
Then the object is allowed to solidify using a manual cooling process or natural. If needed the parts are also sent for post-processing according to their application.
Normally, the cost of 3D printing a part or functional prototype using FFF 3D printing technology is less than other methods because of its simplicity.
However, usually, the cost depends on many factors such as the part geometry, the type of filament and its costs, the level of infill, support structures, etc.
Print Quality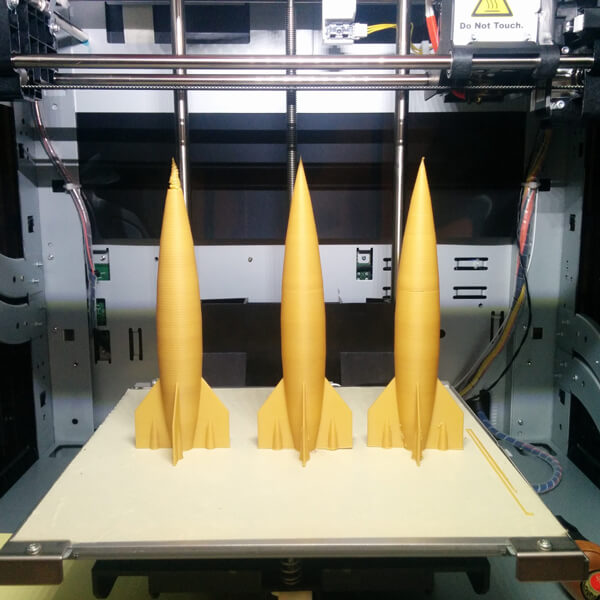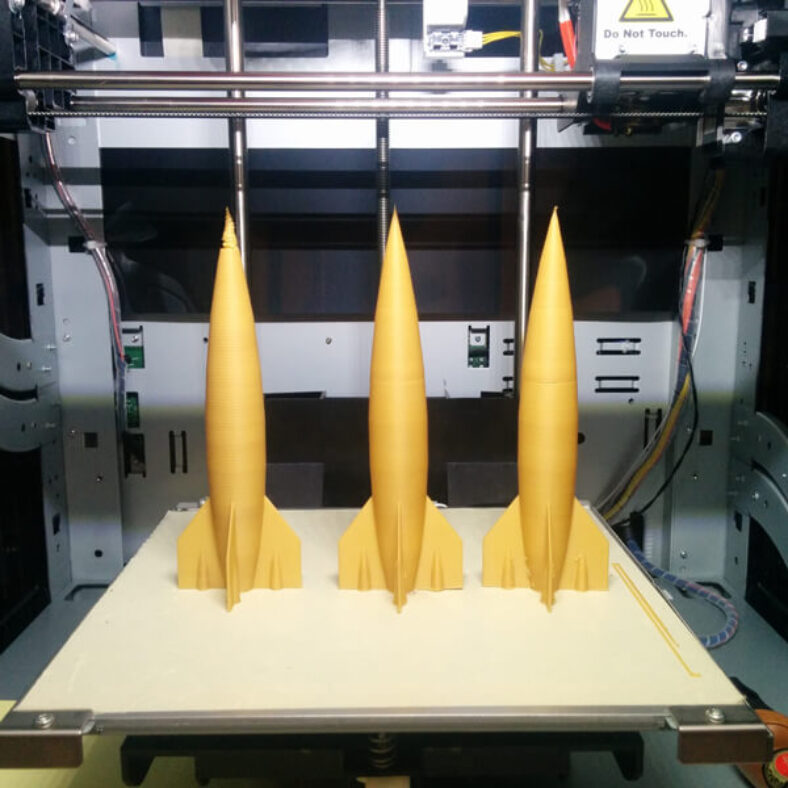 Credit: treatstock
Da Vinci 1.0 Pro is a flexible 3D printer that lets users decide the type of quality they wish to have. This is a rare feature considering the price range at which the printer is offered.
By providing you four different modes of print quality, the printer manufacturer has left it on users to decide whether they wish to get 0.1, 0.2, 0.3, or 0.4 mm layer resolution.
Overall, Da Vinci 1.0 Pro manages to print decent print quality parts with XY and Z positioning precision of 12.5 and 0.0004 mm respectively.
Software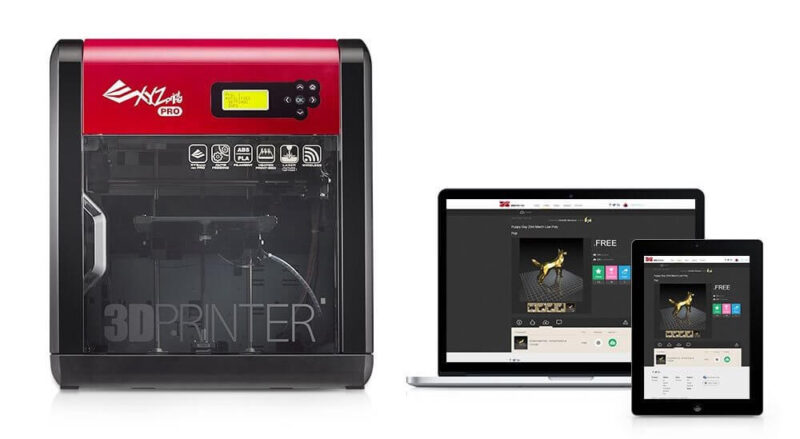 Credit: robot-advance
XYZ Maker Suite and XYZPrint Hug are user-friendly applications that take care of the design need of professionals as well as beginners in the field of 3D printing.
On one hand, they offer an extremely straightforward interface, on the other hand, they provide users to tweak even the most profound print settings to achieve the finesse they are looking for.
Customer Support
XYZPrinting's support center serves users in five different manners starting from offering FAQs, Tutorial Videos, followed by downloads and documentation, product warranty, and lastly providing the contact of the support team. Users can make use of these options depending upon their needs.
Parameters Influencing Buying Decision
Below mentioned are the key factors that can help you come to a decision regarding buying the machine.
3D Printer Cost: Priced under $500, Da Vinci 1.0 Pro is extremely affordable considering its print quality as well as speed.
3D Print Speed: The printer is known to create parts and functional prototypes at blisteringly fast speeds around 120 mm per second.
3D Print Quality: Average.
3D Printer Capability: Users can easily juggle up from the wide range of filaments that the printer is compatible with. Moreover, the printer is equipped with a very capable nozzle and a print bed that can withstand high temperatures.
3D Printer Practicality: Da Vinci 1.0 Pro can easily be transformed from a 3D printer to a laser engraver to a scanner and that makes it versatile.
3D Printer User Expectations: The printer is for all those looking to play with a wide range of filaments and manage decent print quality while manufacturing small geometries in minimal time and at an affordable cost.
The Verdict
Da Vinci 1.0 Pro offers a considerable build volume seeing the price at which it is available. By offering one of the widest range of 3D printer filaments to print with, it stands out in the list of its competitors.
Although the calibration is a little bit of an issue, the onboard menu, heated print bed, and most importantly the self-cleaning nozzle manages to outdo the odds.