A robot is a computer-programmed machine that replaces human efforts and carries out multiple complex tasks automatically. It has been around since the 1950s.
George C. Devol developed the first robot, Unimate. Previously, large industrialists developed them. Now various companies have come up with numerous different types of robots.
With the advancement in technology and development of additive manufacturing technology, the creation of robots has become easy.
Destructive technologies, 3D printing, and robotics, when combined they complement each other and help to produce an effective robot. Thus, many robotics companies use 3D printing in the production of their robots.
Not only companies but also hobbyists and enthusiasts use 3D printers to create robotic arms. 3D printing has also revolutionized the educational system. Kids use this advanced technology to learn to build robots.
There are plenty of 3D printers available in the market to choose from. However, it is not that simple to just buy any printer, pop in the material, and create a robotic arm. You have to consider a few factors to consider when selecting the best 3D printer. Most importantly, among these are cost and quality.
Therefore, for your convenience, in this article, we have listed down the top 10 most used 3D printers for creating robots that you can purchase based on your priorities, preferences, and budget.
What Is A 3D Printer And Why Use It To Build A Robotic Arm?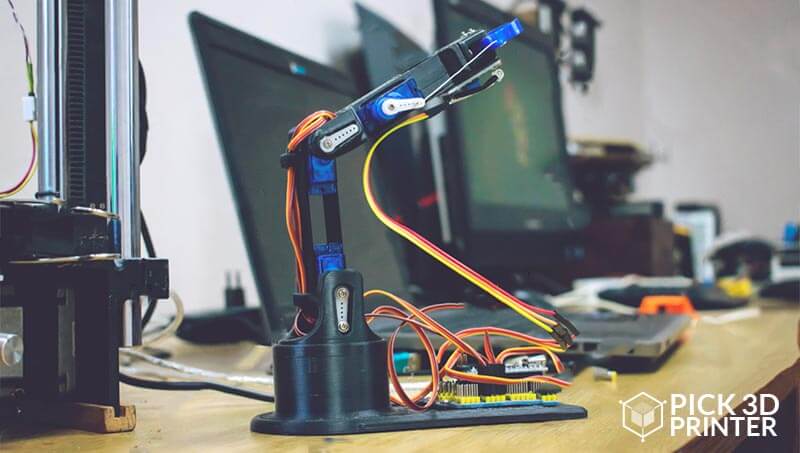 A 3D printer is an equipment that uses additive manufacturing or rapid prototyping technology to produce a solid 3D object from a CAD model by depositing and solidifying material layer by layer. It can be used to 3D print numerous complex things. These include nerfing parts, drones, Remote control vehicles, or robotic parts, etc.
There are several advantages of using a 3D printer to create robotic arms:
Increased flexibility
Offers customization
Enables rapid prototyping
Minimize production time
Reduce manufacturing cost
Direct fabricating
Precise and accurate
Leverage design freedom
Safe to use
Low wastages
Comparison Chart
| Name | Link | Nomination | Overall Rating |
| --- | --- | --- | --- |
| Qidi Tech X-Max | | Industrial Grade | 9 |
| Creality Ender 3 | | Budget Friendly | 7.2 |
| Ultimaker 3 Extended | | Top Rated | 9.4 |
| Modix Big 60 | | Runner up | 9.1 |
| Formlabs Form 2 | | Best Slicer Software | 7.6 |
| Raise3D N2+ | | Versatile | 8.1 |
| Monoprice MP Maker Pro Mk.1 | | User friendly | 7.1 |
| 3D Systems Fab Pro 1000 | | Highly professional | 8.8 |
| Lulzbot Taz Pro | | Open Source | 8.6 |
| Sintratec Kit | | Great Print Quality | 8.5 |
Creality Ender 3
The Creality Ender by Comgrow is a gem. It offers advanced features that not even expensive 3D printers offer at an extremely low price of around $200. It is easy to handle and a very compact device with a build space of 220 x 220 x 250 mm.
The printer has a nozzle with 0.4 mm diameter and 200 m/s speed. The maximum layer resolution is 0.1 mm. You can connect it through a USB port or an SD card. The machine comes semi-assembled. You are required to set it up before starting to print.
Uses:
It has a heated print bed that offers proper adhesion of the first layer and enables using tricky materials like ABS, PLA, TPU, and PETG.
The power outage recovery function stops printing when there is a power failure and resumes it from where it stopped after the power comes back.
You can use a third-party filament, as it is open source.
It can be used in offices and homes without disturbing others due to its quiet operation via the TMC2208 stepper motor.
Qidi Tech X-Max
If you want a professional 3D printer with a dual extruder that is easy to set up and operate, you should go for Qidi Tech X-Max industrial grade. It has a large print space and has astonishing features. The company has simplified the technology to a great extent for beginners.
The printer has a build volume of 300 x 250 x 300 mm and a speed of 100 mm per second. It has an aluminum frame and the solid construction of the printer offers stability and minimizes vibration during printing. The layer resolution is 50 microns. There are several connectivity options. These include WIFI, Ethernet, USB, and SD card.
Tech X-Max is priced at $1049.
Uses:
Instead of a single Z-axis, the 3D Printer has an improved double Z-axis. It offers more stability and high quality to print large 3D models regularly.
It is safe to be used at home with children around due to its enclosed chamber. The enclosed design also enables you to print with tricky filament by maintaining the temperature inside.
You can print with two different colors or materials due to dual extruders.
The air blow turbofans cool down the parts from all four sides rapidly.
There is a removable and reversible magnetic print bed made of aviation-grade aluminum. It can be used repeatedly with the front side for printing with normal filaments (ABS, PLA, PETG, and TPU) and the backside for printing with advanced material (Nylon, PC, and Carbon Fiber).
It has five inches colored touch screen that is intuitive and user-friendly.
It has two different ways to place the filaments. You can place the normal filament outside for easy feeding and place the advanced filament inside for an enclosed constant temperature 3D printing.
The QIDI Tech version 5.6.4 is the latest generation slicer software and more easy to use.
Monoprice MP Maker Pro Mk.1
MP Maker Pro Mk.1 is the last 3D printer introduced by the company. It resembles Wanhao Duplicator D9 in many ways and is based on FDM technology. It comes fully assembled by the company and has an open sturdy aluminum black frame.
The printer has a print space of 300 x 300 x 400 mm and a speed of 70 mm/s. It has a nozzle of 1.75 mm, an intuitive LCD screen, and is compatible with Cura. It requires an investment of $339 only.
Uses:
It enables you to start a small venture by producing large-size parts and functional prototypes for the aerospace, jewelry, and toy industry or teaching children.
The open frame allows for consistent airflow that helps to cool down the object simultaneously for better accuracy.
The machine itself detects the filament runout and indicates it to the user by pausing printing.
It is also great for beginners due to automatic calibration and magnetic removable print bed.
You can use third-party filament and print with ABS, PLA, and PETG.
Lulzbot Taz Pro
Aleph Objects is well known for its professional 3D printers that are affordable. It offered numerous different options and every 3D printer has raised the bar greatly. In March 2019, it launched Lulzbot Taz Pro to cater to high customer demands. It is their first industrial-grade desktop 3D printer with a large build volume and dual extruder.
The machine has a print space of 280 x 280 x 285 mm. The layer resolution lies between 0.05 to 0.4 mm. It allows the use of numerous different materials and is compatible with Cura software. It costs around $4950.
Uses:
It is ideal for industrial and professional use due to the E3D Titan Aero extruder with a 0.5 mm steel nozzle. It allows printing with abrasive materials.
The PEI-coated print bed enables better adhesion of the first layer.
The open frame ensures consistent airflow and allows a better view of the printing process.
The machine offers accuracy with 360 degrees part cooling. It enables printing complex designs with ease.
It is inbuilt with an automatic nozzle cleaning system that cleans the hot nozzles every time against the pads before starting to 3D print.
The dual extruder allows printing with two different materials and also supports water-soluble to create models with a smoother surface finish.
Ultimaker 3 Extended
Ultimaker 3 Extended is a workhorse that is used for specialized purposes. It is extremely reliable with dual extrusion. It enables you to create unimaginable designs with high accuracy and speed. It is convenient to operate and requires low maintenance. A device is a next-generation machine with great features.
The printer has a large build volume of 215 x 215 x 300 mm with a speed that varies between 30 to 350 mm/s. It has a nozzle diameter of 0.4 mm that can print with a resolution of 20 to 200 microns.
It is compatible with Cura, open-source software that is user-friendly. You can connect to it either via LAN, USB port, or WIFI.
You only require an investment of $4295 to get this amazing printer.
Uses:
It is best for small businesses that are willing to scale up their setup. It is used in the medical, aerospace, and jewelry industries to produce intricate outputs.
You can work on this printer for hours without any hassle.
The machine allows you to print with two colors and materials simultaneously. It is also compatible with PVA, allowing you to create a support that is water-soluble.
Due to the material recognition feature, Ultimate 3 extended automatically recognizes the material used and optimizes its setting automatically through Cura.
You can remotely control and operate the printer through WIFI connectivity, cloud access, and an inbuilt camera.
It is also great for beginners due to its plug-and-play features and automatic calibration.
It enables you to use third-party filament; both standard and premium.
Formlabs Form 2
The most highly demanded SLA 3D printer from Formlabs is Form 2. It is economical, reliable, and professional with numerous features for consistent quality and high-resolution 3D printing. It has great power and potential to produce complex structures.
The printer has a print space of 145 x 145 x 175 mm with a resolution of 25 microns. It weighs 13 kg and has auto heating technology. It is compatible with Mac OS, Windows 7, and later versions. You can connect through Ethernet, USB port, and WIFI.
The machine costs $3499 and comes with a one-year warranty.
Uses:
It is used for batch production and commercial use. You can use it to produce dentures, jewelry, and prototypes.
It enables hassle-free printing without any connection once the file is uploaded.
The Preform software enables the positioning of models to eliminate errors and enhance accuracy.
You can import, resize, duplicate and align the 3D design through the layout tools.
The smart support structure supports the constructions of the objects to get clean 3D prints.
The touchscreen display indicates the printing progress and helps to control other parameters' settings.
Raise3D N2+
A US-based company offers two 3D printer lines for all types of projects. It is versatile with regard to material and volume. It is easy to use with an intuitive touch screen and Wi-Fi connectivity. It has an enclosed chamber with a heated build plate that allows you to print with tricky materials like Nylon and ABS.
The printer has a print speed that ranges from 10 to 150 mm per second with a print space of 12 x 12 x 12 inches. The layer resolution lies between 0.01 to 0.25 mm and it can print with an accuracy of 0.00125 mm. It is priced at $999.
Uses:
It is used to manufacture parts and functional prototypes in industries such as health care, jewelry, automotive, etc.
The battery backup stores your progress before shutting down when there is a power failure. It ensures that you do not lose your work.
The aluminum frame offers sturdiness and avoids wobbling during 3D printing. It is fully enclosed in an acrylic frame that enables one to keep an eye on the printing progress.
It is safe to be used around children due to the enclosed frame that confines the heat inside.
It enables you to control the machine by using the 7 inches color touchscreen. You can even remotely access it with LAN and WIFI.
The heated bed and hot end enable you to print with a wide range of materials. These include PLA, ABS, PETG, Nylon, Carbon fiber, TPE, and TPU. You can also use metal composites by upgrading nozzles to wear resistance.
The dual extruders enable you to print with two different colors or materials.
3D Systems FabPro 1000
A desktop 3D Printer, Fab Pro 1000 is specialized in the production of small objects with high resolution. It has a build space of 125 x 75 x 120 mm and a layer resolution between 30 to 50 microns. The print speed is 21 mm/h. It is based on the DLP technology for 3D printing.
The printer will cost you $4126 and has a year warranty.
Uses:
It is widely used by professionals in the dental, engineering, jewelry, and manufacturing fields.
 It prints three times faster than Formlabs Form 2 with great accuracy and surface finish. It also enables printing multiple parts simultaneously.
The post-processing is simple. After printing, the user needs to clean the build plate with a solvent and then UV cure with the finishing kit that comes along with the printer.
The machine is compatible with a wide range of materials from regular resin to the toughest engineering thermoplastics.
3D Sprint, the software, minimizes material wastage and supports structures.
Sintratec Kit
A Swiss company, Sintratec, is known for its SLS 3D printers. In 2014, it launched its DIY desktop 3D printer kit for $5350. It takes four days to assemble but in return, it offers exceptional quality 3D prints.
The printer has a closed frame with a build space of 110 x 110 x 110 mm and a minimum layer resolution of 100 microns. It is only compatible with TPE and Nylon PA 12. You can connect to it through an SD card or USB and use third-party filament.
Uses:
It serves various professional needs. It is used in making medical tools, durable industrial parts, rapid prototyping, mechanical engineering, education, research, and development.
It enables you to print at a speed of 20 mm/h despite its complex design. However, it drops by 50% when printing with high resolution.
The residual and unsintered powder serves as a support for 3D models. Once printing is completed, you can easily lift the model and brush off the excess powder.
The printer enables you to minimize the production cost by using less material.
You can print highly detailed complex structures with a tricky material like Nylon. This makes it stand out among other similar printers.
Modix Big 60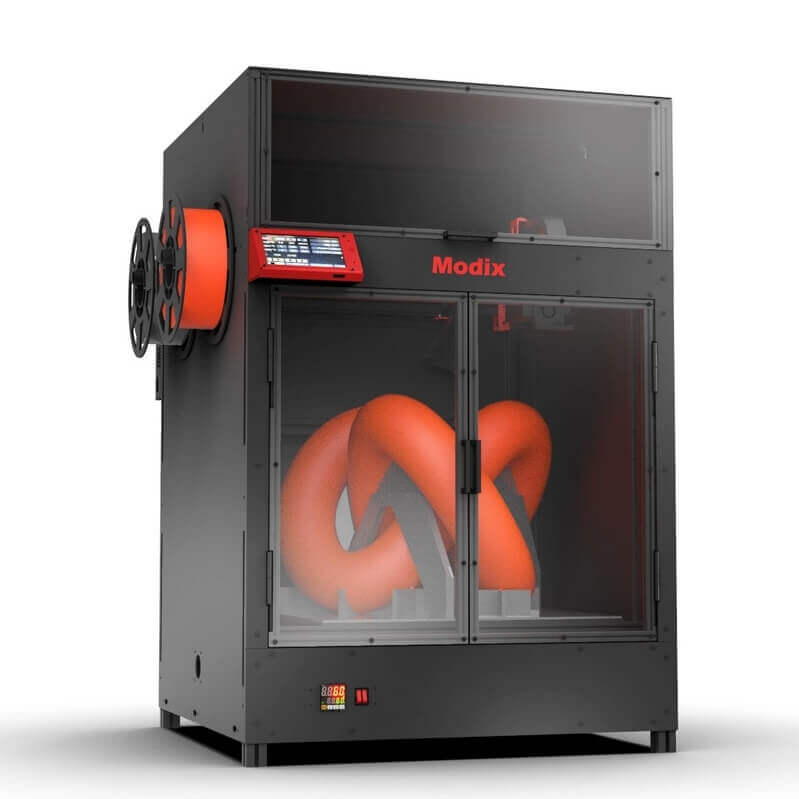 The prominent 3D printer by the manufacturer, Modix Large, is Big 60. It was launched in 2017 as a DIY kit and now its third upgraded version is available. It is affordable with a large build volume and premium components. It comes with an E3D Titan Aero extruder and E3D volcano hot end.
The printer has a print space of 600 x 600 x 660 mm and is based on FDM technology. The layer resolution varies from 40 to 800 microns.
It has a PEI coated heat build plate with an automatic bed leveling feature. You can connect with an SD card, Wi-Fi, and USB. It uses Cura, Simplify3D, or Slic3r software for designing, slicing, and 3D printing.
The machine is priced at $3700.
Uses:
You can use it for restoration, prototyping, research, and development in automatic, entertainment, education, and consumer products industries.
It has a removable print bed that allows you to easily remove the 3D printed models.
Due to a great print speed, it reduces production time.
The Duet3D WIFI mainboard enables you to connect it with multiple devices.
It saves power by using the dual-zone silicon heater.
Buyers Guide
Choosing a 3D printer to create is not a piece of cake. You need to consider various parameters before making a purchase decision.
It is one of the most important factors to be considered. It depends on your budget and how much you can invest to buy a 3D printer.
Most 3D printers only print in one color. If you want to produce multi-color 3D prints, then you should buy one that allows you to print with at least two colors simultaneously. These printers are easy to use and have full-color compatibility.
Build Volume (width x breadth x height)
The larger the build volume, the bigger models you will be able to produce. If you want to produce a large size robotic arm, then you should consider a printer with a huge build space. Otherwise, you will have to produce different small parts of it and assemble them later. This will impact your product's quality.
The design, material, and size of your model determine your 3D printer's speed. However, you should look for one that prints fastly as it will save your production time.
Different 3D printers use different materials to print. Some use plastic and others use metal or ceramic. The type of robotic arm you wish to create can determine the type of 3D printer that you will need, as it should use the same material to print. It is recommended to buy a printer that is compatible with various materials.
Frequently Asked Questions
Can I make money by producing robotic arms?
Yes, you can make a lot of money by either producing your own designed robotic arms and selling those or offering local printing services to robot selling businesses.
Where can I sell a 3D-printed miniature?
The best online marketplaces include:
Facebook
Etsy
eBay
Amazon
Storenvy
Conclusion
Robot arms are ideal for tasks, which are monotonous, steady, and require an exceptionally serious level of precision, just as for applications in which a human laborer may battle to perform securely. Automated arms are quick, precise and dependable, and can overall be customized to play out a practically limitless scope of various tasks.
You can easily create robotic arms by using a 3D printer. There are a lot of 3D printers options available in the market that you can choose from based on your budget, preferences, and needs. However, it is difficult to scan them all. Thus, the above list will surely help you to find one that best fits you.